Valuable Tips and the Best Tool to Record Online Class Excellently
Classroom classes have begun to take place on various online video conferencing platforms. For most students and teachers, this became a challenge how to absorb the learnings completely and delivers course content effectively. Thus, you can record online classes to share and review later, which is an efficient solution. This post features the best tool to record online classes for students for future class review and valuable tips on how to record online class sessions excellently for teachers. Explore them now!
Part 1: How to Record Online Classes for Reviewing As A Student
With many screen recorders that can record online class sessions available today, only a few can provide you with professional and advanced features and functionality. And one of them is the 4Easysoft Screen Recorder tool! This tool is infused with a Video Recorder feature that records your online on-screen class with high quality up to 60 fps and 4K resolution. Additionally, it is also equipped with real-time drawing to take annotations and notes for your classes. Furthermore, features, buttons, and functionalities are all well-composed for easy online class recordings. These are just a glimpse of its powerful features to record online class sessions; it still has much to offer. And it only takes a first step to try them firsthand. Take that step now!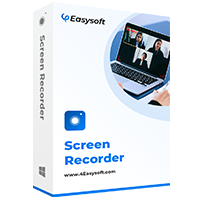 4Easysoft Screen Recorder
Infused with a Real-time Drawing feature, which lets you add texts, shapes, lines, arrows, etc., during the online class recording.
Equipped with a Scheduled Recording feature that you can use to set a task when to start or stop the recording.
Support modifiable hotkeys where you can set your preferred key combinations for initiating start, stop, pause, etc.
Offer a Snapshot feature, which lets you take screenshots of the online class during the recording process.
How to Record Online Class using 4Easysoft Screen Recorder Tool:
Step 1Download, install, and launch the 4Easysoft Screen Recorder tool on your Windows or Mac computer. Then, click the Video Recorder option.

Step 2Next, tick the Full option if you want to capture the entire screen of your computer. Otherwise, click the Custom button, and from the options, select whether you want to capture a window (if your online class is on a minimized window) or resolution. Even though you have already decided which option to choose, you can still freely adjust and move the borderlines.

Step 3Then, to record the online class with audio, turn On the System Sound by ticking its Switch button. You can also turn On the Microphone if you want to record your voice during the recording. You can adjust their volume loudness by dragging their corresponding Volume Sliders.

Step 4After those setups, click the REC button to start the online class recording process. While the recording is ongoing, you can add shapes, lines, arrows, and callouts and take screenshots.

Step 5If you are done recording your online class, tick the Stop icon. After that, the tool will then bring you to its preview section. You can eliminate the unwanted beginning and ending parts of your online class recording here. Once satisfied, click the Export button to save your recorded online class to your local storage.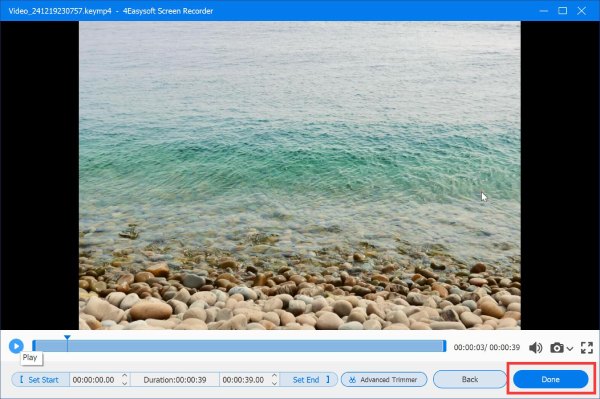 Part 2: Tips on Recording Excellent Online Classes As A Teacher
Now those are the simple steps on how to record online class sessions as a student using a professional tool. Aside from having a professional tool like 4Easysoft Screen Recorder that will serve as the medium to capture all the on-screen lectures in an online class, the overall aspect of a subject to be captured should also be efficient and valuable. As a teacher, you could provide your department and students with an excellent recorded online class. So if you are a teacher who wants an excellent recorded online class, we got a variety of tips for you.
Show Yourself Althoughout the Online Class - Letting your students see your presence during the online class session and recording allows you to connect and engage effectively with them. Additionally, through this, you can deliver the subject much easier by using minimal hand gestures and projecting expressions.
Display a Presentable & Easy to Understand Presentation - Presenting an eye catchy yet presentable visual aid or presentation catches your students' attention throughout the online class. Moreover, through presentations, you can make the subject much easier to understand, especially for those who prefer visual learning. It also allows students or other viewers to take notes while watching your recorded online class easily.
Speak Comfortably - You don't have to talk too formally while talking to your class. It is also essential to consider that some students or listeners prefer to engage with people they feel, like parents or friends. Talk like you are talking with them on actual four a classroom. It helps you gain engagement and trust from which you can deliver your subject more effortlessly and effectively.
Place Yourself in an Undistracting Environment - It is annoying that in the middle of the online class session, unexpected distracting moments ruin the momentum, not just for you as a teacher but also for those students who are listening. So, whether delivering a subject in an online class or recording an online lecture or discussion, it is essential to place yourself in an environment without distractions.
Part 3: FAQs about How to Record Online Classes
How to record a high-quality online class?

If you are a teacher who wants to make a high-quality course, you should first need a quiet and clean place to record. And a good microphone and recorder is also needed.

How to record on-screen presentations with a webcam?

With the mentioned 4Easysoft Screen Recorder, you can just turn on the webcam by clicking its Switch button. Once you enable it, the tool will automatically access and launch your webcam. Set further settings, and once you are done, you can tick the REC button to start recording your screen with overlaid webcam.

Can I use Zoom to record online class sessions lasting more than 1 hour?

Yes, if you have a paid account. As a free user, you can only record Zoom meeting within 40 minutes as a host. Besides buying the premium version, you can also use other professional cpature tools.
Conclusion
There you have it! As a student, that's the best tool you can use to record online class sessions for future review or playback. Otherwise, as a teacher, consider those valuable tips for you to have an excellent online class recording. If you are looking for an outstanding tool, the 4Easysoft Screen Recorder tool is your best pick! To start recording online class sessions with high quality and easily, feel free to visit the tool's official website to download and install it today!
Related Articles