8 Trustworthy Viber Call Recorders: Features, Pros, and Cons
Viber is one popular messaging app for mobiles and computers. When you make a Viber call, you can communicate with your loved ones and people worldwide, you may want to keep and save the call. But how can you record a Viber call when it does not support recording? You need a Viber call Recorder! A list of best of the best recorders is discussed in the following parts. Choose what is best for you that works on desktop, mobile, and online.
Part 1: The Best Viber Call Recorder for Windows/Mac/Android/iPhone
If you want an easy way to record Viber calls, find a Viber call recorder that gives you all the features you need, like recording with area selection, high-quality output, real-time drawing, etc. Here is 4Easysoft Screen Recorder for you! Aside from it working well on both Windows and Mac, it is a powerful screen recorder since it lets you record any activities happening on your screen, like tutorials, meetings, music, gameplay, and more. Additionally, if you want to delete the call's unwanted beginning and ending parts, you can remove them with the trimming tool on this Viber call recorder. Plus, it lets you record music and do voiceovers. Here are the detailed steps on how to use it to record Viber calls.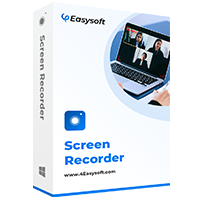 4Easysoft Screen Recorder
Equipped with an Audio Recorder that allows you to record system audio, capture music, do voiceovers, and more.
Provide you with noise cancellation and voice enhancement, allowing you to get your recorded call with high audio quality,
Offer you multiple output formats, which you can choose from to export recordings, like MP3, AAC, WMA, etc.
Let you check the recording before exporting it, giving you a chance to delete unnecessary begging and end parts.
Step 1Open the program on your computer. And to record Viber calls, go to the Audio Recorder on the main interface.

Step 2Ensure to toggle the switch buttons of the System Sound, which refers to the sound that comes on your PC and Microphone, which will record your voice. You can also adjust the volume of each to increase and decrease the sound by pulling the sliders.

Step 3When the Viber call starts, click the REC button. While recording, you can still adjust the system sound and microphone volume on this Viber call recorder.

Step 4Once done, click the Stop red icon. And before exporting, the program lets you check the recording first to see if there are unwanted beginning and ending parts you must remove. Hit Done if finished trimming, then Save to export the recording.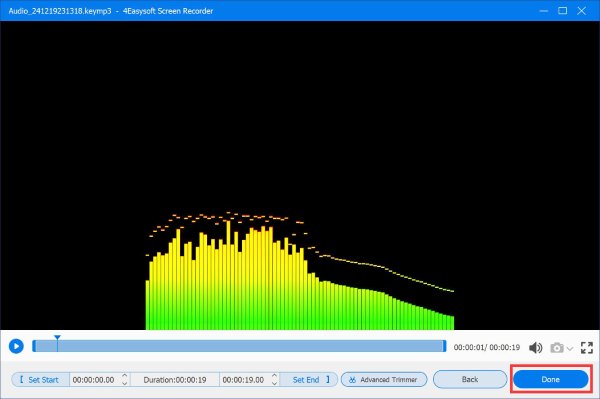 Part 2: 7 More Viber Call Recorder Tools to Record Audio [All Devices]
1. 4Easysoft Free Screen Recorder
The first on the list of the best Viber call recorder that works as a desktop and mobile tool is the 4Easysoft Free Screen Recorder. This online tool lets you record videos, computer sound, microphone voice, and more. Other than recording, you can make your videos attractive by adding different annotations like shapes, callouts, texts, etc. Also, with the hotkeys, you can quickly start, pause, resume, and stop the recording according to your need.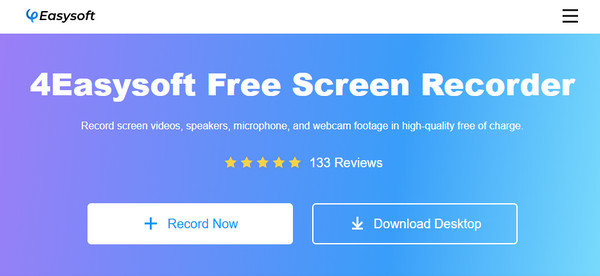 Features:
Support recording in full screen and a selected part of your screen.
Provide different annotations to make attractive recording videos.
Let you adjust different recording parameters.
Offer hotkeys to pause quickly, start, resume, etc., your recording.
2. AZ Screen Recorder
The AZ Screen Recorder is one great Android Viber call recorder. It has easy-to-use functions, so you don't need any tutorial to start recording. Simply tap the recording button, and the recording will start. If there are some unimportant parts in calls, you can pause the recording easily with this app.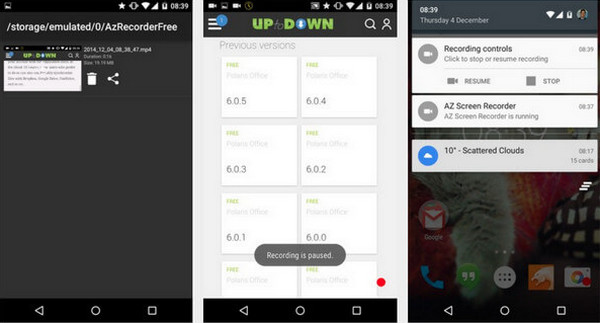 Features:
Allow you to record with HD and Full HD quality.
Can trim recording to remove unwanted parts.
Let you quickly pause and resume the Viber call recording.
3. ShowMore - Record Viber
ShowMore is a free online Viber call recorder. With the overall functionality, you can record screen activities anytime without any difficulties. Plus, it lets you do basic editing after recording; you can add simple effects or text. To use ShowMore to record Viber calls, you must install the launcher first.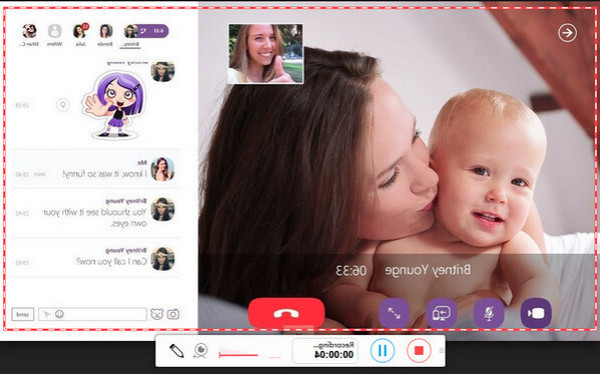 Features:
Enable you to add annotations, like text, lines, shapes, etc.
Provide several output formats, such as MP4, AVI, VOB, etc.
Can record audio from the system, microphone audio, and webcam.
4. Cube Call Recorder
The Cube Call Recorder app, which you can use on iPhone and Android devices, is very effective as your Viber call recorder. You don't have to be the one calling to record it since you are allowed to record calls from anyone. Besides recording Viber calls, it also lets you record from Telegram, Line, Skype, and more.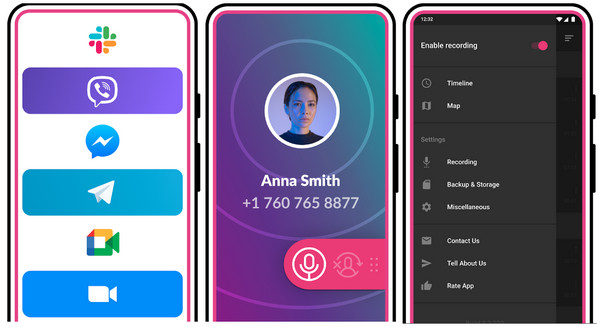 Features:
Have a Silent mode to hide the recording app widget
Offer a built-in cloud backup option
Let you switch speakers instantly.
5. Record it! Screen Recorder
Record it! Screen Recorder is a powerful Viber call recorder for iPhone and iPad that lets you record gameplay, tutorial, videos, and calls. After recording, you can directly share it on Youtube or other platforms. Furthermore, it supports video face cam reactions and simple editing functions, like adding filters, trimming, changing the background color, etc.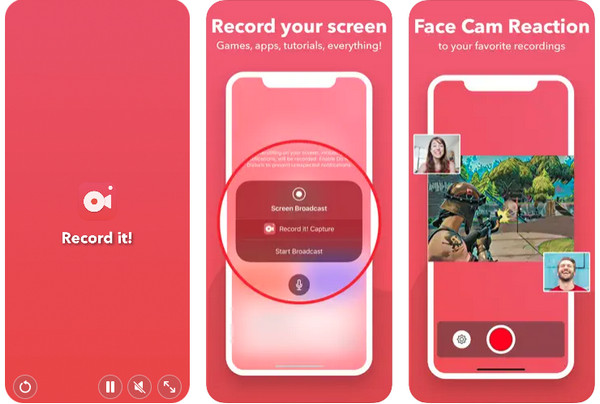 Features:
Allow you to add video reactions to your recordings
Include photos, games, and other content on your phone in recording
Support quickly exporting recordings — not wasting your time.
6. Go Record
The Go Record app is a Viber call recorder for users of iOS devices. After the recording of calls, you can quickly save them directly to the Photos app or share them to online streaming platforms, like YouTube. Furthermore, it supports front camera recording to record your facial reactions while doing a call with a friend.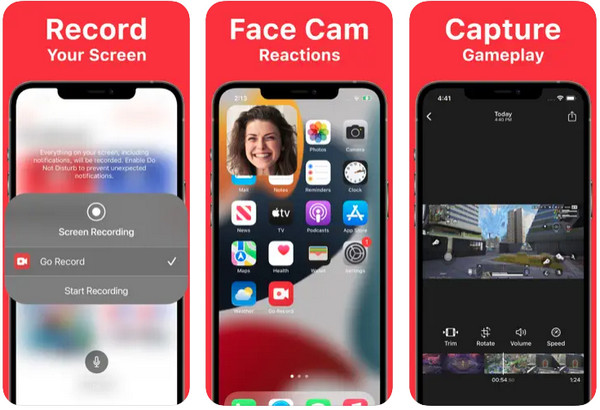 Features:
Record face cam reactions and add them to recordings.
Capable of running on all iOS devices that use iOS 11 and higher.
Equipped with a built-in editing tool.
7. Du Recorder
Last on the list of the Viber call recorder is the Du Recorder. This application works both on Android and iPhone and allows you to have a stable screen recording experience. And after recording, you can edit it with the built-in editing tool of Du Recorder. Plus, you can adjust video settings to get the high-quality output you desire for your recording.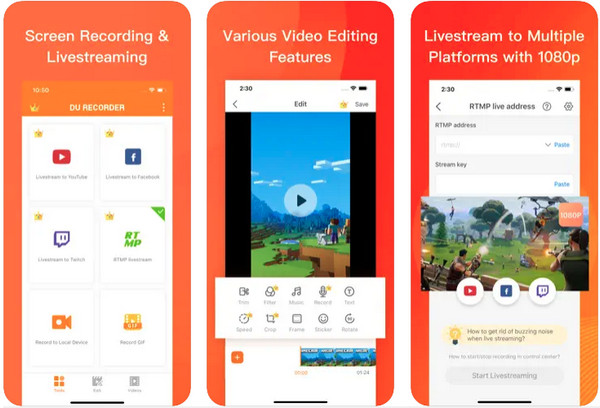 Features:
Comes with a built-in editor, allowing you to edit the video recording.
It lets you adjust video quality settings.
Has a live streaming option to stream on YouTube and Facebook.
Part 3: FAQs about The Best Viber Call Recorder
Does AZ Screen Recorder have ads?

Expect that you will encounter ads in the free version of the Viber call Recorder. You can only remove them when you upgrade to the premium version.

Where does the Cube Call Recorder save the Viber calls?

With this Viber call Recorder, you can directly save them on your phone. Or you can save them in the cloud, which is Google Drive that Cube Call Recorder provides.

Is DU Recorder a good Viber call Recorder?

It is an excellent free recorder since it lets you easily record audio. And like others, it will serve you an HD recording and save them on your computer.
Conclusion
Now, you can have a Viber call recorder from reliable call recorders in this post. Choose which among them caught your attention, feels easy to use and will meet your requirements. For an online tool, you can search for 4Easysoft Free Screen Recorder. And for everyday use, the suggested one is the 4Easysoft Screen Recorder. It works well on Windows and Mac and lets you quickly record calls with the built-in Audio Recorder. And you can guarantee you will get the high-quality audio output you desire.
Related Articles: