How to Reverse a Video? - Five Ways For You! [Desktop, Online, and Mobile]
When you have run out of ideas to make your video look creative and cool, consider reversing your video that will look impossible but impressive at the same time to watch. Reversing a part of a video is repeating a scene over and over again that is worth repeating like a broken glass slowly turning back into a complete one. And, it can invite more viewers to pay attention to the clip and the entire video. Of course, it isn't a simple task. So, keep reading to learn how to reverse video on desktop, online, and mobile.
Part 1: The Best Way to Reverse Videos on Windows/Mac with High Quality
As said, reversing a video is a complex task, but 4Easysoft Total Video Converter will make it easy. This program works on both Windows and Mac with a Video Reverser, which allows you to quickly reverse a video clip and adjust settings to maintain high-quality output. But, you should take note that if your video has a sound, it will be removed once you reverse a video. However, it isn't a problem with this program as it can also add music. Aside from this, it offers more than 15 toolkits in its Toolbox that you can also use to edit videos such as Video Watermark, Watermark Remover, Speed Controller, and more. A highly trusted and versatile editor is what you need to have the best way to learn how to reverse video.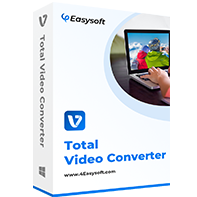 4Easysoft Total Video Converter
Possessed a Video Reverser tool that can quickly reverse a video clip without learning other complicated steps.
dd background music again on the Converter tab of the program when the audio is removed from the reversed video.
Enable you to monitor the changes you apply on the video clip you reverse on its preview feature.
Support many output formats that you can choose to export your reversed video.
Step 1First, download 4Easysoft Total Video Converter and click on the Toolbox tab from the above menu, scroll down, then select Video Reverser. Add the video you want to reverse by hitting the Plus button in the middle. Note that it does not support audio reversing so the audio will be gone once exported.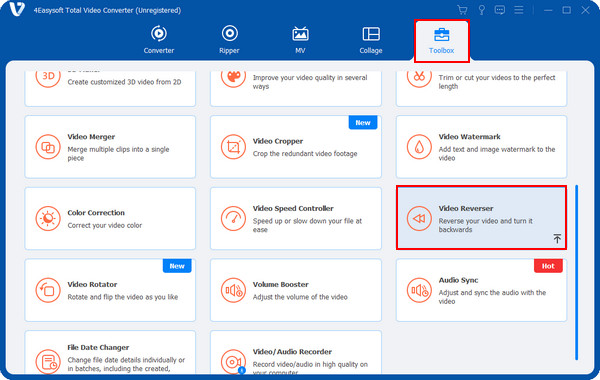 Step 2 After importing your video into the program, adjust the progress bar below or set a start and end time for the clip you want to reverse.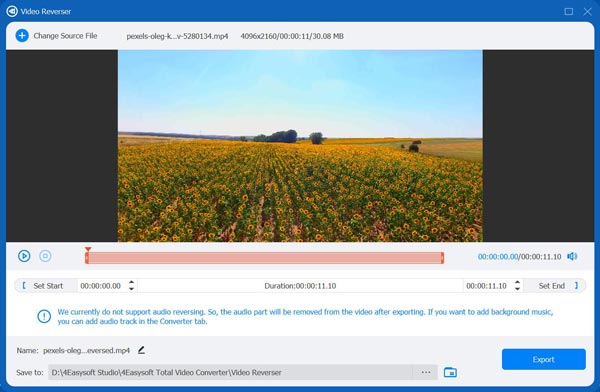 Step 3 If satisfied with the edit, select a file name and destination below. Then, click the Export button to save the reversed video on your computer.
If you want to add background music to your newly reversed video, go to the Converter tab.
Part 2: How to Reverse Video with Audio Online for Free
Of course, reversing video is not just possible on a downloadable program; you can also do this online. For a quick solution, continue reading to learn the online tools you can use to learn how to reverse video.
1. Kapwing
With Kapwing, you can create video content with transitions, combined clips, text, images, and more. Plus, it is simple to learn even without a tutorial guide and no video editing experience. Moreover, it contains no ads that frustrate you, no installation needed, and no loss of your made projects. Follow the steps below to see how Kapwing works and learn how to reverse video with audio.
Step 1 Start by going to Kapwing's official website, then to its Tools, and choose Reverse. You can upload your video by hitting the Start Editing button and clicking on Click to upload or drag and drop your file.
Step 2 Locate the Reverse button on the right sidebar, then hit it to reverse your video. Once done reversing, you can still trim your video and do further edits.
Step 3 When finished, click the Export Project button, and set your desired export settings. Then, please wait for the reversed video to save and share it with your friends.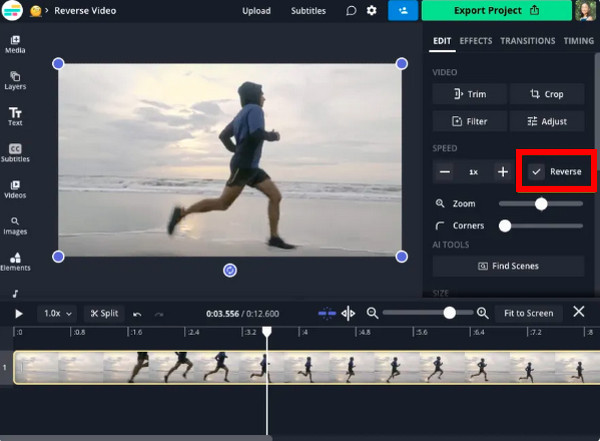 2. Clideo
Clideo is one of the most used online reversers. This online tool supports a wide range of formats, such as MP4, AVI, MOV, etc. In addition, you can add music, text, image, and more to your videos and make further edits to make them more attractive. No downloading is needed, and worrying about storage space they might take since Clideo is entirely online and works on any web browser on any device. Learn below how to reverse video with Clideo.
Step 1 On Clideo's main page, click on the Tools above and select Reverse Video. After that, click on the Choose files button to upload your video; you can get it from your computer files, Google Drive, Dropbox, or drag and drop it.
Step 2 Once added, choose the reverse speed you want. You can also mute your video by clicking the checkbox of Mute video if you don't want to hear any sound. When done choosing, click the Reverse button.
Step 3 Lastly, click on the Download button. Or, upload the file and save it to your Google Drive or Dropbox.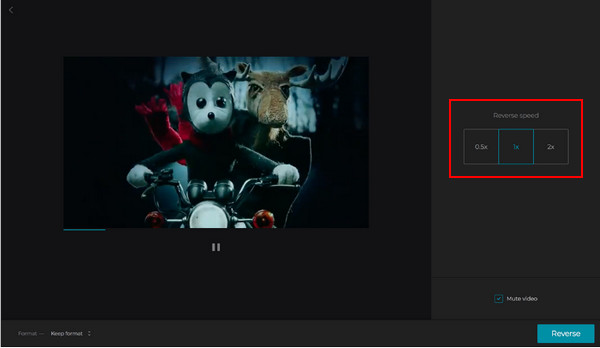 Part 3: 2 Best Reverser Apps to Reverse Videos on Android/iPhone
After learning how to reverse video on a desktop and online, in this part, the two best reverser applications you can use on both iPhone and Android devices are shared. Each comes with a detailed guide, so you can start using them without a problem.
1. Capcut for Android/iPhone
CapCut is one excellent choice if you are a first-timer video editor. With this application, you can easily combine clips, add effects and filters, change the speed of your video, reverse clip, and more. CapCut won't offer inconvenience because of its interface, unlike others with a complex interface. But, commonly, CapCut has watermarks when you use a template from it, but you can quickly solve this tricky situation. When ready, see below how to reverse video with CapCut.
Step 1 On your Android device or iPhone, get the CapCut app to start. Once you have it, open the application on your phone, then click on New Project above.
Step 2 Select the video you want to reverse from your Library. When done selecting, you will be navigated to the editing window.
Step 3 Tap the Edit button with a Scissors icon, then select the Reverse option. Wait for the reversing process to complete. Finally, click the Save button with an upward arrow icon to get your video.

2. InShot for Android/iPhone
When talking about essential tools, go for InShot. You can quickly create amazing videos using its tools, such as cutting, splitting, cropping, reversing, adding color, effects, filters, and more. Furthermore, InShot enables you to select the quality and frame rate to export your video according to your desired quality. But, of course, if you want something exceptional, InShot is not for you. Look at the guide below and learn how to reverse video using InShot.
Step 1 Open the InShot app on your iPhone and Android device. Go to Video, then select the video you wish to edit.
Step 2 If you have a specific part to reverse, trim the video before adding it by tapping the Scissors icon, then click on the Check button to proceed.
Step

Part 4: FAQs about How to Reverse Videos on All Devices
How to use KineMaster to reverse a video clip?

Get the KineMaster on your phone if you don't have one, then add your video. Tap the clip and select the Reverse button in the Options panel. Wait for the reversing process to finish, and your video will play in reverse when it gets completed. That's how to reverse video with KineMaster.

Does VLC support reversing a video clip?

VLC Media Player can reverse a video. To do this, go to Tools from the above menu, then Effects and Filters. From the Adjustment and Effects, click on the Video Effects tab, then click the Geometry tab and hit on the checkbox of Transform.

Can I use Canva to reverse a video online?

Canva does a lot of video editing. It can flip videos and rotate but doesn't have a reverse feature to play them backward.
Conclusion
Reversing a video may appear normal to others, but it is really effective if you want your video to look cooler and unique. Out of all the ways discussed above on how to reverse video, such as Clideo and Kapwing for reversing video online, and two applications for mobile devices, the 4Easysoft Total Video Converter stood out! With this program, you can get a high-quality output on your reversed videos with its Video Reverser function. Download it now and explore more features offered by the program.
Related Articles: