Know Facebook Video Settings and Create Videos with Tips [Tutorial]
Facebook is one of the most famous social media platforms that let you share random videos, pictures, captions, etc. But many complain that once they post videos, the quality becomes bad. To avoid this from happening again, you should adjust the Facebook video settings; since Facebook sabotages your video's quality, no matter how excellent the original video is. Given this, the following parts will guide you through Facebook ideal video settings to upload without losing quality. Dive in to know the best video settings to make the best video on Facebook.
Part 1: The Best Facebook Video Settings: Format, Resolution, etc.
People would upload videos on Facebook to entertain themself, friends, and other. However, Facebook has been giving you lousy quality once you upload it. The reason could be the wrong format, resolution, etc., which makes Facebook decrease the video size, resulting in lower quality. To upload the best video on Facebook, follow Facebook ideal video settings.
A typical format for long videos has an aspect ratio of 16:9 with a resolution of 1280x720. It is the recommended format to keep a long video while preserving a reasonable size. Keep this in mind to make the best video format for Facebook.
For video codec, use MP4 with H.264. It allows you to have a small video size but with high quality making your exported videos attractive on Facebook. You could use an editing program to help you compress audio and video with no quality loss; consider using the one discussed in this post. Look for software that will give you the best compression settings to follow Facebook ideal video settings.
Lastly, the standard frame rate for video is 24fps or 30fps. The FPS refers to the number of pictures or frames in one second. And Facebook recommends you use 30fps or less. However, if you use cameras or phones, some of them will give you 60fps or higher. Unlike other social media platforms, Facebook allows you to upload long videos. Once you follow this frame rate, you can smoothly playback the video.
Those are some of the requirements to follow Facebook ideal video settings. As said, you can use a program to help; continue reading the following parts and learn the program and some helpful tips to create a high-quality video for Facebook.
Part 2: How to Edit Videos to the Best Facebook Video Settings
To apply Facebook ideal video settings, use 4Easysoft Total Video Converter, which helps you to edit, add filters, and choose from themes you can add to your photos and videos. The program supports exporting videos in your desired quality by offering 720P, 1080P, HD, and more video codecs. With artificial intelligence, you can optimize the brightness and contrast of your videos, even remove noise to make your video cleaner, and stabilize shaky videos. Furthermore, unlike other programs, this total video converter offers toolkits you can use in converting and editing videos to make videos with the best Facebook video settings.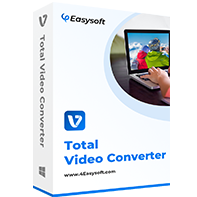 4Easysoft Total Video Converter
Provide a superb video quality output, including 1080P and 4K resolution with artificial intelligence.
Allow you to customize video and audio settings and get your desired quality for Facebook videos.
Offer filters, such as colorful, snow, memory, and more to choose to apply on your videos.
Crop and trim the videos to the required size and length for Facebook, like 16:9 and 4:3 aspect ratio, etc.
Step 1To start, download and install 4Easysoft Total Video Converter, then launch it on your computer. Add your video to the program by clicking the Plus button in the middle, or drag videos directly to the program.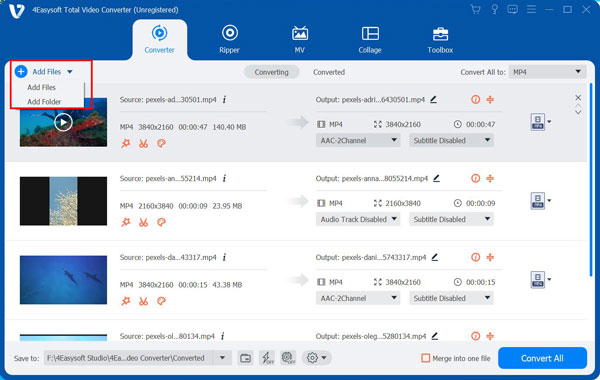 Step 2Then you can make apply the Facebook video settings to it. Click on the Edit with a star-shaped icon to change all the settings and add effects to the videos as you like.
Rotate and crop your video by clicking the up and down buttons of Crop Area and clicking one of the Rotate positions. You can also change the video aspect ratio and Zoom Mode. You can preview the edited video on the right side of the interface.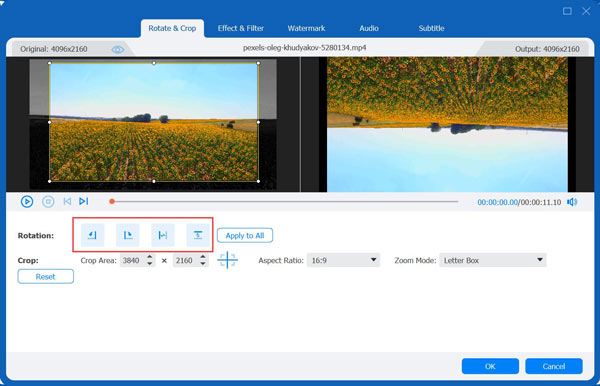 Step 4Go to the Effect & Filter tab to apply effects and filters. You can adjust the Contrast, Saturation, Brightness, and Hue according to what you need. Moreover, choose one of the filters provided on the right side. Click OK if satisfied.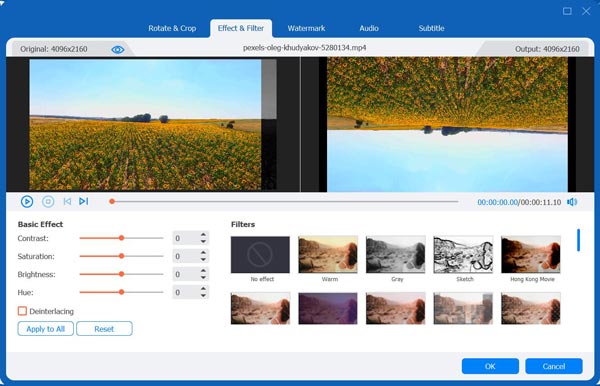 Step 5Click on the Format drop-down. There you can see the list of Video and Audio formats. You can select MP4 as your output format with a custom resolution to make the best Facebook video setting. Click Convert All once done to export your video.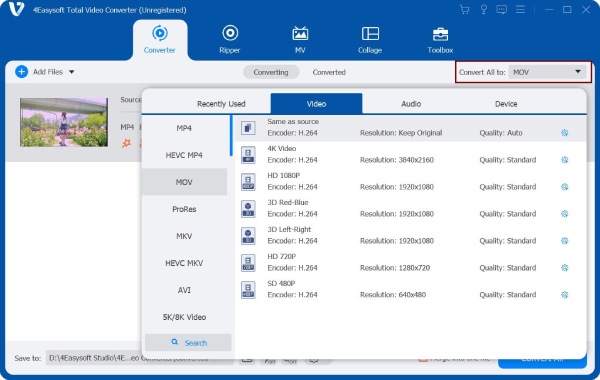 Part 3: Tips on Creating High-quality Facebook Videos
After learning the recommended format, resolution, and fps to apply Facebook ideal video settings, this part will give you some tips for creating high-quality videos for Facebook. You can accomplish each tip quickly and enjoy your high-quality Facebook videos.
1. Be sure to Enable the Upload HD Mode. To guarantee a high-quality video once you upload, turn on the Upload HD option on Facebook. To do this, Go to Settings & Privacy, then Settings, and click Media. Under the Video and Photo Settings, you will have the HD options for Photo and Video; toggle the Video Upload HD switch button. It is the easiest way to help you get a high-quality uploaded video on Facebook.
2. Follow the Correct Resolution, Format, and Frame Rate. It is necessary to follow proper resolution, format, and frame rates for Facebook videos. Once you don't follow Facebook recommended video settings, you will get bad-quality for your videos on Facebook. To learn more about Facebook video settings to have the best video, go back to Part 1.
3. Have a Stable Internet Connection. A strong internet connection allows you to upload your video faster on Facebook and watch it with good quality. If your internet connection is stable, the quality of your video will be nice to watch, and the uploading process may continue, especially for longer videos.
Part 4: FAQs about Facebook Video Settings
How to change privacy on FB Video Settings?

Log in to your Facebook account, go to Settings, click on Privacy, then Edit. Under Who can see your future post, select options including Public, Friends, Friends Except, and Only Me for you to specify who can see your videos posted on Facebook.

How to auto-play videos on FB Video Settings?

Go to Settings, then Media, and click on Autoplay video. It will autoplay all videos you will see on your Facebook timeline.

Can I change the quality directly on FB Video Settings?

You can change it to HD on Facebook settings. Or, to have excellent quality, follow the video settings recommended by Facebook. For more information, you can go back to Parts 1 and 3 to see the proper settings and tips for having a high video quality posted on Facebook.
Conclusion
If you have reached this part, you now understand why Facebook gives you poor quality even when you post a high-quality video. You also learn the best video formats to apply Facebook ideal video settings. So, when posting videos on Facebook, apply the tips and proper format, resolution, etc. To help you get through this, 4Easysoft Total Video Converter is ready to help. You can create the best videos with the help of filters, effects, and more features to edit videos. And after editing your videos for Facebook, you can export them with your desired high quality. You can create the best video with a simple click while following the proper FB video settings.
Related Articles