How to Crop a GIF to the Desired Size Easily on Windows/Mac/Online
GIFs provide so much fun as they have been popular on social media platforms containing memes and jokes. However, some GIF are too large to send on the Internet. So, you need to crop the GIF to the required size for different platforms. With the right cropping tool, you can easily accomplish this task! Several programs are available for cropping a GIF over the Internet. If you have difficulties finding one, continue reading this post. Below are three easy methods to crop a GIF. Each of them was discussed and contained detailed steps.
Part 1: The Easiest Way to Crop A GIF on Windows/Mac
The easiest way to crop a GIF is with a powerful program like 4Easysoft Total Video Converter. It offers users more than 15 toolkits, including the GIF Maker, which allows you to create customized GIFs using your video or image files. Besides this, it has Video Cropper that lets users quickly get their desired size by choosing the aspect ratio or freely adjusting the frame to their wanted size. You can also apply loop animation, adjust frame rate, cut out unnecessary frames and parts, etc. Furthermore, unlike other programs with poor output quality, you can get superb video quality with this program, allowing you to enjoy every output.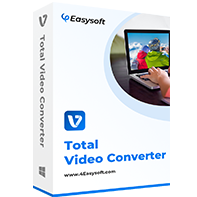 4Easysoft Total Video Converter
Offer a powerful GIF Maker tool that lets you customize GIFs with your video and image files.
Provide a Video Cropper tool, which you can see in the Toolbox, enabling you to get your desired size quickly.
Support many filters and effect to add to your cropped GIF images, which will make them more attractive.
ItAllow you to improve video resolution with its AI by upscaling video, optimizing brightness, removing noise, etc.
Step 1Download 4Easysoft Total Video Converter, then install it. Launch the program on your computer to crop your GIF easily. Click the Toolbox above; there, more than 15 toolkits are placed, one of which is the Video Cropper. Click the Video Cropper.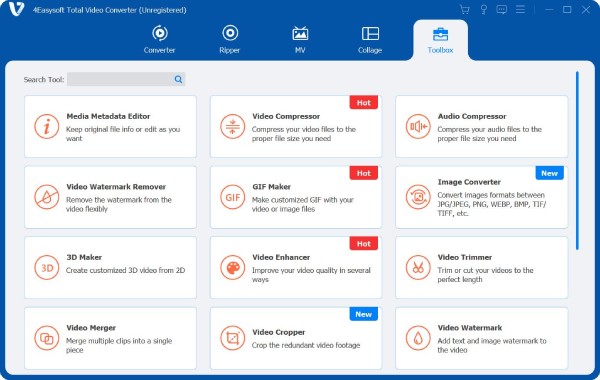 You can choose to click the GIF Maker if you want to create your GIF with your video and image files, then edit it directly on the feature. But if you need to crop your GIF, go to Video Cropper.
Step 2Add the GIF you wish to crop by clicking the Plus button in the middle of the interface. Click the Aspect ratio drop-down menu to get your desired size quickly. If you want to choose another size that isn't included in the drop-down, click Freely, then enter the number in the Crop Area to start cropping a GIF.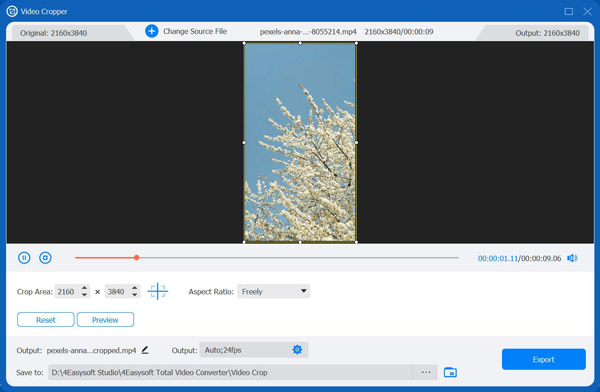 Alternatively, you can adjust the size by dragging the frame to the size you want for your GIF. If you want it to center, click the Cross icon beside the Crop Area.
Step 3After cropping, you can customize video settings to get high quality. Click the Output Settings below, choose the output format, adjust video resolution and frame rate, choose desired quality, etc. Click OK. Lastly, click Export to save your cropped GIF.
Part 2: How to Crop A GIF Image to the Desired Size Online
GIPHY is a website that provides several GIFs and stickers available online and on Android and iOS devices. It offers users a fun and safe way to search and create content on the Internet. Moreover, if you want to make your GIF or crop the GIF, it also helps you. Here are the detailed steps:
Step 1Go to GIPHY main page, log in to your account. Then, click Upload; there, you'll see two options to upload your file; click Choose File below GIF. Alternatively, you can paste the URL of the GIF from other social media platforms.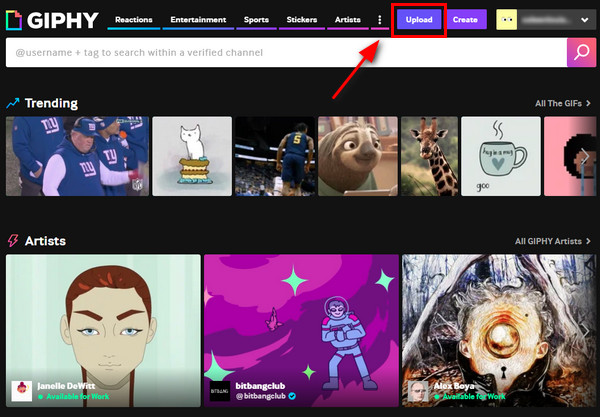 Step 2Once you upload your file, navigate to Edit; then, from the five edit options provided, choose Crop. Here you can choose different size for cropping the animated GIF.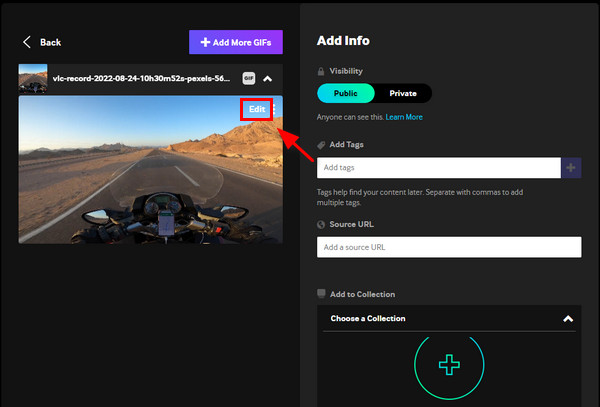 Step 3Start cropping by choosing Original, Tall, Square, and Full, or if you want to choose your size, click Custom, then adjust the frame by your desired size. Click Done.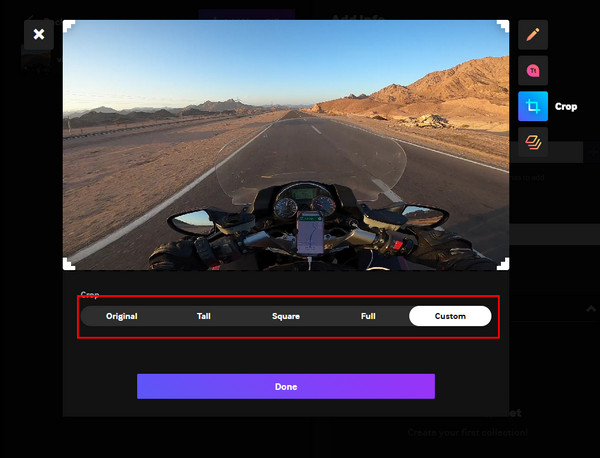 Step 4You can add tags or a source URL if your GIF comes from the Internet. When you're done, click the Download button below to export your cropped GIF file.
Part 3: How to Use GIMP to Crop An Animated GIF to Different Sizes
Here is another GIF slideshow maker and editor for you. GIMP is an open-source program that allows users to edit images, such as image retouching, compositions, and authoring. You can also use GIMP to crop the GIFs on Windows, macOS, Linux, and more operating systems. Whether you are simply an editor or illustrator, it provides you with easy-to-use tools to accomplish your job regarding cropping a GIF - you don't have to learn any advanced skills and methods. Start cropping your GIFs to different sizes with GIMP.
Step 1Download and install GIMP on your computer, then launch it. When you have launched the program, click File, then Open to import your file into GIMP.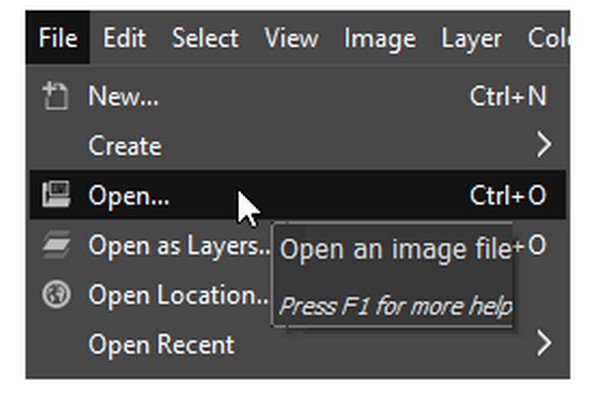 Step 2Go to Tools, choose Transform Tools, and select Crop from the drop-down menu. You can start cropping your GIF by adjusting the frame to the size you want. Click Enter to crop the animated GIF.
Step 3Once done, click on File, then Export to save your cropped animated GIF. Remember that the As animation should be checked in the Export window.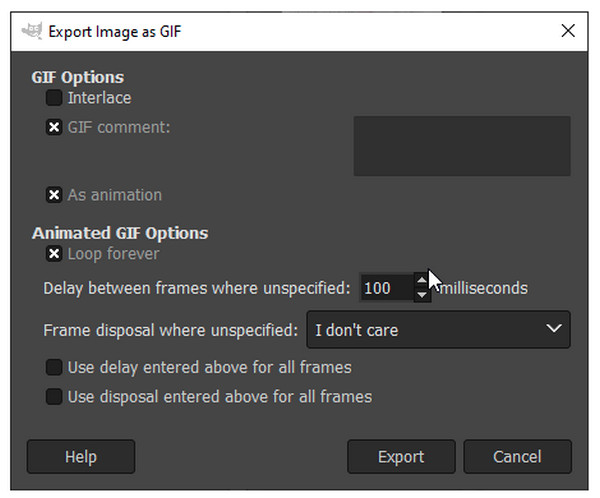 Part 4: FAQs about Cropping An Animated GIF
How can I crop GIFs into a circle?

Look for a GIF cropping tool that has a crop shape option. One example of a tool is Lunapic; once you upload your GIF, you can select a shape for cropping. Click the Circle shape and adjust it to your wanted portion of the GIF. Then, click Crop Image then right-click on it to save.

How to use EZGIF in cropping animated GIFs?

EZGIF is one of the simple online tools to use. You just need to Upload your GIF, then use your mouse to select the part you want to crop or select one of the provided aspect ratios, such as 4:3, 16:9, 2:1, etc. It also provides an Auto Crop option, and you can also choose it. Once you're done, click Upload to get your cropped GIF.

Can I use my phone to crop a GIF?

Use an application on your Android and iPhone. You won't have a hard time looking for one since many applications are downloadable on your phone, allowing you to crop a GIF. You can also use an online tool, upload your GIF and start editing it. But, for an application, you can use PicsArt, which enables you to create and edit GIF files on your mobile devices.
Conclusion
If you have reached this point, you definitely know how to crop a GIF. When you encounter the wrong size of your GIF, you can easily resize it using the methods given; If you're worrying about the quality, go for software like 4Easysoft Total Video Converter. You can crop a GIF and even create one with its GIF Maker, and Video Cropper tools provided - two of more than 15 toolkits of the program. With the artificial intelligence of the tool, you can have a superb quality of your cropped GIF.
Related Articles