Know the Instagram Best Size and How to Crop Instagram Video
You badly need to resize or crop your Instagram video before posting it, whether on Instagram Reels, Story, IGTV, Carousel, etc. Because if you don't, Instagram will crop it, making your video unappealing, unattractive, or unpleasant. Don't worry; this article got you covered! This post will show you all the Instagram-supported aspect ratios so you can crop video for Instagram posts accordingly. Additionally, it will recommend three tools to help you crop your video easily!
Part 1: What is the Best Size You Should Crop the Video for Instagram
Before exploring how to crop a video for Instagram, you should first explore each Instagram post's corresponding aspect ratios and resolution. Instagram enables its users to do various content by posting videos on Story, Reels, IGTV, Carousel, or a casual posting on News Feed. To crop your Instagram video accordingly, you must know their equivalent aspect ratios and resolution in the following.
◆ Instagram Story
Aspect Ratio: 9:16 for portrait and 16:9 in the landscape.
Resolution: 1080x1920.
◆ Instagram Reels
Aspect Ratio: 9:16 for portrait and 16:9 for landscape.
Resolution: 1080 wide and 1920 tall.
◆ Instagram IGTV
Aspect Ratio: 9:16 ratio.
Resolution: 1080 pixels and 1920.
◆ Carousel video on Instagram
Aspect Ratio: 9:16 for a video in portrait and 16:9 if it is in the landscape.
Resolution: 1080 x 1920p.
◆ Instagram Feed
Aspect Ratio: You can upload a video between the 1.91:1 and 9:16 aspect ratio.
Resolution: Instagram enables you to post a video on your feed with a minimum of 720 pixels.
Those are the aspect ratios and resolutions assigned by Instagram to every video post. You can use them as your basis for cropping a video you wish to upload. Now, it's time to discover those tools and apps to crop videos for Instagram.
Part 2: The Best Way to Crop Video for Instagram with High Quality
The first tool recommendation to crop video for Instagram is the 4Easysoft Total Video Converter tool. This tool supports a cropping feature, enabling you freely crop the sides of your video according to your needs. Additionally, it also supports various aspect ratio values to choose from, including 9:16, 16:9, 4:3, and more. You'll definitely love this tool, not only because it can crop your video but also because it can enhance its quality as well. This tool also supports tweaking features, which enables you to modify your video's resolution to have a much better Instagram post. These are just a few great features that this tool has, and still has a lot to offer. This is indeed a great tool to crop video for instagram.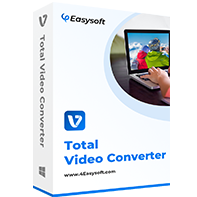 4Easysoft Total Video Converter
Allow you to choose your preferred file storage location for your cropped Instagram video file.
Equipped with a real-time preview feature that allows you to monitor and check the changes you've made to your video.
Infused with video tweaking options that enhance your video's quality, resolution, frame rate, etc.
Enable you to change the file format of your video into either MP4, MOV, GIF, WMV, etc.
How to Crop a Video for Instagram with High Quality using 4Easysoft Total Video Converter:
Step 1Visit the 4Easysoft Total Video Converter website to download and install the tool on your Windows or Mac computer. After that, launch the tool, click the Toolbox tab, and select the Video Cropper from the options.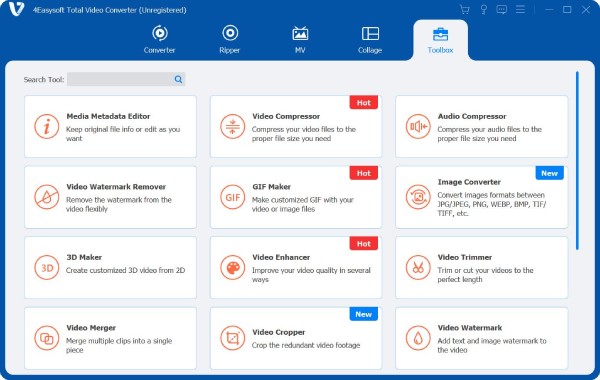 Step 2After that, import your video by ticking the Add a video to Video Cropper button with the Plus icon. Then, tick the Aspect Ratio dropdown menu option to select your desired resolution quickly. Otherwise, you can also choose to enter specific values under Crop Area. You can also freely move the Frame on the area you wish to stay and not be cropped.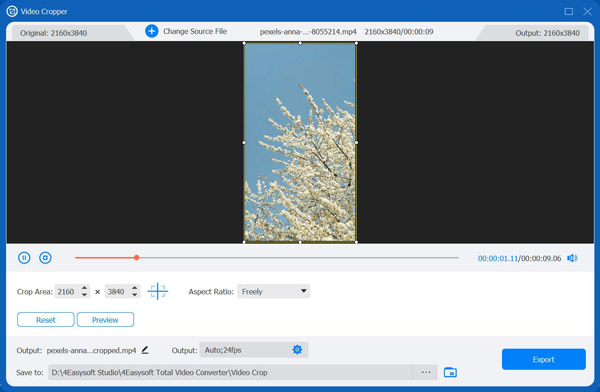 Step 3Once you are done cropping your video based on a specific Instagram aspect ratio post, you can also undergo further enhancements to your video; click the Output Settings button with the Gear icon. Then, on the new window, you can tweak your video's Resolution, Frame Rate, Quality, etc. If you are satisfied with your setups, tick the OK button.
Step 4Click the Export button to save your cropped, high-quality video on your storage. That's it! Those are the simple steps on how to adjust video cropping for Instagram video posts utilizing 4Easysoft Total Video Converter.
Part 3: How to Crop Videos for Instagram on Android/iPhone
Now that you have discovered the best way on how to crop a video for Instagram, here are the two excellent applications you can use to resize your video according to your preferred Instagram post on Android/iPhone. These tools will definitely make your video cropping easy and convenient.
1. InShot's Video Editor & Maker is a suitable app to crop videos for Instagram, available for download on iPhone or Android. This app is infused with powerful yet easy-to-use video editing tools you can use for free. Those editing features include adding transitions, effects, text, filters, video trimming, cutting, rotating, cropping, etc. Additionally, cropping a video on iPhone based on your preferred aspect ratio, like the Instagram ratio, will only take a few steps.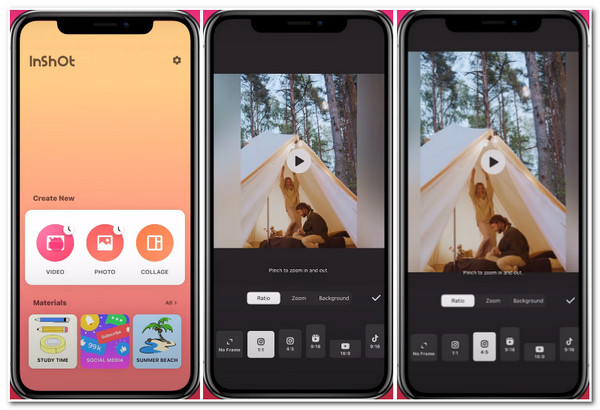 Pros

User-friendly application that makes video cropping much easy and quicker.
Supports exception video editing features.
Cons

Offer a few Instagram aspect ratios to choose from.
Lack of technical support and walk-through guide.
2. The Crop, Cut & Trim application is another app to crop video for Instagram. This Android-compatible application is designed to accommodate your every video cropping needs. Additionally, this tool's features and overall design are well-composed and created, making it a suitable tool for beginners. Moreover, this tool has basic editing features, including video cutting, cropping, blurring, trimming, and more. If you are looking for an easy tool, then you should try this app.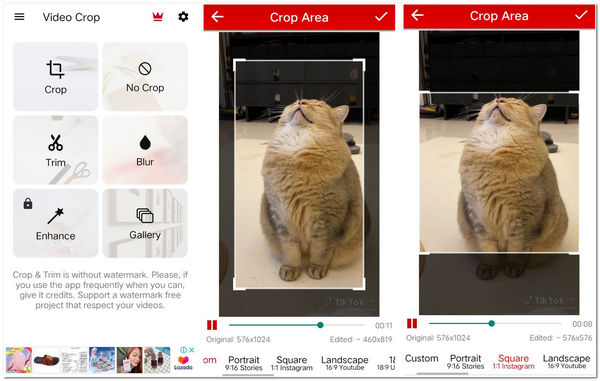 Pros

An easy-to-use and understand the application.
Offers you output tweaking options that enhance the quality of your cropped video.
Cons

Offers you limited features for the trial version.
Support only a few aspect ratios.
Part 4: FAQs about Cropping Videos for Instagram
1. Why do videos are cropped after posting them on Instagram?

Instagram was developed and intended to use on various mobile devices. Since every mobile device comes with different screen ratios, Instagram developers chose an exact ratio that would fit most mobile device screens. However, this affects the visual appearance of every image or video posted or uploaded on Instagram.

2. What would be the best format to export a cropped Instagram video file?

The video formats supported by Instagram are MP4, MOV, and GIF. You can export to these formats according to your need after cropping. But, MP4 format is the best one, which will keep the high quality.

3. Does Instagram supports 4K video?

Unfortunately, it doesn't support 4K videos. The maximum resolution that you can upload on Instagram is 1080 x 1920. So, if you have a 4K video and want to upload it on Instagram, you have to modify its resolution to 1080 x 1920.
Conclusion
Having that information regarding Instagram-supported aspect ratios and the lists of great tools, you can now be able to crop video for Instagram appropriately. If you want to crop a video with a tool that could provide excellent cropping features, then the 4Easysoft Total Video Converter tool is what you need. Take note that this is not just an ordinary tool but can also improve the quality of your video. It is indeed a beyond-capable tool to use for all of your video cropping needs. Download and install the tool now!