How to Upscale Video to 4K? [Windows, Mac,Android,iPhone, and Online]
You owned a 4K TV screen, but the video looked smaller and stretched on your screen. That only means your videos are not in 4K. So, it is necessary to upscale video to 4K for larger screen. Otherwise, your content will look so small on your 4K TV screen and other 4K displays. An upscaled video to 4K will look better, of course, than 1080P. If you want to do upscaling now, you have come to the right post! Keep reading to learn the ultimate ways to upscale video to 4K; you can do this on your desktop, mobile, and online — each will give you the requirements you need.
Part 1: The Ultimate Way to Upscale Videos to 4K with AI
When discussing the best ways to upscale video to 4K with artificial intelligence, 4Easysoft Total Video Converter has come prepared. This program is one incredible tool you can use with AI Technologies as it provides you with lots of editing toolkits on its Toolbox, such as Video Enhancer. It lets you enhance videos in four impressive aspects, and that includes the Upscale Resolution that allows you to have superb video quality. Furthermore, it can also help regarding the dirt-like noises on your video and the shaky ones. Try it now by following the detailed guide below on upscale video to 4K with AI.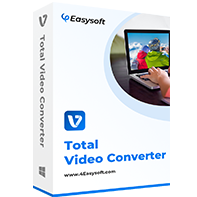 4Easysoft Total Video Converter
As for upscaling videos, it has a Video Enhancer tool that lets you have excellent quality, including 1080P and 4K.
With AI Technologies, you can remove dirt-like noise and stabilize shaky videos, making your video cleaner to watch.
Allows you to customize video settings to maintain your desired quality output.
Equipped with a preview function that enables you to monitor the changes you apply to your upscaled video.
Step 1When you have launched 4Easysoft Total Video Converter, click the Toolbox from the above menu. From there, you will see the program's impressive toolkits; click the Video Enhancer to upscale videos to 4K.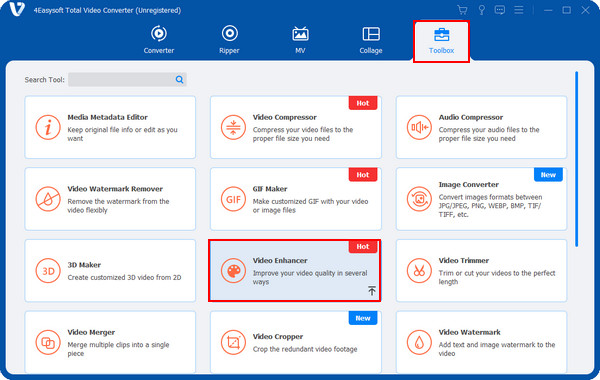 Step 2Add the video you wish to upscale by clicking the Add button in the middle, then click Open to import it into the program. Then, as said above, you can choose to enhance the video in four options; among them, click on the Upscale Resolution checkbox.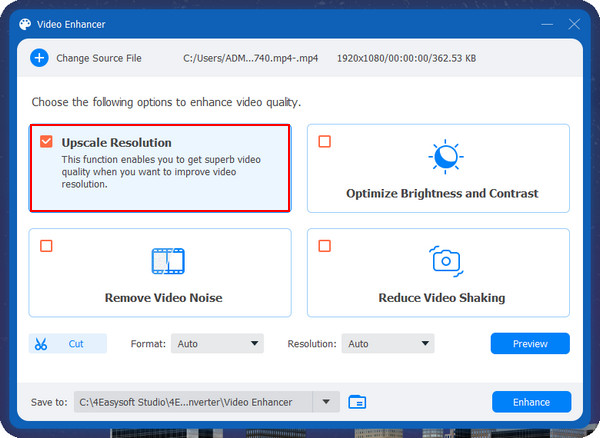 Step 3Then navigate to the Resolution menu and select the 3840x2160 to upscale videos to 4K resolution. You can also set a destination path for your file and click the Preview button to check.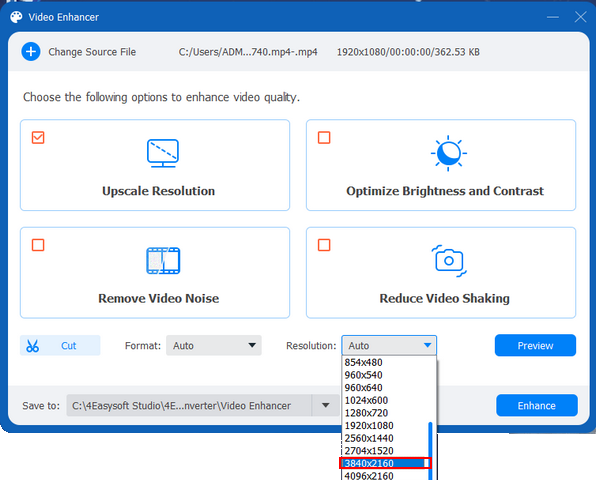 Step 4When you have done everything you need to do, click the Enhance button on the bottom right corner of the program.
Part 2: 3 Free Tools to Upscale Videos to 4K Online
Another method is to upscale video to 4K online. You can do this with several online tools, and three of the best will be discussed today. When ready, you can go on to learn the three free online tools you can use to upscale video to 4K.
1. Cutout.pro
The first on the list is Cutout.pro, which lets you upscale low-quality video to 4K. It can also help you with your old-age footage by increasing its quality. Plus, Cutout.pro is supported by AI, so you can remove noises and motion artifacts and improve resolution to upscale videos. If you want unlimited access, you can purchase its premium version, which you will enjoy.
Step 1Click the Upload Video button once you're on the main page of Cutout.pro. Select your video, then click Open.
Step 2After you upload your video, the upscaling to 4K process will automatically begin. Please wait for it to finish.
Step 3When it is completed, you can see the result preview before downloading it on your computer.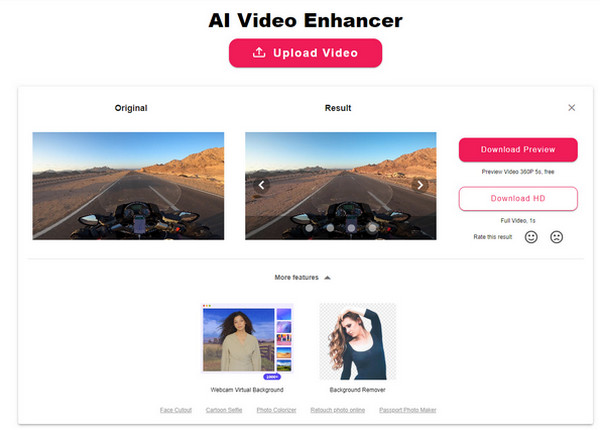 2. HD Convert
HD Convert works best as your AI online upscaler as you simply upload a video on its page to get your desired quality. You can make sure that it is entirely safe when upscaling videos to 4K, and no need to worry about the bugs or viruses that will get into your computer. HD Convert will give you the highest quality possible.
Step 1Go to HD Convert's official webpage. Then click on the Enhance Video button o in the middle.
Step 2Select your video file, then click Open to import it. Click Next to proceed, then select your preferred format. After that, click on the radio button of Ultra HD 4K.
Step 3Click the Next button to process until you complete the five steps. You can hit the Convert 1 File button to get your upscaled video to 4K.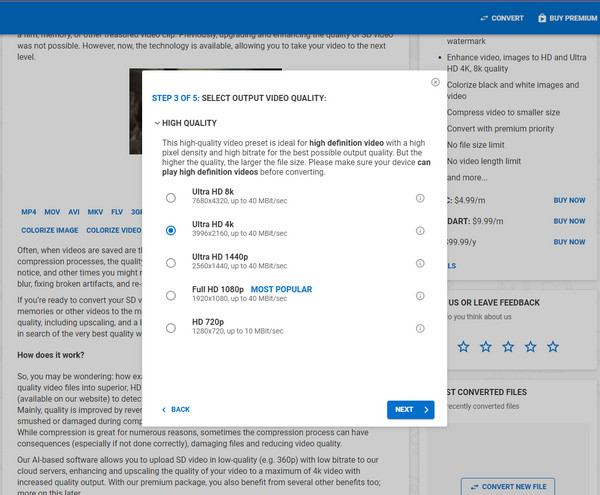 3. Neural.love
Lastly is the Neural.love which enhances and enlarges video resolution up to 4K. It provides you with lots of features you can use to take your video to the next level. No need to download anything to use this program as it is completely an online service that can be your online image, audio, and video enhancement tool.
Step 1In the Neural.love 's main site, you will see the Upload video or images button; hit it to select your file, then click on Open.
Step 2After that, it will process the video to open, and wait for it to complete.
Step 3Lastly, toggle the switch button of Upscaling to 4K below to upscale video to 4K. Then, you can save the upscaled video on your computer.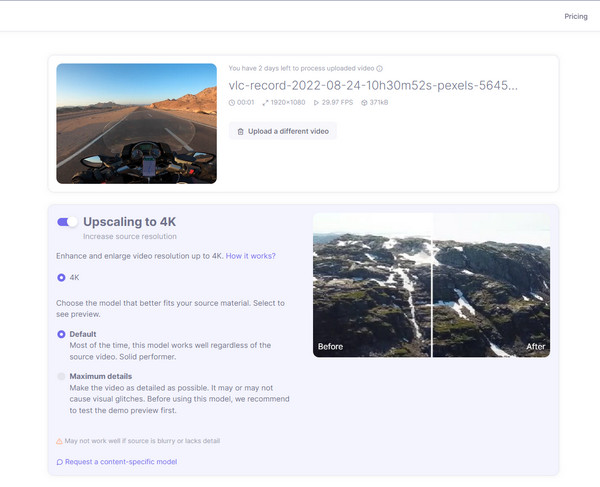 Part 3: How to Upscale Videos to 4K on Android/iPhone
If you can upscale video to 4K on your desktop and online, you can do this on your mobile devices. Upscaling video on mobile applications comes very handy as they can save precious time and quickly save your upscaled videos. When ready, come and get to know the application you can use on your phone to upscale video to 4K.
PowerDirector provides you with all the features you can use for quality upscale. It offers multi-track editing and built-in filters to adjust and make attractive videos. You can easily use this as it provides a user-friendly interface with powerful editing tools for beginners. Start upscaling videos with PowerDirector by following the guide below:
Step 1Open the PowerDirector on your phone and tap the New Project. After that, select an aspect ratio.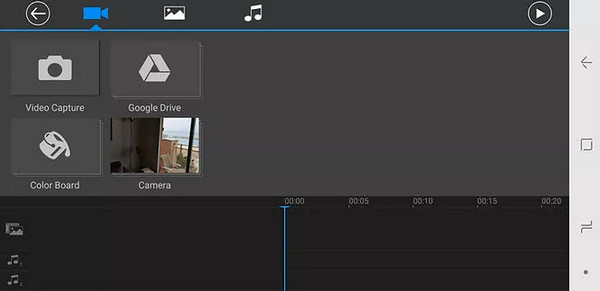 Step 2Upload a video now. You can upload multiple videos or only one. If you have uploaded multiple, clip them together.
Step 3You can now edit your videos with audio, text, or sound effects functions. When finished, you can select the desired resolution before saving it. Click on the radio button of Ultra HD (4K).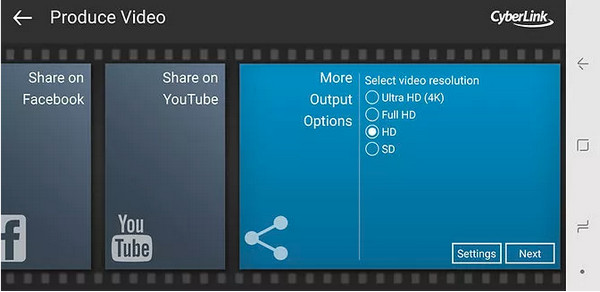 Part 4: FAQs about How to Upscale Videos to 4K with High Quality
Can a 480P video be upscaled to 4K with high quality?

Yes, it can be upscaled to 4K. But the video may look distorted or stretched. Make sure you use an excellent program to assist you upscaled 480P to 4K with high quality.

Is upscaling from SD to 4K possible?

With the advancement of technology today, you can do an upscaling from SD to 4K. A program with AI Technology is suggested if you are going to upscale video to 4K with high quality.

Can I upscale the video with iMovie in 4K?

iMovie doesn't have a 4K resolution option to export video. The highest is 1080P, which is also very high quality.
Conclusion
You have learned for this day how to upscale video to 4K. Hopefully, you can choose your desired method for upscaling — upscale on desktop, online, and mobile devices. 4Easysoft Total Video Converter is strongly recommended for high-quality output and quick upscaling. This software can easily take your video to the next level with its Video Enhancer tool with AI Technologies. You can also apply its other editing functions to your video while maintaining high-quality output.
Related Articles: