How to Rotate GIF to Any Direction Easily? [Desktop & Online]
GIFs are commonly used on social media platforms to communicate and make funny expressions or replies. They are frequently in the form of a loop of photos that contain funny messages. Rotating GIF is necessary when GIFs aren't correctly positioned, which makes them less effective in expressing a message. While there are many cases like these in photos and videos, in the following parts, you will learn how to rotate GIF with excellent GIF Rotators you can use on a desktop and online, each with a detailed guide.
Part 1: The Best Way to Rotate GIF on Windows/Mac with High Quality
Offering the best way to rotate GIF is the 4Easysoft Total Video Converter. Besides converting video and audio to a different format, it offers excellent toolkits, and that includes the GIF Maker. In GIF Maker, you can create your GIF using your video or image files and its editing function, such as rotate, crop, apply effects, and more. Furthermore, you can guarantee excellent quality as it lets you change the frame rate, resolutions, and other settings to preserve the high quality. Rotate your GIFs now with this versatile GIF rotator.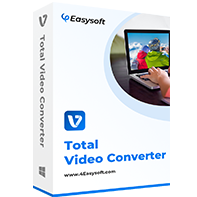 4Easysoft Total Video Converter
Provide a GIF Maker tool that allows you to customize your GIF using your video or image files.
Enable you to rotate, crop, apply effects, add texts, and more to your videos or images and convert them to GIF format.
Offer a preview that enables you to check first before generating your GIF
Enhance video quality with artificial intelligence, allowing you to get superb GIF quality.
Step 1To start, free download 4Easysoft Total Video Converter and launch the program. Once you're in the Converter tab, click on the Plus button to import your animated GIF into the program. Alternatively, you can simply drag your file and then drop it.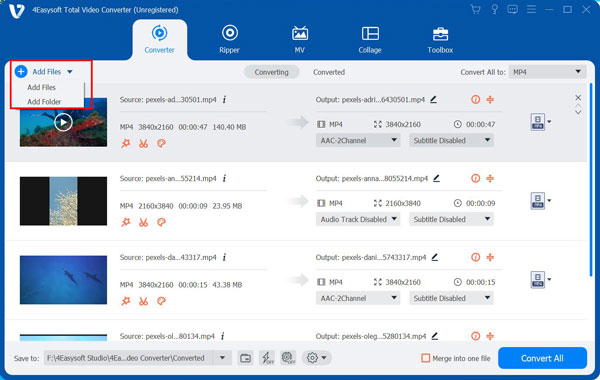 Step 2If you must create a GIF first, go to the Toolbox tab and select the GIF Maker tool. You can start creating your GIF there with your videos and photos.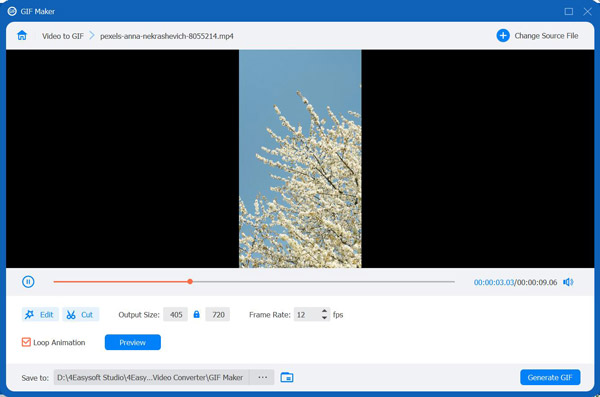 Step 3When you have selected your file, click on the Edit button with a Star-shaped icon. Then, go to the Rotate & Crop tab. There, you can get your desired position for your GIF by selecting one — flip vertically or horizontally, or rotate GIFs with 90 degrees, 180 degrees, or 270 degrees.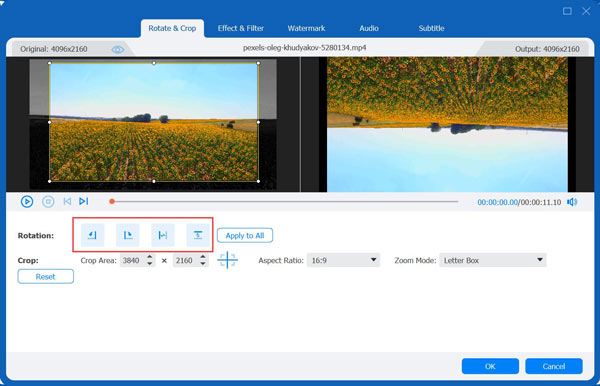 Step 4You can also choose to crop your video to your preferred aspect ratio specifically for the platform where you will post it. Click on the Aspect Ratio drop-down menu to choose. Or, you can select the Freely option to choose other sizes. Furthermore, to get away with the black bars on the edges, you can select one in the Zoom Mode drop-down menu.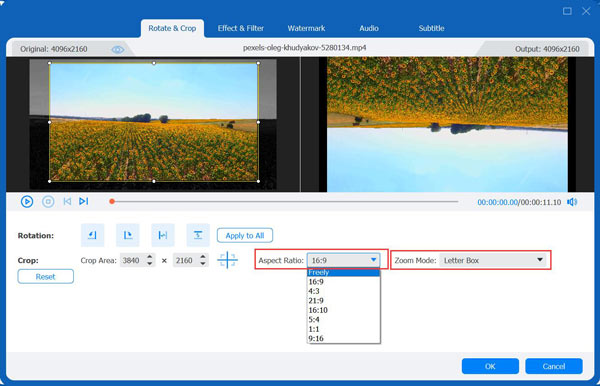 Step 5Finally, when done rotating your GIF, click on the OK button, then Convert All to get your rotated GIF.
Part 2: How to Rotate GIF Online for Free - 4 Easy Tools for You
For quickly rotating your GIF, online tools can be your one-call-away solution! You can use these tools without installing and doing any process; you just have to go to their main page then start doing your work. Rotate GIF now with the list of GIF Rotators below.
1. Kapwing
The first GIF Rotator from the list is the Kapwing. It offers rotating and flipping your GIF to get your desired position for them. Moreover, you can use Kapwing to edit videos and create media content for free online. Here's how to use it:
Step 1Go to the main page of Kapwing, then click on the Upload File to add your file from your computer. Or copy the URL of the GIF, then paste it into the Paste a URL box.
Step 2In the right toolbar, rotate your image using the controls to get the right orientation for your GIF. Then, click the Export GIF green button to save the rotated GIF on your computer.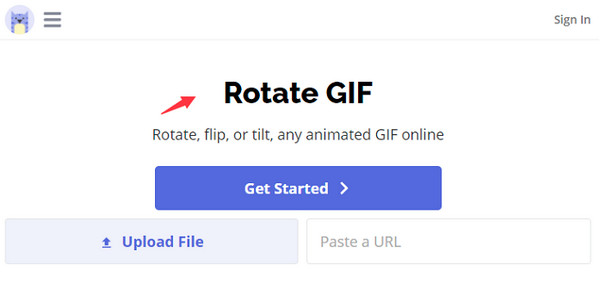 2. EzGIF
Another great GIF Rotator is EzGIF, one of the most known online tools for GIFs. With this tool, you can rotate immediately and flip GIFs with only a simple click. Plus, you can reverse, optimize, apply effects, etc., to your GIFs. Follow the guide below to start rotating GIFs.
Step 1Open a web browser, then search for ezgif.com. Immediately upload your file by clicking the Upload button or simply drag and drop it or paste image URL.
Step 2Next, go to the rotating option from the above menu, then select the orientation you like on the lower part. Click on the checkbox for your preferred GIF rotate position. Once done, hit the Save button on the lower part.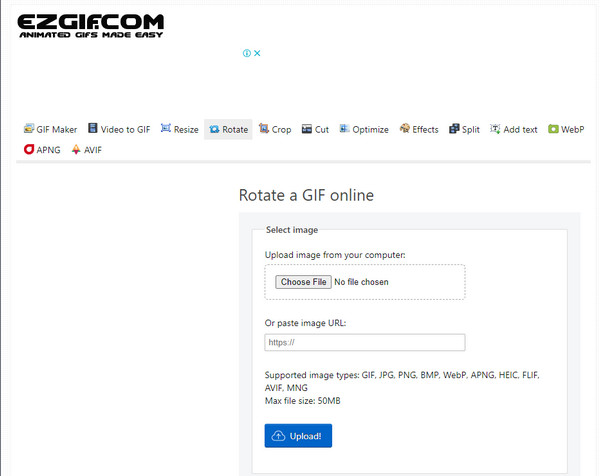 3. GIFGIFs
The following fantastic GIF Rotator online tool is GIFGIFs. It enables users to rotate GIFs without worrying about the watermark and charge. Aside from that, it provides several animations, such as anime, animals, clothes, and more. To rotate GIF, read below:
Step 1Open the GIFGIFs. From the left side menu, click on the Rotate GIF. Then, upload your file by hitting the UPLOAD GIF button or paste the GIF URL.
Step 2There, you can choose an option by clicking the checkbox of a rotation degree. Lastly, click the ROTATE button to apply, and click the Download the result.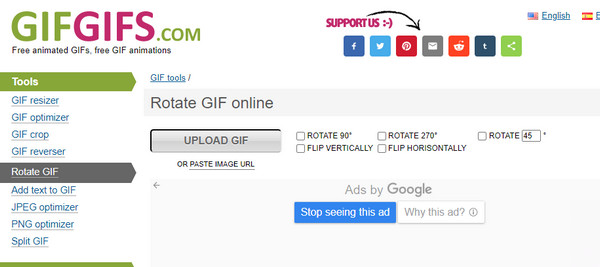 4. VEED
The last from the list is the VEED. An online GIF Rotator that gives a high-quality output when you rotate your GIF. Another thing about this tool is you can batch-rotate GIFs and then save them all at once. Look at the guide below to rotate GIF with VEED.
Step 1Head to the VEED main page, then click on the Choose GIF File button to upload your file to the page. As an alternative, you can drag and drop your file.
Step 2Click on the image, then select the Rotate icon. There, you can select your preferred degree of rotation for your GIF. If satisfied, click the Export button to save your GIF to your computer.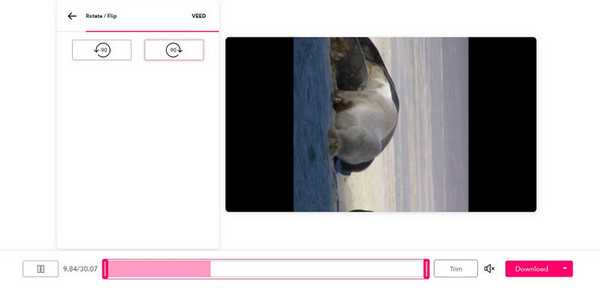 Part 3: FAQs about How to Rotate GIF Images
How can I rotate GIF on Google Photos?

Unfortunately, Google Photos doesn't support rotating animations; you must download a third-party application to help. You can only rotate your photos and videos with it.

Can I rotate GIF on my mobile device?

Of course, you can. You have to download an application that allows you to rotate GIF to get your desired rotation. When searching for the right app, ensure first that it supports GIFs since many are available today that support many formats, but not GIFs.

Does Mac support rotate GIFs directly?

Yes. To do this, you must locate your GIF file, then click it. In the preview window, click the Select button, then go to the Tools menu. Choose the Rotate button. Lastly, to save your rotated GIF, click on the File menu, then select the Export button.
Conclusion
To sum up, you can find many GIF Rotators today, but the best online tools that teach you how to rotate GIF are discussed above. For everyday use, download a Windows and Mac program like the 4Easysoft Total Video Converter. It supports converting to more than 600 formats and offers editing functions wherein you can crop, rotate, apply effects, add texts, and more to your video and image files. Try it now to explore more about this versatile video converter.
Related Articles