3 Side-by-Side Video Apps to Put Two Videos into One Screen
Side-by-side video is one of the new styles to simultaneously show two videos on one screen. For example, you want to show your make-up routine everyday and also want to present the outcome at the same time, making them a side-by-side video will make it more attractive rather than those common standard videos. There are many side-by-side app for you to choose, but some are too difficult for beginners. That leads you to search for the best side-by-side app that might guide you to make split-screen videos satisfyingly and easily. Read more and encounter the ultimate side-by-side video app that you must try.
Part 1: A Simple Method to Put Two Videos Side-by-Side
If you are scrutinizing how to make a side-by-side video and watch them together on only one screen, you can make it with the use of the simplest method. Using 4Easysoft Total Video Converter, you can apply its split-screen effect to your video collage project to add your reactions and make it more engaging. Do you want to clarify the relationship between one into another? 4Easysoft will help you to produce what you imagine. Listed below are the steps to put side-by-side videos captivating with the help of the ultimate video editor.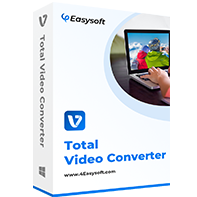 4Easysoft Total Video Converter
Make side-by-side videos easily with the help of preset templates.
There are a variety of filters and effects you can choose from.
Enable you to do more editing, such as cropping, adding music, etc.
Allows you to make up-and-down or split-screen videos as well.
Step 1Free download and install the 4Easysoft Total Video Converter on your Windows/Mac. From the main interface, go to the Collage tab and click the Template button and select the split-screen style that you want to use.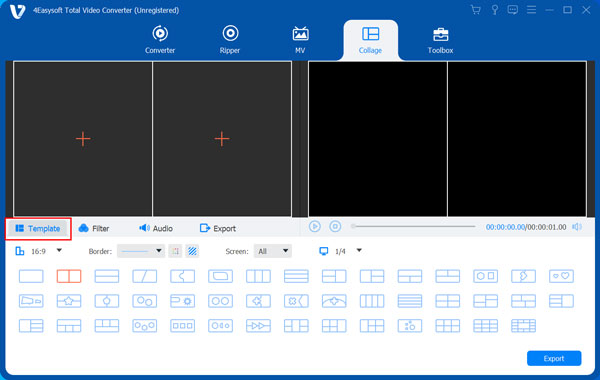 Step 2To put the two videos side by side, simply click the + sign button. You can also go to the Filter menu. There are a variety of filters you can choose from; warm, gray, dusk, pink, purple, cool, aperture, snow, silk, square, and more.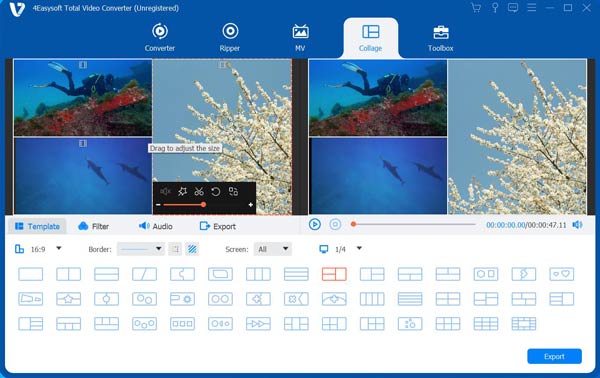 Step 3Your side-by-side video will not be more enticing if it doesn't have a piece of background music. To make it happen, go to the Audio track and modify your output's audio. Check the Keep the Original audio track if you are good with the original soundtrack of your video, and click the + button beside the video if you want to add a music file.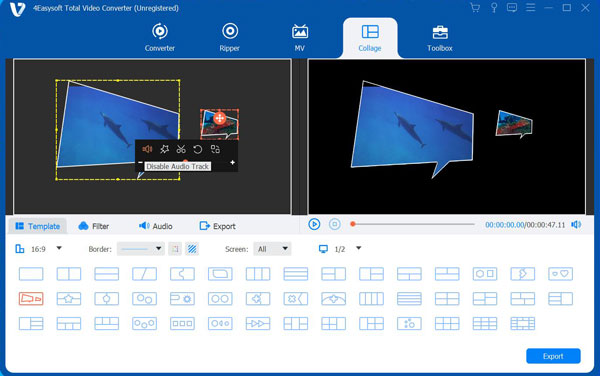 Step 4You're almost done! Go to the Export tab and customize your output's settings. You can choose your output format, frame rate, and quality. Do not forget to click the Save to button and choose a folder to save your work. Once you are happy with your work, click the Start Export button and wait for it to be saved.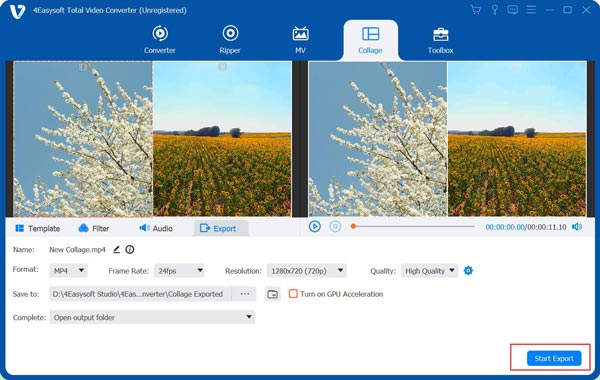 Part 2: 2 Methods to Put Two Videos Side-by-Side Online
Online side-by-side video apps are really helpful, especially to those who only create a few videos at a time. Using an online video editing tool may lessen the waste of time because you can start editing right away, even without installing any software. But do not be deceived with their hassle-free feature because not all of them are safe to use and not all of them will give you a HD quality video. These two online methods may help you.
1. FlexClip
This is an online side-by-side video app that helps users to merge their videos and watch them on only one screen. In making a social media video, trailer, marketing video, animated videos, wedding videos, tutorials, birthday videos, and other special stories, FlexClip can be used for free. But if you want to experience their paid filters, try its different plan: Basic plan ($8.99/mo), Plus plan ($15.99/mo), and Business plan ($29.99/mo).
Steps to create side by side video using FlexClip
Step 1Go to the Media section and drag and drop your videos. You can also upload them to the Local Files directly.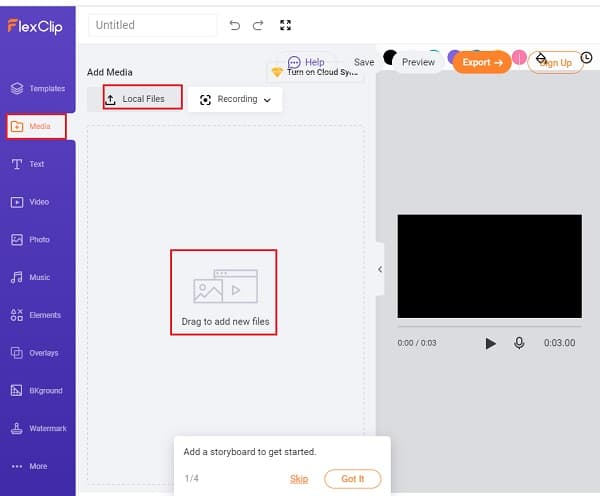 Step 2Under the video you've imported, click the Picture In Picture feature and add another video as an overlay to your first video.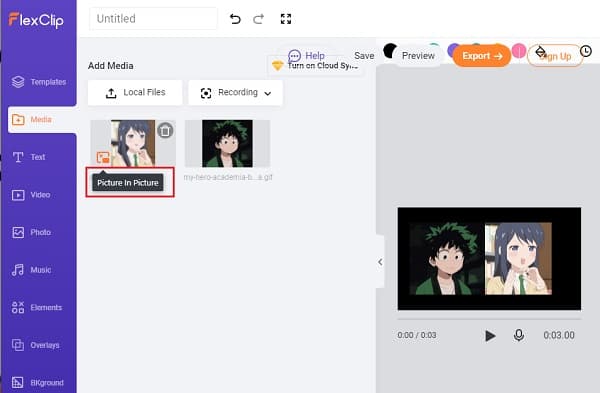 Step 3Drag and drop to put two videos side by side. From the top bar, you are also able to customize your side-by-side video with the tools; add filters, adjust brightness, flip and crop, and more. To finalize, click the Export button from the upper right corner.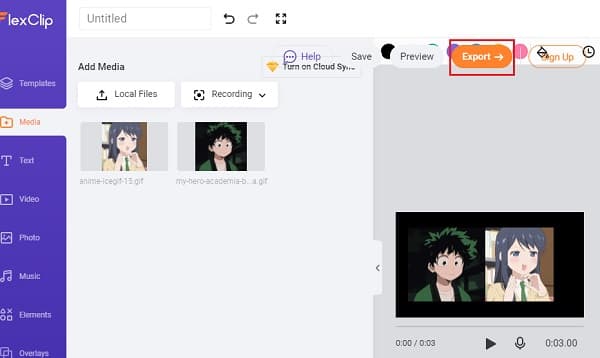 Kapwing Collage Maker
Kapwing's Collage Maker is one of the online side-by-side video apps used when merging video files. It has a very simple interface like a drag and drop tool that will help its users apply their skills in video editing and their original designs. This program contains dozens of layouts to choose from, and this is also a good editing tool for the meme maker, video editor, subtitler, etc.
Ways on how to put two videos side by side via Kapwing Collage Maker
Step 1First thing to do is open the Collage Maker on your device. You can choose your desired side-by-side template from the collage home page; standard side-by-side template, comparison collage template, Instagram side-by-side collage with border, and side-by-side template for a Story.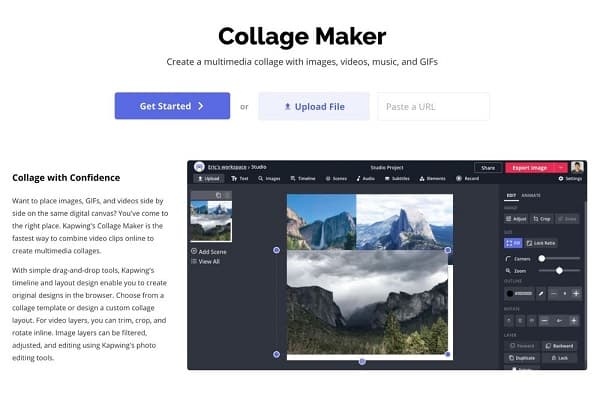 Step 2To upload the videos, you can drag and drop them, you may click the Upload button, or you can also paste the link from a different website that hosts the videos. The other video can be uploaded from the bottom panel.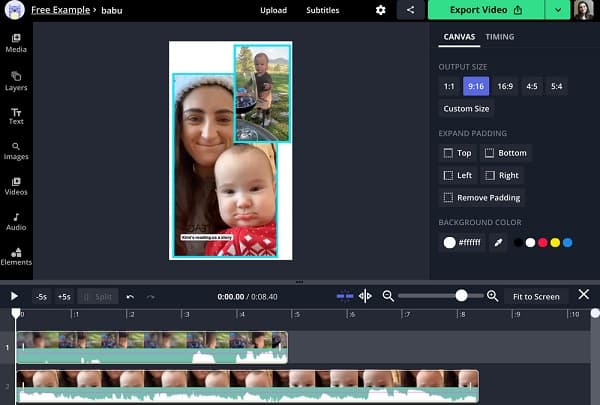 Step 3Place the videos side-by-side into the canvas. If you don't want to change the dimension, lock the aspect ratio.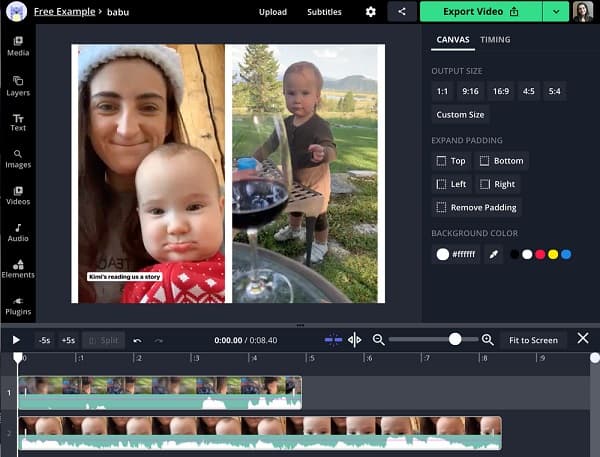 Step 4Finally, press the red Export button. After that, you can share the video's URL with your relatives and colleagues.
Part 3: FAQs about Side-by-Side Video
Can I put two videos side by side on Android?

Yes, there is a variety of Android side-by-side video apps out there. You download from Google Play, including Video Merge, Photo Grid, PicPlayPost, etc.

Is it possible to merge multiple videos on one screen?

With the help of 4Easysoft Total Video Converter, you can create video collage with up to 13 videos. It will display more than one set of images or videos on one screen simultaneously, and tell a story at ease.

Can I create side-by-side videos on Instagram?

Instagram now allows the users to remix a reel, which means they can post another video next to the one video by tapping the three-dot menu from the reel and selecting Remix the Reel.
Conclusion
We hope you are now ready to create your own side-by-side video with the help of side-by-side video apps mentioned above. If you wish to create a wonderful video with more editing tools, do not forget to use 4Easysoft Total Video Converter. It will definitely give you a very high-quality result in the end. Start using it now!