Explore these Imposed Instagram Aspect Ratio Sizes for Various Post
You probably experienced a scenario where you posted Instagram content and noticed it stretched, cropped, distorted, or pixelated. This implies your content doesn't fall on Instagram's Aspect Ratios. If you are searching for a way to prevent this from happening again, continue reading this article, for it features the Instagram Aspect Ratio requirements for various posts! Explore them now so you can achieve an Instagram-worthy post!
Part 1: All about Aspect Ratio for Instagram Story, Reel, Feed, etc.
Exploring the Instagram post aspect ratio is an excellent way to identify the required ratios for every post. You need to consider these ratio requirements before publicizing content on Instagram so you can prevent possible adverse outcomes of your post. Additionally, if they meet the exact aspect ratio requirement, they will be posted pleasingly and engagingly. So without further delay, start exploring the requirements below and ensure you'll note them to have a so-called Instagram Aspect Ratio Cheat Sheet!
If you'll post a Story, here's the Instagram Story Aspect Ratio requirement: Image and Video Content should be 1080px by 1920px with an aspect ratio of 9:16.
Otherwise, if you post a Reel, ensure that your content falls onto this Instagram Reels Aspect Ratio requirement: The same goes for the Story's required aspect ratio; your content should be 1.91:1 or 9:16. For a Reel Video, content should be in 720 pixels resolution with 30 fps (frame rate).
Or, if you are going to post an Image on your Feed, check whether your image supports this Instagram Aspect Ratio requirement: Instagram allows you to post images in square, landscape, or portrait. Square images should be 1080px by 1080px with a 1:1 aspect ratio. On the other hand, landscape posts should be in 1080px by 566px resolution with an aspect ratio of 1.91:1.
If you post a video for a Feed, here's the Instagram video Aspect Ratio requirement: Instagram supports an aspect ratio between 1.91:1 and 4:5 for video feed uploading. You should also note that Instagram won't allow you to upload videos with 4K resolution. The platform will automatically lower its quality until it reaches what the platform supports.
Now, you know the Post, Video, Feed, and Story size for Instagram. If your videos or images cannot meet the requirements, you can read the next part to change them before posting.
Part 2: How to Make a Story with the Best Instagram Aspect Ratio
Now those are the Instagram Aspect Ratio requirements you should remember to avoid unpleasing and unwanted cut-offs on your post. If your video or photo content doesn't fit those required aspect ratios, you can use the 4Easysoft Total Video Converter tool to resize your content. This tool is infused with the video editor feature, which comprises advanced yet easy-to-understand Cropping and Aspect Ratio options that will surely accommodate your needs. This feature offers 1:1, 9:16, and 4:5; all are Instagram-supported aspect ratios.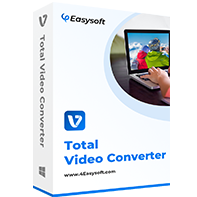 4Easysoft Total Video Converter
Support different formats to export your content, such as MP4, MOV, GIF, etc.
Equipped with Frame Rate options from 12 to 60 fps for Instagram posts.
Offer various options for Aspect Ratio and also allows you to crop your content freely.
Infused with a Real-Time Preview that lets you see the changes you've made.
Step 1Download and install the 4Easysoft Total Video Converter tool on your Windows or Mac computer. After that, launch the tool, select the MV tab, and click the Add button to import the Instagram content you wish to edit.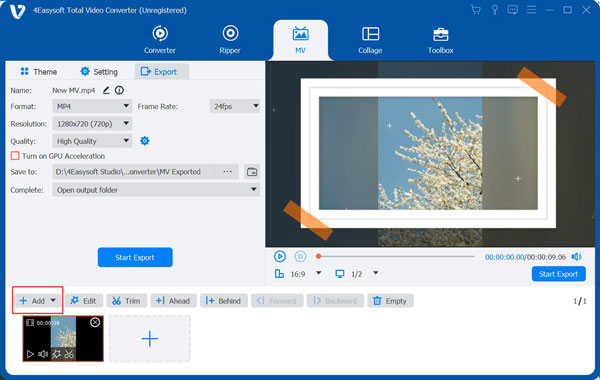 Step 2Then, click the Edit button with the Starwand icon. On the new window, tick the Aspect Ratio dropdown menu option and select the 9:16 ratio, the standard for most Instagram posts. You can adjust the Yellow frame on the preview for a much better edge cutting.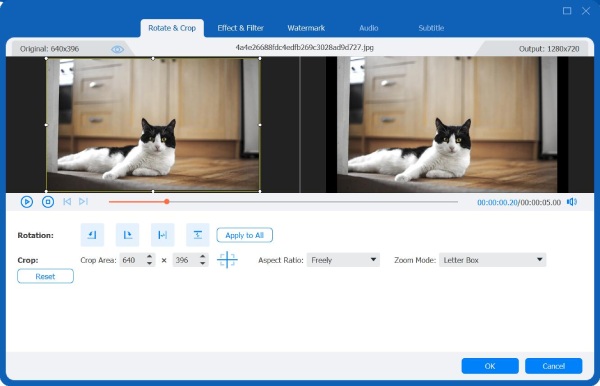 Step 3Once you are satisfied with the outcome, click the OK button. You can also add content changes by adding themes on the Theme tab and Titles & Background Audio under the Settings tab.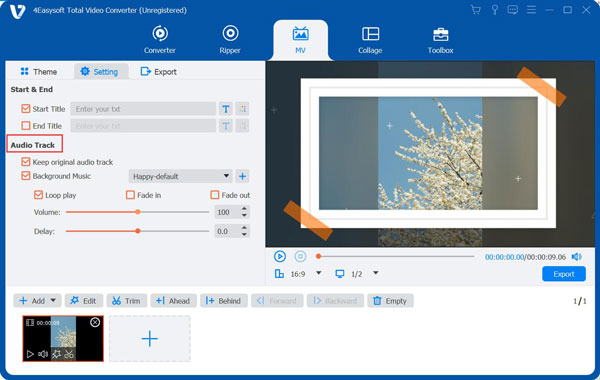 Step 4If you are satisfied with your content, click the Export tab. You can export your content into a specific format, such as MOV, MP4, GIF, etc. You can also choose a specific resolution and quality. Once done, click the Start Export button to save your Instagram content.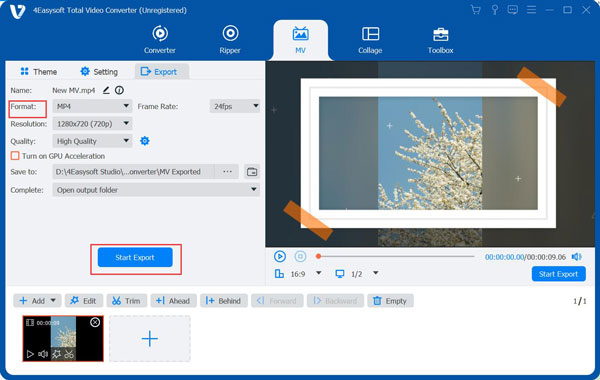 Part 3: FAQs about Instagram Aspect Ratio
What would be the Instagram Aspect Ratio requirement for landscape videos?

The ideal aspect ratio for landscape videos is a 16:9 ratio. However, it will include black bars at the top and bottom of your video, which will look unpleasing. So it would still be the if you captured a video in portrait.

What does Instagram support the media formats?

Instagram supports MP4, MOV, and GIF formats for video. On the other hand, the platform supports JPG, JPEG, PNG, BMP, and non-animated GIF for image upload. If your Instagram content doesn't fall into those supported formats by Instagram, the platform will not accept it. You can use the 4Easysoft Total Video Converter to convert formats to overcome this.

Why are my uploaded contents blurry even though they are in the proper aspect ratio?

This might be because of Instagram's compression, which automatically initiates whenever you upload content. To avoid blurry content, you must ensure that the device you use to capture your content is set to capture an image or video with 1080p resolution. Also, you should upload content with a strong and stable connection.
Conclusion
That's it! Those are the Instagram Aspect Ratio requirements you should use as a guide when uploading content on Story, Reels, and Feed. Having them with you will help avoid stretched, cropped, distorted, or pixelated content. If your content doesn't meet those aspect ratio requirements, let the 4Easysoft Total Video Converter tool help you crop videos for Instagram. Feel free to visit this tool's official website to discover its other equipped video and photo editing features! Visit it today!
Related Articles