10 Best Video Hosting Sites You Can Use to Share Videos [2023 Lineup]
Video Hosting Sites are becoming more popular as people begin to use videos for various purposes, either for business, education, advertisements, entertainment, etc. However, having too many of them, choosing the right site that could fulfill your needs is becoming more complex. Fortunately, you found this page! Continue reading this post, for it features 10 of the best Video Hosting Sites or Platforms to help ease your picking process. Discover them all now!
Part 1: Top 10 Best Video Hosting Sites to Share Your Life
1. YouTube
The first Video Hosting Site you can use is YouTube. If you are looking for a free platform to store or share unlimited videos and manage them, consider using YouTube. This free platform already became the industry's most popular and most visited video-sharing platform. Through this, you can build your channel, store your videos, build your name by acquiring several subscribers, and then build a partnership with YouTube (once verified) to monetize your videos and access its analytics and built-in video editor. However, as an exchange for free video hosting, YouTube will embed different Ads in your videos which can distract your content.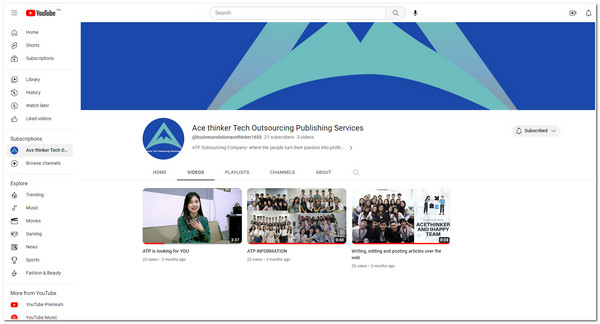 2. Vimeo
Next on the line of the top 10 best Video Hosting Sites is Vimeo. If you are looking for a much more serious or professional site where you can store and share your videos, then Vimeo is what you need. This platform mainly caters to professional video creators producing high-quality videos for marketing. Additionally, this platform's users can stream their videos, monitor their current updates (video views and engagement), and benefit from its built-in video management analytics and live streamings. Despite having those great points, Vimeo has drawbacks, such as storage limitations and longer buffering times.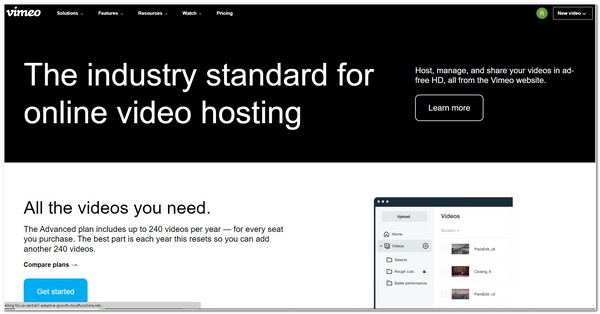 3. Wistia
Another Video Hosting Site you can use is Wistia. This platform focuses on commercial users who wanted bring their videos privately on the platform, place them on different pages or sites using an embed code, and receive statistics about it for business growth. Unlike YouTube, this platform works without any advertisement distractions on your content. However, this platform comes with storage limitations, and you need to pay for each video you'll upload.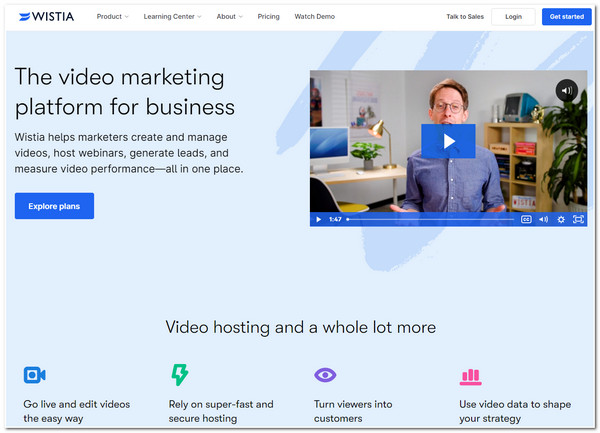 4. Vidyard
You shouldn't miss the chance to try using Vidyard as your Video Hosting Site. This hosting site deserves a spot because it offers a complete set of features, including video creation, management, options for sharing, optimization, and analytics. It is also integrated with well-known business communication tools such as Gmail, Outreach, Marketo, Salesforce, etc. Despite having those great and promising points, unlike YouTube, Vidyard's free plan only allows users to upload up to 25 videos, and it doesn't have any monetization tools.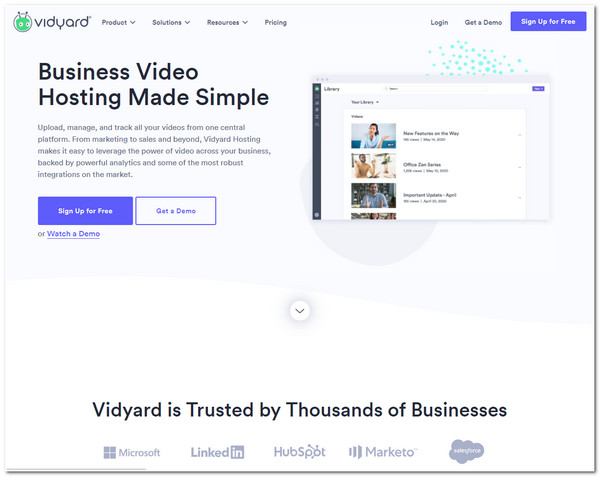 5. Brightcove
If you are looking for a Video Hosting Site designed for video monetization and marketing, let Brightcove accommodate you. This site supports high-quality and outstanding video streams that are customizable and secure. Additionally, it is infused with great functionalities such as integrating with marketing and advertising campaigns and supporting video cloud and players features. Despite those great points, this site is quite challenging to understand and use at first, but you can surely get along with it after learning it.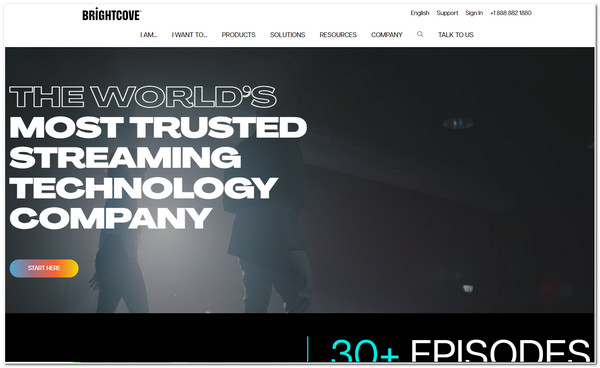 6. Dailymotion
The next platform for these top 10 best Video Hosting Sites is Dailymotion. Comparing those first 5 platforms, this site shares the same functionality as YouTube, and people consider it the second largest video website available today. This site supports video monetization based on ads, live stream support, and limited analytics tools are also offered. However, Dailymotion imposed restrictions regarding the number and duration of videos to be posted. You can only upload 60 seconds video, which is too short for what YouTube offers (12 hours long).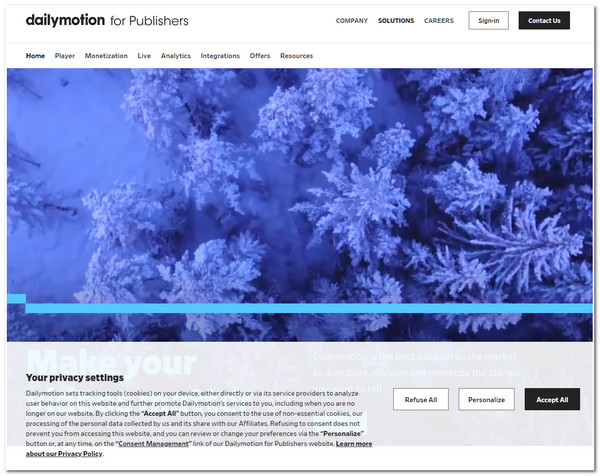 7. Sproutvideo
Another business-oriented Video Hosting Site you can use is Sproutvideo. This secured hosting site offers various plans to purchase that suit your on-demand video hosting needs. Moreover, the same goes for Vidyard; this platform also supports all-in-one video hosting and management features. It also offers reliable audience engagement and lead-generation tools for marketing teams. But, despite having those features and capabilities, this platform is expensive, and monetized content is not supported.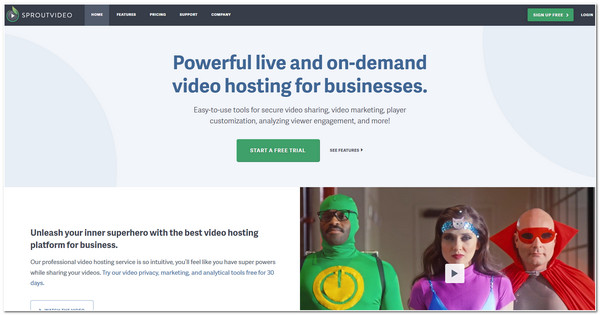 8. Jetpack
If you use WordPress.com to publicize your videos, you can use Jetpack as your Video Hosting Site. Through this site, you can host your videos rather than storing them on your server, which enables you to prevent possible adverse effects on the performance of your browser. Moreover, this site also supports video customization options where you can add titles, descriptions, image thumbnails, sharing settings, etc. And you can also add a watermark to your video on this website. However, this hosting site was linked to various issues, such as slowing down your website if too many features are enabled.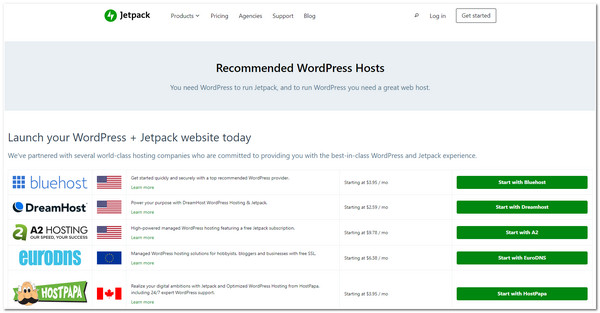 9. Facebook
Second to the last Video Hosting Site you can use is Facebook. This might not consider a hosting site, but the great benefits it could provide on your video are exceptionally great! First, Facebook has many audiences that your videos could reach either by posting or live streaming. It also supports the ability to share your videos with other sites. Moreover, this platform offers Meta Business Suite, which you can use to boost your video's engagement and reach more audiences. But, unlike the other tools above, Facebook video settings strictly follow the rules or criteria for monetization. If you're not able to check all the boxes of those criteria, then you can't possibly monetize your videos.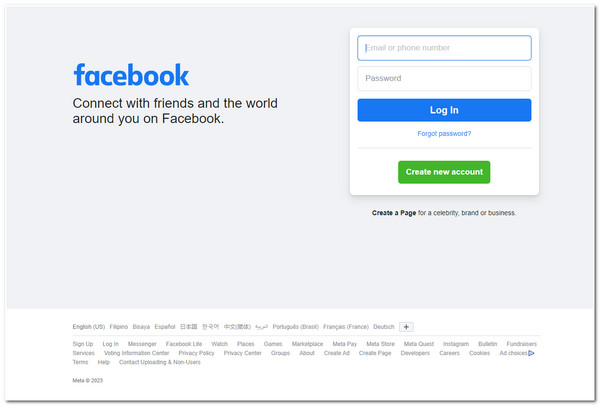 10. Google Drive
Last but not least is Google Drive as your Video Hosting Site. The same goes with Facebook; Google Drive is not dedicated to Video Hosting services. But it can store all of your videos and automatically turns them into a video compatible across different platforms, such as video hosting platforms. This is possible by just using a link version of your video which is embeddable into various websites and platforms.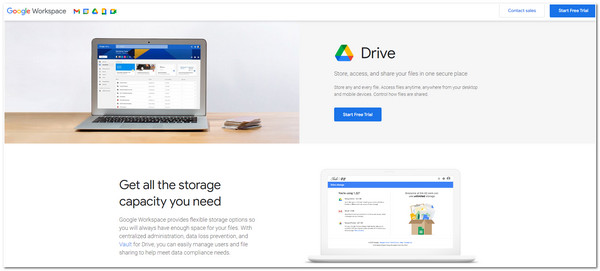 Part 2: Best Tips to Make High-quality Videos for Video Hosting Sites
Now those are the best lineup of paid and free Video Hosting Site! After discovering them, you are probably considering hosting your first video. If you need a tool to help you create one, then let the 4Easysoft Total Video Converter tool be your ally! It might be confusing on your end how could a converter tool help you edit a video. Well, this is not only capable of converting videos into a new format, but it is also rich with Video Editing tools! Moreover, it also offers a library of filters you can apply to your video. These great points are just some of its basic editing features; it still has much to offer! Discover them below!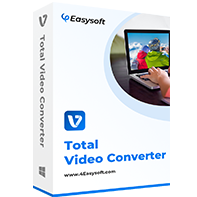 4Easysoft Total Video Converter
Support the Watermark feature to make your own mark to protect your copyright.
Infused with a Subtitle feature to change font and size after adding captions and subtitles.
Equipped with Output Tweaking options that allow you to modify your output's results.
Integrated with other video editors such as MV and Collage Maker and video enhancers.
Step 1Download and install the 4Easysoft Total Video Converter tool on your Windows or Mac computer. Then, launch the tool and click the Add Files button to import the video you wish to edit.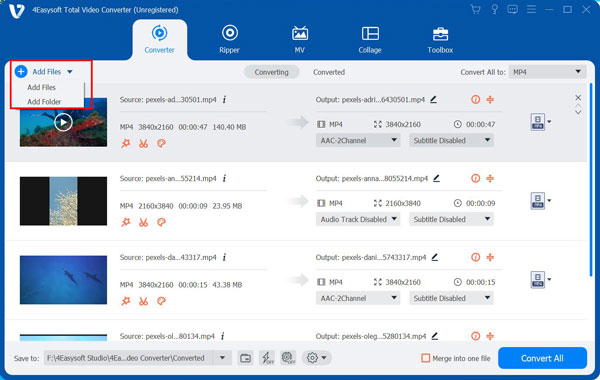 Step 2After that, tick the Edit button with the Starwand icon. In the new window under the Rotate & Crop tab, you can rotate your video according to your desired position. Additionally, you can also modify the size by specific Aspect Ratio values.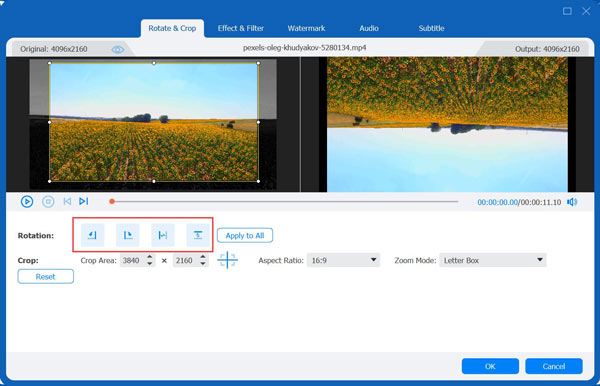 Step 3Then, if you wish to change the looks of your video, click the Effect & Filter tab. Under this option, you can select your preferred Filters and manually adjust some video parameters according to your desire under the Basic Effect.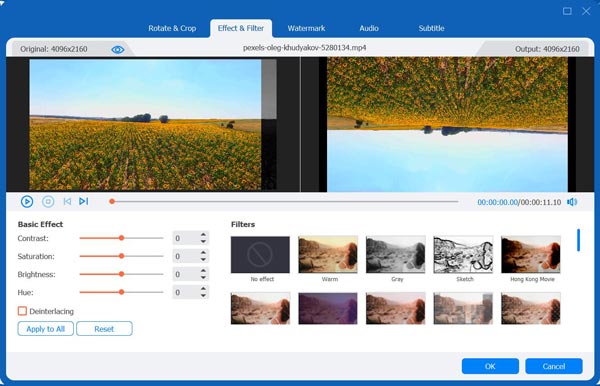 Step 4Next, click the Watermark button to add graphical elements or embed images and GIFs to your video. Here, you can import an Image or add Text as your watermark. If you also want to add music to your video, access the Audio tab, and import the music you wish to use.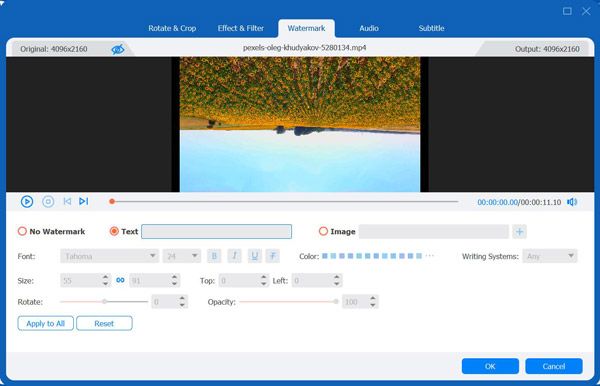 Step 5If you want to add subtitles, titles, or captions to your video, you can access the tool's Subtitle editors. Once you are done with it, click the OK button to save your work. If you are satisfied with your editing, click the Convert All button to save your video.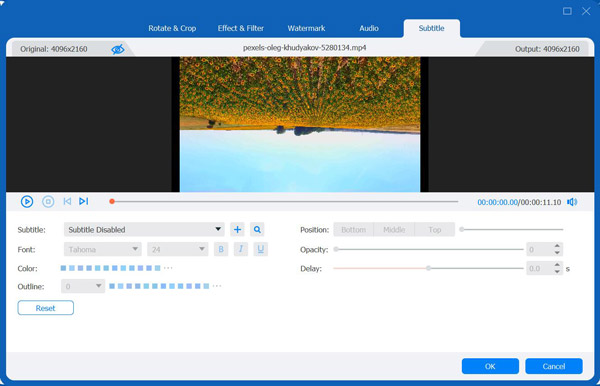 Part 3: FAQs about Video Hosting Sites
What video format do almost all Video Hosting Sites are supported?

It is recommended to use MP4 as it is supported by most platforms today, including those Video Hosting platforms accessible via browsers. If you are having a problem storing your video in a Video Hosting Site, you can use the 4Easysoft Total Video Converter to convert them into MP4 format.

What must I consider when picking the best Video Hosting Site?

The most important thing you must consider in choosing a Video Hosting platform is its supported file size. Although most Video Hosting platforms impose restrictions regarding video file size importation, you need to choose the one you think will offer you a significant file size suitable enough to achieve your needs.

Is there any free online Video Hosting Sites?

Yes, there is! In this post, Facebook and YouTube are the free online Video Hosting Sites you can use. However, they embed advertisements on your video content in exchange for being free Video Hosting Sites.
Conclusion
Having those lineups of the 10 best Video Hosting Sites, you can now host your videos according to your needs. You can thoroughly examine them if they check all the boxes of your desired Video Hosting platforms. Other than that, if you are planning to produce an excellent video to be hosted, you can use the advanced editing features of the 4Easysoft Total Video Converter tool! Those mentioned in this post are just a glimpse of its capabilities; this tool still has much to offer! Feel free to visit this tool's official website to discover all of them today!
Related Articles