iPhone Unlocker
Unlock all your iPhone/iPod/iPad by wiping passcode and remove Apple ID completely.
How to Solve Enter iPhone Passcode Stuck Problem on iPhone 15/14/13/12/11
It is very frustrating when you only want to restore your iPhone through your backups but get stuck on entering your Apple ID passcode for verification. Well, you're not alone; this is also a problem for most iPhone users. This enter iPhone passcode stuck issue is a dilemma, especially if you're in an emergency and need to access something, but this issue won't allow you, and it freezes for a long time. Don't worry; I got your back. Check out this lineup of ways and tools to get rid of it and bypass this issue.
Part 1. Why is Your iPhone Stuck on the Enter Passcode Screen
Why does this issue appear on most iPhone devices? There are several reasons why this issue, "enter iPhone passcode stuck," happens when you enter your passcode. Below are some of the reasons why.
◆ Defective software or hardware issues that cause the iPhone to freeze.
◆ No available storage space.
◆ Infrequently, iPhone reboots or restarts, which brings glitches or slow performance.
◆ Uninstalled updates. The old version of updates usually comes with a lot of different bugs on it. So you need to check and install current updates to fix them.
The above reasons not only can cause iPhone's passcode to get stuck and could also be reasons for other problems you might encounter using your iPhone. But with the enter iPhone passcode stuck, there are ways to solve it.
Part 2. How to Fix Enter iPhone Passcode Stuck and Bypass Disabled iPhone
1. Force Restart iPhone
The simplest and most common way to solve freeze iPhone or app crashes is to force stop. This could help you solve enter iPhone passcode stuck issue and bypass the disabled iPhone. If you are using models with the iOS 15 and 16 version, which are supported by iPhone 8 or iPhone SE (2nd Generation and later), iPhone X, iPhone XR, iPhone XS, iPhone 11, 12, and 13, follow the simple steps below.
Step 1To begin the forced restart method, press and then release the Volume Up button.
Step 2After that, press and then release the Volume Down button.
Step 3Then, press and hold the Side button. Once the Apple logo shows on your screen, let go of it.
Step 4Once you are done doing that, your iPhone will be then turned off. Wait for your iPhone to restart and check if it can unfreeze. Consider the following solutions if you still experience enter iPhone passcode stuck issue.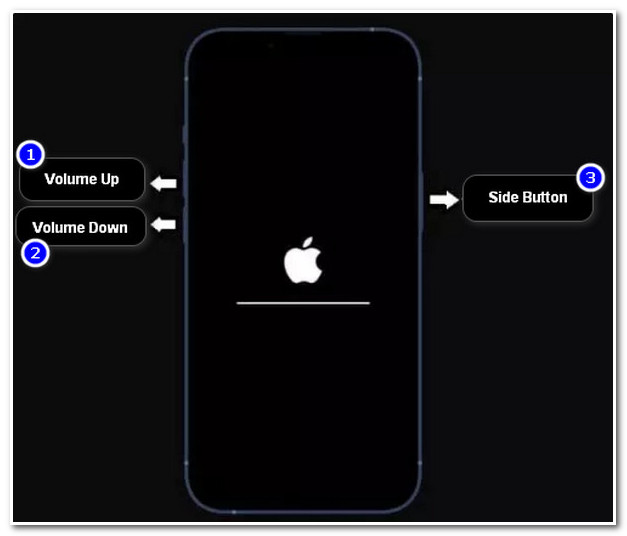 However, if you are currently using the iPhone 7 which also supports lower iOS versions, follow these steps.
Step 1Press and hold your mobile's Volume Down and Sleep or Wake buttons simultaneously.
Step 2When the Apple logo appears on your screen, release the buttons from pressing.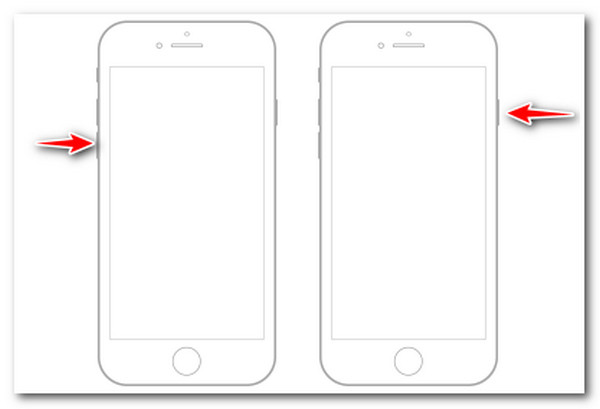 Otherwise, this is how you do it with the iPhone 6s or iPhone SE (1st generation).
Step 1Press and hold both the Power button and the Home button at the same time.
Step 2The same goes for the other steps above, wait for the Apple logo shows on your screen, then release both buttons.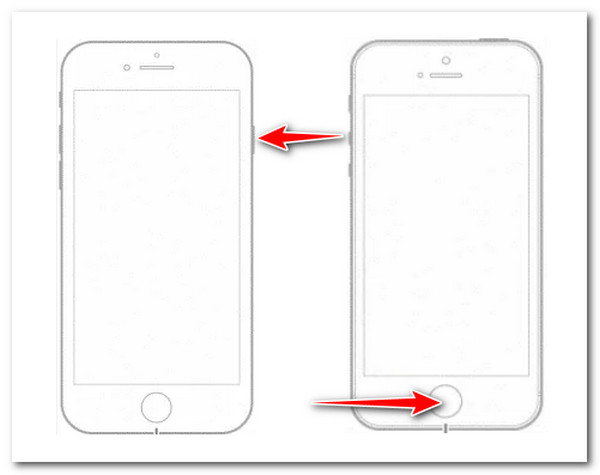 2. Restore your iPhone through iTunes
You can also use iTunes to eliminate the enter iPhone passcode stuck issue. Through this program, you can acquire a solution to it. To use this method, follow the basic steps below.
Step 1Connect your iOS mobile to your computer through a USB cord. After that, iTunes will automatically detect your iPhone. If you are ever prompted with a dialogue box on your screen, just click Trust This Computer.
Step 2Click the Device button located at the upper-left part of the iTunes program.
Step 3After that, the tool will bring you to the Summary page related to your iPhone.
Step 4Look for the Backups section and tick the Restore Backup button so you can proceed to your backups. Select those backups you wish to restore and wait for the tool to finish the process. The whole process will require you still to connect your iPhone to your computer.
3. Erase iPhone Passcode with iCloud
Aside from those first two options, you can do this to remove your iPhone passcode through iCloud to resolve this issue. This is how you do it.
Step 1Go to the official iCloud website, click the Sign In button, and input your Apple ID.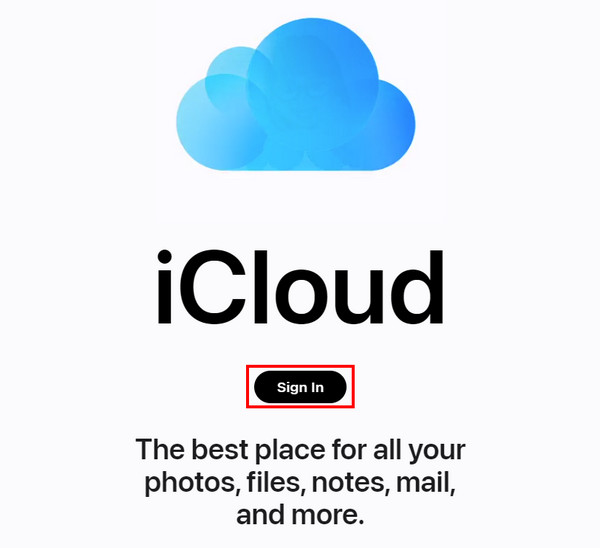 Step 2Tick the Find iPhone and click the All Devices drop-down list button at the top of the interface. Look for your iPhone on the drop-down list.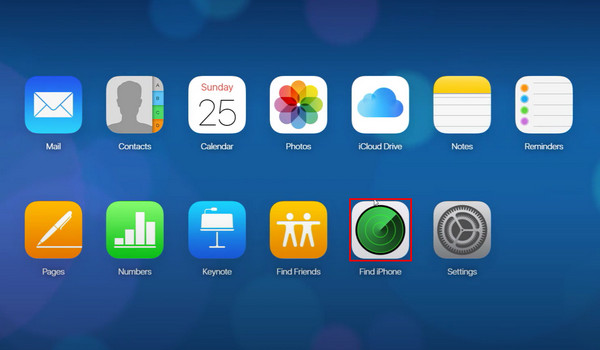 Step 3Click the Erase iPhone button from the three options.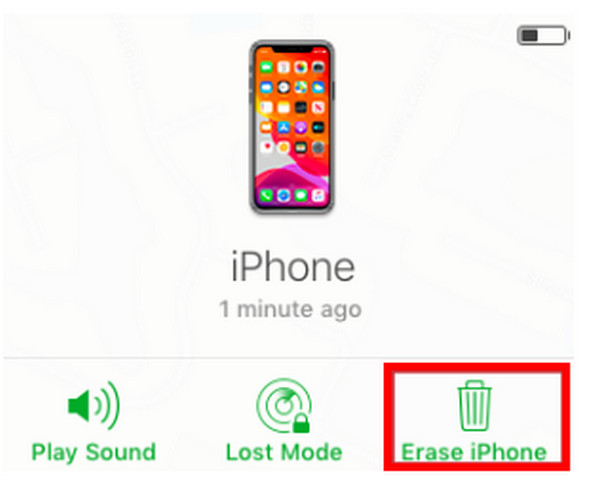 Step 4Answer the two security questions provided before you can continue the process. Once you are done click the Erase button, which will erase your iPhone's passcode.
With the above options, you can unlock and get rid of the enter iPhone passcode stuck issue. And if you can get access already with the settings on your iPhone, you can do option four to solve the problematic settings that cause app crashes and stuck issues.
4. Reset All Settings
You might feel hesitant about doing this option, for it will automatically reset all settings, including network, location, privacy, Apple Pay Cards, keyboard dictionary, and all other defaults. However, this is also beneficial for you to eliminate all problematic settings that cause you to encounter phone freeze, get stuck, etc. For you to do it, here are the simple steps for you.
Step 1Launch your iPhone's Settings app, browse General and tap it.
Step 2After that, tap the Reset button to open it.
Step 3Select the Reset All Settings options and enter your iPhone's passcode. Then wait for your iPhone to process it.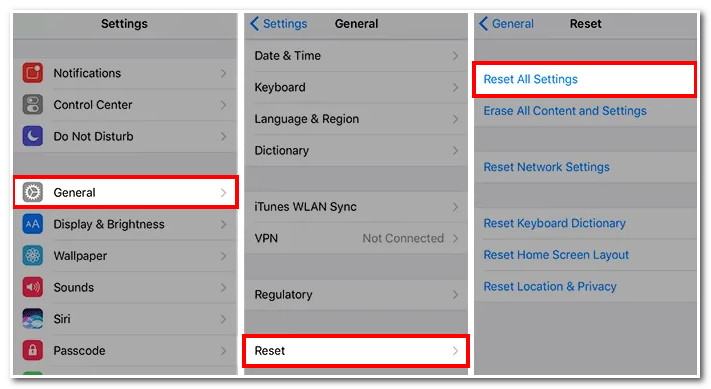 If the four ways above failed to fix the enter iPhone passcode stuck issue. Here is the best, safe, fast, and most secure tool to bypass a disabled iPhone.
This iPhone unlocker by 4Easysoft is a reliable tool to solve the "enter iPhone passcode stuck" issue. Moreover, this tool can wipe most of the disabled status scenarios, whether with Face ID, Touch ID, or Apple ID and regain access to it successfully. Furthermore, this tool can help you bypass stuck issues without inputting your iPhone's passcode on any iPhone version and model. Aside from that, with the three options this tool provides, you can eliminate the issue by wiping out or bypassing the screen passcode.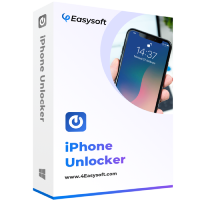 4Easysoft iPhone Unlocker
Capable of resetting Apple ID or passcode and fix enter iPhone passcode screen stuck problem easily.
Support many different iPhone, iPad, and iPod versions to provide the best solution service, including iPhone 14 with iOS 16.
Bypass stuck screen time passcode without data loss.
Unlock the iPhone passcode with different scenarios, such as forgetting a password, broken screen, etc.
Here are the workable steps to eliminate the "enter iPhone passcode stuck" issue using 4Easysoft iPhone Unlocker:
Step 1Visit the 4Easysoft iPhone Unlocker to download and install the tool on your Windows or Mac OS. Launch the tool and click the Wipe Passcode button in the tool's interface. After that, connect your iPhone to your using USB cable computer and wait for the notification to pop up. Then, check the notification carefully and tick the Start button.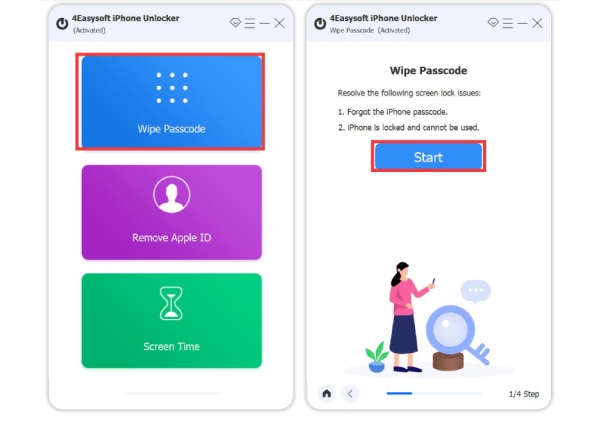 Step 2The tool will then scan the information related to your iPhone. Confirm the information after checking it and click the Start button for you to download the Firmware package.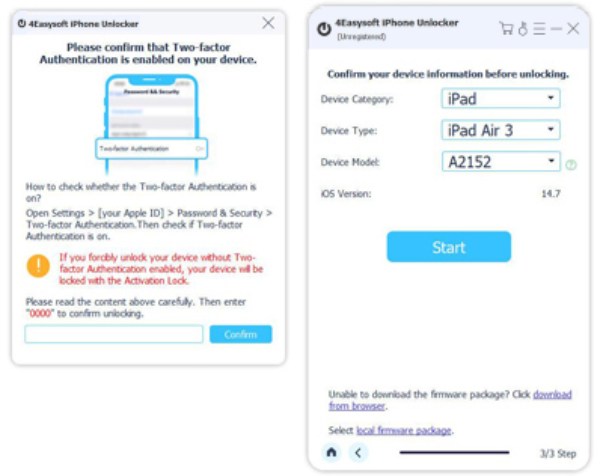 Step 3The downloading process will last for a minute before you obtain it. Then enter 0000 to confirm the operation and tick the Unlock button to start the wiping screen passcode process.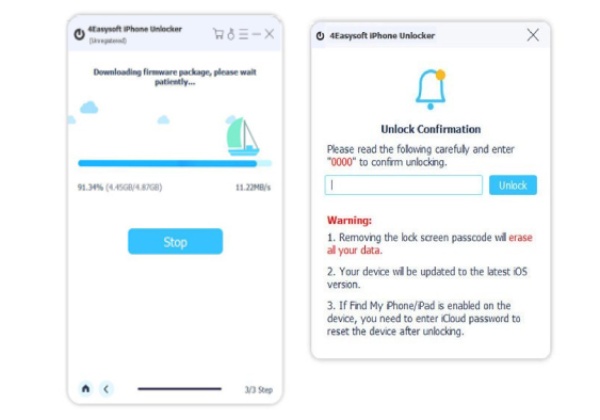 4Easysoft iPhone Data Recovery is a great tool to fix your broken iPhone, particularly with a stuck, black screen or problematic settings, without any data loss. You can use it to fix enter iPhone passcode stuck issue before restoring and prevent many worst effects in the future Moreover, it is also infused with the ability to detect other issues quickly, and you can recover them with just a few clicks.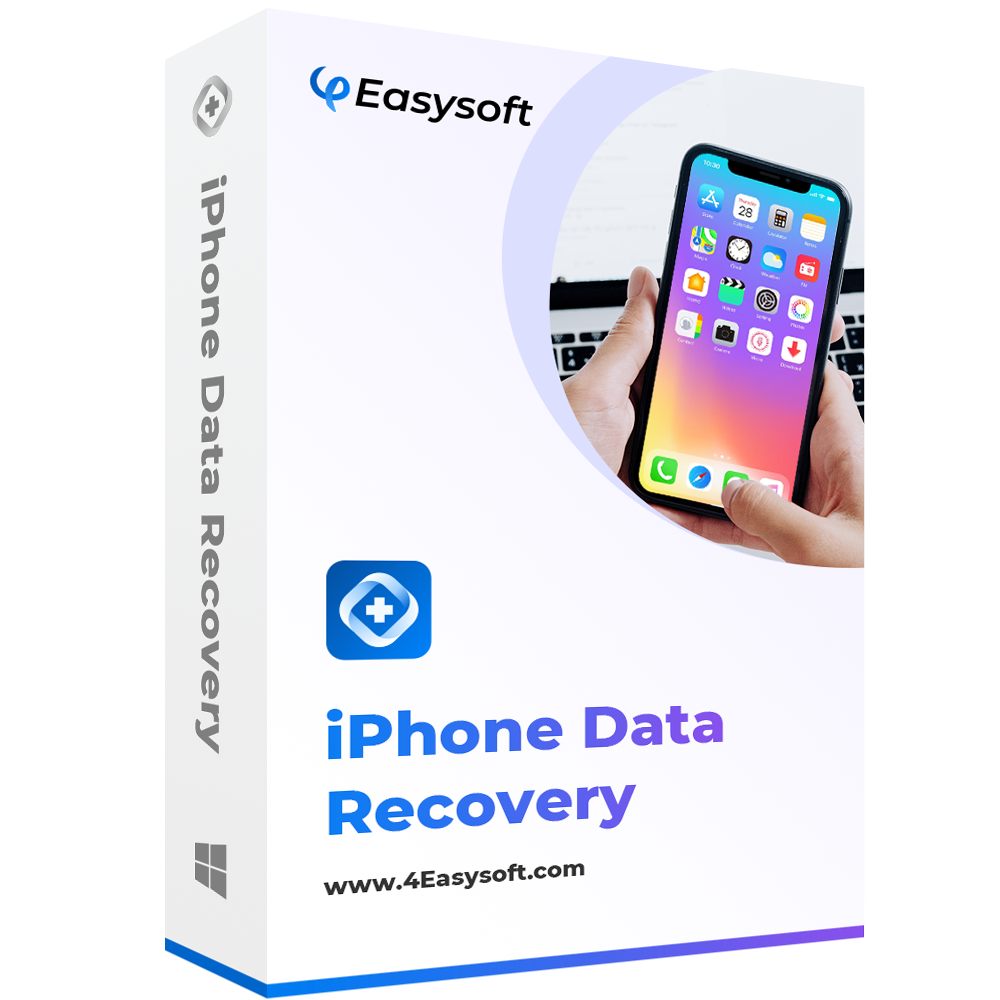 4Easysoft iPhone Data Recovery
Support all iOS devices and versions, whether an iPhone, iPod, or iPad.
Capable of solving many scenarios such as accidental deletion, system crash, device stuck, and more.
Able to fix or recover iOS systems with a high rate of success and no data deletion or loss.
Infused with the ability to recover, data back & reset, and iOS transfer functions.
Part 3. FAQs about Entering iPhone Passcode Stuck
How can I solve the "enter iPhone passcode stuck iPhone 12" problem?

If you are using iPhone 12, it is recommended to force restart your device. You can follow the steps provided under method number 1 - Force Restart iPhone. You can also use 4Easysoft iPhone Data Recovery's iOS System Recovery feature to undergo the fixing process safely and fast.

Why is my iPhone disabled after entering the passcode and needs to be connected to iTunes?

Apple infused a security measure related to how many times you entered an incorrect passcode. In your case, you attempt to enter your passcode ten times which makes your iPhone disabled, and you should connect it to iTunes.

Does Reset All Setting deletes data on my iPhone?

Fortunately, no. The reset all setting option doesn't bring any alteration or deletion of your data or media files. Only those settings and configurations you've made on your iPhone are changed or deleted.
Conclusion
With the information provided above, you can now definitely solve or bypass the enter iPhone passcode stuck issue and get rid of it using the six different ways. It may be pretty terrifying to solve this issue because of data deletion, but you can use the last two options, the 4Easysoft iPhone Unlocker and 4Easysoft iPhone Data Recovery tools, to obtain a 100% successful outcome. Whether bypassing stuck issues, recovering deleted or backing up data, you can rely on them, etc., which will give you great features and results.
Related Articles