The Best Video Size for Twitter: Proper Length, Format, and More
"I cannot post my video on Twitter!" You might be wondering why. While it is fun to tweet what you feel, the text is limited to 280 characters, so videos get more engaging since you don't have to think about restrictions. The truth is, there are also limits in terms of uploading videos on the social media platform Twitter. Consider the Twitter video size, what type of format it uses, and how long it is before uploading. Don't worry; this post won't leave you until you learn everything you need about the best Twitter video size and other requirements. Let's get started!
All Requirements for Twitter Video Size, Format, Length, and More
As you all know, Twitter isn't just about tweeting text; you can also post images as well as video content which is uncomplicated and more entertaining. To not have any problem regarding video uploading on Twitter, meet the proper Twitter video size, format, length, and others it needs. Without further ado, let's see together the requirements for posting videos on Twitter.
Twitter Video Size
The Twitter max video size should be at most 512MB. On Twitter web, you can upload video content for up to 512, but you may be required to edit or do some trimming if it surpasses 2 minutes and 20 seconds. If you're having difficulty posting videos, maybe you exceed the Twitter video size limit.
Twitter Video Format
As for the Twitter video format, the social media platform recommends the MP4 file format with the use of the H264 codec and AAC audio codec, which are the two suitable for MP4 files. They are also best at providing excellent quality. Plus, any video in MP4 format saves lots of time and is compatible with being posted on any platform. Furthermore, aside from MP4, Twitter also supports playing MOV for the mobile version.
Twitter Video Duration
Aside from considering the video size for Twitter, think about the video duration as well. There's a restriction for tweeting posts up to 280 characters, and videos are not counted. However, it has a maximum duration of up to 2 minutes and 20 seconds or is 140 seconds long and a minimum of 0.5 seconds. If you wish to upload a video that exceeds the maximum length, use Twitter's Media Studio.
Twitter Video Resolution
The video resolution for Twitter videos posted has a maximum of 1280 x 1024 and a minimum resolution of 32 x 32. Twitter also has suggestions in resolution for specific videos posted, 1280x720 for landscape, 720 x 1280 for portrait, and 720x720 for square videos.
Twitter Video Frame Rate
After the video resolution, here comes the video frame rate for Twitter. The recommended one is 60 FPS or less, but at least 30 FPS.
Once done following all the requirements for Twitter video size, length, resolution, and others, you can upload videos now without any problem. If you haven't made any video yet, see the ultimate program to edit your Twitter video in the following part, which offers the easiest way to meet all the requirements for Twitter videos.
The Ultimate Tool to Edit Your Video to the Best Twitter Size
After learning everything you need to know about Twitter video size and other requirements, applying that knowledge is the final stop. Fortunately, there is a bunch of software today that can help you with editing and, at the same time, meet Twitter video requirements. One of the best programs is the 4Easysoft Total Video Converter. It is a powerful editing software with an MV Maker to edit videos and provides a built-in editor in the Converter tab. You can then adjust video and audio settings as it supports customizable options to maintain high quality while still applying the needed sizes for Twitter videos.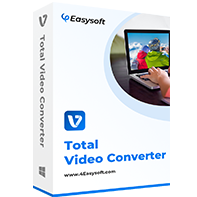 4Easysoft Total Video Converter
A Converter with a built-in editor to trim, cut, crop, add effects, etc.
Equipped with a Preview to check all changes made to the video.
Has a Video Compressor to compress the video files without compromising quality.
Adjustable settings, like Resolution, Output, Frame Rate, etc., to keep an excellent quality.
Free Download the program, then launch it. Go to the Converter tab to edit the Twitter video. Drag and drop the video file into the program.
How to Crop Video
Select the Editing button with a Star wand icon, and you will be navigated to the Rotate & Crop tab. You can set your preferred size in the Crop Area by ticking the up and down buttons or adjusting the frame. Monitor the changes in the right window. Click OK if done.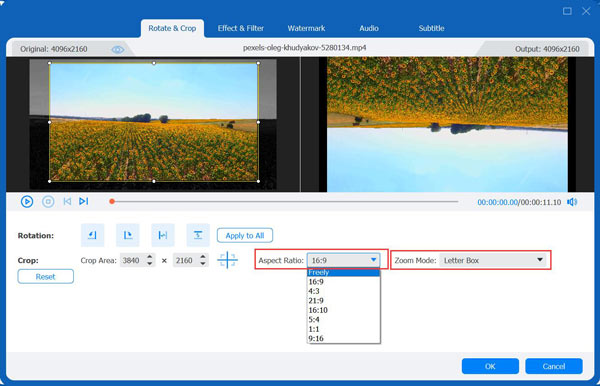 How to Trim Video
On the program's main screen, click the Scissors icon instead of the Star wand. Drag the clipper on the bar to cut off extra parts. Alternatively, you can set the end and start time in the Duration bar. Lastly, click Save if satisfied.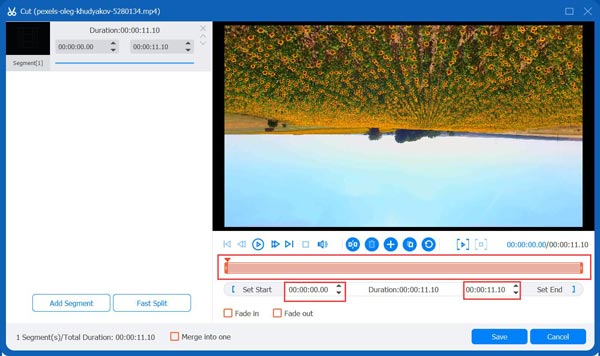 How to Change Video Format
After everything you have done, you can navigate to the Convert All menu. Select the required format, MP4 or MOV, with customized output settings.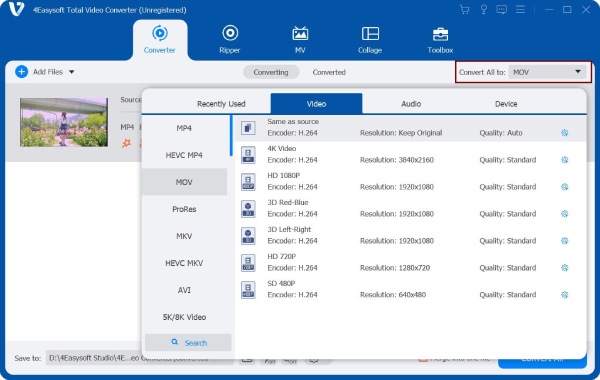 Click the Convert All button if you are satisfied with how your Twitter video looks. You can also access this all in the MV Maker tab. If your problem is only the Twitter video size, the program has a Video Compress tool; here's how to use it.
How to Compress Video
Instead of the Converter tab, go to Toolbox, then locate Video Compressor to add your video file to the program by clicking Add. After that, you can set your preferred name, size, format, resolutions, and more. Before you click Compress, you can check it first by clicking the Preview button.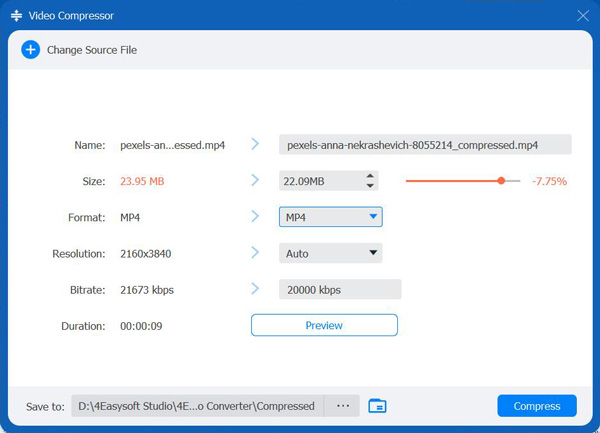 FAQs about the Best Twitter Video Size
What is the most suggested video resolution for Twitter?

The best video resolution for uploading on Twitter is 1080p or 720p, which is excellent for an optimal viewing experience.

Can I upload a 9:16 video to Twitter?

Even though Twitter supports many aspect ratios, the most common is 16:9, allowing users to have a broad and clear video display for desktop and mobile viewing.

Can I change the Twitter video size online?

Yes. Without installing any program, you can use many online tools to apply the best video size for Twitter, like Clideo, which has a Video Resizer tool and can be used for free.

What is the perfect video format for Twitter?

Although Twitter supports MOV for most mobile devices, MP4 is the widely used format and is compatible with playing on web browsers and social media platforms.

What types of files are accepted on Twitter?

Aside from video, photos can be uploaded, as well as an animated GIFs. And similar to having a perfect Twitter video size, images, and GIFS also have limitations regarding file size. For mobile, photos and GIFs can be up to 5MB, while on the web, they are up to 15 MB.
Conclusion
Now that you know all Twitter video size requirements and others, you can get out there and easily upload videos. And given all that, you can apply all of those with the help of 4Easysoft Total Video Converter, a program that allows users to trim parts, crop, compress, and change the video format. Aside from that, there's more to learn about the software, so visit its official website and make it your go-to editing program.
Related Articles