Create Your Twitch Banner with The Perfect Size [With Useful Tips]
Aside from your Twitch profile name, one recognizable feature is the banner. The Twitch banner is a call to action for users to follow your channel. It s where you give them a preview of your channel content, and to do it with perfection, start first by knowing the proper Twitch banner size. Whether it is Profile or Video, a proper-sized banner will contribute to the visual appeal of your designed one for Twitch. In this case, we provide complete details about the best size for Twitch banner and how to do it yourself. Let's start!
Part 1: The Best Photo and Video Sizes for All Twitch Banners
As mentioned, a Twitch banner can be a Profile or Video Player. Whatever you choose, both should be eye-catching without being over-designed and where you can't see a specific text correctly because of blurriness. For this reason, a suitably sized Twitch banner plays an essential role. If you wish to have a high-quality profile, start by ensuring the size of your banner is on point.
First, the Profile Player banner is simply where your brand design fits. It is the profile picture on social media platforms like Facebook, TikTok, Instagram, and so on. Whether online or offline, this will remain on your Twitch channel. It is important to know what you can use or include in your Profile banner; some use schedules, announcements to come soon, logos, social media accounts, and more. So, to save the details you put on your Profile, the best Twitch banner size is 1200 x 480 pixels and below 10MB file size.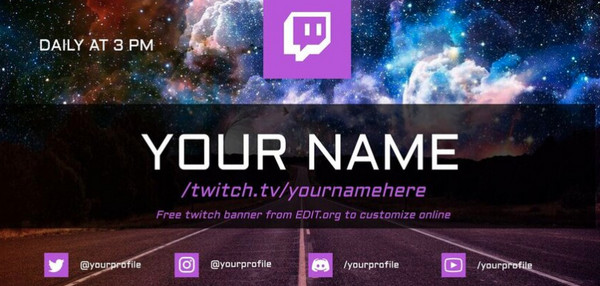 As for the Video Player banner, your partner for promoting yourself. And if you have a profile picture on Facebook, the Video Player is equivalent to the Cover photo. For instance, even offline, you can still interact with your viewers by sending out an away message as a response. All other elements that, unfortunately not incorporated in the Profile banner will be put into use in the Video Player banner. To make it more visually appealing, go for a Twitch video player banner size of around 1920 x 1080 pixels.

Part 2: The Best Way to Make Twitch Banner with The Desired Size
Followed by knowing the correct size for a Twitch banner; why not learn the best way to create a Twitch banner as well? And while creating, it is guaranteed that you can get your desired correct size. Do it effortlessly with 4Easysoft Total Video Converter! With its Collage Maker feature, you can easily select a template, such as the regular one, a split two videos or images, and many more. Customizing it with a border, filters, colors, and more are also supported, then select the aspect ratio from the given options or set it on your own.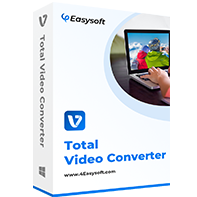 4Easysoft Total Video Converter
Pre-made layouts are provided to select which one you use for your Twitch banner.
Customizing the size can be accomplished easily in the Collage Maker.
Equipped with a Spli-screen editor, letting you put videos side by side.
Applying filters and effects, even the 3D ones, can be done with the video editor.
Step 1Once you have launched the 4Easysoft Total Video Converter, go instantly to the Collage Maker from the above tabs to make Twitch banner with the desired size.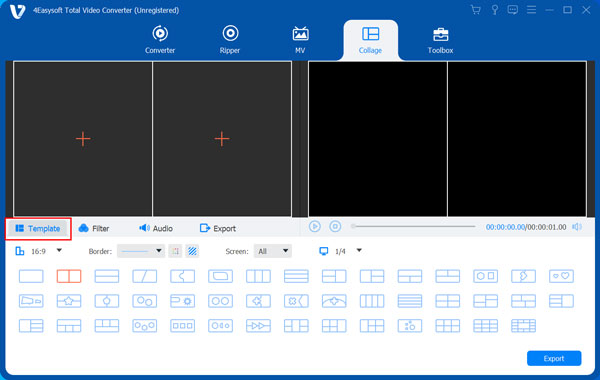 Step 2Add your file after you select from the template below. You can select the by twos, threes, or other creative templates for your Twitch banner. You can drag the split line in between to adjust.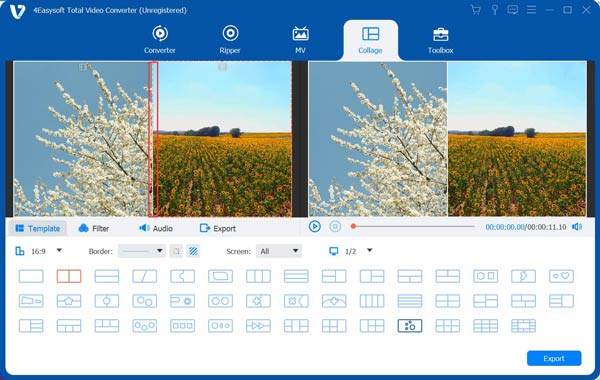 Step 3

Step 4If satisfied with how your Twitch banner looks, click the Export button. You can then see the preview on the right panel. Afterward, select the format, frame rate, resolution, and quality according to what you need from the below options. Finally, click the Start Export button.
Part 3: More Useful Tips to Make a Good Twitch Banner
By now, you're finished knowing the ideal Twitch banner size, and you now have the opportunity to make an excellent lasting impression on your viewers. So, after the appropriately sized banner you have there, how can you ensure it stands out from anybody? Consider using the below tips to get the best results you want for your Twitch banner.
Make a Less Phrase. "Less is more," as said, to whatever platform you will design, a simple but unique design always wins since it does overwhelm people. Twitch is a video streaming platform, so viewers avoid blocks of text; add a little bit of promotion and what your channel is all about.
Utilize On-point Colors, Icons, and Photos. Aside from a proper Twitch banner size, the colors and icons you will be using should represent your brand and the content you will create in the future. Ensure to connect with the thought of considering what is appealing to your viewers and personality simultaneously.
Be Consistent to Style. The same with connecting all colors, icons, and photos you will put to your banner is consistency. Once you use a color scheme or text on one design, use them all in your channel content. For this reason, viewers will instantly identify your channel.
Part 4: FAQs about The Best Twitch Banner Size
How to add a new Twitch banner?

Go to the Creator Dashboard by clicking the Profile icon. Then select the Brand tab, and under the Profile Banner, click Update; then you will be required to upload a photo by selecting an image from your computer. Click Save Changes to update your new Twitch banner.

Can I create a Twitch banner with the proper size in Canva?

Fortunately, yes. On the Canva dashboard, hit Create a Design, and select Custom Dimensions to put the proper Twitch banner size. You can then start the design process.

What is the most recommended Twitch banner size for streamers?

Currently, Twitch's suggested one is 1200 x 480 and 1920 x 1080 pixels. These two will give you a large with high resolution for larger screens.
Conclusion
To conclude, Twitch is among the platforms where you must try harder to attract viewers, and the first thing users would notice is the Profile. So, it is worth noting that a proper Twitch banner size will help get your account get ahead of other channels. The tips and other details here about the size of Twitch banner make your work easy. But, to make it much easier, create your banner with your desired size with 4Easysoft Total Video Converter. Designed your Video Player banners using powerful editing features to make your channel more engaging and unique from others. Try it out now!
Related Articles: