Top 6 Best iMazing Alternatives That Are Worth Using This 2023
iMazing is a software that works as a file manager for iOS device users. If you're using an iPhone, iPad, or iPod touch, iMazing can assist in transferring data efficiently. However, if you think iMazing is not smooth as an excellent file manager, you can find iMazing alternatives here. You will check all the advantages and opposing sides of them. In addition to this, users will search for apps like iMazing that will fill in these drawbacks, which you can see as well in the following. Read on now!
Part 1: A Brief Introduction to iMazing: Pros and Cons
iMazing is a file manager for iOS devices that can help import files to iOS devices. It supports transferring music, movies, TV shows, audiobooks, and more from a device to a computer. Whether it's a thousand photos, you can transfer all data from one device to another with one click away. You can also back up iPhone photos, playlists, text messages, videos, notes, etc. And this feature will always come in very handy; with its fast restoration ability, saving your precious time is the number one you can get with the program.
What's more? Aside from transferring and backup your iOS files, iMazing is capable of customizing iPhone ringtones, sounds, and alerts according to what you want and need. On the other hand, although it is full of amazing features, there are some that are even better than what this program can do or drawbacks you may experience, which may lead users to search for the perfect iMazing alternative. But, before that, see below the presented pros and cons you expect from the file manager, iMazing.
Pros

Support transferring and backups.
Export quickly all app data and files.
An excellent replacement for iTunes.
Capable of updating and re-installing iOS devices.
Don't need iTunes to transfer files.
Cons

iMazing free vs paid — too pricey, and features are limited in the free version.
iPhone is not recognized most of the time.
Fail to back up and restore devices sometimes.
Some features that are free may be hazardous.
Part 2: The Best 6 iMazing Alternatives on Windows/Mac
Some people want apps like iMazing, and some want software that works even better compared to iMazing. Thankfully, there are several programs today that are one search away on the Internet. Without further ado, let's begin talking about the top iMazing alternatives.
Indeed, everyone is into the fast transferring process, and 4Easysoft iPhone Transfer is there to provide what you want. It is a powerful iMazing alternative that supports transferring essential files, such as videos, messages, music, and almost all data between iOS devices, iOS and computer, and iOS and iTunes. Furthermore, you can create an album to manage your photos with complete freedom with its Photo Manager feature. Aside from that, you can customize your favorite music and turn it into your ringtones.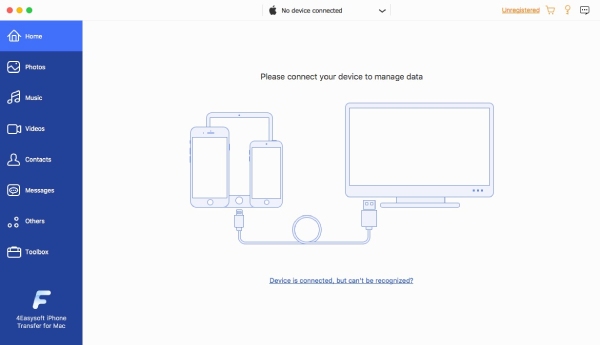 Features
Provide a preview where you can choose the one you wish to save or delete.
Let the user delete all data once transferred in just one click.
Capable of batch deleting duplicate photos and offering photo information.
Quickly backup important information of contacts with the ability to edit each.
2. iFunbox
Another fast processing program to manage photos, applications, music, and other files on your device is the iFunbox. It is among the iMovie alternatives with a well-designed dashboard, letting users select which files to import or export to or from their iPhones. In addition, large media files are supported very well and efficiently manage all applications and all data from your iOS devices. However, consistency issues like being disconnected from iTunes may annoy you.
Features
Batch importing media files can be done quickly,
Support importing as well as exporting pictures, notes, music, and more.
Can transform an iOS device into a USB drive.
3. CopyTrans
The following iMazing alternative is the CopyTrans, which is among the fastest transferring files and data from iOS devices to computers. In just one click, copying pictures and videos from your iPhone or PC is possible, and getting them back to iTunes. Additionally, without the need to be techy, managing iOS devices such as iPhones and iPad is easily accomplished with CopyTrans. Although it works well, there is only limited functionality while using the free version.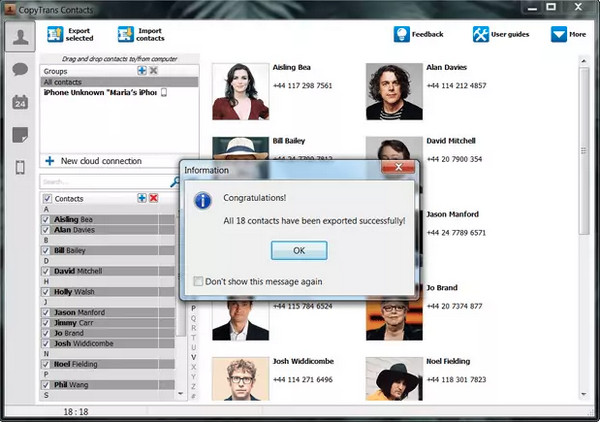 Features:
Quickly export all music from iOS devices to iTunes or any PC folder.
Back up your iPhone without requiring you to use iTunes.
Can download, upload, and recover photos from iCloud.
4. UltFone
UltFone iOS Manager can create backups, restore deleted files, and transfer data even without the help of iTunes. You can efficiently execute a transfer or preview your files in just a few clicks. Furthermore, it has a format converter where you can easily convert pictures from HEIC to JPG, and it supports 1000 pictures simultaneously. However, the free version of this iMazing alternative is limited to working with only 10 files.
Features:
One-click transfer of all pictures from your iOS device to your computer.
Backing up your iPhone is easy, as it enables you to select which files and folders you wish to back up.
Support remotely manage of all iOS data and files.
5. iTunes
Working similarly to iMazing is iTunes. The program is one of the ideal iMazing alternatives that is unmatched when it comes to transferring files from iOS devices. It provides a music player and store, movies, books, podcasts, and more. Despite iTunes having an excellent interface that provides options to different places on the main screen, for some, it remains complex. But, the program is full of features for iOS devices that it's unmatched by other competitors,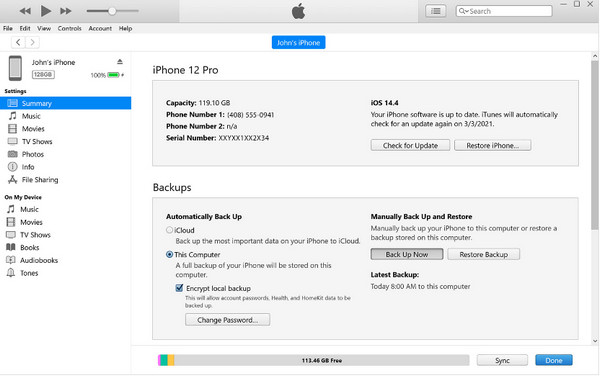 Features:
Come with a vast music library and videos on the main screen.
Integrated with an effective mini-player user interface.
Work with iCloud and easily syncs across multiple iOS devices.
6. iExplorer
Finally, iExplorer comes in. It is a fast file manager that enables users to have full control over their iOS files and data. Messages, pictures, files, and other folders alongside apps are safely secure for backup. Aside from that, this iMazing alternative is a friendly program, and not only can it transfer music file, but you are allowed to search for songs on a web browser and then add it to iTunes. But be ready for constant annoying ads while using the free version.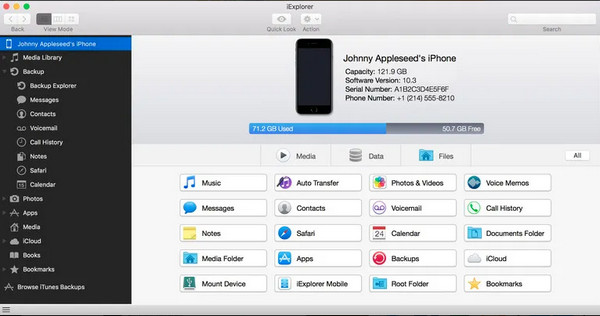 Features:
Come with an Auto Transfer option, letting you move a music library to iTunes.
Have a drag-and-drop function into the phone and transfers them to a different folder.
Can access iPhone apps and manage all data for each application.
Part 3: FAQs about iMazing and Its Alternatives
Does iMazing collect information on users?

iMazing collects personal data for its customers' services. But, this is only applicable once users purchase a license or subscribe to its premium version.

How much is iMazing when purchased?

You can purchase the premium version for $34.99 on each device, while it costs $44.99 per year for many devices.

Is iExplorer - the iMazing alternative safe to download?

According to users, iExplorer is a safe-to-use program and doesn't contain any viruses that may corrupt your PC. It is effective software that allows you to transfer and manage files between iOS devices and Windows or Mac PC.
Conclusion
To conclude, you got to know iMazing better with the features and pros and cons provided. Aside from that, you learned the iMazing alternatives that are worthy of your time. But, if we are going to talk about the best, 4Easysoft iPhone Transfer is a reliable program for that. You can quickly manage all files between iOS devices with no data loss. Besides that, it works well as a Photo Manager, Music Editor, and Contacts Assistant, and more powerful features can be seen in the program. Don't miss them out!
Related Articles: