Reviews on MobileTrans' Features, Pros, Cons, and its Best Alternative
Were you looking for a tool to help you move your old iPhone files to a new one and constantly encounter MobileTrans in your searches? It does check all the boxes of what a file transfer should have, but is it the best tool? Luckily, you landed on this page.This article will discuss the overall review of MobileTrans about its features, pros, cons, and prices. Is it worth buying? Is it suitable for you? Get all answers here!
Part 1: MobileTrans Review: Overall Features, Pros, and Cons
MobileTrans is a tool usable under Windows and Mac platforms capable of transferring various files from one device to another, like from iPhone to Android or vice versa. This tool supports transferring photos, videos, music, contacts, documents, application files, etc. You can also undergo file backups from your mobile device to a PC and restore them if you want to. Those descriptions show that MobileTrans by Wondershare is a reliable tool for transferring files, particularly from your old phone to a new one. So whenever you want to switch phones, you can use this app. That's it! Let's now explore MobileTrans' good and bad points.
Detailed Introductions to the Main Features of the MobileTrans app:
1. Phone Transfer - This feature enables you to transfer over 18+ different file types, including messages, contacts, media files, and more. Additionally, it supports 6000+ mobile devices under Android and iPhone platforms. Aside from that, you can transfer files from Android and iPhone to a computer quickly.
2. Backup & Restore - This feature lets you back up various data on your mobile device to Windows or Mac. Also, you can reclaim them if you want, whether from an old or a new device.
3. Transfer WhatsApp's Data - MobileTrans supports transferring your WhatsApp messages and attached media files from an iPhone to an Android. It also supports transferring data from Line, Wechat, Kik, and GB WhatsApp to other devices.
Pros

Easy-to-use and user-friendly application.
Offer a simple and easy-to-cope interface.
Transfer several different files simultaneously with great speed.
Support once-click data transfer between various devices.
Cons

Offer minimal features for the free version, which most users complain about.
Don't allow users to pick specific images to transfer, forcing them to transfer the whole gallery.
Don't allow users to pick specific images to transfer, forcing them to transfer the whole gallery.
Part 2: Is MobileTrans Safe to Use and Worth Buy?
.
Now that you know the significant points of MobiletTrans, you might also ask, "Is MobileTrans safe?". The answer is yes; this tool is safe and contains no malware or other viruses. It will also not try to inject unwanted files into your mobile devices. You just need to make sure that you visit its official website to download the tool and install it on your computer.
That is one of the reasons why this tool is somehow worth buying, even though this tool is quite expensive. Although it was linked with various drawbacks when transferring files, MobileTrans is still a reliable tool for your file-transferring needs.
Part 3: The Best Alternative to MobileTrans for Transferring Data Safely
If you want to look for a cheaper alternative after reading the MobileTrans review, have a try on the 4Easysoft iPhone Transfer tool. This tool is infused with the ability to transfer 20+ types, whether essential files, media files, or data from social media platforms. It can also transfer those files from phone to phone, to computer, or to iTunes. Moreover, its features are well-composed and well-categorized, which is definitely a user-friendly and easy-to-use tool. Furthermore, it is also equipped with powerful features in its built-in toolbox, which you can use to manage and customize your files easily. This safe tool takes only a few minutes to transfer your files to various devices or platforms. It is indeed the best MobileTrans alternative.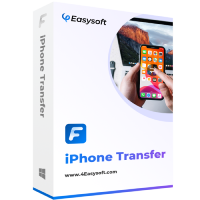 4Easysoft iPhone Transfer
Support safety and fast transferring process for almost all data on your iPhone/iPad/iPod.
Enable you to preview and select the files you wish to transfer to other devices.
Offer data management to arrange, modify, delete and convert files from your photo album, contacts, and music library.
Equipped with impressive additional features such as Ringtone Maker, HEIC Converter, iTunes Library, and more.
How to use 4Easysoft iPhone Transfer as an Alternative tool for MobileTrans to Transfer Data Safely
Step 1Visit the 4Easysoft iPhone Transfer on your Windows or Mac computer. After that, launch it and connect your iOS device via a USB cord. Then, the tool will automatically scan your device, and once it is finished, it will show you all the information regarding your device's capacity, type, used space, etc.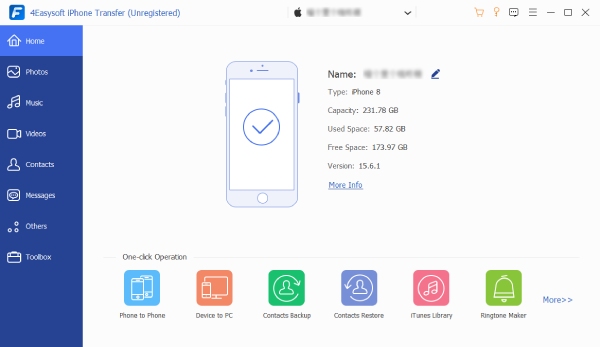 Step 2Next, select the Photos tab on the left corner of the tool's interface. Here you'll see the list of categorized images stored on your device; select the ones you wish to transfer. You can also access the Music, Videos, Contacts, Messages, and Others tabs to see other files you want to transfer.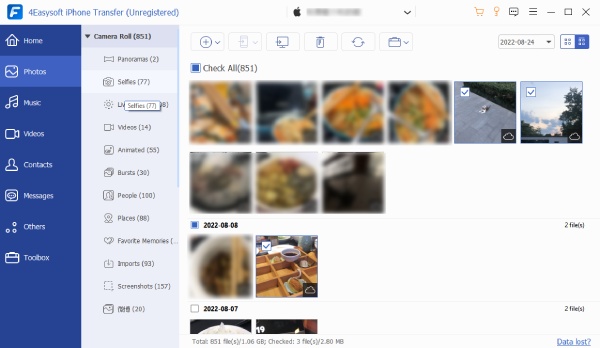 Step 3Once you are finished selecting the files you want to transfer, tick the Export to PC button to start the transferring process. Navigate the file folder you wish to store those files on the pop-up window; tick the Select folder to confirm the selected folder.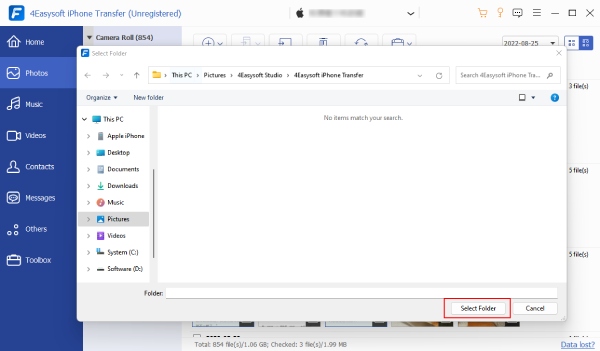 Step 4To add photos from your computer to the iPhone, tick the Add button. Unlike MobileTrans, you can select the images on the pop-up folder window and confirm your selection by clicking the Open button.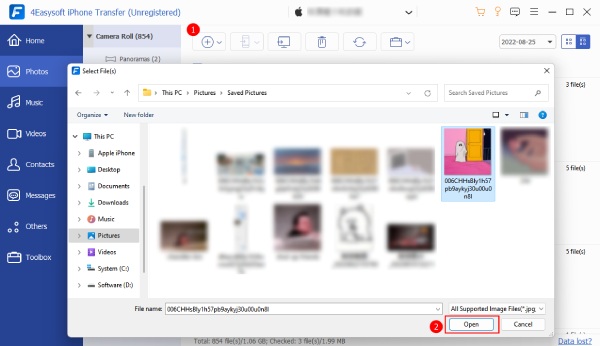 Note
The process is the same for transferring files from iPhone to iPhone or Android. You just need another USB cable to link the other mobile device to your computer
Part 4: FAQs about the MobileTrans Software on Windows/Mac
1. Is MobileTrans free to use?

Yes, it is! However, you have to consider purchasing one of its offered Plans and Pricing. This way, you can access all of its features rather than limit yourself to the features offered under the free version.

2. How to use MobileTrans App to transfer files from another phone?

To transfer files from your device to another, launch the MobileTrans on your computer and select the Phone Transfer tab. Then, select Phone to Phone from the options and link your device to your computer using a USB cord. After that, select all the files you wish to transfer and tick the Start button to begin the transferring process.

3. Where does MobileTrans stores my backup files on my Windows?

MobileTrans stores your backups files from your iPhone to your computer's file storage. You can access it by visiting your File Explorer, then look for this folder address, "C:UsersYour usernameAppDataRoamingApple ComputerMobileSyncBackup or C:UsersYour user nameAppleMobileSyncBackup."
Conclusion
This article featured a MobileTrans review, exploring its great features, capabilities, and drawbacks. It is; indeed, MobileTrans is a promising tool for file transferring across different devices. However, there are reports that MobileTrans has transferring issues, and its free version is unacceptable for most users. Additionally, it's quite an expensive tool for most people. We still recommend the 4Easysoft iPhone Transfer tool as the best alternative to MobileTrans. Aside from having the best transferring features, you can also have the benefits of fast, safe, secured, transferring, and commendable licenses. Feel free to download and install the tool now!
Related Articles: