How to Remove Background Noise From Video? [Desktop and Mobile]
Background noises can ruin a good video where the audio is impossible to hear. In such cases, the need to remove background noise from video, like street cars, hums from the surrounding, air conditioners or fans, etc., is crucial. Sometimes, you can only hear or notice those noises once you start editing the video. So, a reliable video editor is crucial in this part, don't have one in mind that will edit your video and do background noise removal? Use this post to find the best apps as noise removal tools on desktop and mobile.
Part 1: How to Remove Background Noise from Videos on Windows/Mac
Let us first start with the best way to remove background noise from videos on the desktop. Several programs today can help you out of this problem, one of which is the 4Easysoft Total Video Converter. Aside from the over 15 toolkits it provides to edit videos, it supports adding filters, themes, transitions, and background music. Adding background music can assist you in getting rid of those background noises from your video. Or, if you want to enjoy and focus on a beautiful scene you captured, but hear those hums from the environment, consider muting the audio without affecting the quality of the video with this program. Here are the detailed steps on how to remove background noise from videos.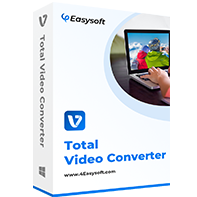 4Easysoft Total Video Converter
Adding a new audio track to your videos to remove background noise can be done.
The audio volume level can be adjusted, as well as adding fade-in and out effects.
As for the video, you can remove dirt-like noise to make it cleaner, like the audio.
It Has a Volume Booster if you cannot hear the audio or a music file.
Step 1Free Download the 4Easysoft Total Video Converter. Do the installation process, then launch it. Select the Converter among any other tabs from the above menu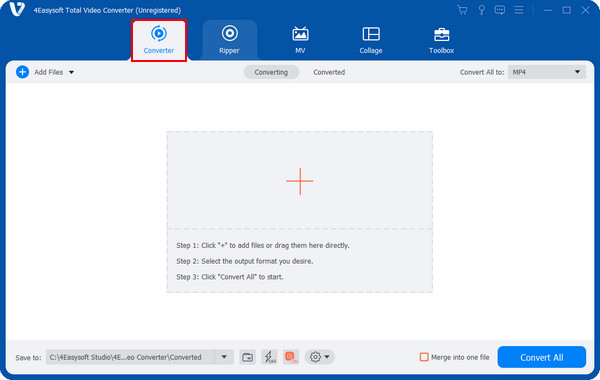 Step 2Add your file by clicking the Add Files button or drag and drop it. After adding your file, navigate to the Edit button with a Starwand icon to open the editor window.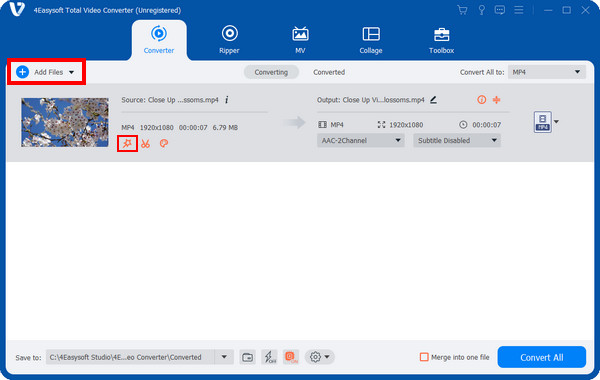 Step 3Afterward, go to the Audio tab, where you can mute the original sound to remove the background noise from videos by pulling the sliders and add any background music as you like.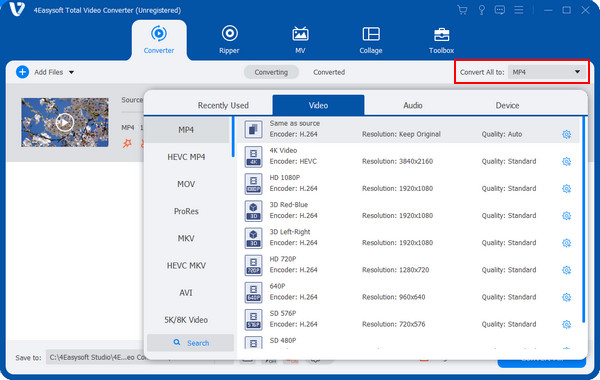 Step 4Once done editing, you can select the format with the customized resolution you desire from the Convert All to menu list. Finally, hit Convert All on the bottom right of the main screen.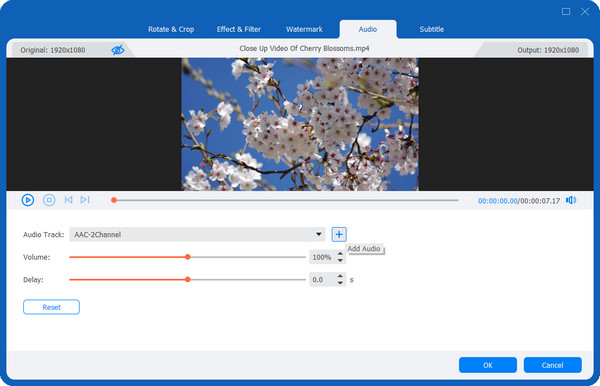 Part 2: Top 3 Apps to Remove Background Noise from Videos on Android/iPhone
After knowing the best way to remove background noise from video using a program, some people prefer editing videos on mobile devices. Fortunately, there are also apps for Android and iPhone to do background noise removal! Let's move on to the top 3 noise removal applications.
1. iMovie
iPhone users wouldn't have to go through a lot of applications to remove background noise from video. Apple provides iMovie for iOS devices, such as iPhones and iPad, to edit videos easily without requiring any editing skills to create professional-looking videos. This app for iOS devices and Mac has a friendly main interface, making it easy for everyone to crop trim, has a few built-in audio filters, and includes a background noise removal tool.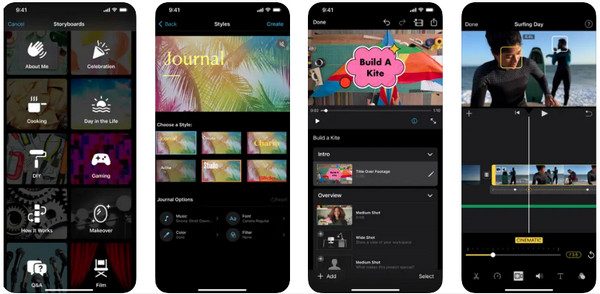 Step 1On the iMovie app, go to the Effects tab, then select Audio Filters
Step 2From there, click Noise Reduction, then drag the audio slider to the right to reduce background noise.
2. Bye Noise
An intelligent background noise removal tool for a clean video sound is the ByeNoise. It is easy to use and safely detects all background noises in audio and video files with the use of artificial intelligence algorithms. All you are required to do is to add your video file and then select the amount of audio cleaning you want to get. Furthermore, you don't have to worry about incompatible issues since the app supports most video file formats.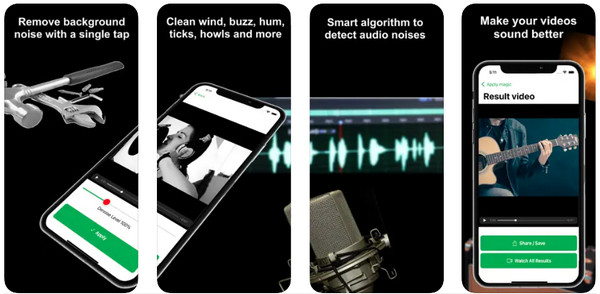 Step 1Open Bye Noise on your device, then load the video you wish to remove background noise.
Step 2You will instantly have to choose the cleaning you want for your audio. Then, you are allowed to play it before saving.
3. Filmr
Also known as InVideo is Filmr, a quick and friendly video editor app that can assist you in removing background noise from video. Aside from the background noise removal, it is capable of trimming, adjusting the video's speed, and letting you have the total freedom to control your audio. In addition, without any annoying watermarks, you can save your work directly to the Camera roll or even upload it online without a quality drop.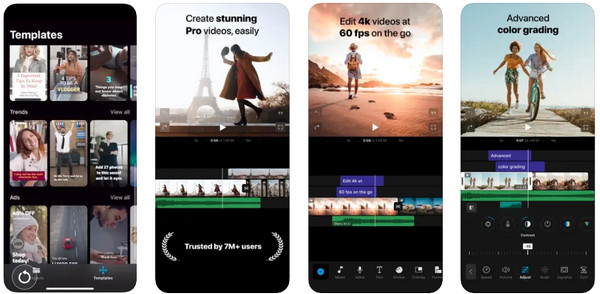 Step 1Head over to the Filmr app on your device. Then, tap the Camera Roll to upload videos.
Step 2Choose the Volume option; drag the audio slider to the left to mute the audio afterward. Lastly, you can tap on the Export button.
Part 3: FAQs about How to Remove Background Noise from Videos
Can Audacity remove background noise from videos?

Audacity is an excellent tool for removing background noise from video audio. However, it is not that simple since you are required to extract the audio from the video before you do background noise removal. After that, you need to sync the cleaned audio to the video.

Can I remove background noise from videos online?

Aside from downloading an application, there are lots of free online video editors today that can help get rid of background noises. For example, Kapwing, VEED, Media, io. and so forth.

Does Filmora remove background noise for free?

Filmora works excellently to reduce background noises. It helps by eliminating unnecessary noise from your video with its Audio Denoise function with a slider. That tool comes with Weak, Mid, and Strong options for the level of reduction. The good thing is that you can utilize it for free in the Audio editing panel, but be ready for the watermark when exported afterward.

How to use iMovie on Mac to remove background noise from a video?

Run the iMovie on Mac, then select the video you want to remove noises from. Hit the Noise Reduction and Equalizer buttons above the Preview. Then, click the checkbox of Reduce background noise, then move the slider to select the level of reduction to be applied. Alternatively, you can choose from the Equalizer option like Voice Enhance, Music Enhance, or Hum Reduction.
Conclusion
Aside from the mentioned apps to remove background noise from video, you might have different ways to remove noises. For mobile-prefer people, many apps to get you away with background noise problems are available, and this post discusses the best. But for a beginner and tech-savvy, the 4Easysoft Total Video Converter is for you! Want to get rid of those background noises quickly? Feel free to use the program's powerful features, where you can add new audio tracks or mute unnecessary noises.
Related Articles: