Premiere Pro vs. Rush: Which is the Best Editor for Your Video Project
Premiere Pro and Rush are only two of Adobe's professional video editors. With their ability to provide users with advanced video editing services, many people wonder what their differences are and which is better for video editing. Thus, to help you choose the one that suits your needs, this post features the difference and comparison between Premiere Pro vs Rush by listing their pros and cons! So, without any further delay, start diving below.
Get to Know the Differences between Premiere Pro and Rush
As mentioned above, this post listed the pros and cons of Adobe Premiere Pro vs Rush. Also, along with their pros and cons, this post briefly introduces these video editor tools to give you insight into their capabilities. And later on, you'll see a clearer view of their differences that will help you choose your needs. So, to finally start identifying the differences between Premiere Pro vs. Rush, take your first step now!
What is Premiere Pro?
Adobe Premiere Pro is the industry's leading professional video editor that supports many advanced and complex video editing features. This featured-packed editor offers timeline-based video editing for the post-production processes of recorded material. Premiere Pro is Hollywood and other movie producers' first pick tool to edit their films, and many of them have already come out on big screens edited by the tool.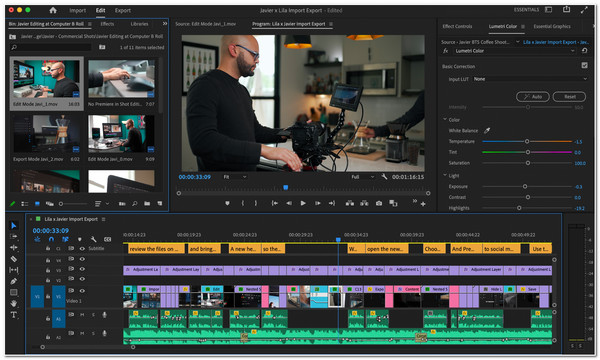 Pros

Stable features and functionality.
Rich in video editing features that are suitable for complex editing.
Have all the features that Rush offers, including Color Grading, Motion Graphics, VFX, etc.
Let users edit videos, movies, TV programs, social media content, etc.
Support a large number of video formats to be edited.
Cons

You must purchase a subscription before you can fully use the editor.
Overwhelming interface.
A complicated tool, especially for beginners.
Inapplicable for basic video editing process.
What is Rush?
If Adobe Premiere Pro is a complex video editor tool, Rush, on the other hand, offers simple and convenient video editing features that are best for you if you are on the go! As the names suggest, this tool lets you quickly customize your recorded video, even without a deep knowledge of video editing. Primarily, users utilize this tool to create video convents to be publicized on various social media platforms such as YouTube, Instagram, TikTok, etc.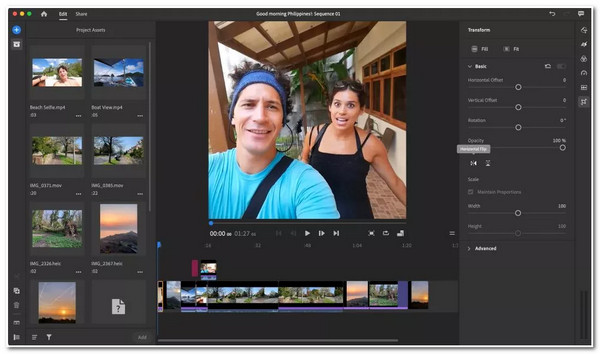 Pros

Offer free service.
Intuitive interface with easy-to-use video editing features.
Let do quick and simple edits.
Support Audio editing, Motion Title Templates, and Color Customization.
Can be utilized on desktops, tablets, and mobile devices.
Enable you to capture a video, edit it, and share it on social media.
Cons

Offer limited complex video editing features.
It is not stable and comes with a slow video rendering process.
Only support limited video transitions.
Doesn't have any additional features aside from those basic video editing features.
Summary: Premiere Pro and Rush Comparison
After exploring the most significant strengths and weaknesses of the Premiere Pro vs. Rush, you probably see the main difference between the two. Premiere Pro is definitely a suitable tool if you are working on a giant video project. Its complex yet advanced video editing features will help you bring your visions to life. Take those movies like Gone Girl, Terminator: Dark Fate, Monster, etc., as examples of bringing visions to life and eventually reaching the bigger screens through the jaw-dropping features of Adobe Premiere Pro.
Otherwise, if Premiere Pro is too complex and doesn't have enough time to learn its features because you have a vlog to post, Rush is the way to go. Just like mentioned in its Pros, it lets you do quick and simple edits; this is what Rush aims to provide its users. You can produce a social media-worthy video with just a few clicks, ticks, and taps!
Another significant difference between them that you also need to note is that Premiere Pro supports all of Rush's features. Rush is a free tool, while Premiere Pro requires you to purchase its subscription. Rush can be used on different devices while Pro is not, and Pro supports complex features while Rush is not.
Recommended Alternatives to Premiere Pro and Rush
Now that you have identified the differences between Premiere Pro vs. Rush, there are also a lot of other video editor tools out there that are also powerful enough to support your video project.
The first on the list of Adobe Premiere Pro vs. Rush alternatives is the 4Easysoft Total Video Converter tool. It supports video editing features such as rotator, cropper, and trimmer and adds effects, filters, background music, subtitle, caption, etc. Moreover, if you love to add significant transitions with graphical animations to your video, this tool offers various Themes you can apply to your video. Furthermore, this tool is also equipped with options to modify your video's audio by altering its delay and loudness and adding fade-in & out effects. These are just a glimpse of this tool's powerful features; there are still a lot of features you should know! To discover them, explore this Premiere Pro and Rush alternative below.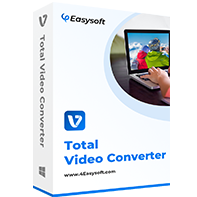 4Easysoft Total Video Converter
Equipped with AI-driven Video Enhancer that you can use to improve your video's Brightness, Contrast, Resolution, etc.
Integrated with a Toolbox feature comprising various video modifiers such as Cropper, Trimmer, Reverser, Merger, etc.
Support Export Tweaking options that let you modify your output's Quality, Resolution, Frame Rate, etc., to acquire high-quality results.
Offer various high-quality formats, such as AVI, MOV, MP4, etc., to export your edited video.
2. iMovie (Mac)
Another editor you can use as an alternative to Adobe Premiere Pro vs. Rush is iMovie. This Mac-compatible video editor also supports a user-friendly interface with rich video editing features. This tool offers beautiful templates, a library of music, special effects, filters, green screen effects, titles, backgrounds, and basic video editing features that are beyond capable of producing a professional-looking output. This tool is indeed one of the best tools to edit your videos quickly, fast, and with great results!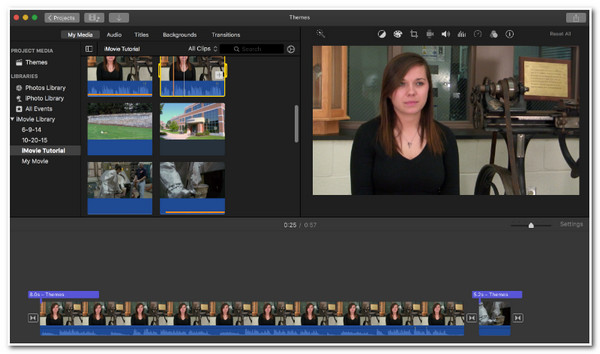 FAQs about the Comparison between Premiere Pro and Premiere Rush
1. How much does Premiere Pro's subscription?

Adobe Premiere Pro offers pricing starting at $19.16 per month for Students and Teachers. If you want access to Adobe's Creative Cloud, you need to pay $54.99 per month.

2. What is the Adobe Premiere Pro minimum OS requirement?

If you plan to use Adobe Premiere Pro, your computer's operating should be Microsoft Windows 10 (64-bit) V20H2 or later for Windows and macOS 11.0 (Big Sur) or later for Mac.

3. Can I directly share my edited video on social media using Rush?

Yes, you can! Adobe Premiere Rush lets you directly share your edited videos on Facebook, Instagram, and TikTok platforms.
Conclusion
That's it! That's the comprehensive identification of the Premiere Pro vs Rush differences! With those details above, you can now easily spot their differences and see which suits your needs better. If you want to look for an alternative for these two Adobe products for some reason, then the 4Easysoft Total Video Converter tool is definitely the best option! With this tool's powerful MV Maker, Collage Maker, Toolbox with video editing tools, and its built-in basic yet advanced video editing features, you can definetely achieve your desired output! To learn more about this tool, visit its official website today!
Related Articles: