Top 10+ Photo Collage Maker Apps to Combine Multiple Photos in 2023
Photos are the best way you can do to store beautiful memories. And gathering pictures from one specific occasion is always a nice idea to ensure those precious moments are not lost, so collages are your way to go! To get the job done, you will need a Photo Collage Maker to assist. And with today's technology, many tools exist to showcase multiple pictures in one image and share it on social media platforms. Without any delay, read on for the best Photo Collage Maker app!
The Best Photo Collage Maker on Windows/Mac
Suppose you're looking for the best Photo Collage Maker on the computer. In that case, a program supports making slideshows and collages with premade templates and transitions, as well as powerful features. Get to know the 4Easysoft Total Video Converter! It comes with a Collage Maker, where you will find plenty of uniquely designed collage layouts, such as by two, three, four, and more beautiful frames. Furthermore, you can customize the video size, screens, aspect ratios, and many others to adjust the layout grid freely. Want to learn how to make a photo collage with this fantastic program? Keep reading!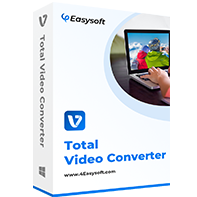 4Easysoft Total Video Converter
A Collage Maker that contains several layouts and various editing features.
Capable of adding filters and transitions to the photo collage.
Customizable size, screens, border, and more for the photo collage.
Provides a preview for every additional edit you make in the images.
Step 1Free Download the program "4Easysoft Total Video Converter" and launch it. On its main interface, go for the "Collage Maker" tab, where you will see several layouts available.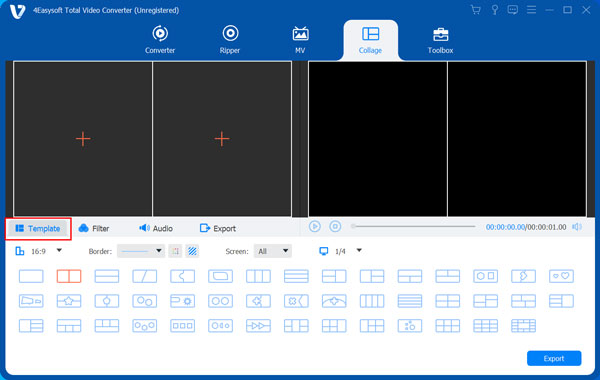 Step 2Suppose you select the layout with two frames; click the "Add" button to add your desired image. You can then drag the line in between to adjust the size freely. Adjusting the frame's weight and color can be done as well.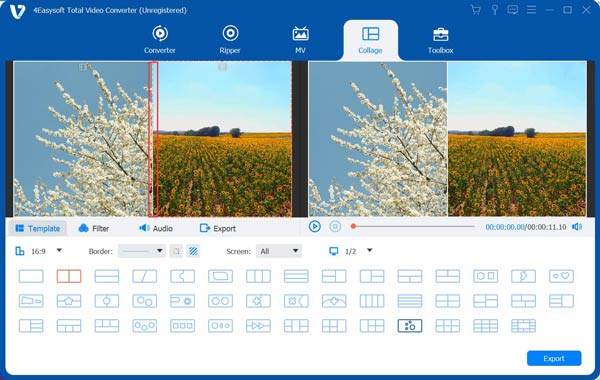 Step 3You can edit the image individually if you want to by selecting the one you want to edit, then hitting the "Star wand" icon. A window will appear where you can rotate, crop, add text, etc.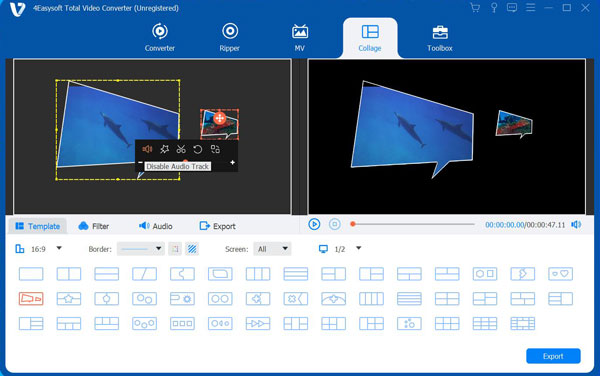 After that, navigate to the "Filter" section to apply your preferred filter to your photo collage. It offers purple, cool, pink, warm, and more colors.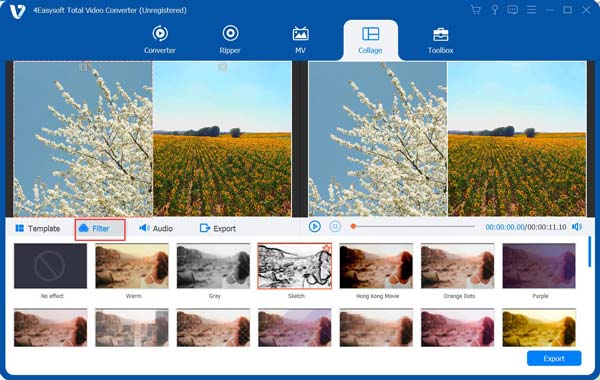 Step 4To add a background track, go to the "Audio" tab and tick the checkbox of "Background Music," then add your music file by clicking the "Add" button.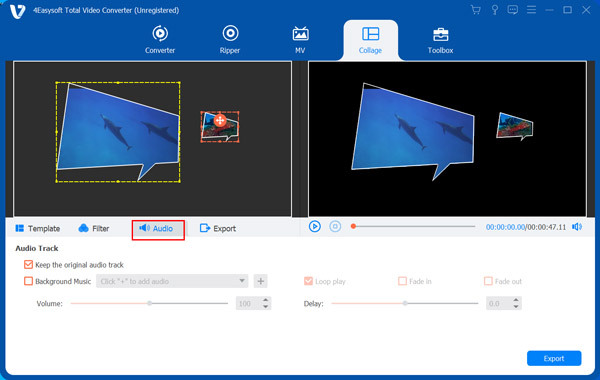 Step 5After everything is settled, go for the "Export" tab to set the file name, destination, and output format, and adjust other settings. Click the "Start Export" button to save it from this video and photo collage maker.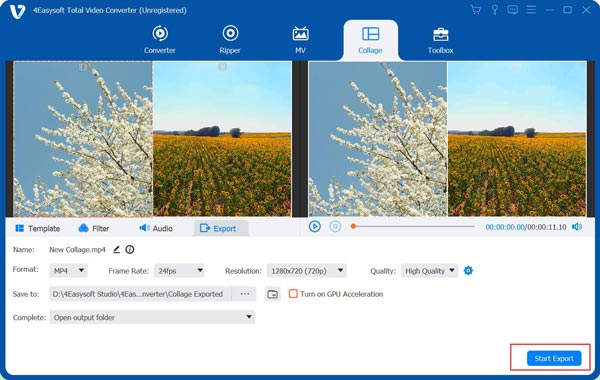 Top 10 Photo Collage Maker Apps for Android/iPhone
Followed by the Photo Collage app on Windows and Mac, various iPhone and Android device applications are on the market today. Some are free, and some are paid, but most apps usually offer freemium subscriptions. To start choosing your best bet, here are the top 10 best Photo Collage Maker apps for mobile devices.
1. PicsArt
Among the largest photo and video editing apps is PicsArt, which works on iPhone and Android. It is presented with various tools, such as customizable templates and s straightforward interface. Anyone can engage with this photo collage maker, whether techy or non. It also includes a collection of filters you can apply, as well as text, fonts, color, draw, and many others.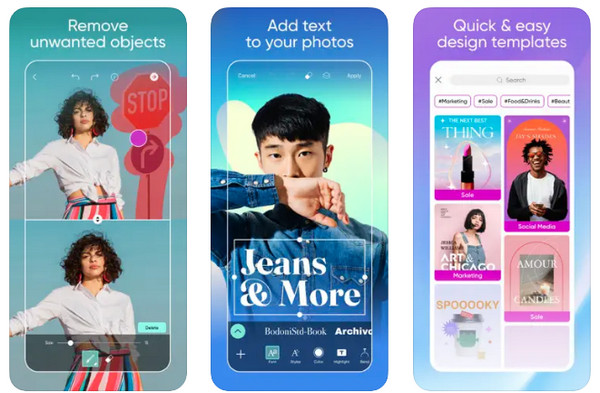 Features:
Select up to 10 images at a time to put in a grid.
There's a free photo library you can use to stock photos.
Various filters and other elements are available.
2. Fotor
The next in line is Fotor, an impressive photo collage maker with various effects, templates, stickers, and more interesting functionalities. Moreover, it has a Photo Stitching tool where you can combine multiple images vertically or horizontally. Aside from that, you can expect a hundred or collage layouts offering various styles.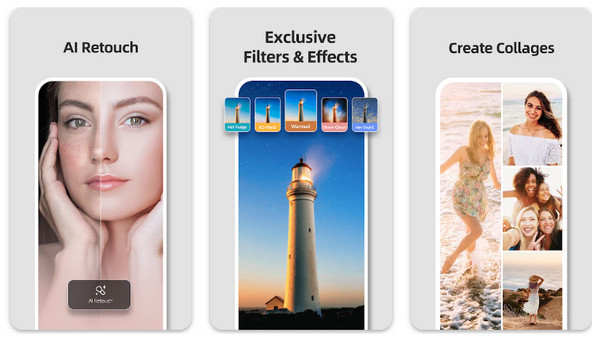 Features:
Plenty of collage templates are provided.
Lets you add text as overlays.
Photo Stitching tool to merge photos quickly.
3. PhotoGrid
PhotoGrid is a famous iPhone and Android application with more than 100 million downloads. It is well known for its ability to quickly edit and make photo collages, with various templates available. Then all results can be shared directly on Instagram. In addition, this free photo collage app is also made with a straightforward interface, letting users quickly bring collages to life.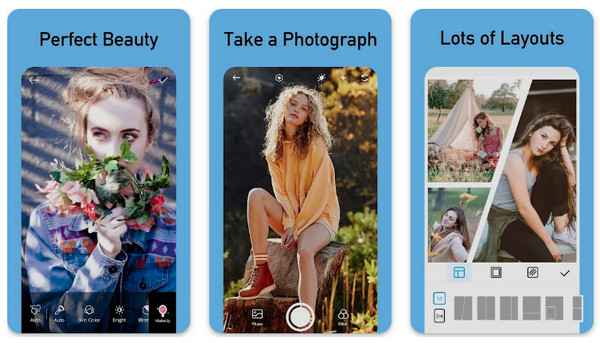 Features:
More than 20,000 collage templates are offered.
It has a Video Grid Maker.
Stickers, text, and more can be added to the Scrapbook feature.
4. PicCollage
The following is PicCollage, which works similarly to other photo collage maker apps. It has tons of amazing stickers, text, and frames. Plus, this application provides many templates and backgrounds. Photo collages can be shared then through various social media apps, including Facebook, Twitter, and Instagram.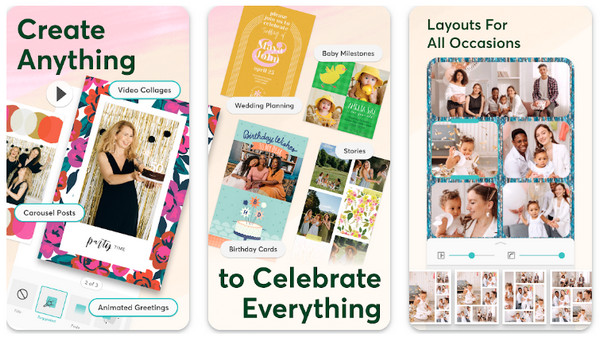 Features:
More than 60 templates are available.
Supports face detection feature.
Capable of drawing and doodling on your collages.
5. Canva
Another well-known editing platform containing collections of options for creating videos, presentations, and others, is Canva. This photo collage maker is free to use and will let you have lots of collage layouts in just minutes. In addition, you can use your image or stock photos from Canva, then change the background, adjust the color, apply effects, and so on afterward.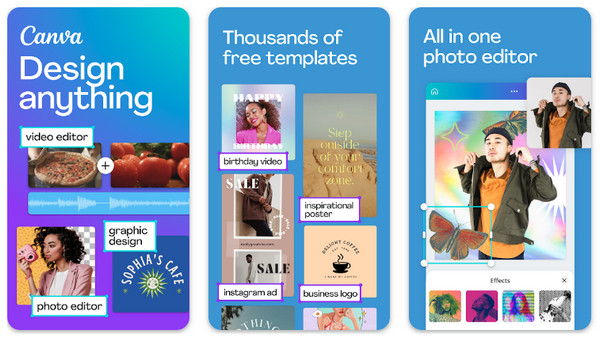 Features:
Offers more than 100 collage layouts.
Provides stock images to use as content.
Results can be published in print or on the web.
6. Layout from Instagram
Instagram offers a free photo collage maker that allows users to add multiple images in one frame. It doesn't have many features like any other app, but still, you can easily create a collage and then apply filters, text, effects, etc., with Layout. Furthermore, you can either add an image or capture it, then drag and drop the image to arrange it.
Features:
It can quickly be shared with Instagram stories/posts
Several filters and effects can be applied to the collage.
Drag and drop function to arrange the image.
7. Collage Maker
Can be your go-to photo collage maker is, an app named Collage Maker. You can instantly merge your incredible photos into one frame using the layouts offered by the app. Then, decorate it with various filters, stickers, text, and more. It is easy to have inspiration as well as to create cover photos, thumbnails, and more images.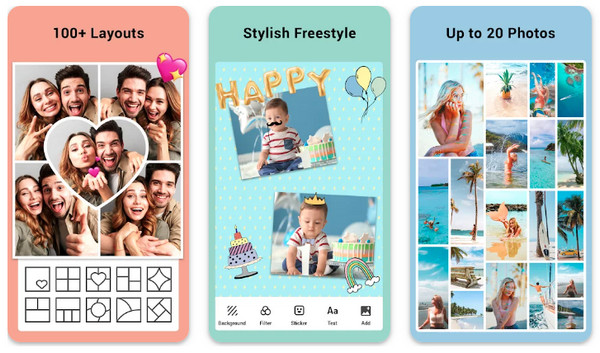 Features:
Insta square photo feature to fit Instagram size.
Capable of creating a scrapbook with various stickers, doodles, etc.
More than 100 stylized templates are provided.
8. Ribbet
Ribbet is an excellent versatile photo collage maker, providing several templates for specific occasions. The app comes with lots of tools to create a perfect photo collage, like special effects, frames, text, and more. In addition, all collage layouts are placed in the sections, Basic, grid, and One Big Photos, letting you quickly find the one you want.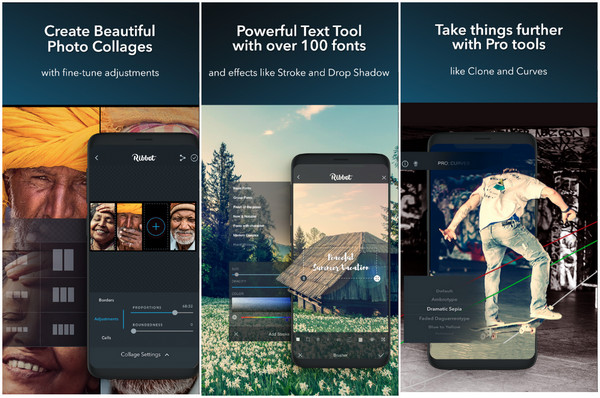 Features:
Offers professional editing tools, like curves, clone, dodging, etc.
Can upload up to 100 photos at the same time.
It can be used as a web, desktop, and mobile tool.
9. piZap
For someone who loves creating memes, piZap is the ideal photo collage maker for you. Hundred of stock images as well as fonts can be used for your collage. Furthermore, the program provides a huge number of filters, stickers, borders, frames, and more. Besides that. It can also be installed on your computer or the web.
Features:
More stickers, filters and stock images are offered.
Advanced editing functionalities.
Support saving ultra HD and 4K images.
10. Pixlr
The last on the list of Photo Collage Maker apps for mobile is Pixlr. The editor is powered by Ai and can work as a desktop or mobile application. Moreover, it has a built-in pre-made template, allowing you to assemble photos quickly. Additionally, collections of filters and photo effects can be easily applied to achieve your desired photo in a few clicks.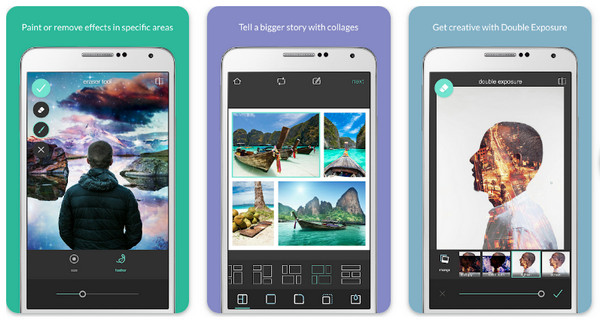 Features:
Thousands of stunning templates are presented.
Templates are customizable.
Selection of overlays, borders, and stickers.
FAQs about the Best Photo Collage Maker
How to make a photo collage on iPhone?

If you are done selecting one photo collage maker, you can start creating your collage. Of course, start by choosing the photos you wish to add or selecting a collage layout, depending on your chosen app's process. From there, you can make additional edits, like adding filters, text, and effects, and adjust the frame.

Which one is the best free photo collage app?

All discussed tools in this post offer a free version, like the PicsArt, PhotoGrid, Fotor, and more. Each is best in providing the features you will need to create the best photo collage.

How to make a photo collage on Facebook?

On mobile, select the photos you wish to include. Then, Facebook will give you the option of how your pictures appear on others' feeds, Columns, Banners. or Frames. Since you want a collage layout, select the Frame option; from there, you can arrange your photos and upload them once done.

Does Google offer a free photo collage maker?

Fortunately, Google Photos offers a feature where you can edit and make collages using the Library photos. You can do it on both mobile and desktop.

Are all images in Canva free to add in a collage?

Not all elements, photos, music, or others are available in Canva, But the app allows you to use your image that can be added to your photo collage.
Conclusion
Now that this post has ended, hopefully, you've found the perfect Photo Collage Maker among the ten best provided. As for users who prefer to edit on a desktop PC, don't forget to try the 4Easysoft Total Video Converter. A program that made creating collages effortless with a straightforward process and powerful editing tools. It is your total go-to software for Windows and Mac to create the best photo collages and more future projects.
Related Articles