iPhone 14/13/12/11 Keeps Restarting - 5 Solutions to Solve the Issues
Why does your iPhone continuously restart, especially during the charge? Maybe there are some problems with your hardware, even on the iPhone 14 you just bought? Today, this post will answer why your iPhone keeps restarting and provides five effective methods to help you fix your iPhone. Continue reading to learn more about it!
Part 1: 4 Easy Ways to Fix iPhone Keeps Restarting
1. Check the Version and Update iOS
If you use an outdated version or the latest version has some bugs, it may also be a potential factor that occurs your iPhone keeps restarting. So you can Tap the Settings button on your iPhone to open the settings window. Choose the General option to open a new window. Then tap the Software Update button to check whether a new version needs to be updated.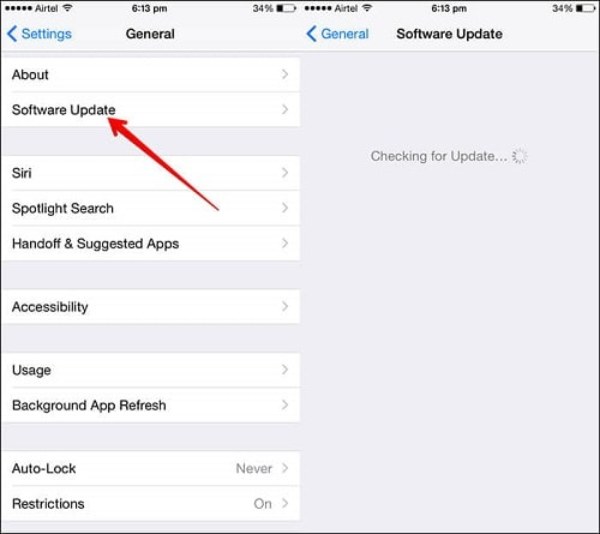 2. Update All Apps on Your iPhone
Applications that are not updated may cause your iPhone 14 keeps restarting. You just need to check for application updates to prevent the iPhone from restarting.
Step 1Open the App Store on your iPhone 14/13/12/11.
Step 2Tap the Updates button at the bottom to open a new window.
Step 3Then, you can see all the software that needs to be updated. You can tap the UPDATE button behind the software. Tap the Update All button to update all applications at once.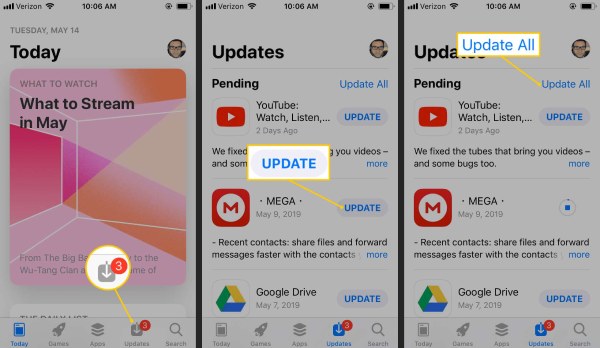 3. Reset All Settings
Resetting all settings on your iPhone 14 is not a panacea, but you can try to use it to solve your iPhone keeps restarting. It will restore iPhone to factory settings. However, this method will cause the network settings, home screen layout, location settings, and privacy settings to reset to the default values.
Step 1Launch your iPhone and open the Settings app. Then tap the General button to open a new window.
Step 2You should tap the Reset button from the General window. There are five options to reset your iPhone: Reset All Settings, Reset Network Settings, Reset Keyboard Dictionary, Reset Home Screen Layout, and Reset Location & Privacy. You should choose the Reset All Settings option.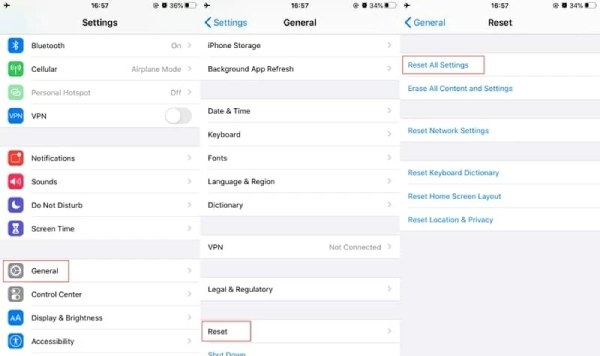 4. Reinsert SIM Card on Your iPhone
Sometimes your SIM card is misplaced, or your iPhone is not connected with SIM, which will cause your iPhone keeps restarting. So you can try to reinsert your SIM card. You can use the SIM card needle to remove the SIM card from the SIM card tray and then check whether the removal solves the problem. After checking, you need to replace the SIM card and turn on iPhone.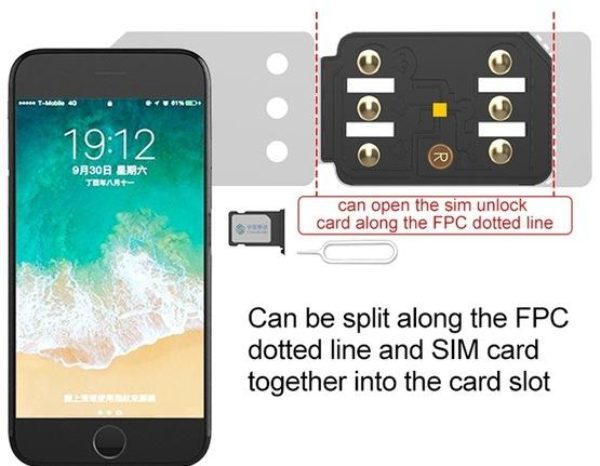 Part 2: Professional Tool to Fix iPhone 14 Keeps Restarting
If the above methods cannot solve the problem that your iPhone 14 keeps restarting, you can use 4Easysoft iPhone Data Recovery. When you want to restore the latest version of your iPhone to the old version, you can also use this excellent tool. This tool can fix all iOS system errors, including your iPhone keeps restarting. You can also use it to restore the iOS system to an old version. Moreover, you can use it to back up and restore data.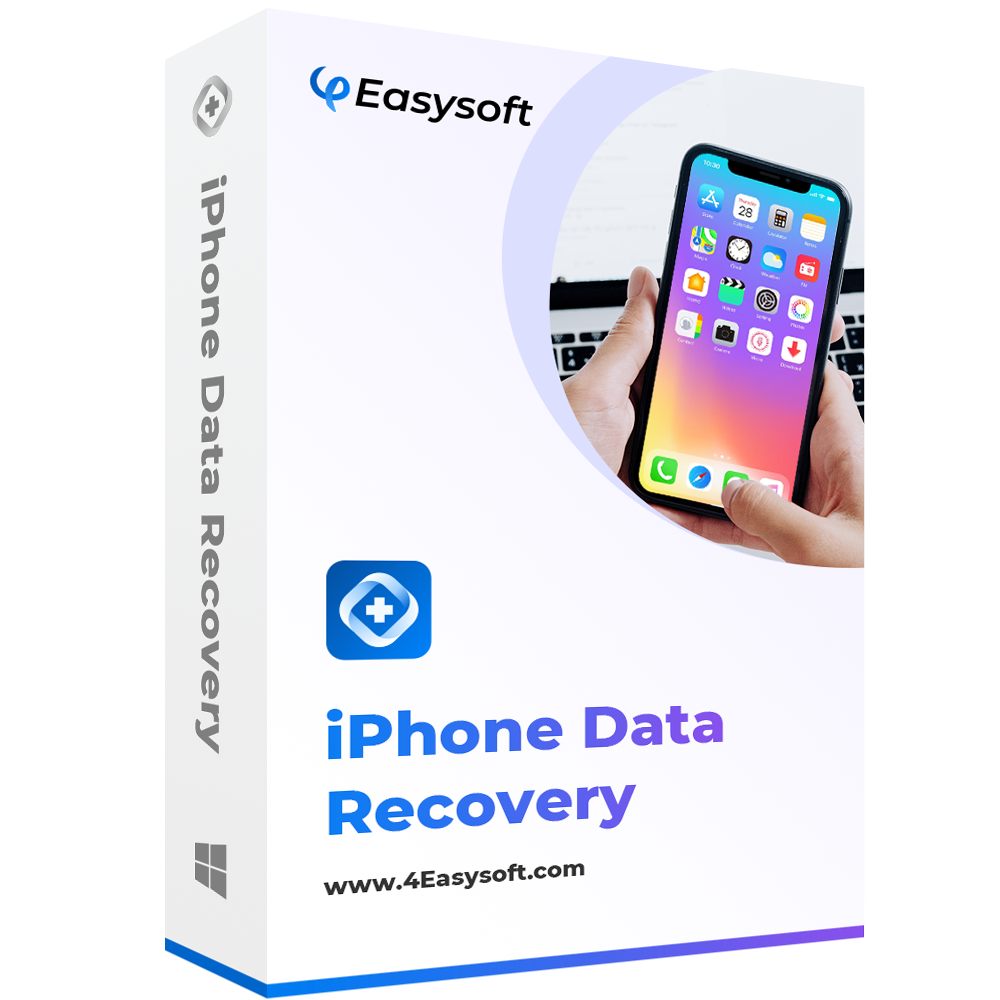 4Easysoft iPhone Data Recovery
Fix the problem with your iPhone keeps restarting easily.
Ensure data security when using recovering modes to fix your problem.
Support recovery of deleted or lost data from your iPhone or iTunes/iCloud backup.
Provide iOS data backup to avoid data loss when solving your iPhone.
Step 1Free download the 4Easysoft iPhone Data Recovery at the official website and launch it. You need to connect your iPhone 14 and computer with a USB cable after clicking the iOS System Recovery button at the main interface. Then click the Start button, and this software will detect your iPhone automatically.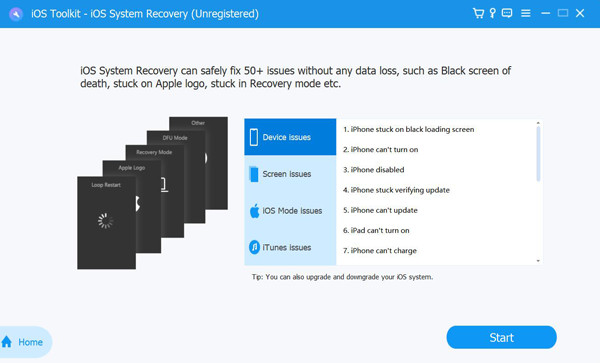 Step 2Then, you can see all information about your iPhone 14. You can click the Free Quick Fix button to fix some simple problems, such as screen freeze or system crash. Otherwise, you need to click the Fix button to make further repairs.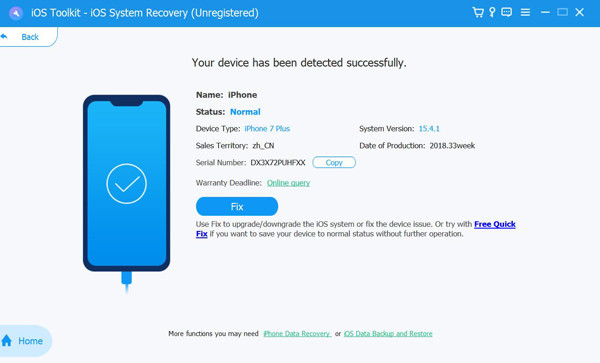 Step 3There are two recovery modes to choose from Standard Mode(Fix simple iOS system issues of your device and keep all the data on it); Advanced Mode(Fix serious system issues on your iOS device and will delete all the data. The success rate is higher than the standard one.) Click the Confirm button after you select the mode.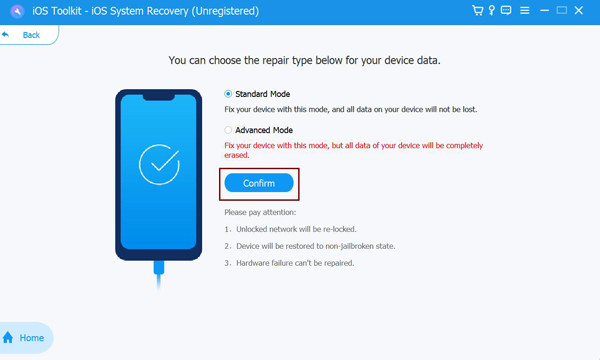 Step 4You need to choose the correct category, type, and model of the device. Then, select the required firmware for different iOS versions, and click the Download button. The last step is to click the Next button to start repairing your iPhone keeps restarting.
Part 3: Why Does My iPhone 14/13/12/11 Keeps Restarting?
There are two cases of iPhone 14 that keep restarting. One is intermittent restart. After restarting, you can usually use it, but it will continue again after a while. The second case is a continuous restart; your iPhone cannot be used commonly. There are three main reasons for these situations.
System Bug: If your system is not updated, which leads to application compatibility problems. This may also cause your iPhone to restart continuously.
iPhone is damaged: When your iPhone 14 accidentally falls into the water or falls to the ground, causing damage to the iPhone, it will also lead to a restart.
Virus Intrusion: Of course, it is not ruled out that virus intrusion causes the iPhone to remain restarted. For example, one of your applications causes viruses to invade your iPhone 14.
Part 4: FAQs about iPhone Keeps Restarting
1. How do I fix my iPhone 14 restart loop?

You can force reboot your iPhone 14 by pressing and holding the Volume Up or Down button and the Side button. When your iPhone pops up the Slide to Power Off, slide the switch to the right. You can also try this method if your iPhone has a green screen.

2. Why does iOS update cause the iPhone keeps restarting?

The iOS update process was interrupted due to network interruption or other unknown reasons, which may cause iPhone to restart repeatedly.

3. How to recover the lost data after fixing the iPhone?

If you have backed up the data in iCloud or iTunes, you can recover the data from iCloud and iTunes directly. You can also use the 4Easysoft iPhone Data Recovery to recover your lost data.
Conclusion
Well, you have mastered the five methods to solve your iPhone 14 keeps restarting. You can try to check the version first. If it doesn't work, you can use 4Easysoft iPhone Data Recovery. Now you can repair your mobile phone by yourself!
Related Articles: