4 Easy Ways to Fix iPhone 12 Won't Turn On through Hardware & Software
If you have been an Apple user for a long time, you might suddenly experience power issues on your iPhone 12, which cause your iPhone won't turn on.Even the newly released models of iPhone are not exempted from this, such as iPhone 13/14. There can be several reasons why your phone won't turn on; it can be because of software or hardware issues. Before rushing to the service center of Apple because your iPhone 12 won't turn on, you may read further to the following parts to see how you can fix an iPhone with this kind of problem.
Why Your iPhone 12/13/14 Won't Turn on
What if you already start charging it, but it still dies and won't turn back on? When you go to Apple Support, it recommends taking your device, charging cable, and adapter to an Apple Store. It would help if you did not use third-party software or charger whenever your iPhone 12 won't turn on since it harms your data, but it depends on you.
However, maybe it isn't because of the charger. You probably think to force restart your device, but what if it doesn't work? Instead of panicking if your iPhone 12/13/14/15 won't turn on, you may check the following software and hardware problems that would cause your iPhone to experience this problem.
Software Problems:
◆ Out of battery
◆ Outdated iOS version of the iPhone
◆ Installed applications
Hardware Problems:
◆ Charging port is damaged or dirty
◆ Drained battery
◆ Gets submerged in water
◆ The iPhone screen is cracked; it has become unusable
◆ Fell too hard, so the screen stopped responding
How to Fix iPhone 12 Won't Turn On Because of Software Problems
If your iPhone 12 won't turn on because of software issues, like an iOS system error, or your iPhone is stuck in a black screen or Apple logo, 4Easysoft iPhone Data Recovery can help you solve these problems. This program can fix iOS errors, disables iOS devices, and is compatible with all models and iOS versions. If you can't turn on your iPhone 12/13/14/15, 4Easysoft iPhone Data Recovery can help you get your iPhone back to normal with no important messages, applications, and other data loss.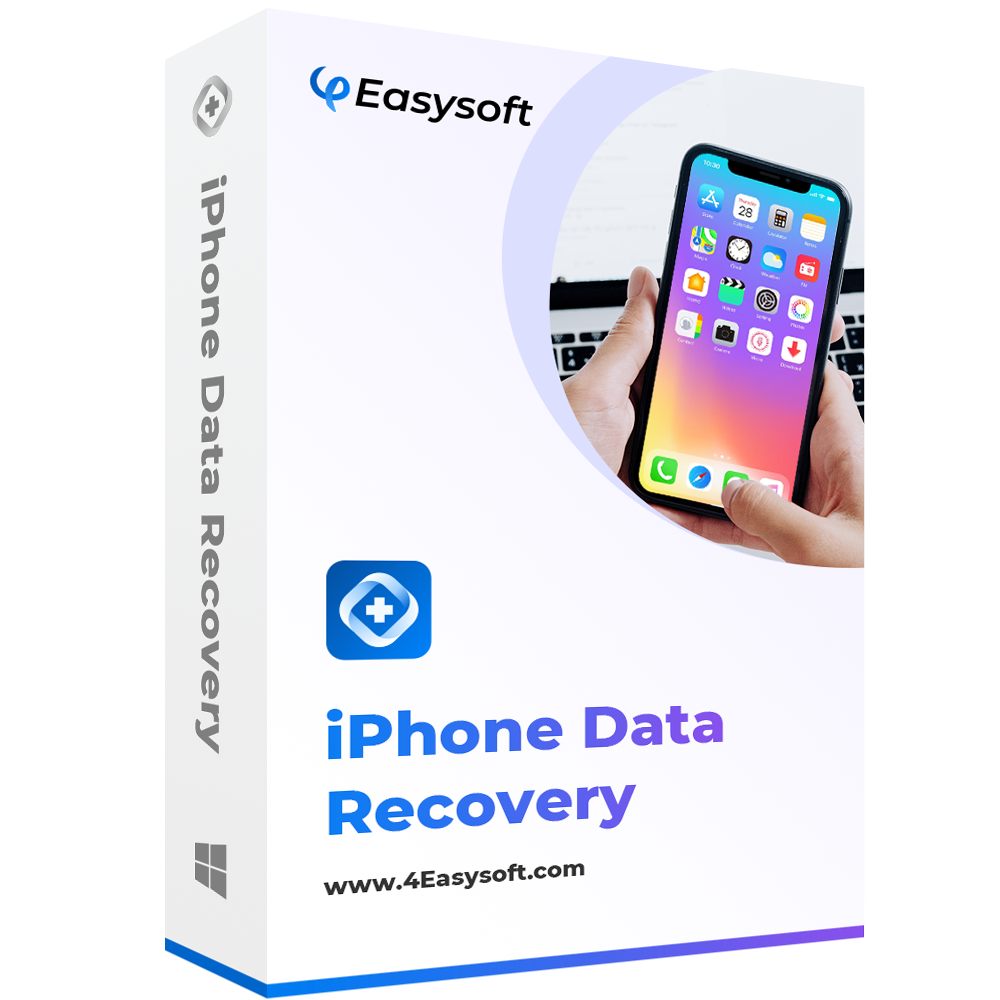 4Easysoft iPhone Data Recovery
Support all iOS devices and versions, including the latest release of iPhone, iPad, and iPod.
Provide a solution if you experience an iOS system error that can cause data loss.
Enables you to fix stuck devices, disabled devices, and other software issues on iPhone with iOS System Recovery.
Additional feature that can help you transfer WhatsApp data between iOS and computers.
Step 1Download and install the 4Easysoft iPhone Data Recovery, then launch it on your computer. On the program's main interface, click iOS System Recovery. Connect your iPhone 12 to the computer via a USB cable. Then, click Start to continue and it will automatically detect your device before fixing iPhone 12 won't turn on.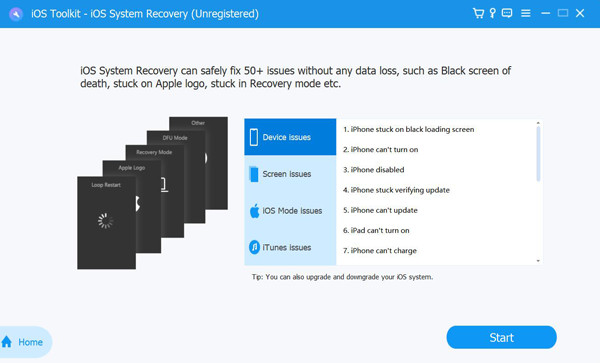 Step 2 The information about your iPhone 12 is in the program. Click Free Quick Fix to fix the frozen screen, crashed system, or other simple issues. Alternatively, click Fix to do further fixes. You can fix it through Standard Mode, which can help you improve simple issues and keep all your data. However, if this method doesn't work, you can use Advanced Mode, wherein you can fix serious iOS system issues but will delete all your data.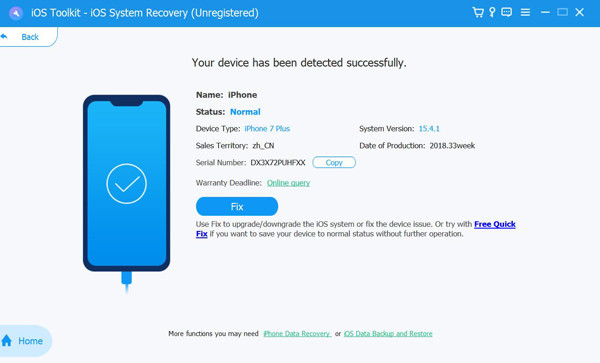 Step 3Set the proper category, type, and model of your iOS device. Then, choose the desired firmware name, and click Download. Lastly, click Next to start fixing iPhone 12 won't turn on.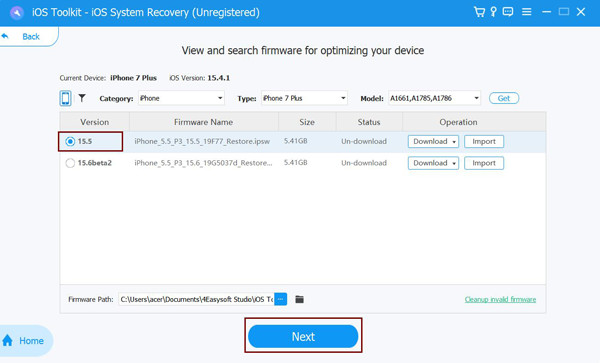 3 Ways to Fix iPhone 12 Won't Turn on Due to Hardware Issues
If the above method doesn't fix your problem with your iPhone, it might be because your iPhone is suffering from a hardware issue. As mentioned above, your iPhone may suffer because it fell too hard, so it has become unusable, the phone battery drained, and so forth. If those are the hardware issues you're experiencing, you could try the following ways below to solve your iPhone 12 won't turn on.
1. Check your charging cable/adapter.
You have to look over your charging cable to ensure that it is not damaged since this could be the reason why your iPhone won't charge and won't turn on. Pay special attention to either start or end of the cable to see if there's any damage like exposed wires, breakage, or bent prongs. And make sure that your charging accessory is Apple-certified or the original one since if you use a charger bought from another store or website, it will do more harm than good.
2. Check your iPhone charging port.
As you check your charging accessories, check your charging port as well to fix iPhone 12 won't turn on issue. Over time, your iPhone's charging port may have collected dust. As a result, you can't charge your iPhone, so your phone doesn't boot up to open. You have to ensure that it is clean and has no damage. Removing dust on the charging port with a clean cloth is best.
3. Take your iPhone to the Apple store or Contact Apple Support.
If those two aren't your problem, you may repair your iPhone at the Apple Store. It may be because it is submerged in water or any other liquid, or your screen stops responding because of falling too hard. It is a nightmare for all digital devices. If your iPhone gets submerged in water, and whatever you do, you can't still open your iPhone, you may go to the service provider. Whatever the hardware issue that causes your iPhone 12 won't turn on, you can reach out to Apple Support to set up service. Ask them to help you solve the problem with your iPhone 12 won't turn on.
Part 4: FAQs about How to Fix iPhone 12 Won't Turn on
Can I force reset my iPhone 12 that won't turn on?

To do a force reset for iPhone 8 and the latest release, press and quickly release the Volume Up button, then do the same with the Volume Down button. Next, press the power key until the iPhone Apple logo appears. If you're iPhone doesn't turn on, contact Apple Support.

Is the black screen on iPhone 12 fixable?

A black screen on your iPhone may be a cause of battery failure or your iPhone's battery is dead. When your iPhone (or iPad and iPod Touch) has a black screen and is unresponsive, you can hard reset the iPhone to troubleshoot the black screen. Force restarting your phone can usually fix many subtle system errors.

Why does my iPhone only appear on a black screen all of a sudden?

It might be because of a crashed firmware, which is only a minor problem, or a severe hardware issue caused by liquid or physical damage that causes your iPhone to stop responding.
Conclusion
If any of these methods don't work out on your problem with your iPhone 12 won't turn on, it would be best to contact Apple Support or go to the Apple store. Well, you're lucky if you successfully fix your iPhone 12 power issues through the ways mentioned above. The 4Easysoft iPhone Data Recovery program is highly recommended to fix your iPhone 12/13/14 and other iOS device issues if it is stuck in a black screen, have an iOS system error, or has other software issues.
Related Articles: