How to Get Apps and Data Screen and Restore Files Easily on your iPhone
You might be searching for "Where is the Apps and Data screen setting on my iPhone?" Whether to do a restoration of data from backups or make your old iPhone new, whatever it is, getting on it is easy. However, if you are an old iPhone device user, the path to access it is somehow terrifying, and restoring files is strictly selective. Fortunately, you landed here! Keep in touch with this article until the end, and explore this setting's information and the ways to get into iPhone's Apps and Data screen.
Part 1. How to Get Apps and Data Screen on An Old iPhone
If you want to set up your used iPhone for some reason and don't know how to go back or reaccess the Apps and Data screen, don't worry; this article has you covered! The steps I'm about to show you will remove your default settings, including network settings, the keyboard dictionary, location settings, privacy settings, Apple Pay cards, etc. So basically, you're going to turn into a new phone. Here are the steps to do it:
Step 1Open your iPhone's Settings app and tap General.
Step 2Browse and tap the Reset option. Then tap Erase All Content and Settings.
Step 3Your iPhone will then Restart and brings you back to the Apps and Data screen. At his point, you can set up the settings again, including Restore from iCloud, Restore from iTunes Backup, Set Up as New iPhone, etc.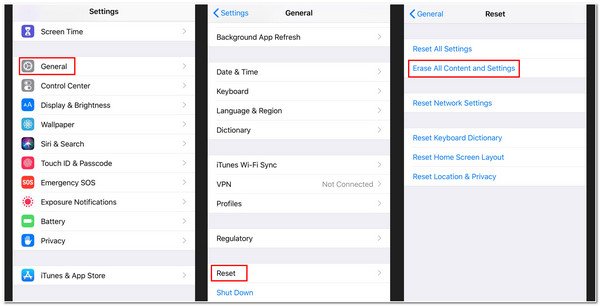 Part 2. Where are Apps and Data Screen on A New iPhone
Unlike the first part of this article, accessing the Apps and Data screen is easy if you are using and setting up a new iPhone. This process will likely access the Apps and Data screen without data deletion or resetting defaults. When you start your new iPhone or iPad for the first time, the iPhone will greet you with "Hello" on your screen. Then a series of on-screen instructions will be projected, and you should follow and pick the one that fits your desires; this includes choosing the preferred language, countries, or regions, Wireless Fidelity or Wi-Fi, and setting up Touch and Face IDs. Finally, you'll get directly to the Apps and Data screen iPhone's settings after those setups. These are the things you will see.
Again, Apps and Data is part of an initial setup sequence that you can access through a new and unset iPhone or by following the Part 1 simple steps.
Part 3. The Steps to Restore iPhone After Getting Apps and Data Screen
You might want to still have the files with you, whether you want to transfer them on your new iPhone or for you to have the old backup and prevent a total loss of your files. Whatever purpose it may be, backing up and restoring data is a good way of preserving them. In the Apps and Data screen, there are two options you can choose to restore data these are Restore Data from iCloud Backup and Restore from iTunes Backup.
To restore data from iCloud, here are the simple steps for you:
Step 1If you are using a brand new iPhone and already in the Apps and Data screen, tap Restore from iCloud Backup. Otherwise, if you are using an old iPhone, please refer to the steps in Part 1 of the article to proceed with the Apps and Data initial setup section.
Step 2Log in to your iCloud account, then pick those you want to restore on the list of backups.
Step 3Wait for the progress bar to finish, which will take a few minutes to an hour, depending on the file size and the number of files you want to restore.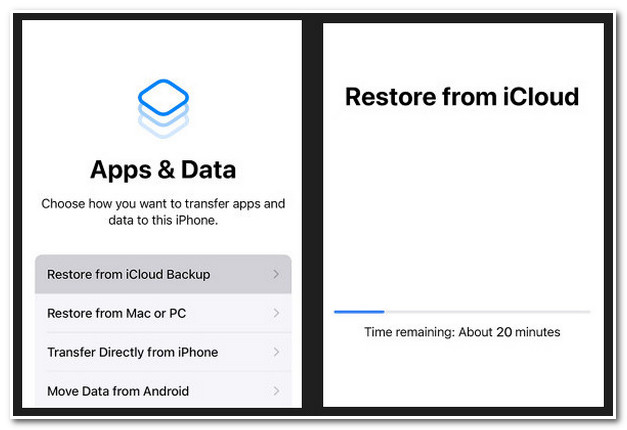 On the other hand, here it the easy ways to restore data through iTunes:
Step 1Connect your iPhone to your computer device, where you made an old iTunes backup using a USB capable and launch iTunes. After connecting your iPhone, click your device's icon, and you'll see some information about it.
Step 2Go to the Backups option and tick the Restore Backup button.
Step 3After that, choose from the list of backups you wish to restore and tick the Restore button. Wait for the process to finish. Remember that you should not unplug your iPhone during the process.
Step 4Further, keep the iPhone connected until it restarts, then waits for it to sync with iTunes.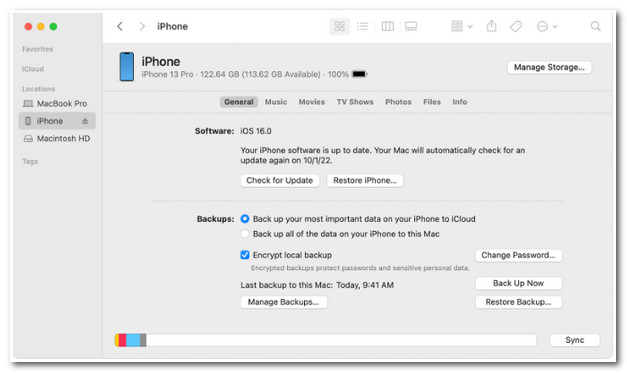 Just note that both of these processes in Apps and Data screen iPhone initial setups require you to restore a whole backup to your iPhone, meaning you can't select specific data that you want to restore from your previous backups.
Part 4. Easy Way to Restore iPhone without Apps and Data Screen
Did you know you can restore your iPhone's data from your previous backups without using the Apps and Data screen setup section? Yes, it is possible by using 4Easysoft iPhone Data Recovery. Using this tool, you can restore your previous backups and do data backups. Moreover, it lets you preview and select data you want to back up easily and quickly. Furthermore, it supports the ability to recover and extract data from your computer from iTunes and iCloud, whether corrupted or lost.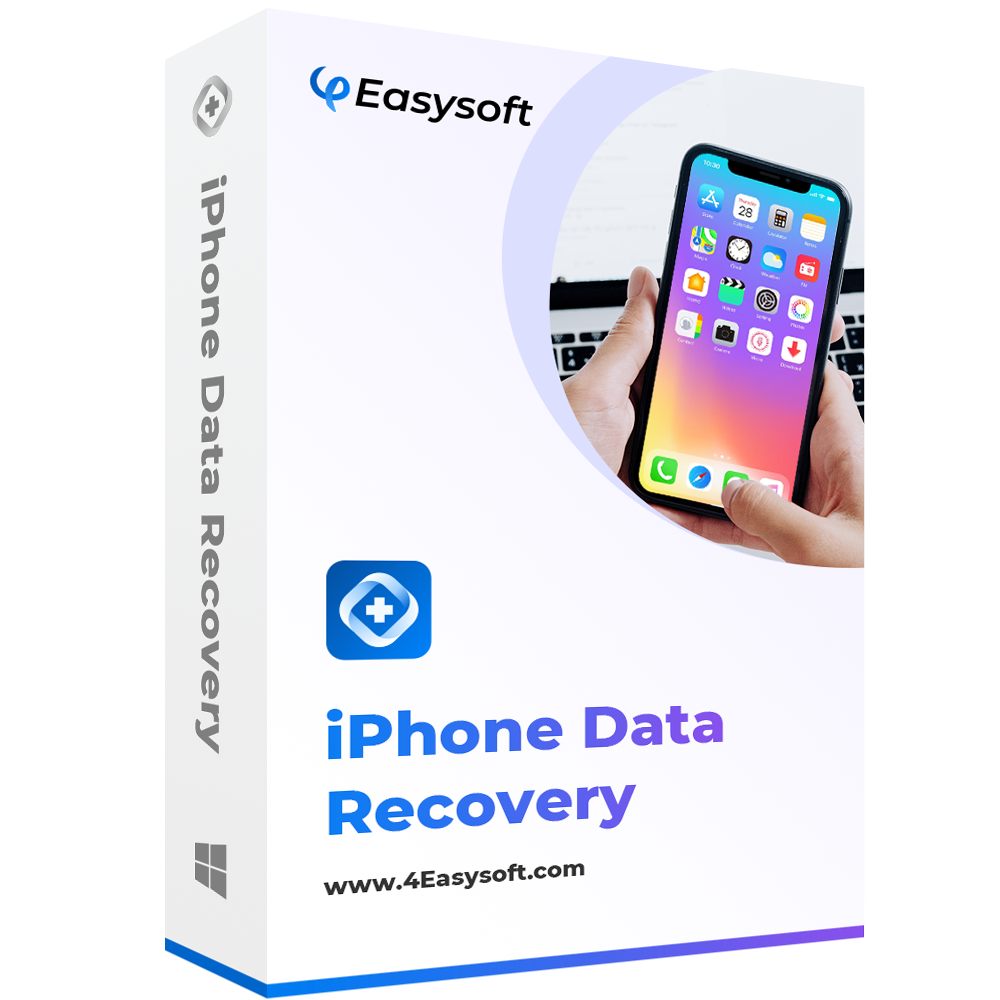 4Easysoft iPhone Data Recovery
Support different iOS device versions or models of iPhones, iPads, and iPods.
Capable of recovering your iPhone/iPad/iPod data in different scenarios, whether factory reset, data deletion, data loss, etc.
Infused with the ability to retrieve files from third-party apps.
Able to fix problematic iOS devices through its system recovery feature.
How to Restore iPhone without Apps and Data Screen using 4Easysoft iPhone Data Recovery:
Step 1Download the 4Easysoft iPhone Data Recovery tool on its website and launch it on your computer. After that, link your iPhone to your computer through a USB cord. Click the iPhone Data Recovery button; here, the tool will show you two options: Recover from iTunes Backup File or Recover from iCloud. Choose between them where you want to restore or recover your data files. Tick it and wait for the tool to show you all the synced devices to it, then choose the one you want to restore.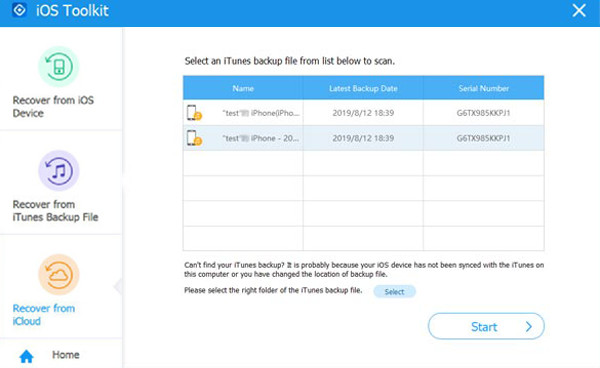 Step 2The tool will require you to decrypt your iTunes backup files if you use security codes to continue the scanning process. The same goes with your iCloud; if you apply two-factor authentication, click the Trust button and wait for the verification code, which will be sent to your iPhone or iPad. Once you receive it, enter the code on your computer.
Step 3Then, tick all the files you prefer to recover. After choosing, click the Recover button to restore the selected data.
Part 5. FAQs about Apps and Data Screen on iPhone
Can the "Erase All Content and Settings" option remove everything?

Yes, it does remove and wipe out everything from your iPhone. It is more likely to have a new and fresh-out-of-the-box iPhone. It deletes media files, system and app settings, downloaded apps, and many more. But if you are worried about your files stored on iCloud, fortunately, it cannot delete any files on your iCloud account. It will just turn it off.

Why does my iCloud takes a lot of time to restore backup files to my iPhone?

This process will significantly rely on your internet speed status. Sometimes, small data sizes will take a long time to finish because of a slow internet connection. It would be best to utilize a much faster internet connection to make the process faster.

What files can be transferred when I choose the "Move data from Android" option in the Apps and Data Screen?

When you choose to move data from Android, files that can be trasfer are contacts, message history, photos and videos, albums, files, accessibility settings, display settings, mail accounts, and more.
Conclusion
After reading this article, you can now easily access Apps and Data screen initial setups with an old or brand-new iPhone. Pick the right fit strategy that suits your needs. However, as you have noticed, accessing Apps and Data requires deleting files and resetting defaults unless you access it with a new iPhone. If you wish to restore whole or some of your files from your previous backups, 4Easysoft iPhone Data Recovery tool would be the best option. With this tool, searching for Where is the Apps and Data Screen would not be a problem anymore. Please, feel free to download and try to use it now.
Related Articles