How Long Will Take to Backup an iPhone: Here is Answer and Way to Speed it Up
Many people wonder how long does it take to backup an iPhone when they are staring at the circle in iCloud or iTunes. Actually, there is no accrued time. But if the process is more than 2 hours, there might be a problem. Luckily, this post will give you factors that affect the speed of backup. And there is also a way to tell you how to speed up iPhone backup.
Part 1: How Long does it Take to Backup an iPhone 15/14/13/12/11
Typically, there is no accrued time for how long does it take to backup an iPhone. Decided by the data on your device, it could take around 20 minutes to two hours to completely backup an iPhone, no matter if you are backing it up on iTunes or iCloud.
However, the time might vary depending on your data, internet, and the phone's model. The time might even reduce to a few minutes if you have a habit to back up your data regularly. However, there can be some exceptions and the time required for backing up data can surpass the time limit of two hours. You can see many factors influencing you to judge how long does it take to backup an iPhone.
1. Amount of Data
The amount of data that needs to be restored plays the most crucial part in the backup time. The time required for backing up 64 GB will surely be considerably less than what would be needed for backing up 128 GB. For this reason, it is highly recommended to keep backing up your data regularly. This practice will utilize less data for backup, and you will be able to back up your iPhone quickly.
2. WiFi Speed
Since all the backed-up data is stored on the cloud, internet speed plays a vital part in the backup time. Your internet speed should be up to the mark without any offline issues. For example, at a speed of 2MBPs, it might take you around one hour to back up about 64 GB. The backup slows even more if you use any network's internet instead of any cable net.
3. Phone Model
Your phone's model is another critical aspect when it comes to the time of iPhone data backup. The latest iPhones have a faster data transfer rate than some older models. Every new model comes with better features, a better battery life, and improved data transfer/backup efficiency. If you have an older model, you will have to bear some additional time during the backup process. Yes, that can be frustrating, but unfortunately, there is no way solution around that.
4. Data Type
The data type is another factor to consider before you begin backing up your iPhone data. We all deal with the same crisis when it comes to smartphones: there is an overload of media in our galleries. Media files such as videos, images, and songs generally take a lot more time than other data types. Applications, web data, and settings take the least amount of time. If you have a lot of media files to back up, you should expect a slight delay.
Part 2: How to Speed up iPhone Backup with Professional Tool - Utimate Guide
If you do not want to wonder how long it will take to backup an iPhone, you can try 4Easysft iPhone Data Recovery to speed up iPhone backup. Simply use it to back up your important data and restore the data to your device when you need it. The speed of backing up will reduce your concern about how long it will take to backup an iPhone when you stare at the backup screen.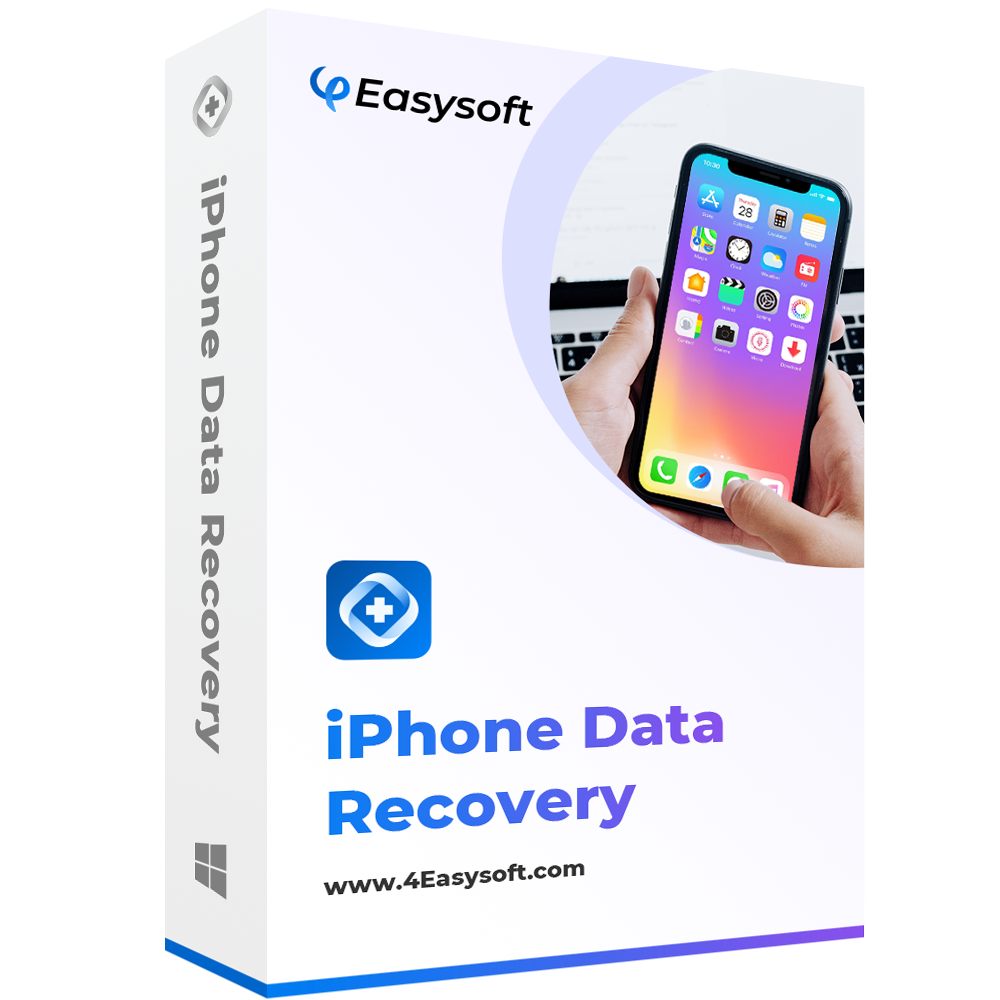 4Easysft iPhone Data Recovery to Recover and Back up Data
Bakc up all your iPhone/iTunes/iCloud data quickly in one click.
Choose the desired data to back up on your device with high speed.
Restore the data from all iOS models even if you forget to back it up.
Also deal with other iPhone system issues and fix most problems.
Read the following steps to learn how to speed up the backup process:
Step 1Open 4Easysoft iPhone Data Recovery and click the iOS Data Backup button. Then, connect your device to the computer through a USB cable. You can click the Standard Backup or Encrypted Backup button. The difference is that you need to set a password for the encrypted backup, and it is needed when you want to restore the backup.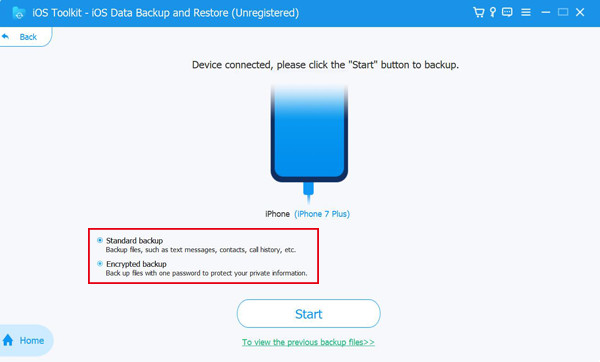 Step 2After clicking the Start button, you can see all the data types on the list. Choose the desired one from Media, Messages, Contacts, and Memos, and then click the Next button to start the process.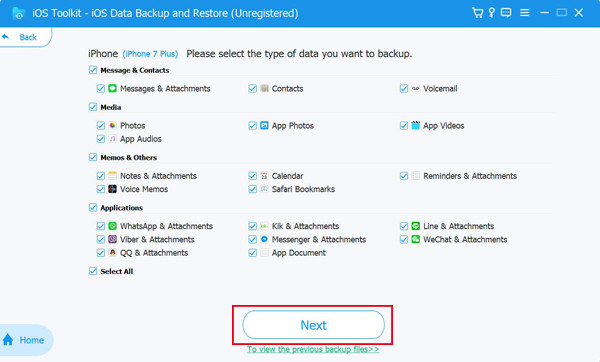 Part 3: FAQs about How long does it Take to Backup an iPhone
Can I use iPhone while it's backing up?

Yes. Avoid adding or deleting anything on the device while the backup is in progress (iCloud / iTunes). Simple use will not have any effect on the backup.

Why is iCloud storage always full?

The primary reason your iCloud storage might be full is the continuous backup of data Although you might not be aware of low storage issues, this may be the primary reason. iPhones come with a default setting of automatic backup. If you see that your storage is full time and again, it's because the iPhone is constantly backing up your data on iCloud.

Is it safe to delete backup from iCloud to free up space?

Yes, you can delete your previous phone's data to free up space on your iCloud. However, once you do that, your data will be gone forever, and you won't be able to access it. Because of this, it is highly recommended to get some additional space instead of clearing your iCloud spaces again and again. You never know if the data you will delete can be of some use in the future.
Conclusion
After learning the factor affecting the speed of backup, you must know how long does it take to backup an iPhone with those factors. And you can also use 4Easysft iPhone Data Recovery to speed up your iPhone backup, which will save you much time.