How to Recover Deleted Drafts on TikTok with Detailed Guide
When you create a video on TikTok, because of a system crash with no automatic save, the TikTok drafts may be deleted mistakenly. Also, the clips you took may not reach your expectations, so you delete them. But what if you think they are not so bad later? You need to recover the deleted draft videos on TikTok. Once deleted, however, getting them back is not easy. Here are 3 ways for all platforms, including Android/iPhone/Windows/Mac. You can read this article carefully to learn how to recover a deleted draft on TikTok.
Why You Get TikTok Drafts Lost
Besides system crashes, some incorrect operations can also lead to the loss of TikTok draft videos. Before learning how to recover deleted or lost TikTok draft videos, you can learn about these mistakes to avoid unnecessary draft loss.
Deleting TikTok
If you recently deleted TikTok on your mobile phone, all of your TikTok draft videos will be discarded. Your TikTok draft video is just a local file and has not yet been uploaded to the TikTok platform. Deleting and reinstalling TikTok may help you free up some storage space or fix bugs, but you still need to think about your draft videos before you do that to avoid recovering the deleted TikTok drafts later.
Cross-device Login
If you are logged in to the same TikTok account on different mobile devices, your draft videos may also be stored on different devices. As mentioned above, TikTok draft videos are just local files, and the draft videos you make on your phone won't sync to another. This situation may also make you mistakenly lose TikTok drafts.
What Happens If You Delete My TikTok Drafts?
If you delete your TikTok Drafts, the videos and clips are permanently erased from your Drafts, and you get no access to them on TikTok. Now, you can read more to recover the deleted drafts on TikTok.
How to Recover Deleted Draft Videos on TikTok [iOS & Android]
TikTok is often used on iOS and Android phones, so you can learn the following two ways on how to recover deleted TikTok draft videos on Android and iOS systems. You can check the tutorial you want.
1. Recover Deleted TikTok Draft Videos with Android Google Photos
The service Google Photos helps you back up photos and clips on your Android device. It can smartly organize the files on your device. It also offers an online service that won't take up your storage space. But you need to ensure that you have backed up the desired data before recovering the deleted TikTok draft videos on Android.
Step 1Go to the official website of Google Photos. Tap the "Get Google Photos" to log in to your account. Tap the "Library" button on the bottom. Tap the "Bin" to find your deleted TikTok drafts if they were backed up to Google Photos.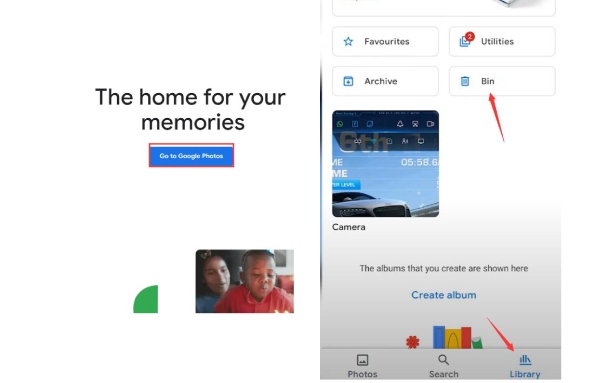 Step 2You can choose your deleted TikTok drafts and tap the "Restore" button to recover the deleted TikTok drafts to your Android.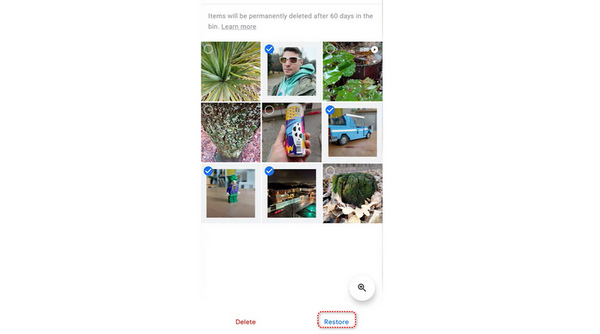 2. Recover Deleted TikTok Draft Videos with iOS iCloud
If you are an iOS user, then the iCloud service can help you easily find and recover lost TikTok draft videos with advanced backup. Once you turn on iCloud backup on your iPhone, it will store all photos and videos on your device as long as it has enough storage space. Therefore, you can use iCloud to recover deleted photos or videos on iPhone 15/14/13/12.
Step 1Go to the official website of iCloud and tap the "Sign In" button. After that, tap the "Photos" button to search for and recover your deleted TikTok drafts.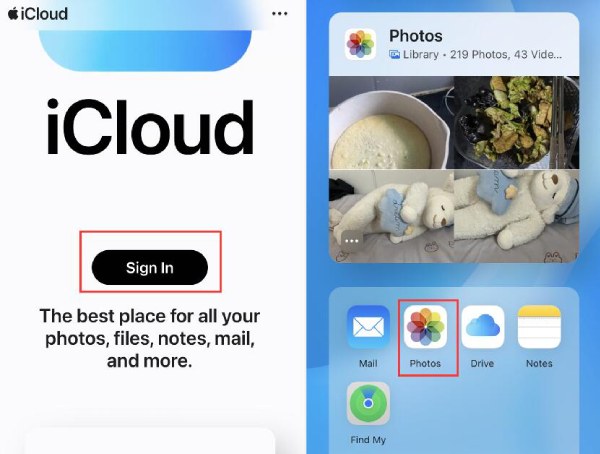 Step 2Tap the "Select" button on the top right corner, and select your TikTok draft videos. Tap the "More" button on the bottom right corner, and tap the "Download" button to download them to your iOS device.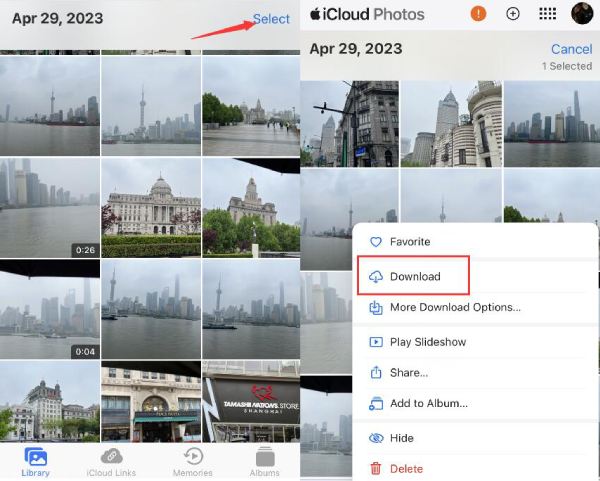 iCloud works the same as Google Photos. They can upload your local files to their cloud storage as backup files. You can download your desired files from them, which is called recovery. Both of them need you to back up in advance to successfully retrieve the deleted TikTok draft videos.
The Easiest Way to Recover Deleted Draft Videos on TikTok [Windows & Mac]
What if you didn't back up any data on your Android/iPhone? You can use 4Eaysoft iPhone Data Recovery. This powerful program can recover the deleted TikTok drafts directly from your iOS device. Without any backup or reset, you can use this tool to select the desired files and recover them, just like iCloud or Google Photos.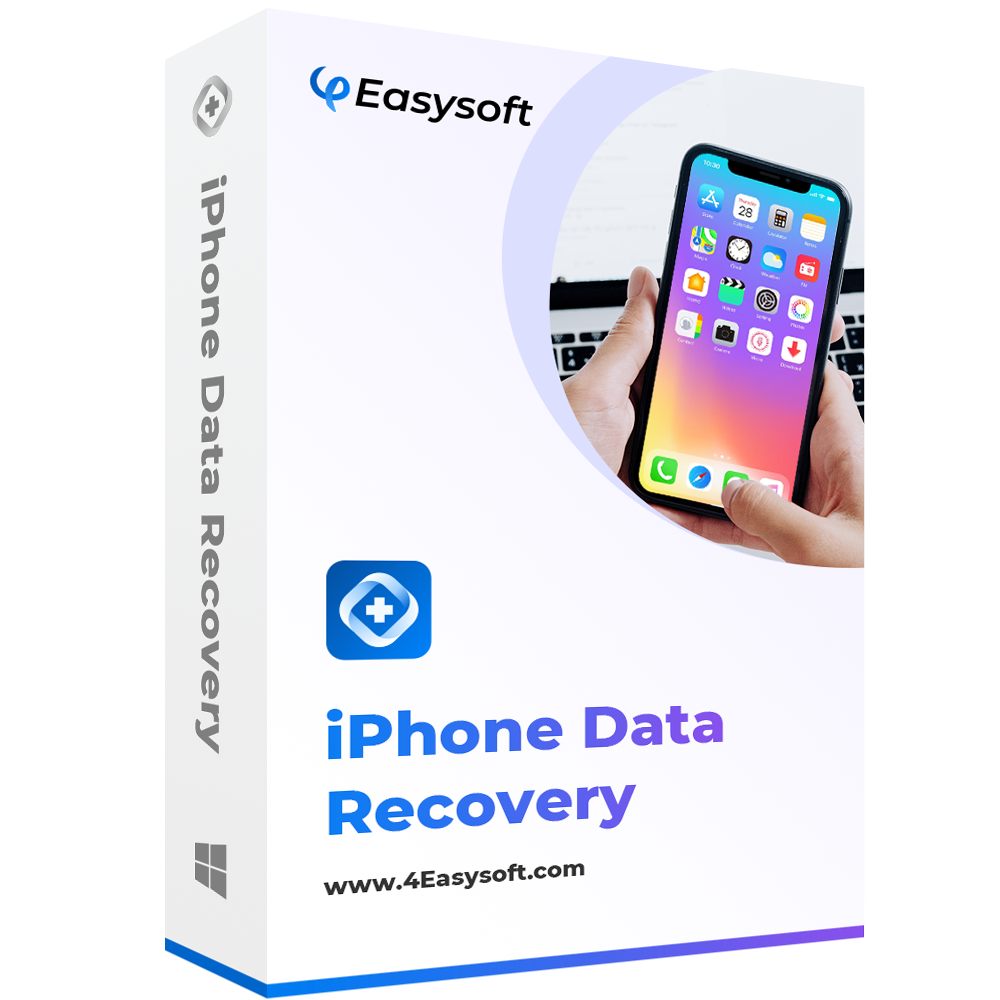 4Easysoft iPhone Data Recovery
Recognize your iOS device and detect the lost TikTok drafts quickly.
Retrieve all deleted TikTok drafts from iPhones without any backup in advance.
Automatically classify your TikTok drafts into certain groups after recovery.
Select the desired TikTok drafts and discard the unwanted files as you like.
Step 1Free download 4Easysoft iPhone Data Recovery and launch it. Connect your iPhone to your computer by USB. Tap the "Trust" button on your iPhone if necessary.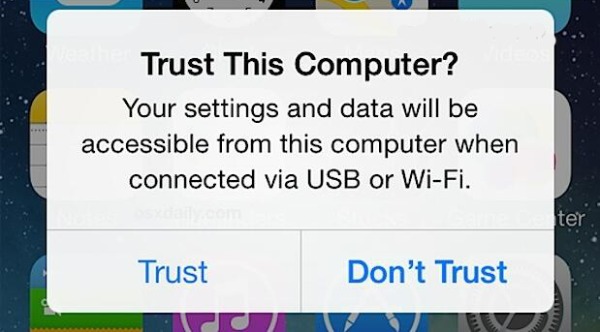 Step 2Click the "iPhone Data Recovery" button on the main interface, and then click the "Recovery from iOS Device" button. After that, click the "Start Scan" button to find the desired TikTok videos.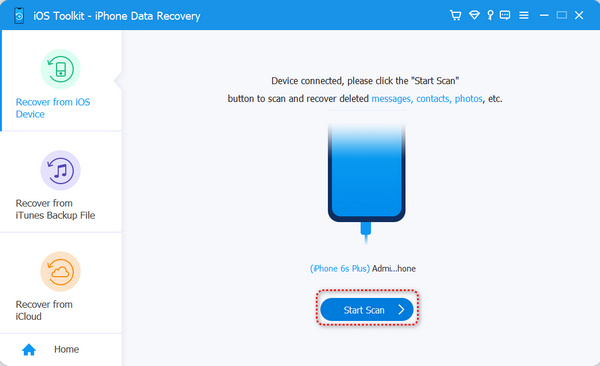 Step 3You can view all existing or deleted files on your device. TikTok drafts may exist in the "Camera Roll" or "App Photos" groups. Search for your deleted TikTok drafts, and then choose and click the "Recover" button to download them.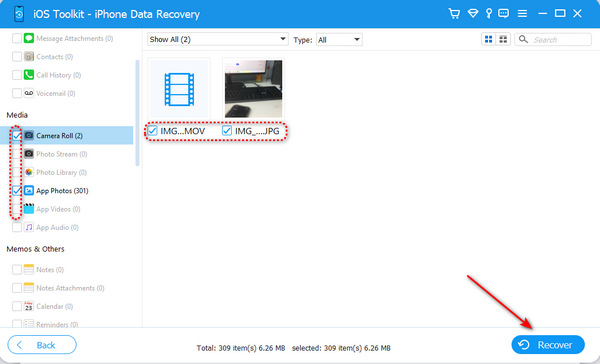 Recovering the deleted TikTok drafts is quite easy with this program. It can even help you recover the deleted TikTok messages. The biggest advantage of it is that you do not need to back up all your files to any physical or cloud storage.
FAQs about How to Recover Deleted Drafts on TikTok
Can TikTok help me store my draft videos on the Internet?

No. TikTok does not offer that service. TikTok can help you store videos you post based on its cloud service. Your video clips and drafts are saved in your device as the caches.

Do TikTok drafts disappear when I log out of my TikTok account?

Yes, they do. When you sign out of your account, your drafts will disappear. It is like an online video project is lifted if you quit the website.

Can I recover deleted TikTok drafts on my computer?

It depends. If you have ever saved your draft videos or video projects on your computer, you can retrieve them from the local storage.

How does TikTok save my videos?

Like every online platform, TikTok saves your videos on their cloud storage. Actually, cloud storage is also a physical storage, which has an ultra-huge storage space.

Why can't I find TikTok drafts on iCloud and Google Photos?

When you create a video on TikTok, your phone may automatically help you store the work in an album. And iCloud and Google Photos can help you store all local files as long as there's enough room on them. Therefore, they can save your TikTok drafts from your local album. It works the same as recovering deleted draft photos on iPhone.
Conclusion
You have learned how to recover drafts on TikTok after deleting the app. Google Photos and iCloud have powerful storage features. However, they require back-up in advance. 4Eaysoft iPhone Data Recovery can easily recover your deleted TikTok drafts without any backup. It can retrieve all deleted files and data directly from your device. We hope that you can find your drafts and create more excellent videos on TikTok!
Related Articles: