Recover A Deleted Facebook Video: 2 Easy Ways to Achieve It!
You may delete Facebook videos for several reasons: iPhone storage might be full, want the profile cleaned, or removed them by accident, and others. But how to recover Facebook videos on iPhone if your regret? The good thing about the social media platform Facebook, once videos are deleted, they don't disappear on it that instant; they are moved to a folder on Facebook. In this case, you can recover them effortlessly. So, without further delay, dive through this post to learn how to recover a deleted Facebook video.
Part 1. How to Recover Deleted Facebook Videos from Facebook Archive
As mentioned, when you delete Facebook videos, accidentally or not, they will be stored in a folder called Trash afterward. So, if you have changed your mind about deleting them, you can quickly get them back. This method can be easily achieved on mobile devices.
But don't fret since Facebook has this called Archive, where you can download all Facebook videos, photos, as well as messages into a Zip file. For those asking, can you recover a deleted Facebook live video? Unfortunately, this method doesn't cover recovering live videos. If simply how to recover a deleted Facebook video is your problem, follow the complete guide below.
Step 1On a web browser, search for Facebook, then sign in to your account. After that, select the downward arrow located at the top right corner to open Settings.
Step 2In the General section, tick the Download a copy of your Facebook data hyperlink.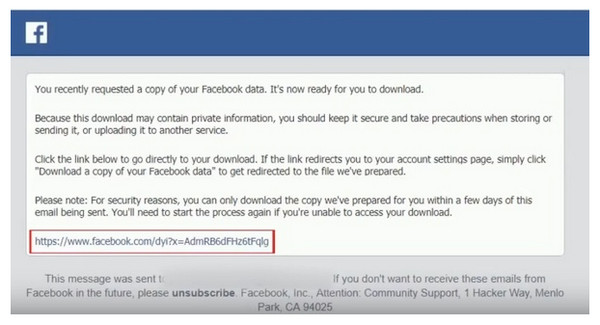 Step 3Click Start My Archive under Download Your Information to recover deleted Facebook videos. Confirm the action by selecting the Request My Download that appears.
Step 4After clicking the dialog, you will be receiving an email from Facebook; to download the archive, click the link, then click Download Archive.
Step 5Next, enter your password. Finally, you will recover all Facebook videos, photos, and messages into a Zip file. Unzip it then you can choose a folder where to store them.
Part 2: The Ultimate Way to Recover Deleted Facebook Videos in One Click
After learning how to recover a deleted Facebook video through Archive settings, why not try a method that will help you get back those deleted Facebook videos of yours in one click? Having a reliable program by your side is always essential as you can't only recover videos on your iPhone, but other apps' data are also supported. Right now, you can find many programs to help you recover deleted files, one of which is the 4Easysoft iPhone Data Recovery. With it, you can recover over 20 file types on your iOS devices, such as messages, videos, third-party applications, and built-in programs. Use it to recover deleted Facebook videos now.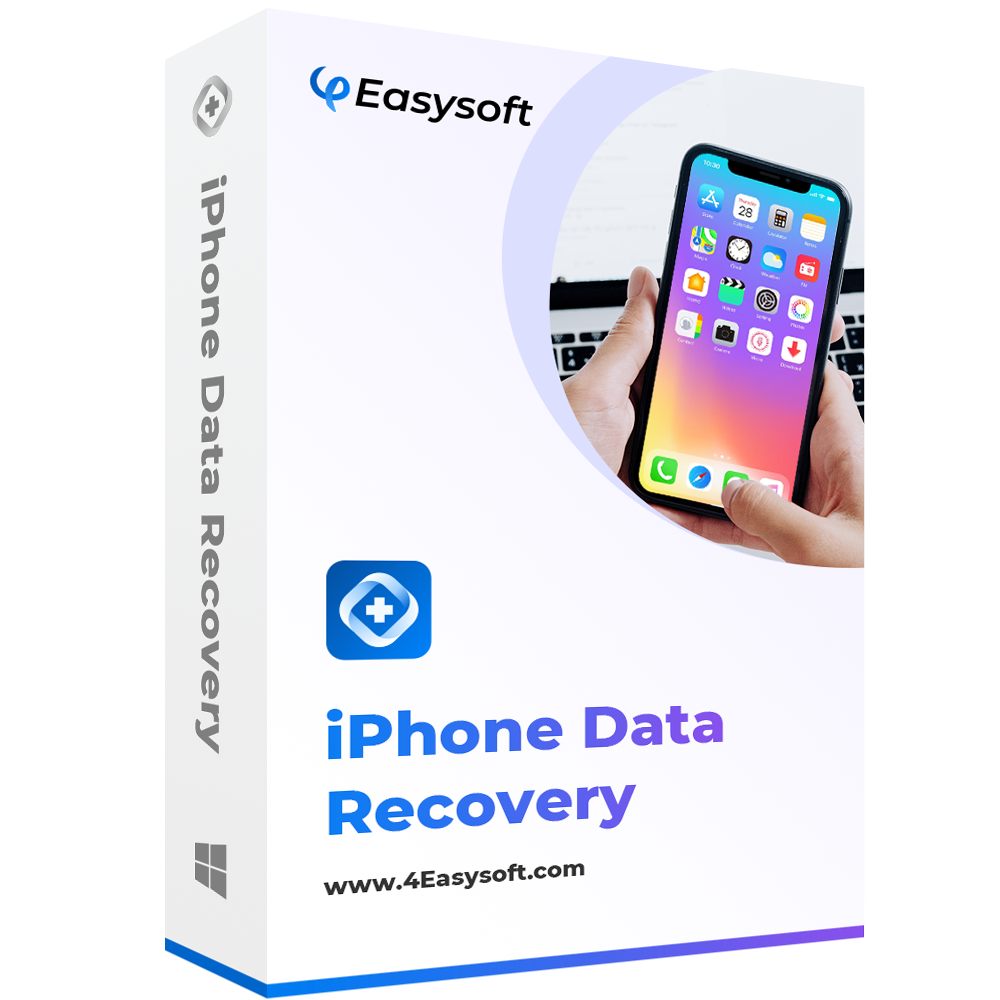 4Easysoft iPhone Data Recovery
Scan your device thoroughly to recover all deleted files from iOS devices.
More than 20 file types, such as third-party apps' data, are supported.
Provides a preview of all files to select which one to recover and delete.
Supports all iOS models and latest versions of iPhone, iPad, and iPod.
Step 1Run the 4Easysoft iPhone Data Recovery on your PC, then use a USB cable to connect your iPhone to your computer. On your iPhone, tap on the Trust option in the notification.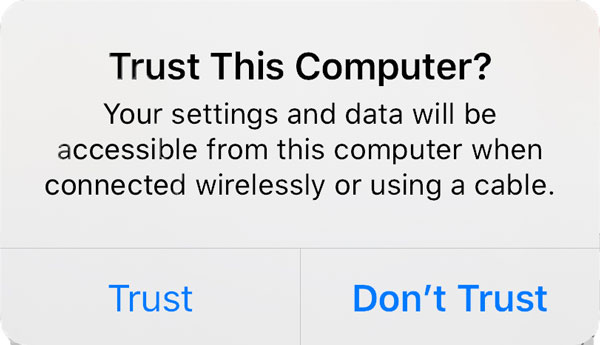 Step 2Go back to the computer screen, click the iPhone Data Recovery, and select Recover from iOS Device. To start scanning, click Start Scan to detect all deleted data. When you have large files, expect the scanning process might take longer.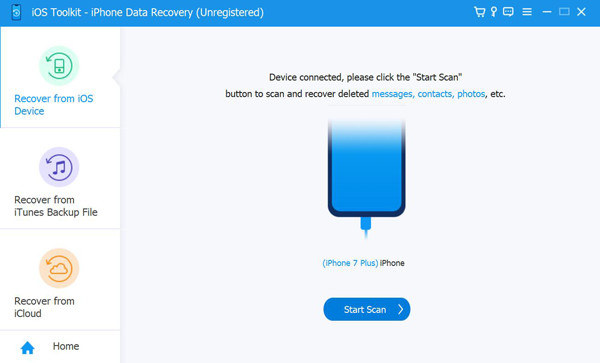 Step 3Afterward, all removed data is listed on the program and classified into specific file types. Locate Facebook, double-click on each to preview, and tick the desired Facebook videos you want to recover. Once done, click the Recover button to start bringing back all your chosen files at once.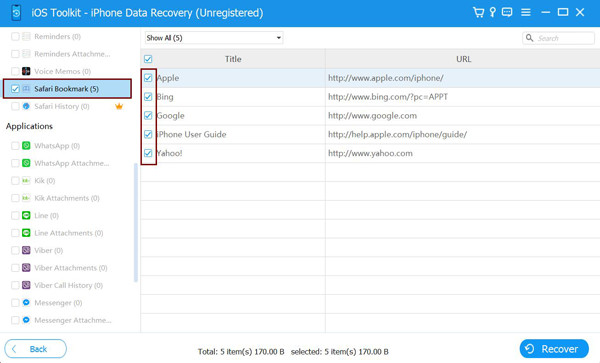 Part 3: FAQs about How to Recover Deleted Facebook Videos on iPhone
Can I still recover permanently removed Facebook videos?

No. Sadly, there's no official way to recover permanently removed videos on Facebook since it is deleted on their server and system. Facebook only keeps information about your account, like your emails, security, logins, etc.

How to recover deleted live video on Facebook?

Unfortunately, you cannot recover a deleted live video on Facebook. Although it is saved on their servers, when you delete them by yourself, it will be erased from their servers, so you can't do anything about it.

How long can the videos being kept on Facebook?

When you delete videos posted on Facebook, they will stay in your Trash for 30 days. In those days, you can consider restoring them and then be posted again on Facebook, or you can delete them immediately.

Is there a Recycle Bin on Facebook?

Instead of Recycle Bin, you can use Trash and Archive to recover the deleted videos on Facebook. Find your way to the Activity Log to access all account activity, and you will be able to locate Trash.

Can I archive Facebook videos without deleting them?

Deleting and archiving videos are way different from each other. It is better to archive a Facebook video to hide it from your profile, and it won't be deleted; in this case, you can watch it anytime. While deleting a Facebook post will be moved to Trash.
Conclusion
As you read the ways above, you can now answer the how to recover a deleted Facebook video questions. It is not that difficult recovering them through the Archive, but it would be much easier with 4Easysoft iPhone Data Recovery. It is provided if you have backed up your file with iTunes or iCloud, lost your files by accident or caused by some iPhone issues, and more. In one click, you can recover more than 20 file types without affecting the existing ones. We guarantee this program is worth your time and trying for recover all deleted Facebook videos on iPhone/iPad.
Related Articles