How to Make Good Vlog Video: Useful Tips and Tricks for You!
It's really not easy to make a vlog video. But it can assist you in promoting; on top of that, it showcases your personality in front of the camera and viewers. You can be vlogging about education, work, hobby, or just sharing your everyday life with your audience, and you won't have to study anything to make vlog video. Thus, to start now, explore how to make vlog video with the shared complete tutorial in this guide post as well as stand out from other competitors through some tips.
Step-by-step Tutorial on How to Make A Vlog Video
As raised earlier, vlogs can have content featuring your hobbies, work, comedy, and a particular in your life. A vlog is not about hurrying over to create a YouTube channel; you must first plan all before creating a Vlog video, from your intro to your outro. Get started through this complete tutorial below.
Step 1Consider Your Target Audience.
Before heading to YouTube to create your channel, identify the target audience first. It is worth noting that the viewers are the ones who will engage with your vlog video and eventually help your channel to grow. You can start by writing down skills you have that you will surely love doing over the long term. And that's the beginning of how to make vlog video on YouTube!
Step 2Develop a Brand.
When the target audience has been identified, the next step on how to make vlog video is creating a brand. You have to prepare four main elements: Brand name, Profile picture, Channel art, and Thumbnail.
Brand name. You can use our real name or a made-up one for your channel. But, to be more creative, you can combine your name and phrases or words that focus on your content.
Profile picture. You can use your picture or other element representing your channel, like the brand name. You can use your brand logo or images that work well for your personality.
Channel art. This is the Youtube banner or the image at the top of your profile. Usually, it contains your other social media accounts alongside other designs or an announcement.
Video thumbnail. Thinking about the image viewers will see before clicking your Vlog video is vital. If the thumbnail is plain and boring, people won't be encouraged to click on it.
Step 3Generate a YouTube Channel.
Setting this up is super easy; you only need to sign in to your Google account. Click the user icon on YouTube, then find Settings, and scroll down until you locate the Your YouTube channel. Hit Create a new channel, then enter the name. Customize the appearance, from the layout to basic info.
Step 4Have the Vlogging Equipment.
Of course, you wouldn't be able to answer how to make good vlog video if you don't have essential equipment, such as a camera. The first thing you will need is a camera that is fit for vlogging purposes. A video editing tool, microphones, lights, and a tripod is also a must.
Step 5Start Shooting, then Edit the Video.
It's time to shoot your video! Ensure to speak clearly throughout the vlog and be comfortable. When editing, you can add subtitles, icons, and background audio to add flavor to your vlog video.
Step 6Upload Your Vlog.
After everything you've done, it's time to save your video and upload it on YouTube. To do this, enter your channel dashboard. Click the Plus icon, then select Upload. You can start promoting your vlog video on your social media accounts afterward.
5 Useful Tips and Tricks on How to Make A Good Vlog Video
Even though you intend to upload vlog videos just for entertainment, it is still vital to make it a good vlog video. And to achieve more viewers and engagements, here are some tips and tricks on how to make vlog video.
Determine your Content. A clear understanding of what content you want to create will let your viewers understand your videos easily. Some famous content categories include make-up, travel, unboxing, food, fitness, and gaming.
Get Inspired by Other Creators. You can take your time watching videos of other creators to get inspired, look at similar content, and pay attention to what makes them different from others and you.
Create Quality Videos. The video doesn't need to look professional; it should be watchable. With good resolution and high video and audio quality, your vlog will look more entertaining and appealing at the same time.
Invest in Good Equipment. In today's technology, vloggers use smartphones since it records high-quality videos. You won't be required to have a camera to answer how to make good vlog video; you just need to ensure that the tool you'll be using assist you in creating quality videos.
Be Unique and Consistent. As the Internet is full of content, your vlogs must stand out from others; give your viewers something they never watched before. And upload videos consistently; it can be one day every week, which most vloggers do.
The Best Editing Tool for Making Vlog Videos for Different Platforms
Of course, after shooting your video, you have to edit it to combine clips or trim extra parts and make it more attractive. In this case, a reliable video editor is what you need to answer how to make good vlog video. Fortunately, there's a tool like 4Easysoft Total Video Converter. This program can help you edit videos with powerful features, like the MV Maker, that allow users to combine their videos and turn them into beautiful movies. They can also add some effects and use the pre-made themes offered by the program. Aside from that, you can apply audio tracks from your PC to provide more flavors to your vlogs.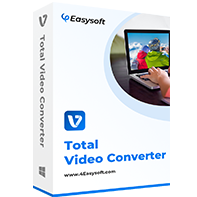 4Easysoft Total Video Converter
The MV Maker edits videos conveniently, letting you add effects and others accordingly.
Provides format mainly for different platforms, such as YouTube, with customized video settings.
Adjusting settings, like Resolution, Quality, and Frame rate, can be achieved.
A Preview window is offered to see edits you've made before exporting.
Step 1Select the MV tab on the program's main screen. Add your video files by clicking the Add button. To arrange them instantly, you can click the Ahead or Behind button after taking your Vlog videos.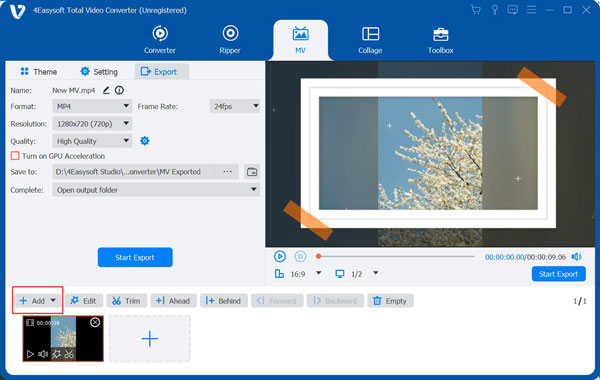 Step 2If you want to trim your video simply, you can click the Scissors icon, but to edit them separately, click the Star Wand icon. You can Rotate & Crop, add Effects & Filters, Watermarks, Audio, and Subtitle.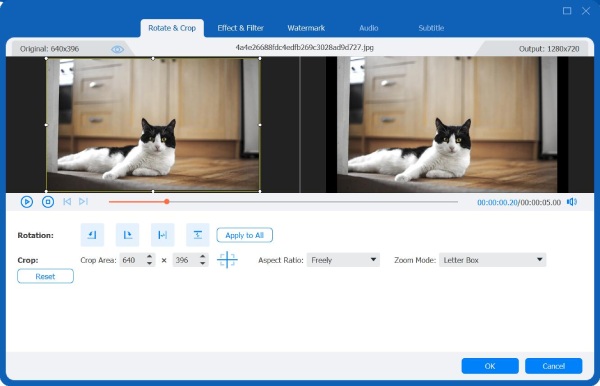 Step 3After all that, you can select a theme for your MV in the Theme section. You can monitor the changes in the Preview right window.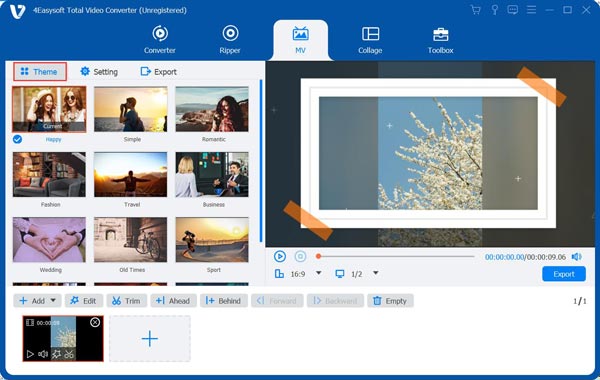 Step 4To add titles at the start or end, go to Settings, and enter your text for your intro. Fonts and colors can be adjusted by hitting the buttons beside them.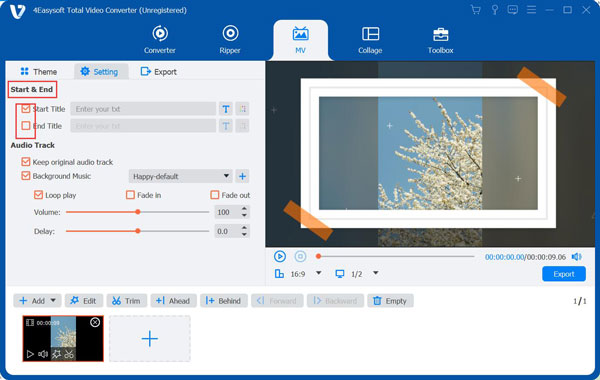 And to apply the audio track, tick the checkbox if you want to keep the original one or add new background music; you can also apply loop, fade-in, and out effects and adjust the volume.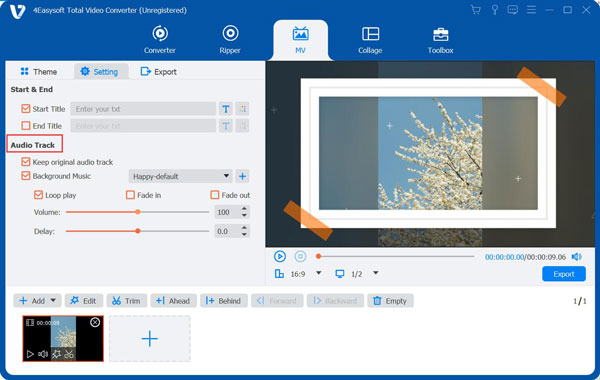 Step 5Finally, go to the Export tab to choose the output format. You can then adjust other settings, like Resolution, Frame Rate, and Quality. Click the Start Export button if satisfied. Here, you have made a wonderful Vlog video.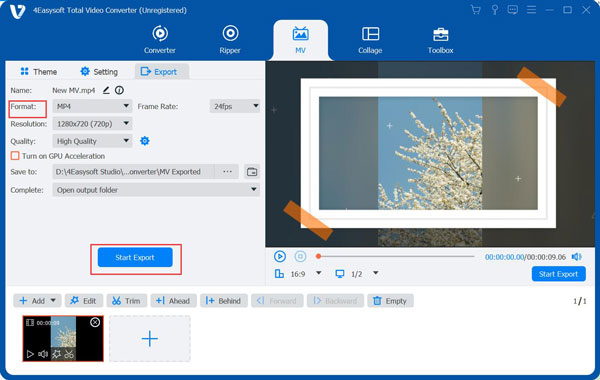 FAQs about How to Make Vlog Videos with Interesting Ideas
Can I make money from my vlog videos?

YouTube vloggers make money through Ads, which pay them depending on how many views their video gets. The more views they have in one video, the more money they can make.

How to make an intro video for vlog?

Since the intro is the first thing your audience will see on your video, you can make it short as possible but gives more about your personality. You can try Canva since it offers millions of images, icons, and other graphics you can add to your intro.

How to make vlog videos with iPhone?

iPhones can now provide high-quality vlog videos, but using a tripod to hold it will make your video less shaky. And when editing, you can use many applications like CapCut, inShot, and others, which are convenient for editing your vlog videos.

How to make a vlog video with no boring parts?

To avoid getting your viewers bored with your vlog, you can add background music, subtitle, icons, and more. But of course, adding them depends on what content you are doing.

What contents are suggested to start a vlog?

You can do Daily vlogs featuring your daily life, Travel vlogs, DIYs, Motivational Vlogs, Fitness Vlogs, Food, and more. When you think of content, ensure you will love doing it for a long time.
Conclusion
Starting a vlog might be challenging, but with the help of this post talking about how to make vlog video, it will be possible to begin your YouTube journey. You can consider all tips and tricks alongside the step-by-step guide to make a vlog video. After that, enjoy your editing experience with 4Easysoft Total Video Converter. Create beautiful intros and outros, add background music, effects, and more. Explore it now!
Related Articles