How to Create Attractive Videos and Make TikTok Video Go Viral
With lots of TikTok video content posted daily by those TikTok uploaders, getting viral on TikTok became one of the hardest and most challenging. Not until you fully understand and master these 10 tips on how to make TikTok video viral. If you are already to absorb each of them, make a video with a high chance of getting viral using the best tool featured here! Continue reading this post to discover them!
Part 1: 10 Best Ideas and Tips on How to Make TikTok Videos Viral
"How to get viral on TikTok?" Well, to get viral in TikTok, you need to understand first how the TikTok algorithm work. Aside from that, creating the best strategy is essential to make TikTok boost your content to every platform user. So, without any further delay, here are the 10 ideas and tips to tell you how to make TikTok video contents go viral on TikTok.
1. Identify the Latest Trend - TikTok has become the most trend-driven video-sharing platform. It is indeed a platform where most activities, lifestyles, food, etc., could be a trend. If you keep yourself updated on what is currently trending on the platform, you can use them as an idea and bring yourself to that trend by making one piece of content and posting it on the platform. It is also essential to take note of those trends' hashtags and used sound, as they could help you land your content on other people's For You pages.
2. Use Hashtags Properly - As mentioned above, hashtags are important in landing your content to various users and making your videos go viral. They could help you make your content visible to a much larger audience. To make a good hashtag on TikTok, here are some essential tips you need to consider:
Utilize different high-use hashtags related to your content.
Avoid using #FYP, #foryou, or other hashtags that are too general. These types of hashtags will not achieve the idea of using hashtags correctly.
Use three to five hashtags only.
3. Utilize Popular Sounds - TikTok has many sounds or audio and picking which trending is a stepping stone to virality. As part of TikTok's algorithm, it recommends content creators with content with trending sound; you can embed them into your video and post the content on the platform to make your TikTok videos go viral.
4. Build Engaging and Share-Worthy Content - As part of identifying the latest trend, it is also essential to consider whether these contents are worth sharing and engaging. Considering this aspect in choosing content to share will help make TikTok videos go viral. One of the best types of content would be those that are entertaining, such as memes and skits, educational-centered content, and inspirational content that deals not only with life but also with health and lifestyle.
5. Became Active in your TikTok by Regularly Posting Content - Posting regularly on your TikTok is one way to step into virality. This is for you to acquire more engagement with your viewers via receiving comments, likes, and shares. You don't have to post videos each day and reach an exact amount of content to be posted; you need to be consistent. One of the best types of content is a series video with a sequel. This will acquire more likes and comments as they await the next part of your content.
6. Learn Good Editing Skills - Since TikTok is also considered a video-sharing platform, you also need to consider the overall visual presentation of your content. If you can build a great video with superb edits, like applying transitions, filters, and special effects, you'll be able to grab a lot of attention from viewers and make TikTok videos go viral. Focusing on significant transition effects, most popular creators today have been known for having viral content with transition effects incorporated into their videos.
7. Create Short TikTok Content yet Get Oneself to Stay Watching - As part of the TikTok algorithm, TikTok monitors how much time users spend staying and watching your content. You must catch the viewer's attention with your content and make them stay up until the end.
8. Build Interaction with your Viewers or Followers - By building interaction with your viewers or followers by replying to their comments by typing words or videos, you can build a community for your content. This will also be a great way to encourage your followers to share your video content with others.
9. Build Collaborations with other Creators - Collaborating with various TikTok influencers is also one of the best ways to make your TikTok videos go viral. This will definitely bring you to a much larger audience and acquire expanded content visibility. However, this might not be easy initially, especially if you have fewer followers. But if you can gather more followers, building collaboration with other TikTok influencers will be much easier to achieve. Start one step at a time, identify the right content for you, and gradually, you can build an incredible number of followers.
10. Cross-posting your Creations to other Social Media Platforms - One of the easiest ways to promote your video content and achieve virality is through cross-posting it to other social media platforms. This will also increase the number of your audience and TikTok followers.
Part 2: The Detailed Way to Make A TikTok Video Go Viral
Now that you know how to make TikTok video viral through those 10 best tips and ideas, it's time to compose your own! Here is the recommend the 4Easysoft Total Video Converter tool as your best ally in composing or editing the TikTok video that will bring you the virality you desire. This tool has many excellent effects and filters you can apply to your video. Moreover, it also supports adding fun stickers, texts, or GIFs to your content. It also enables you to add background tracks to your video, arrange its delay, and boost its volume. Furthermore, it also allows you to embed captions, titles and subtitles to your video based on your preferences. Learn the detailed steps on how to make your TikTok videos go viral now.
How to Get Viral on TikTok by Editing a Video using 4Easysoft Total Video Converter:
Step 1Download and install the 4Easysoft Total Video Converter tool on your Windows or Mac computer. After that, tick the Add Files button to import the recorded video you want to edit.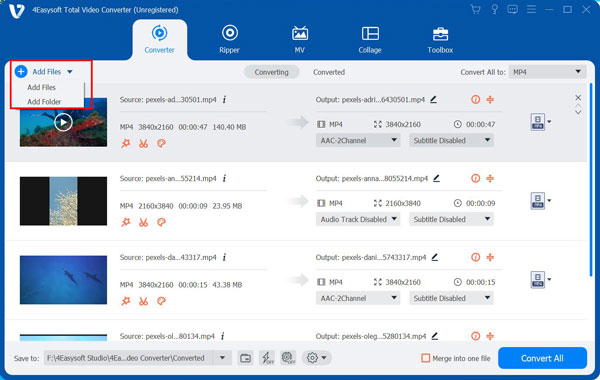 Step 2Then, click the tick Edit button with the Starwand icon to access the tool's built-in editing features. On the new window, select the Effect & Filter tab; here, you can select your preferred Filters from the options offered. You can also enhance the looks of your video by moving each of the sliders.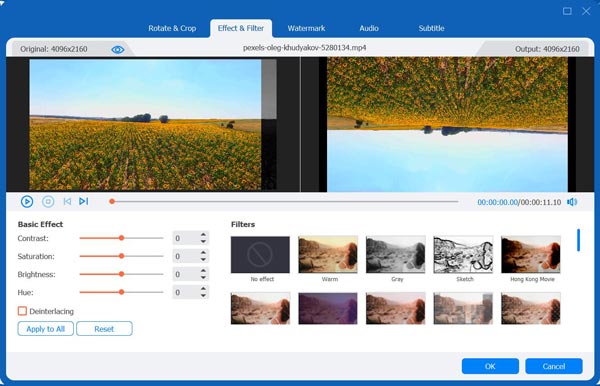 Step 3Next, if you wish to add stickers or images to your video, select the Watermark tab. Click the Radio button of the Image, and tick the Plus icon to import the image or sticker you want to embed into your video. You can also adjust its Size, Location, Position, and Opacity.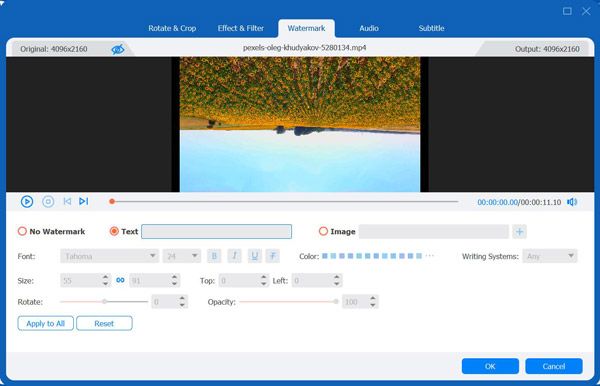 Step 4After that, you can also add popular background music to make TikTok videos go viral. Select the Audio tab, tick the Plus button, and select the music you want to use as a backtrack to your video. You can also adjust its Volume and Delay using their corresponding sliders.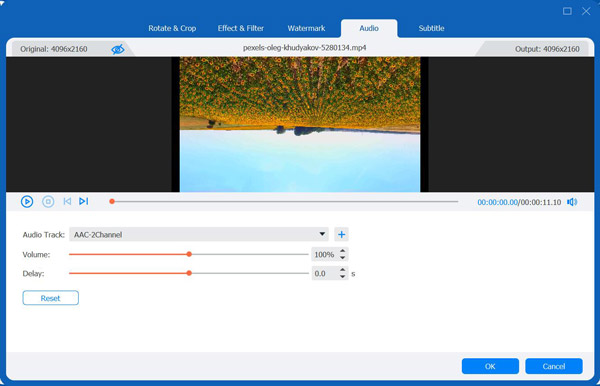 Step 5Adding captions to your TikTok video is also necessary to make it understandable to different people. Select the Subtitle tab and click the Add button under the Subtitle option. Once you import the subtitle, you can modify its font style and color and add an outline, position, opacity, and delay.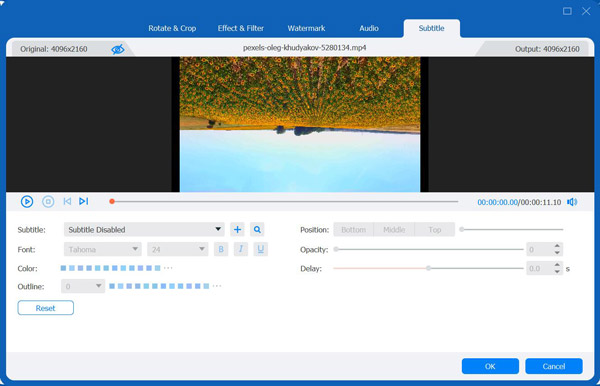 Step 6Once you are satisfied with the overall looks of your video, click the OK button and start exporting your edited video by ticking the Convert All button.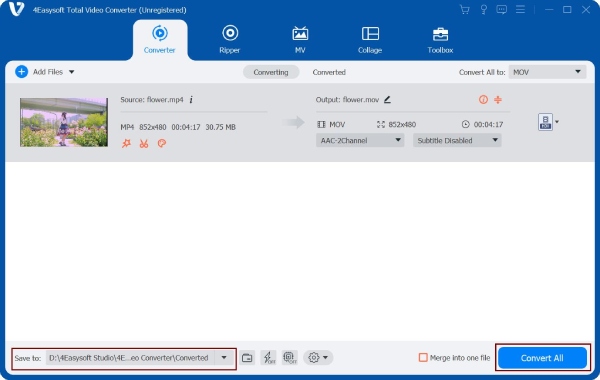 Part 3: FAQs about How to Make TikTok Videos Go Viral
1. What are the TikTok algorithm's factors to consider to make videos go viral?

The main ranking factors that the TikTok algorithm needs to consider are the number of user interactions (likes, comments, shares, follows, etc.) and video information (incorporated captions, sounds, and hashtags). If your video content has passed all these, TikTok will push it to many audiences or users' For You page.

2. When is the time that TikTok content is considered viral?

The time that a video is considered to be viral is when it reaches millions of views. Other than that, video content that reaches more than 5000 before reaching a million is also considered viral.

3. Is it still possible to go viral even though you have only a few followers?

Yes, it is still possible. Having a few or many followers is not part of TikTok's algorithm to be considered. So even if you only have a few followers, your video can still be distributed to other users and get viral.
Conclusion
With those 10 tips and ideas on how to get viral on TikTok and the professional tool to edit video content, you'll definitely reach your desired virality. Take all the benefits the 4Easysoft Total Video Converter tool could provide you regarding video editing. Achieve the best and viral-worthy video through this tool! Feel free to visit the tool's official website and install it on your Windows or Mac today!
Related Articles: