How to Make Your Posts Shine by Adding Music to Your Instagram
Do you want your Instagram posts to be so rhythmic and melodious like those hot ones? This post will show you how to add music to your Instagram posts. From using Instagram's music library to crafting captivating stories, you'll find a proper way to creating content that resonates. Read this article and learn how to add music to you Instagram posts and let them shine!
Instructions for Adding Music to Your Instagram Post with Library
The built-in library on the Instagram provides you many popular music. Thus, in the following post, you can learn to add music to an Instagram post easily within library of Instagram itself.
Step 1To add music to your Instagram post, tap the "Add" button or swipe right to create a new post first. You can choose to create a Reel with new content or content form your device's gallery.
Step 2Once your image or video is ready, it's time to add music. Tap the "Audio" button on the right of the screen. This will open up Instagram's extensive music library, filled with thousands of tracks from various genres.
Step 3Once you're satisfied with how your post looks and sounds, tap "Done" or "Next" to finish adding music to your Instagram. Add captions, tags, or other elements as needed. Finally, tap the "Share" button to post your masterpiece with music.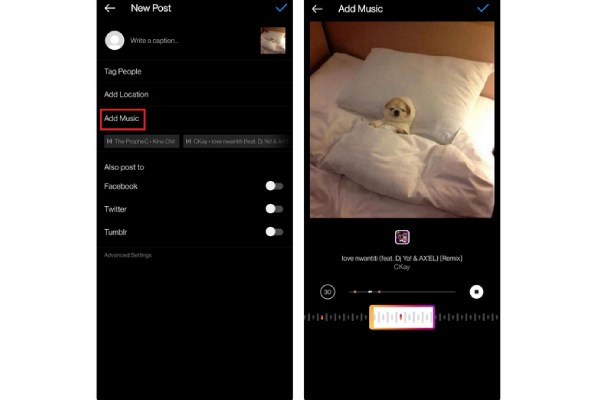 While Instagram's music library offers a vast selection, it does have limitations for adding music to Instagram posts. You may encounter problems as follows:
Limited Song Availability: Not all songs may be available due to licensing restrictions.
Region Restrictions: Certain songs may only be accessible in specific regions.
Limited Editing Options: Instagram's built-in music tools offer limited editing capabilities compared to specialized apps.
Thus, the built-in music function on Instagram will hinder your creativity. However, with help of some unique tools, overcoming these challenges will not be a problem anymore. This part will be explored in later sections.
How to Polish the Post by Adding Music to Your Instagram Without Restrictions
In order to make better Instagram post with music, you could try 4Easysoft Total Video Converter. With this software, you'll be able to design your Instagram post content as desired. You can select a track from your own music library, choose a royalty-free song, or even explore an extensive built-in music library directly within the software. The following part will show you how to add music to Instagram videos for posting.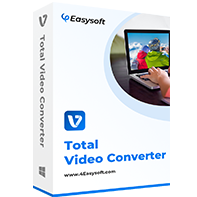 4Easysoft Total Video Converter
Provide manifold themes for choosing to suit the style of your Instagram post.
Adjust the audio track with loop or fade to create a better rhythm for your content.
Use Start & End titles to allow viewers dive into the world of your Instagram post.
Export with high quality from frame rate up to 60fps to resolution up to 4K.
Step 1Launch the software on your computer, find "MV" tab and click "Add" button to import the photo or video content to which you want to add music for Instagram post.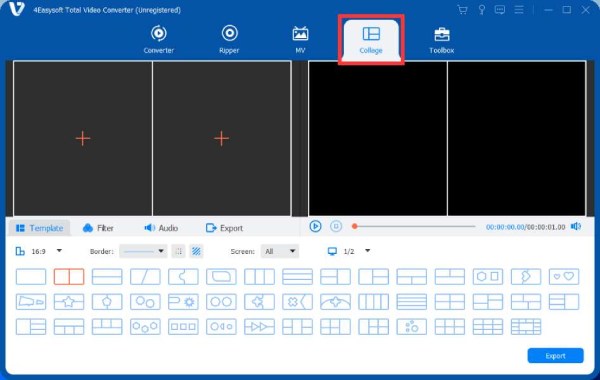 Step 2Click the "Edit" button and click the "Audio" button. After that, click the "Add" button to add your local audio to videos. You can also adjust the volume, trim the song to fit your video's duration perfectly, and even add fade-in and fade-out effects for a professional touch.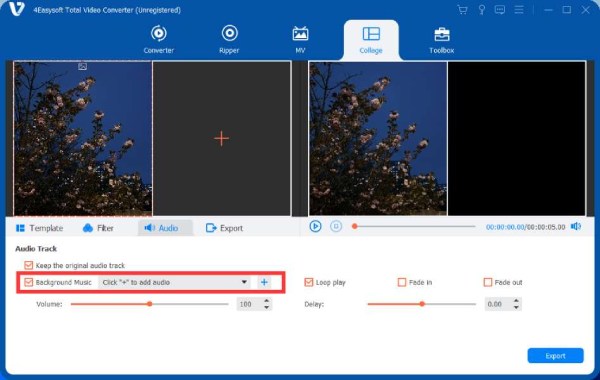 Step 3Before exporting the Instagram post with music, you can also preview the edited Instagram post with music by clicking the "Play" button on the right window. This allows you preview the content and make some editing like adjusting the volume or delaying the music.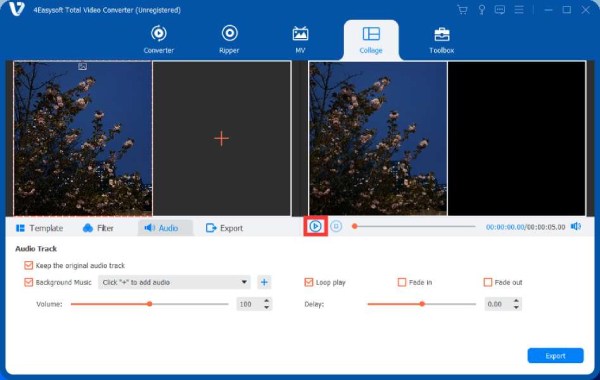 Step 4Click on "Export" button to choose different parameters from frame rate to resolution and so on. Once you're satisfied with the result, click the "Start Export" button. Now you've done with adding music to your Instagram post.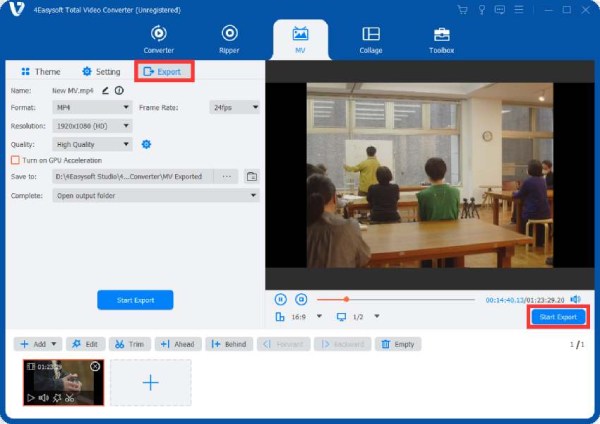 Tips for Making Your Instagram Post Engaging by Adding Music to it
Now you've just learned about how to add music to your Instagram post with the best tool. But which music is best for you Instagram post videos? How long should it be? You can improve your Instagram post more by learning these useful tips.
1. Match the Mood: Consider the tone and mood you want to convey in your content. Whether it's a cheerful tune for a fun day out or a melodic track for a reflective moment, choose music that complements your message.
2. Time it Right: Timing is crucial. Use music to enhance key moments in your video or story. If you're sharing a travel adventure, add music that syncs with scenic views or exciting activities.
3. Embrace Variety: Don't stick to just one genre. Explore different music styles to diversify your content. A well-chosen track can set your content apart and attract a broader audience.
4. Keep it Balanced: Ensure that the music volume doesn't overpower your voice or main audio. Find a balance to let both elements shine.
5. Use Lyrics Mindfully: If your chosen music has lyrics, make sure they align with your content's message or story. Lyrics can add depth, but be cautious of potential conflicts.
6. Experiment with Effects: Instagram offers various music effects and stickers that can enhance your videos. Explore these options to create unique and eye-catching content.
8. Stay Consistent: Consistency helps build a recognizable brand. Use music consistently in your posts to establish a signature style.
Remember, the goal of adding music to your Instagram post is to enhance them, not overshadow it. Use music as a tool to create an emotional connection with your audience and make your Instagram posts more memorable and engaging.
FAQs About How to Add Music to an Instagram Post
What are the Instagram music sticker and lyrics features?

You could enhance Stories with music and song lyrics using Instagram's features. While creating your Instagram post, tap "Create" button and paste stickers or words above your content.

Can I add my own music to an Instagram post?

No. It only supports adding music from Instagram's library, which are limited. Thus, you need to rely on other professional video editors to add music to videos and upload it to Instagram.

Are there any restrictions while adding music to an Instagram post?

Yes. Respect copyright rules. Unauthorized use may lead to content removal or account issues. But you can lower down the sound of the music or combine separate clips to avoid some troubles.

Why can't I find a specific song in Instagram's music library?

Because due to the restrictions of Instagram Library, not all songs are available, licensing and location restrictions apply. You can download the song you want to local files and add them to your Instagram post with 4Easysoft Total Video Converter.

Can I add music to an existing Instagram post?

No. Unfortunately, you can't add music to existing posts. You can choose to download the uploaded post and create a new one with your music.
Conclusion
Adding music to an Instagram post could make your content more engaging. This article has shown you the detailed steps to use the built-in library. Moreover, 4Easysoft Total Video Converter enables you to add any music to Instagram videos freely, which also provide several features like choosing themes and adjust the audio track. Don't hesitate, download and start now to better enrich your Instagram content with music!
Related Articles: