This Year's Top 7 Best AI Music Video Generators [2023 Lineup]
As a musician, you'll agree that creating a music video is time and energy-consuming. But with the rise of Artificial Intelligence and its various integration into the music industry, creating music videos has become more accessible. That is made possible by an AI Music Video Generator. You probably see the benefits they possess. To make it easier to acquire one of them, here is the lineup of the top 7 AI-integrated music video generators you can explore and try!
Part 1. Top 7 AI Music Video Generators for You to Make Wonderful Videos
As you have read above, this post features a list of the top 7 AI Music Video Generator tools you can use to produce great music with the help of the tool's infused Artificial Intelligence. Along with this group of tools, each is listed with its advantages, disadvantages, and prices. By seeing these aspects, you can weigh everything up and pick the one applicable.
1. Amper Music
Price: $29/Month - Get access to PremuimBeat tracks with the Premium plan
The first tool with AI for music videos creation is Amper Music. Unlike other tools on the market, the people behind Amper Music aim to provide easy AI music video creation by making their tool user-friendly. It supports a library of thousands of stock and pre-existing music samples. These samples are used, together with other elements, to produce a great music video with the help of AI. It also supports another library of images and videos you can apply to your music video and manual editing tools.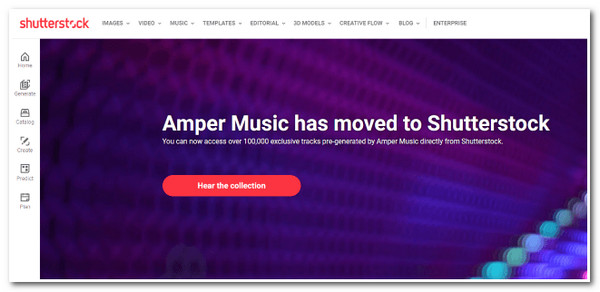 Pros

Easy to understand features and interface.
Let you store your AI-generated music video on Cloud Storage.
Support Royalty-free, allowing you to post your music video without licensing issues.
Cons

Purchasable download for AI-generated music tracks.
2. Soundraw
Price: $19.99/Month - Entire Access features of the tool
Another tool you can use to make a music video with AI is Soundraw. Like Amper Music, Soundraw also supports easy music video creation thanks to its integrated AI technology. With just a few Mood, Genre, and Length picks, their AI technology will automatically produce a music video from your chosen options.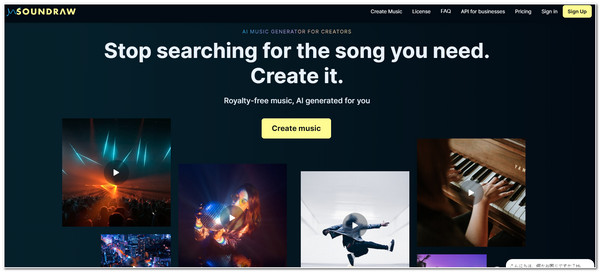 Pros

Allow its users to do further music editing.
Offer unique tracks.
Support unpurchasable downloads.
Cons

The free version only lasts for 7 days.
Its free version supports only a few features.
Slow in generating music.
3. Ecrett Music
Price: $24.99/Month - Have access to all of the features offered
If you want another easy-to-use AI Music Video Generator besides Amper and Soundraw, check out Ecrett Music. This tool supports a simple user interface and powerful AI that lets you enjoy music video creation without deep knowledge. It also offers a royalty-free feature, which provides you freedom from considering restrictions from terms of service.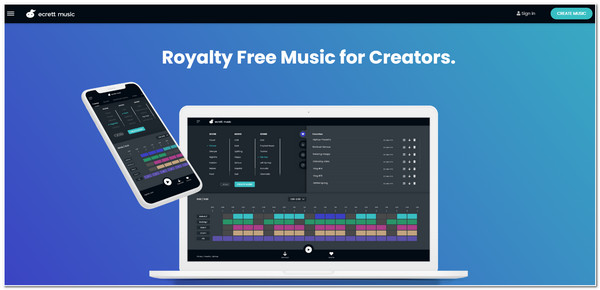 Pros

Easy to understand features and interface.
Offer various Scenes, Moods, and Genres to choose from.
Allow users to download their AI-generated music for free.
Cons

Pricing is expensive.
Don't provide options to edit soundtracks.
Need song creativity.
4. Beatoven.ai
Price: $20/Month - Pro version lets you access all the features and make 10+ videos per month
Beatoven.ai is another royalty-free AI Music Video Generator tool you can use for free. This tool has advanced AI technology that supports various techniques in composing unique mood-based music according to your preferences. Moreover, it is also infused with different editing options that you can use to modify specific aspects of your music. That includes Genre or Style picking, Music Cutting, Mood modifications, etc.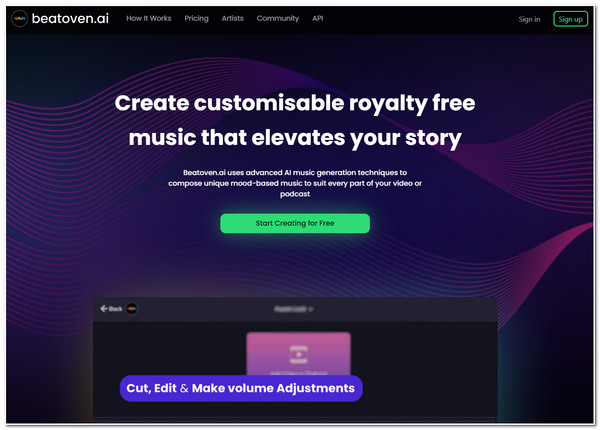 Pros

Offer a simple interface and unrestricted usage.
Let users choose their desired tempo, genre, regional sound, emotion, etc.
Cons

Offer only 15 minutes of free monthly downloads under the free version.
Support limited options to customize your music and option for exportation.
Need to be faster to compose various music.
5. Soundful
Price: $9.99/Month - Covers all the services and features offered by the tool
If the above AI Music Video Generator tools' free version limits you too much, one of the best alternative tools is Soundful. This AI-generated tool also supports royalty-free music video generation, allowing you to publicize your output to various platforms for monetization. It also offers a large number of Moods and Templates. It is the best alternative because it is forever free and lets you download output for free.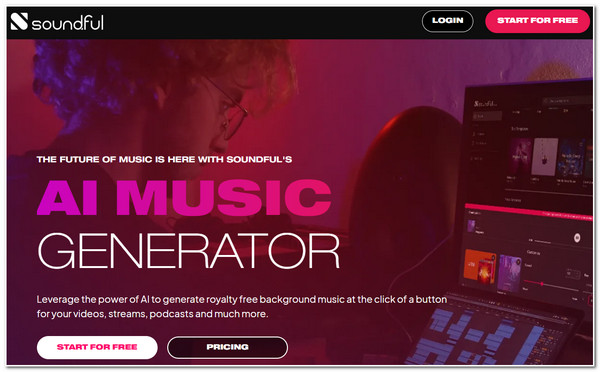 Pros

User-friendly interface.
Easy to use features.
Let users customize Genre, Style, Tempo, Rhythm, etc.
Cons

This tool's free version only allows you to download 10 outputs per month.
Inconsistent quality of output produced.
6. Boomy
Price: $29.99/Month - Experience all of the benefits of the tool
The same goes for the first group of AI Music Video Generator tools; Boomy also utilizes AI technology to produce music videos by giving them great melodies, beats, cords, etc. Moreover, it also allows you to edit the music based on your preferences. Furthermore, you can also download and utilize the songs for non-commercial and commercial purposes.

Pros

It offers a free version and has a user-friendly interface.
It lets users share AI-generated music on various platforms.
Offers a bunch of music, including trending and featured songs.
Cons

It offers only limited features under the free version.
7. InVideo
Price: $15/Month - Provides access to all of the tool's features and services
Last but not least is the InVideo. This tool supports the ability to compose music videos according to your desired templates, stock media, music, fonts, etc. It offers many music video editing features that you can use to customize your music video manually.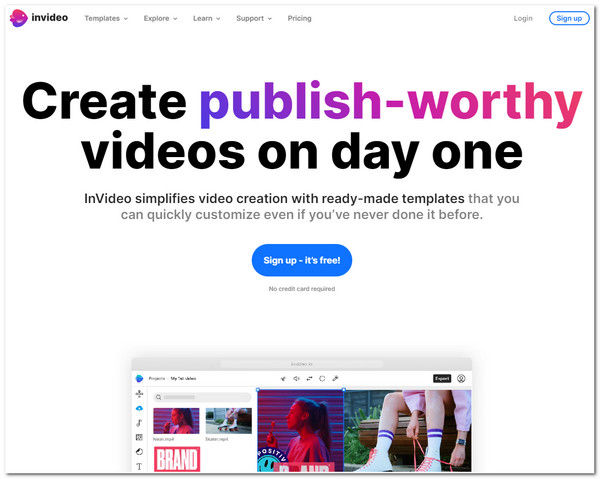 Pros

User-friendly platform with easy-to-use features.
Support a library containing millions of stock media.
Offer various pre-made templates for much easier editing.
Cons

Don't allow you to switch templates.
Output exportation takes a lot of time to finish.
There you have it! Those are the top 7 AI Music Video Generator tools you can use to help you produce fantastic music videos. However, even though they provide ease in music video production, you cannot deny that these AI-generated tools sometimes don't help you achieve what you really desire. Since they automatically edit your music video, there are times that the output seems too edited and unrealistic. Although manual editing is too time-consuming, it is still the best way or method to edit your music video. Through manual editing, you can control the editing process of the music video and produce an output that suits your desire.
Bonus Tips to Make AI Music Videos More Realistic by Manual Editing
Suppose you consider editing your music video after making it with an AI Music Video Generator tool. In that case, this post recommends you use the professional 4Easysoft Total Video Converter tool to edit your music video manually. This tool is equipped with advanced video editing features that you can use to bring beautiful modifications to your video. It supports a video rotator, cropper, and trimmer. It also supports a library of Themes, Effects, Filters, and Templates that you can add to your music video. Since you are making a music video, you can use this tool's Audio adding feature to embed your desired music into your video. Explore its other features below to discover more of what it can offer!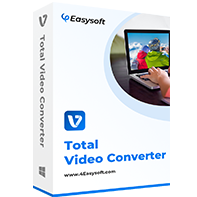 4Easysoft Total Video Converter
Equipped with a Collage feature that you can utilize to produce collaged video clips.
Infused with MV Maker that supports various themes and Audio tweaking options.
Supports 3D Effect options that you can use to apply 3D elements to your music video.
Integrated with AI Technology to help you upscale the quality and apply effects to your video.
Part 2: FAQs about the Best AI Music Video Generator
Does the AI Music Video Generator tool produces high-quality output?

It depends on that tool's integrated artificial intelligence. If the AI algorithm is poor, there's a big chance it will produce low-quality output. In this case, you must try each AI-generated tool first to see which gives you excellent output.

Which AI Music Video Generator tool offers a free version without any day limitation?

The AI Music Video Generator that offers a free version without any day limitation is Soundful. This tool offers 3 different pricing, one of which is its Free Forever version which comes with 10 downloads/month, 1 STEM pack/month, For non-profit and personal use only, and access to 25+ free templates.

What does Royalty-free exactly mean?

Royalty-free is a term used to refer to certain things that deal with intellectual property that are allowed to utilize without paying any royalty fees. Those things can be found as stock media on various AI Music Video Generator tools.
Conclusion
That's it! Those are the top 7 AI Music Video Generator tools you can use to ease the process of producing music videos! Having them lets you create a music video even though you are just a beginner at making music videos. If you find the outputs of those tools are not satisfactory, you can do manual editing using the 4Easysoft Total Video Converter tool! This tool is equipped with advanced video editing features that indeed support you in unleashing your creativity! Feel free to visit this tool's official website to discover its other capabilities!
Related Articles