How to Trim Audio Files with the Desired Parts to Make Ringtone
How to trim audio files with the desired parts? If you want to create a ringtone that comes from your favorite music or you need to cut out certain unnecessary parts in your audio recording. Whatever that is, here are 10 of the best audio trimmers for you to acheive different purposes. So, in this article, you will learn the detailed steps on how to trim audio files on Windows/Mac/Online/Android/iPhone. And by the end of it, hope you find the right one for you to trim audio!
Part 1: 5 Easy Ways to Trim Audio Files on Windows/Mac/Online
Luckily, since technology has advanced, there are various desktop and online tools that you can use to trim audio. See below what platforms they support and the features they offer.
1. 4Easysoft Total Video Converter
First on the list is the 4Easysoft Total Video Converter. This program lets you trim audio with high-quality and flawlessly works on both Windows and Mac. You are allowed to keep the original track or add a new one. Whatever you choose, both will be exported in your desired excellent quality. Besides that, it supports adjusting the volume, applying loop play, fade-in/out effects, and delay effects. Plus, unlike other audio trimmers that are limited in output format, you can take advantage of the more than 600 formats this program offers. Aside from the audio, it contains video editing functions, such as applying filters, watermarks, themes, and more.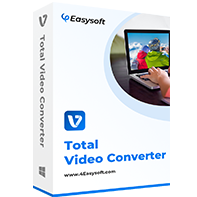 4Easysoft Total Video Converter
Allow you to trim audio quickly in the Convert tab without compromising the original audio quality.
Support adding new background music to your video if you don't prefer to keep the old one.
Provide a Volume Booster tool that enables you to increase the audio file if you can't hear it.
Compared to other programs, it contains a wide range of output formats, including MP3, AAC, WMA, and more.
Step 1Once you have launched the program, 4Easysoft Total Video Converter, go to the Converter tab. You will see it in the above menu along with the Ripper, MV, Collage, and Toolbox.
Step 2Add your audio file into the program by clicking the Add Files button or simply drag and drop it. Select your file, then hit Open to import.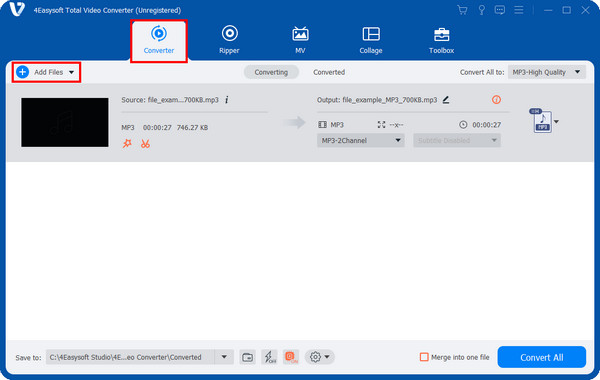 Step 3To start trimming audio, click the Trim button with a Scissors icon beside the star-shaped one. And there, you will see your audio, and below that is the clipper; drag it to cut the unwanted parts. All the parts that are in the red square will remain.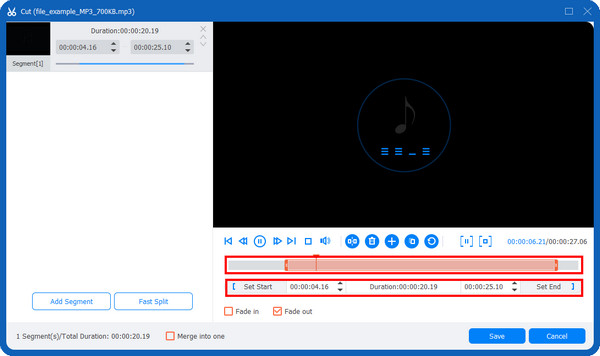 Alternatively, you can enter the start and end time in the Duration bar below the clipper. You can also increase the volume and hit on the Fade in and Fade out checkboxes if you want to apply them to your audio.
Step 4If satisfied with the trim audio, you can click on the Save button, then select a format in the Convert All menu if you don't prefer MP3. Hit the Convert All button to get your trimmed audio.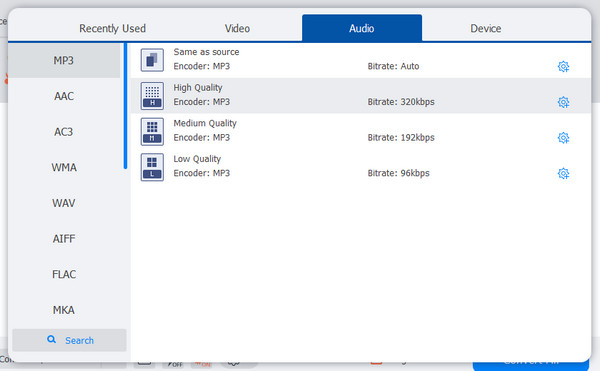 2. Audacity
Audacity is another excellent tool for trimming audio. It is an open-source audio editor with many useful functions and works well on Windows, Mac, and Linux. Aside from the basic trimming option, it can adjust the volume, remove noise, apply effects, edit multiple tracks, etc. It also allows you to record live audio.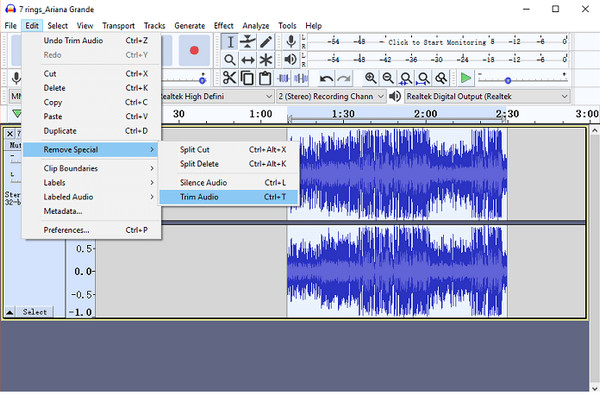 Features:
Record live sound and support audio playback on a computer.
Can take audio from different files and merge them.
Support formats other than MP3, like WAV, FLAC, AIFF, etc.
3. iMovie
iMovie is your best choice to trim audio file if you're using an iOS device since it is only available on Apple devices such as iPhones, iPad, and Macs. Besides trimming audio, you can easily add videos and images and merge them to make it one video project. It enables you to create a fantastic video with no watermarks.
Features:
Allow you to add transitions, cut video clips, fade-in/out effects, etc.
Support adding overlays quickly with its uncomplicated interface.
Work very well and fast with the whole Apple environment.
4. VLC Media Player
If you think VLC Media Player is an ordinary media player only, it offers more than what you think. You can also use VLC to trim audio, and it is capable of saving it as a new audio file. Available on Windows, Mac, and Linux, you can do all basic video and audio editing with this program. However, the process is not actual, but you can use it anyways.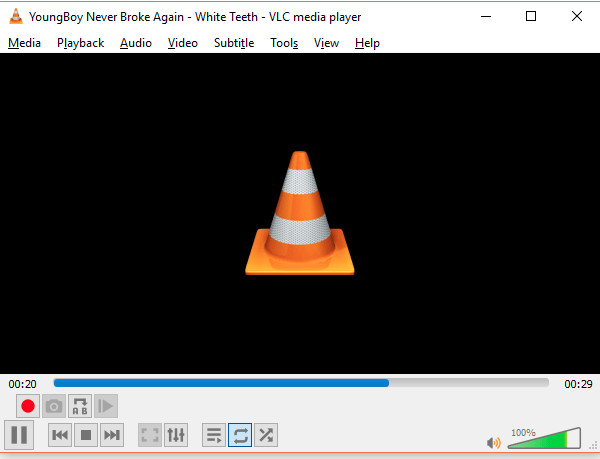 Features:
Support playing a wide range of formats in files, DVDs, streaming platforms, etc.
Allow you to do video and audio editing and convert.
Provide you with many video and audio output formats.
5. Clideo
Clideo is one of the best online audio trimmers you can find on the Internet, as you can quickly cut the audio in no time. You can find lots of them online, but Clideo supports audio in several formats like OGG, WMA, WAV, etc., unlike others. Plus, it works very well on web browsers to your Mac or Windows, and your safety is not a problem here since it will delete your uploaded files after trimming the audio.
Features:
Enable you to create a ringtone through its audio cutter function.
Let you apply fade-in/out effects and convert it to your desired format.
Offer two ways in trimming: drag the two markers or set the needed time.
Part 2: Top 5 Apps to Trim Audio Files on Android/iPhone Easily
In case you want to trim audio on your mobile devices, there are also applications provided for you! Many audio trimmers are available for Android and iPhone, and five are discussed below.
1. MP3 Cutter
MP3 Cutter is an Android application that allows you to trim audio with its audio-cutting tool. This application also supports merging audio files in a wide range of formats, including WMA, MP3, M4A, OGG, and so forth. Furthermore, it offers you a basic level of function compared to other Android audio trimmers, so you can achieve your trimmed audio quickly.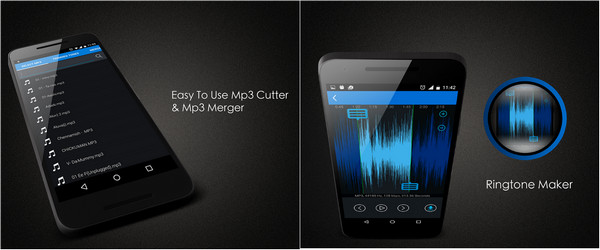 Pros

Can adjust audio volume.
Allow you to customize the quality and file size.
Edit the audio file as a ringtone.
Cons

Too limited in editing features.
Lots of ads you will encounter.
2. Wave Editor
Wave Editor is another Android audio trimming application with several audio editing features. You can trim audio, songs, and tracks and do additional edits, like merging different audio tracks. In addition, it allows you to use music to edit as a ringtone or alarm sound. It also supports large file types and converts them for easy playback.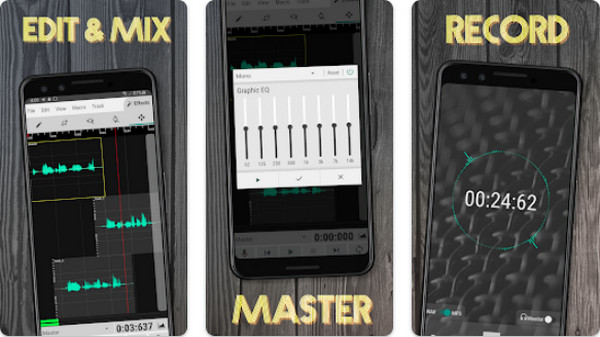 Pros

Support several formats other than MP3.
Have a built-in file browser.
Compact view setting for small devices.
Cons

The free version contains many ads.
Support one track at a time.
3. Song Cutter
For iPhone and iPad users, Song Cutter or MP3 Cutter can be your best choice to trim audio. It allows you to customize ringtones and alarm sounds from the trimmed parts of your audio. Moreover, besides MP3, it supports several formats like AIFF, WAV, etc. Besides this, Song Cutter lets you quickly find all music and audio files stored in your Apple device.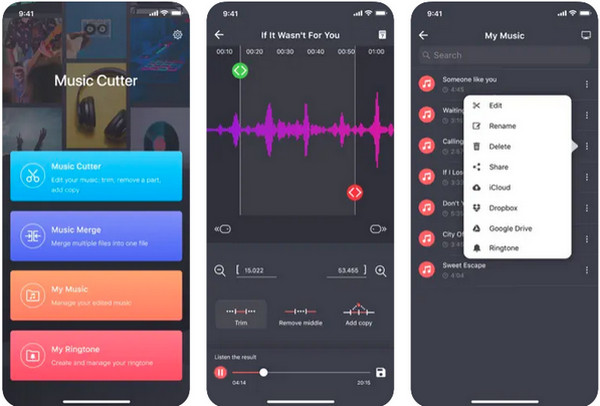 Pros

Can create a ringtone, alarm sound, and notification tone.
Export files quickly.
Do not require you to purchase.
Cons

Ads will pop up when editing.
Limited audio editing functions.
4. FilmoraGo
FilmoraGo is a multifunctional application that functions well on Android and iOS devices. Like other applications with the same purpose, you can trim audio with these applications. You can also cut video clips, record your voice, apply sound effects, extract audio from video, and more. Plus, you can customize your template for TikTok, Instagram, YouTube, and other platforms.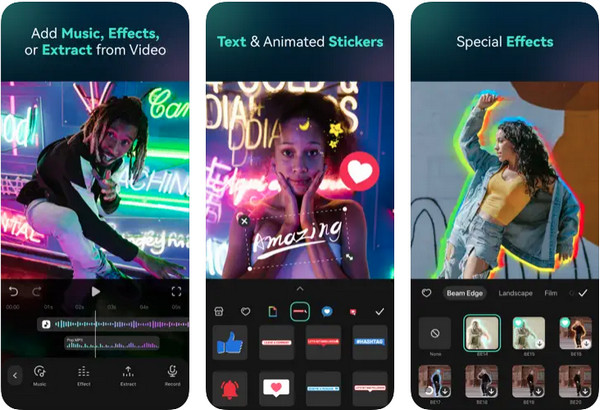 Pros

Can manage multiple timelines.
Support merging multiple clips.
Contain several editing features.
Cons

Work much well on iOS devices than on Android.
Only offer a 7-day free trial, and the plan is too pricey.
5. Handy Audio Editor
Handy Audio Editor is the last iPhone audio trimming application on the list. With this app, you can trim audio, merge, record, and play. It runs smoothly, allowing you to get what you want on your audio quickly. Furthermore, it supports file formats like MP3, AIDD, WAV, etc. Aside from that, you can directly share the audio on social media platforms.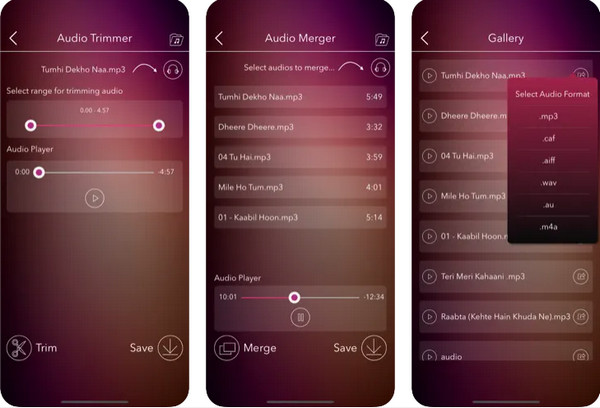 Pros

Equipped with all basic editing tools.
Let you preview the audio before saving.
Allow you to share audio in multiple formats.
Cons

Require you to purchase to enjoy the features fully.
Too limited tools in the free version.
Part 3: FAQs about How to Trim Audio Files with High Quality
Can you trim audio in Windows Media Player?

Windows Media Player lets you trim audio as long as you use a Windows 10. Run the program on your computer, then go to the Edit File to open the waveform. There you can move the slider to the point where you want to cut the audio.

How to clean the trimmed audio quality with Audacity?

Select the part of the audio where noise sounds were amde, then select Effect and go to Noise Removal from the options. Click the get Noise Profile. To confirm, click OK and now the audio should be cleaned.

Can VLC Media Player edit MP3?

VLC is capable of editing MP3 audio files. It allows you to use its audio editor to trim a portion of your audio file and save it as a new file. This software plays and edits nearly any format and comes with basic editing functionality.
Conclusion
As the best applications discussed here, you can easily choose among them which one is best to help you trim audio. For online audio trimming, consider using the Clideo. And for desktop users, you can find lots of them on the Internet but consider using the above as a reference. However, for high audio quality, your go-to tool will be the 4Easysoft Total Video Converter. The program lets you quickly trim video and audio, increase the audio volume, and export it to your desired quality. Don't miss out on the other features offered by this tool!
Related Articles