Blu ray vs DVD: Which Album Disc Should You Buy for Watching
Have you ever experienced being in a situation where you are having trouble choosing the best optical DVD/Blu-ray disc that contains an album of your favorite singer or group to purchase? Is it Blu-ray, a successor to DVD? Or the DVD which Blu-ray replaces? Thank goodness you are on the right page. This article will mainly discuss Blu ray vs DVD, which will help you decide the best disc. Moreover, at the end of this article, you'll see the most powerful Blu-ray/DVD player tool.
Part 1. DVD VS. Blu-ray: What are DVD and Blu-ray Discs?
Before exploring their differences to identify the best optical disc format, let us first define them in this part - "DVD VS. Blu ray." While reading, you can already spot which one has the best features and capabilities in terms of storage capacities.
1. What is DVD?
Digital Video Disc, or DVD for short, is an optical disc format commonly used to store data or movies and play them on disc players. Moreover, DVDs can save more data compared to a standard compact disc. In terms of data capacity, a single-layered, one-sided standard can hold 4.7 gigabytes of data, and a double-layered disc can hold 8.7 GB of storage. With those numbers of data, it is evident that DVD has a larger storage capacity than CDs.
Aside from that, DVDs are also capable of providing you with an excellent movie experience every time you want to watch a movie stored on it. DVDs can preserve the movie's quality even if you play it frequently. Furthermore, DVD can also play 2 hours of video with a 720p resolution. Do DVDs already amaze you? It surely is. Let's now proceed with Blu-ray and see what it got.
2. What is Blu-ray?
Blu-ray Disc is said to be a replacement or successor to DVD and CD. This latest disc format is mainly used for recording and rewriting, playing a high-definition video, and storing many data files. Unlike DVDs and CDs, Blu-ray has a much larger file size than them. In line with that, a single-layered Blu-ray disc can load around 25 gigabytes of data. Dual-layered, on the other, can hold up to 50 GB of data. As you can see, they contain five times significant file size difference of Blu ray vs DVD's double-layered disc. Moreover, this disc can store 1080p HD videos and provide you with much depth, ranges of color shades, and much more detailed video playing.
You might now somehow identify which of the two optical discs is the best, but the DVD vs Blu ray doesn't end there; let's proceed to this article's subsequent parts to know them more by digging into their Features, Pros, and Cons.
Part 2. Comparison between DVD and Blu-ray: Features, Pros, and Cons
Now, let us explore what they got by digging for more specific information about them. Through this part, you can immediately see what would be the best pick optical disc format to use. So here is a comparison of their features, pros, and cons between DVD and Blu ray.
Features and Capabilities
DVD
Blu-ray
Video Resolution and Quality
Capable of storing a 720 x 480 video quality resolution.
Able to hold HD video with 1920 x 1080 video resolution.
Usage and Availability
Able to save animations, old movies, video clips, and other video files.
Support storing the latest release of high-definition movies, PlayStation games 3 and 4, Xbox games, and Stereoscopic 3D.
Supported Video Codecs
Supports MPEG-2 video codec.
Available video codecs supported are MPEG-2, MPEG-4, and SMPTE VC-1.
Media file transfer speed
Infused with the ability to transfer media files within 54 Mbps speed.
Equipped with the capability of transferring data at 10.08 Mbps.
Supported Disc Player
It doesn't have the capability of playing Blu-ray discs.
Capable of playing both Blu-ray and DVDs.
Pros
◆ Comes with ample storage space that accommodates the demand for storing quality video files.
◆ Contain excellent-quality sound and video, which makes it ideal for movie storage.
◆ Relatively cheap compared to Blu-ray.
◆ Comes with a five times larger storage capacity than a DVD.
◆ Contains various measures such as High Bandwidth Digital Content Protection (HDCP), which ensures that no unauthorized devices will copy any audio and video stored.
Cons
◆ Incompatible with laptop players that don't have DVD-RW installed.
◆ Made of plastic material which quickly gets damaged.
◆ Others can easily copy video files stored on DVD.
◆ Require you to spend more money than a DVD before acquiring it.
◆ Most of the old movies are not storable in Blu-ray format.
◆ Incompatible to play with DVD players containing DVD-RW or DVD-ROM.
As you have noticed, you can see gaps between DVD and Blu-ray. If we talk about DVD and Blu ray resolution, Blu-ray contains much better video resolution than DVD. Moreover, it also covers many different file types, including PlayStation Games, 3D, movies, etc. Although both contain drawbacks, you still spot who among these discs shines the most. Additionally, even with an HD DVD that can store 15GB on a single layer, it is still not enough to reach the maximum GB of Blu-ray's single-layer disc. But behind those comparisons, they can still provide excellent capabilities and service. Additionally, there might be differences after we compare them, but it still depends on your purpose, which suits your needs.
Part 3. Best DVD/Blu-ray Player for You to Watch Them on Windows/Mac
After reading the above parts, which refer to DVD vs Blu ray, both have limitations with playing a specific video file whether saved with DVD or Blu ray format. If you want to watch movies in the original quality, the best Blu-ray and DVD player - 4Easysoft Blu-ray Player is for you. It supports playing 1080p HD and 4K videos with any format on Windows/Mac. Enjoy your DVD or Blu-ray disc with this tool.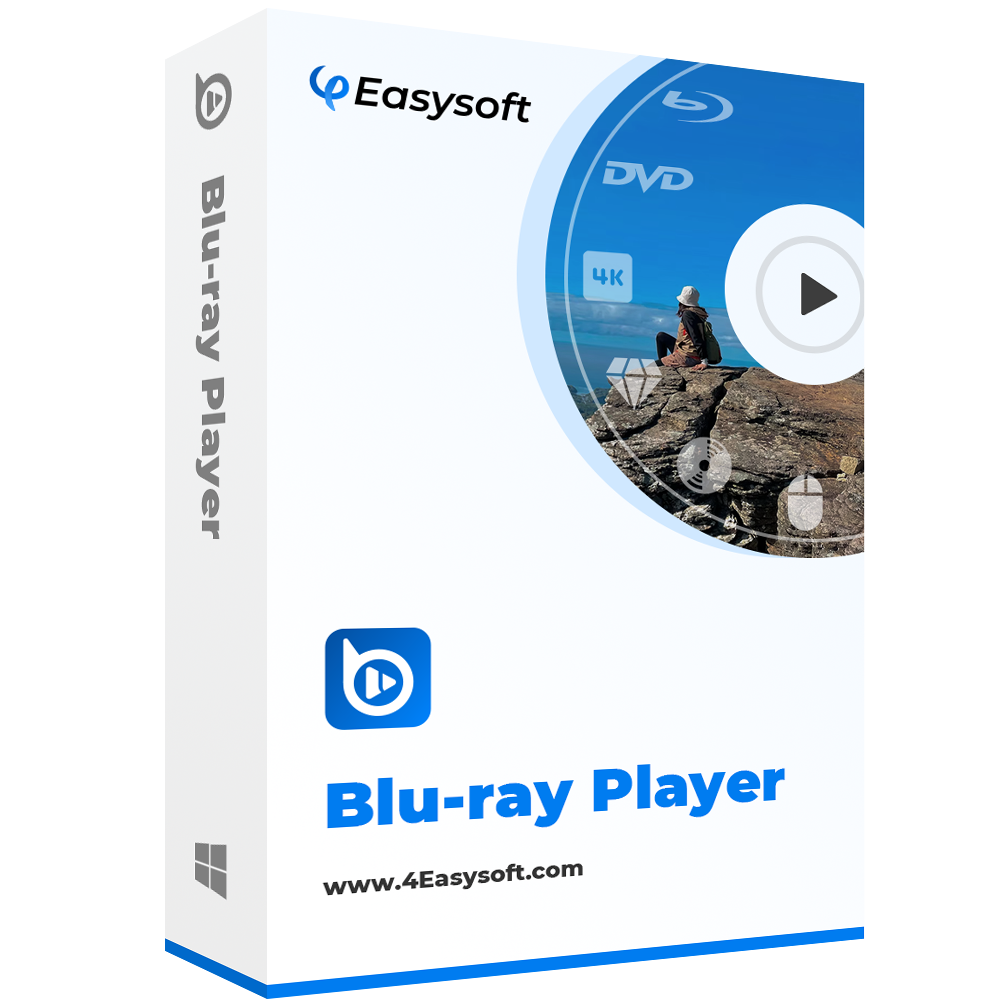 4Easysoft Blu-ray Player
Support customization settings to adjust your Blu-ray media file's audio volume, audio track selection, album arrangements, collections, and more.
Capable of providing you with a high-definition movie and cinema-like audio or sound.
Infused with a Blu-ray or DVD playback control feature that contains keys for forward, backward, play, stop and pause.
Offer a screenshot feature that you can use to capture your favorite image scenes on your DVD or Blu-ray movies.
How to use the 4Easysoft Blu-ray Player to play your Blu-ray or DVD movies.
Step 1Download and install 4Easysoft Blu-ray Player on your Windows or Mac. Launch the tool on your computer and insert your Blu-ray or DVD into your internal or external drive. Then, click the Open Disc button.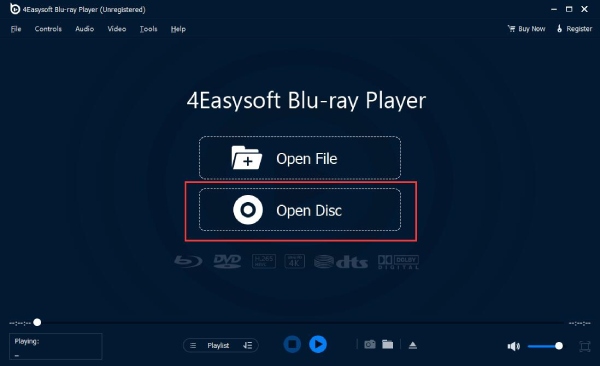 Step 2To import your media file to the tool and tick the Open button. After that, please wait for the tool to import the file, and it will then automatically load your Blu-ray or DVD and play it.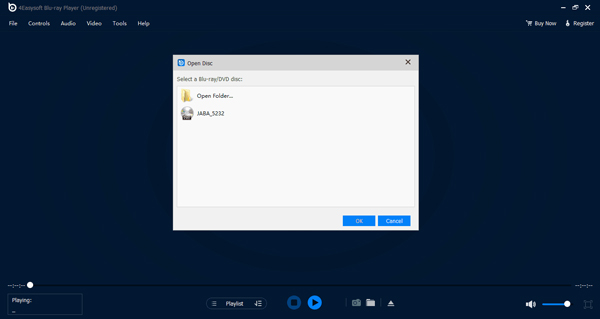 Step 3If you wish to add some adjustments to your Blu-ray or DVD movie file, you can refer to the tool's video settings by clicking the Video tab. You can change your video size, aspect ratio, cropping, etc.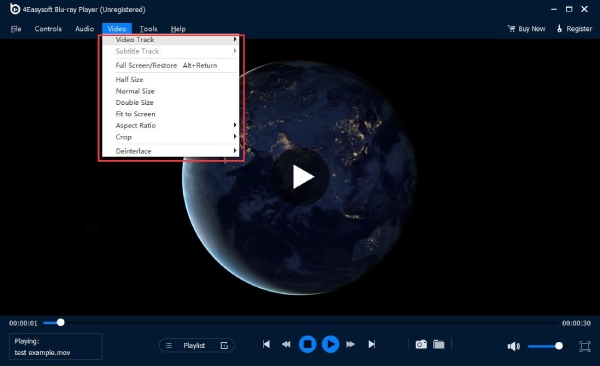 Step 4Lastly, use the tool's Video Control Panel to forward, backward, or adjust video volume. Aside from that, you can also take screenshots while watching your Blu-ray or DVD movie by ticking the Camera icon.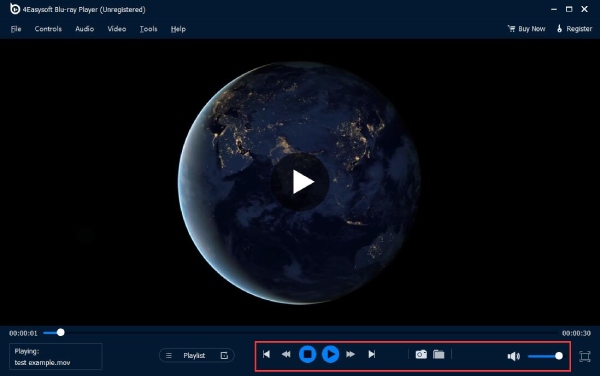 Part 4. FAQs about DVD and Blu-ray Discs
Why can't DVD players play Blu-ray discs?

You can't play Blu-rays discs on your DVD players because Blu-ray discs contain more video and audio information that a DVD player cannot read. There are what they call "pits," which are used to store information on a Blu-ray disc. These require a blue laser to read the information, whereas the DVD only uses red users.

Can I play 4K Blu-ray movies on a regular Blu-ray player?

Unfortunately, you can't. 4K Blu-ray is not directly compatible with a regular Blu-ray player. Because 4K disc files are encoded with HEVC, not MPEG 4 AVC, which a standard Blu-ray supports, to make it happen, you need to purchase a 4K Blu-ray player to make it happen. Alternatively, you can also use 4Easysoft Blu-ray Player as your 4K player for free; this tool supports playing 4K movies.

Is it possible to transfer DVD movie files to Blu-ray discs?

Yes, it is. You can rip DVD movie files and transfer them into Blu-ray. Blu-ray discs support MPEG-2, MPEG-4 AVC, and SMPTE VC-1 (WMV) formats.
Conclusion
This article mainly explore related information about Blu ray vs DVD. You have known the definitions, features, pros, and cons now. As you have observed, Blu-ray is the best on most points compared to DVD. Whatever it is, they can still provide a great movie experience. However, if you wanted to play either of the two without any compatibility issues or restrictions and not require you to spend suitable players to play them, then 4Easysoft Blu-ray Player would be the excellent pick. Download and use it as your Blu-ray and DVD player, and play your high-quality video now!
Related Articles