2 Workable Ways to Use Xbox One Play DVDs from All Regions
"Does Xbox One play DVDs?" Definitely, it can! However, you must consider the possibility that you may encounter problems with region code and "not reading" issues. Here you can eliminate them from hindering you in only two ways! Continue exploring this page to learn more about Xbox One-supported DVDs, how to play DVDs on Xbox, and the best and most effective way to play any DVDs on your Xbox One console.
Part 1. Can Xbox One Play DVDs? Get to Know Supported DVDs Here
"Can Xbox One play DVDs?" is one of those questions that Xbox users are wanted to be answered. As we all know, Microsoft developed the Xbox One gaming console as a medium to enable users to enjoy the gaming experience by linking it to their televisions. Moreover, Xbox One is also designed to support playing DVDs. Xbox One also comes with an optical disc drive, which enables you to playback DVDs and Blu-rays. "If the answer to this question "can I watch DVD on Xbox One?" is yes, then why do I still experience problems playing it?". Although you can play DVDs on Xbox One, you still have to consider some things to play DVDs on Xbox One successfully and without any problem.
These scenarios might be one of the reasons why people ask, "Does Xbox One play DVDs?" or is it even really capable of playing DVDs? Playing movies on your DVDs on Xbox One is not easy as inserting a DVD into it. There are instances you encounter errors such as "Xbox One not reading the disc, 0x91d70000 error code". Besides that, you also need to take note of the possibility that the Xbox One won't play your discs due to a region code. This scenario is more likely to happen if you purchase a particular DVD or Blu-ray disc that doesn't share the same region as your Xbox One.
To overcome those points mentioned above, you must purchase DVD or Blu-ray discs sold in the same region as your Xbox One console. Or, buy only those that are region-free discs. To support the "yes" answer to the question "Can Xbox One play DVDs?" more, explore how you can play DVDs on your Xbox One below.
Part 2. How to Play DVDs on Xbox One: Detailed Steps for You
To help you out on how to play DVDs on Xbox, please refer to the following steps below. Note that this step relates to the solution, particularly installing the Blu-ray Player application on your Xbox One.
Step 1Turn on your Xbox One console. Through your Xbox controller, press the Xbox Home button and select the Microsoft Store option.
Step 2In the search bar, type "Blu-ray," then look for Blu-ray Player and tick it.
Step 3Tick the Install button to download and install Blu-ray Player to your Xbox One immediately.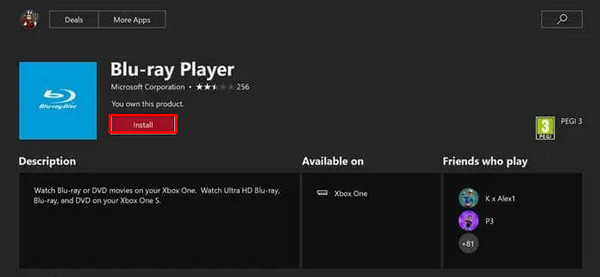 Step 4After that, insert your DVD on your Xbox One. Wait for the console to detect your disc, and then you can click the Play disc title to play the movie stored on your DVD.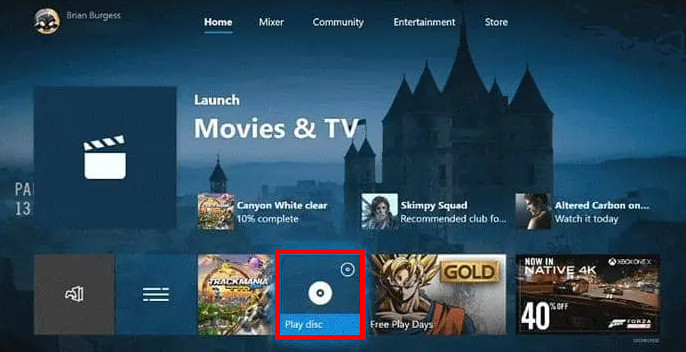 Part 3. The Best Way to Play All DVD Discs on Your Xbox One
To provide another way to answer your "Can Xbox One play DVDs?", continue reading this part. 4Easysoft DVD Ripper is the best way to play DVDs from all regions on your Xbox. This tool can rip DVDs into more than 600 formats and device presets. Moreover, this tool supports GPU acceleration responsible for ripping your movies stored on DVD to a digital format at a faster speed. Furthermore, you can ensure a lossless quality ripping process and video enhancement features. This tool can go through any Xbox issues of playing your best-loved movies saved on your DVD. To see if 4Easysoft DVD Ripper can answer your question, "Does Xbox One play DVDs?" Let's explore its features and steps to help you play DVDs to Xbox effectively.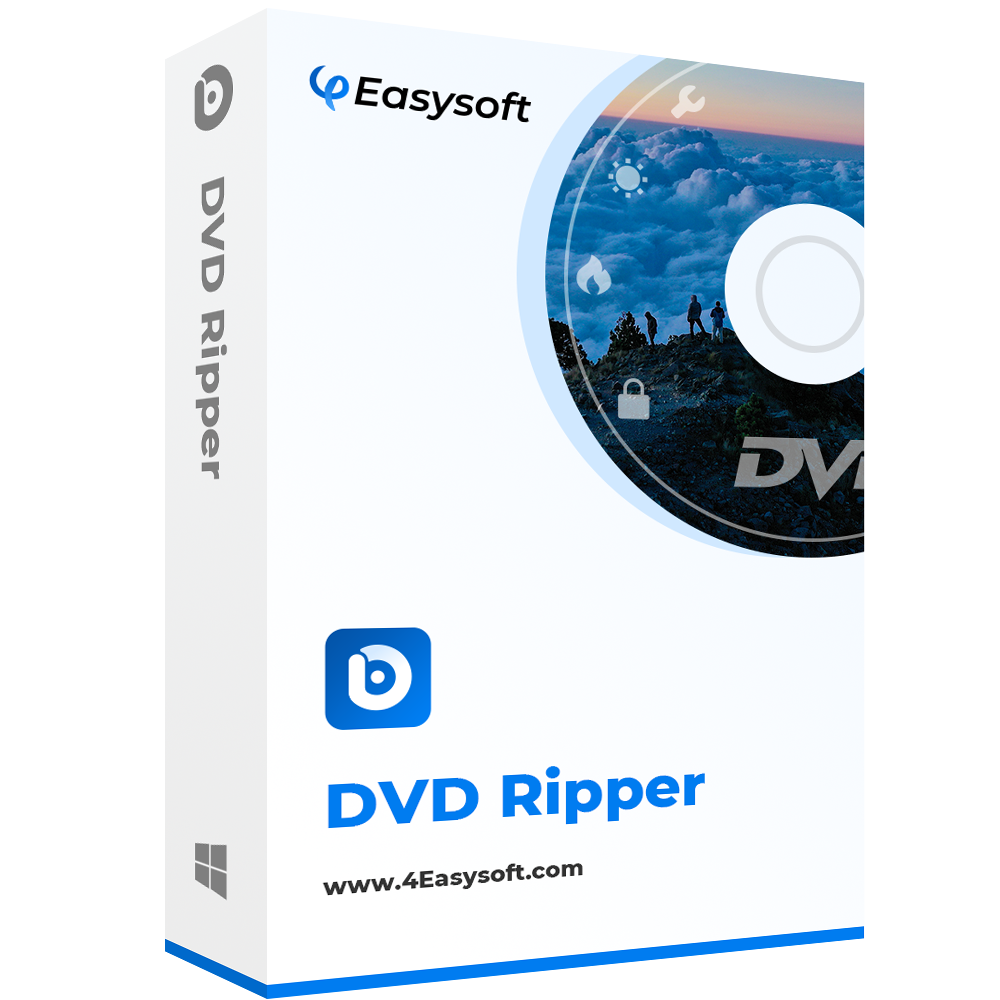 4Easysoft DVD Ripper
Capable of ripping and converting your DVD to a digital format at 60X faster speed.
Infused with the ability to add subtitles and audio tracks to your DVD video files.
Offer advanced video editing features to redefine your DVD video files.
Support video tweaking options to obtain the high-quality output.
Simple ways to play your DVD movie files on your Xbox one.
Step 1Visit the 4Easysoft DVD Ripper website to download and install the tool on your Windows or Mac. Launch the tool and click the Load DVD. Tick the Load DVD Disc from the three options. Don't forget to insert your disc into your DVD drive for ripping.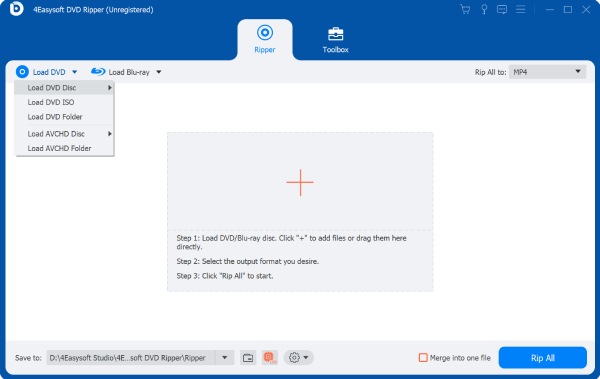 Step 2Select those DVD movie files you want to rip and convert by clicking the Full Title List button. Tick the checkbox in each title. Then, click the OK button.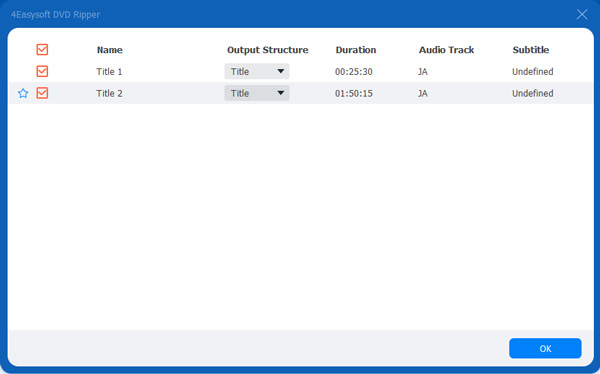 Step 3Then click the Rip to Video/Audio button. Under the Video tab, look for the MP4 format and tick it. To have the best movie experience using your Xbox One, click the Custom Profile button with the Gear icon and tick the High-Quality option. Once you are finished, click the Create New button.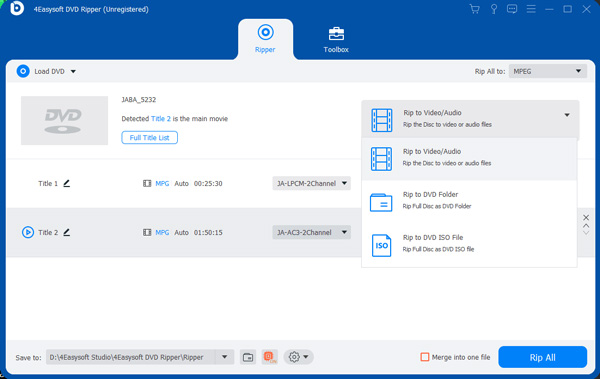 Step 4Lastly, after those setups, you can now convert your DVD movie into MP4 by clicking the Rip All button.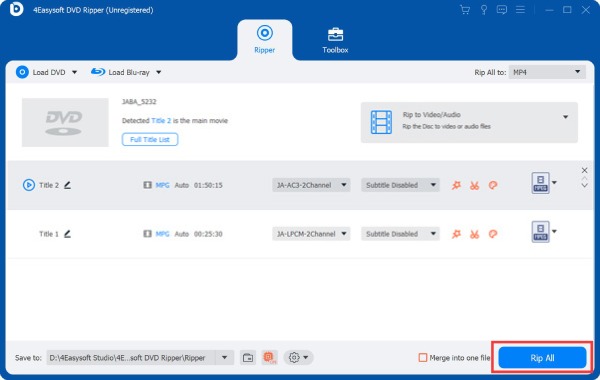 Part 4. FAQs about Xbox One Playing DVDs
Does Xbox One play normal DVDs or CDs?

You can play regular DVDs, CDs, and Blu-ray using Xbox One. However, in terms of CD, you can only play it on Xbox One console only if you have already installed the Groove Music App, which is available on the Microsoft Store of the Xbox One console.

Can I watch 4K DVD movies on Xbox One?

Unfortunately, Xbox One doesn't have the capability of playing 4K movies. You can only watch 4K movies with Xbox One S and X, which are made for streaming various videos and playing games in 4K.

Can I use Xbox One to play movies without the internet?

Yes, you can play DVD movies on Xbox One in an offline state. That's because the loading process need no internet. You can also transfer your DVD movie files by ripping them using and storing them on your USB drive. Then, you can insert your USB into your Xbox One console.
Conclusion
Now that you are not wondering about the question "Does Xbox one Play DVDs?" you can solve any problem that hinders you from playing DVDs on your Xbox One. As you can see, 4Easysoft DVD Ripper contains all the functionality of helping you play movies on your DVD to your Xbox One. Moreover, it is enriched with features and capabilities to acquire the best output and solve any hindrances with Xbox One play DVDs. Feel free to download and install it on your Windows and Mac OS now!
Related Articles