DVD to PS3: 2 of the Effective Ripping and Converting Tools for You
If you are looking for a way to play your DVD movies or a video file on the PS3 home video game console, then you have to pay attention to format compatibility and start ripping DVD to PS3. If you have no ideas about PS3 console, don't worry! This article will tell you the video format for PS3 and the best tool to convert DVD to PS3. Keep reading the detailed steps in the following.
Part 1. What is the Best Format When Converting DVD to PS3
If you want to convert your DVD video file into PS3-supported format, consider these formats when converting using a DVD ripper or converter. Mainly PS3 supports formats such as MPEG-2 and MPEG-4, MP4, AVI, DivX, and WMV. While on the other hand, DVDs encode video files in MPEG-2 format, which PS3 also supports. Other than that, you can also directly convert DVD files to MP4. Converting DVD to PS3 on Windows/Mac is easy; you have to pay attention to the PS3-friendly format, so you can avoid compatibility issues once you play or store it on your PS3. With the formats mentioned above, it is preferable to use MPEG-2 format for DVD conversion so that you can play DVD on PS3. To make the conversion process happen, you need a DVD ripper or converter, don't worry; this article covers the best tools you can use with their basic steps.
Part 2. How to Convert DVD to PS3 Easily with High Quality
It would be best if you didn't miss the chance to use this once you see it on the market. You can use this tool for you to be able to play DVD on PS3. This tool supports 600-plus formats that convert DVDs to Videos that come with 60X fast speed conversion. Moreover, this tool does not limit your DVD file imports; you can rip or convert your DVD files as many as you want. Furthermore, this tool offers you multiple video modifications without losing its quality. Above mentioned are all with DVD to PS3 conversion for Mac or Windows.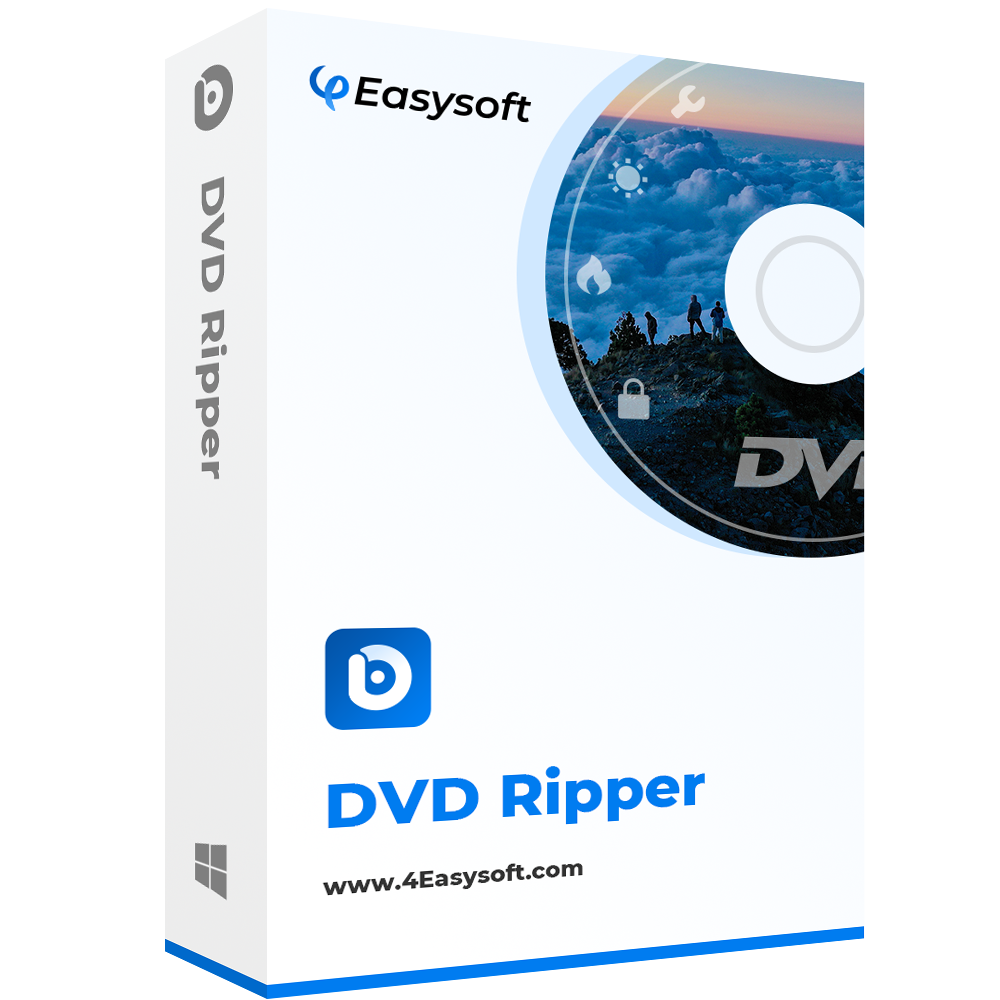 4Easysoft DVD Ripper
Convert DVD to PS3 with GPU Accelerated at 60X fast speed.
Infused with Video Enhancement features capable of upscaling resolution, reducing video background noise, reducing video shakiness, and more.
Compact with basic video editing capabilities such as rotate, crop, trim, etc.
Capable of converting and ripping batches of files from DVD to PS3.
Step 1Download and launch 4Easysoft DVD Ripper on your computer. To load the DVD files on the tool, click the Load DVD drop-down list button and tick whether Load DVD Disc, Load DVD ISO, or Load DVD Folder.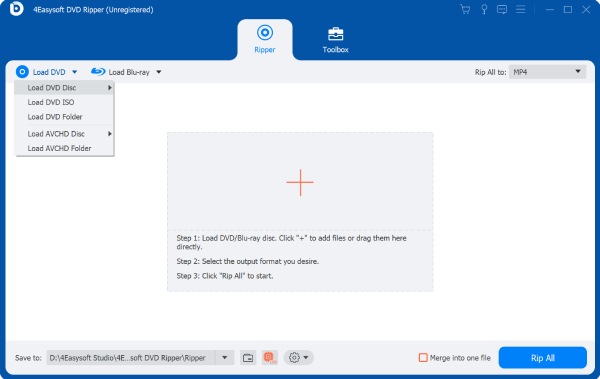 Step 2Suppose you want to convert a DVD to a PS3-friendly format like MP4. To select it, click the Rip All to drop-down menu button at the upper-right corner of the interface and tick RIP to Video/Audio option. Look and choose the MP4 file format as the output format of your DVD file.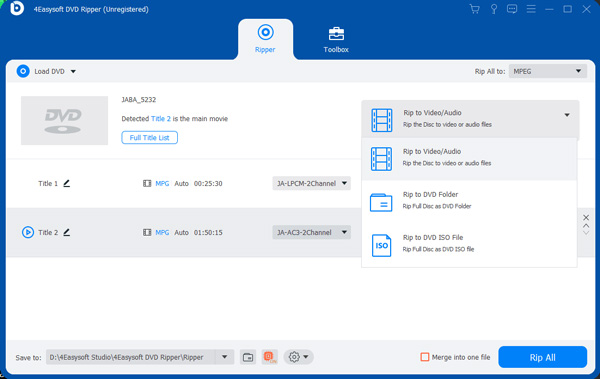 Step 3To start the conversion process of DVD to PS3, click the Rip All button at the bottom part of the tool's interface. Wait for the tool to finish the ripping or converting process to save your output file.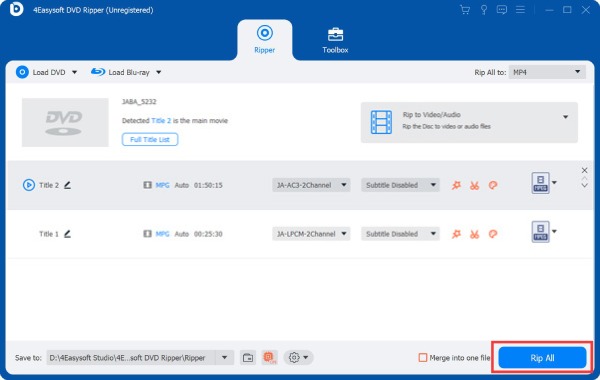 2. DVDFab DVD Ripper [Mac]
DVDFab DVD Ripper is another tool you can use to help you convert DVD to PS3 on Mac. This tool can also convert DVDs or compress their file size while maintaining quality. More than that, this is infused with customization settings, including resolution, quality, codec, etc. Aside from that, this tool covers PS3-friendly and other popular formats. Moreover, the tool has a 50X fast speed ripping and conversion process with GPU Acceleration only if you pay for its paid version. Furthermore, it is infused with basic video editing features such as crop, trim, etc., and simultaneously rips many files. Below are the easy steps to convert your DVD to PS3 on your macOS.
Step 1Search for DVDFab DVD Ripper using your browser to download and install the tool. To load your DVD file, you can Insert Disc, click the Add button with the plus icon, or you can also drag and drop the ISO file directly on the tool's interface.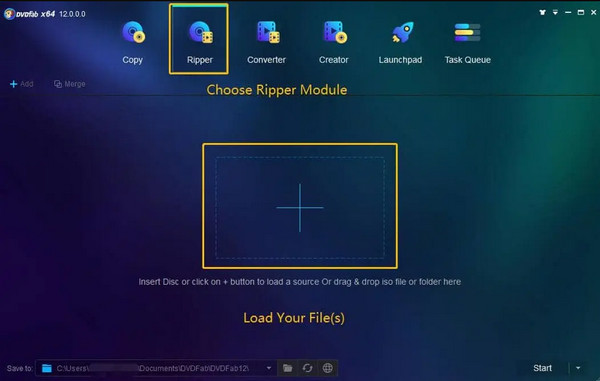 Step 2Once your DVD file is loaded, click the Choose Other Profile drop-down menu button and select Format. After that, tick the Video button, then choose MP4 as your output file format.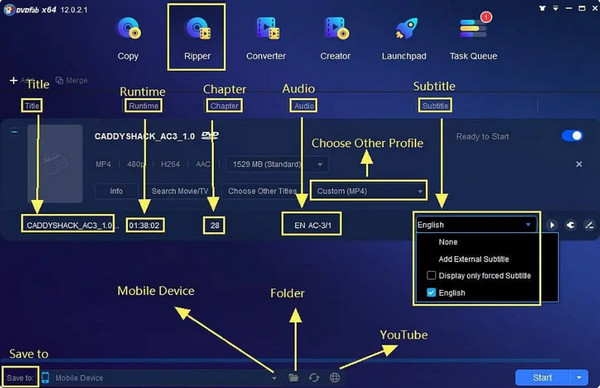 Step 3To start with the ripping and conversion process of your DVD to PS3 on Mac, click the Start button at the bottom-right of the tool.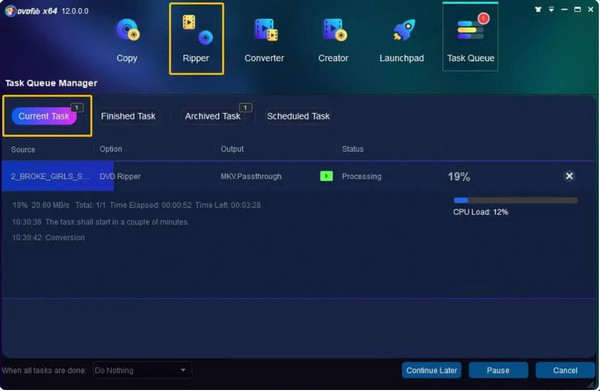 Part 3. FAQs about Converting DVD to PS3 for Smooth Playback
1. Is PS3 capable of playing MP4 format?

Yes, PS3 can play video files in MP4 format. However, you should also pay attention and consider some of its requirements. Videos or movies with MP4 formats should be encoded with the codec of AAC and MPEG-4 AVC H.264. Yes, they do have the same file format or container, but they are encoded differently.

2. Can PS3 play high-quality movies?

Yes, it can. Play Station 3 (PS3) is also capable of playing HD-quality movies. Moreover, PS3 initially supported 1080p/60 for playing Blu-ray, and now, it also supports 1080p/24 as well.

3. Why does PS3 is not reading discs?

PS3 are developed to read and play discs; if there are instances that you encounter scenarios like you couldn't play it on your PS3, then discs might contain damages such as scratches. Another thing is that your PS3 may not recognize the disc format; it can read and play discs if only they are sold in the same region as the console. You might also encounter issues regarding format compatibility, but in this case, you can solve it quickly by using a DVD ripper like 4Easysoft DVD Ripper. This tool can help you convert your DVD into PS3-supported format.
Conclusion
Now that you know the best and most reliable tools to rip or convert your DVD files to your PS3, it is time for you to use them. Again, choosing the most appropriate and applicable format is the crucial part you must do, and then use one of the featured tools in this article. Above all, 4Easysoft DVD Ripper would be the best pick if you are looking for a beyond ripping and converting DVD files and provides you excellent benefits through its offered features. Feel free to download and use it and convert your DVD to PS3 on Mac/Windows.
Related Articles: