Two Easy Methods to Play DVDs on PS3/4/5 with High Quality
Since PS3/4/5 accept both game discs and e-edition purchase, many people may wonder does PS3/4/5 play DVD videos? Yes! Of course! You can easily play DVDs on your PlayStation. But if you do not know how to play DVDs on PS4/PS3 or what formats are compatible with PS4/PS3. You can read this article to learn the detailed steps to adjust the settings and control the playback.
Part 1: Does PS4/PS3 Play All DVDs?
Can PS4/PS3 play DVDs? The answer is yes!
PS4/PS3 supports games, Blu-ray movies, DVDs, CDs, and other optical media. So typically, you can easily make PlayStation become a PS4 DVD player. But not all DVD formats are supported by PS4 and PS3.
Compatible DVD/Blu-Ray discs:
◆ Blu-Ray Disc: BD-ROM, BD-R/RE (BDAV, BDMV).
◆ DVD Disc: DVD-ROM, DVD-R/RW (video mode, VR mode), DVD+R/RW.
◆ Other Files: Hybrid disc, AVCHD videos, and CPRM files.
Incompatible DVD/Blu-Ray discs:
◆ CD, BD-RE, BD-R/RE XL, and DVDs that have not been finalized are not supported by PS4 and PS3.
◆ Besides, 8cm discs, non-circular discs, and discs that are cracked or deformed are not recommended.
But do not worry about your PS4 won't play DVD formats that are incompatible, this article will give you two ways to teach you how to play DVD on PS4 and PS3, even the unworkable formats.
Part 2: Detailed Steps to Play DVDs on PS3/4 [All Formats Supported]
Does PS4/PS3 play all DVD formats? Actually no. PS4 or PS3 could not play all DVD formats. But you can easily use 4Easysoft DVD Ripper to convert the incompatible DVDs into digital video, and then play digital format video on your PS3/4/5. And supported digital formats by PlayStation are MP4, WMV, AVI, MPG, and TS.
With this software, you can easily convert your DVD into various digital formats without quality loss. There will be ensured that you will enjoy the same experience of watching DVDs after converting into digital formats played on PS3/4/5.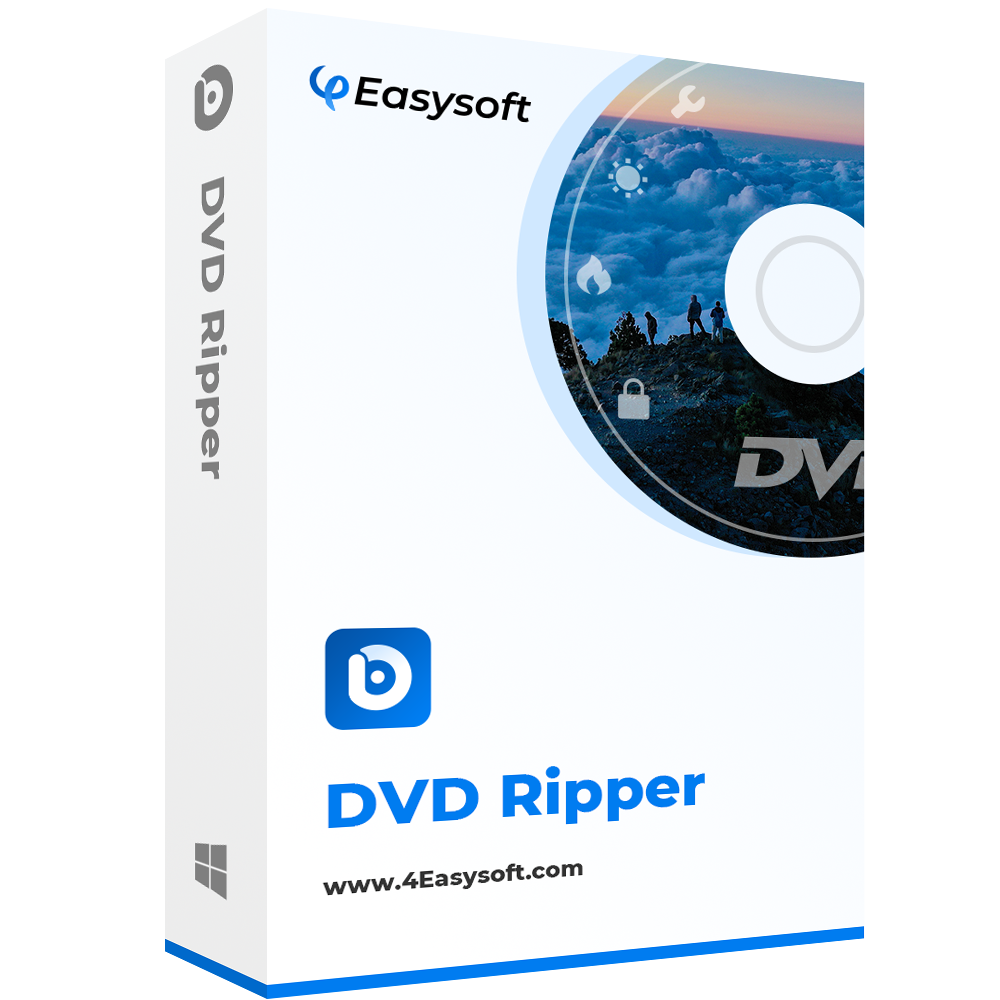 4Easysoft DVD Ripper
Convert DVD videos to PS4/PS3 compatible formats and play them without any trouble.
Make a quality lossless MP4, WMV, AVI, ISO, and MPG of the original DVD.
Convert large DVD to videos quickly with GPU accelerated at 60X fast speed.
Compress the video size but preserve the original quality, and edit the DVD videos with effects.
There are the detailed steps to tell you how to play incompatible DVDs on PS4/PS3:
Step 1When you launch the program, click the Load DVD button to choose Load DVD Disc, Load DVD ISO, or Load DVD Folder from the three options.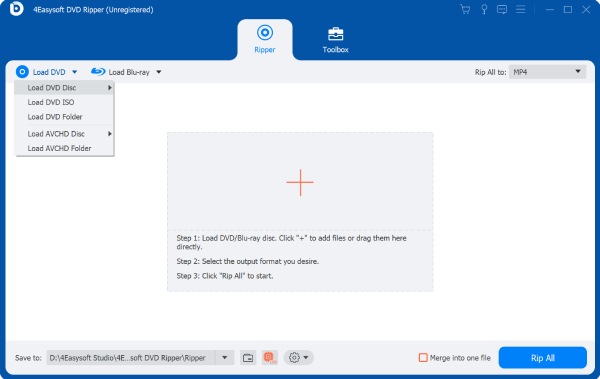 Step 2If you want to rip the DVD to the digital format, click the Rip to Video/Audio button and choose the output format at the upper right side of the program next to the Rip All button. Then, you can choose to convert DVD to the desired formats, like MP4, WMV, AVI, etc.
Step 3After converting DVD to digital formats, you can copy that video to a USB flash disk and insert it into PlayStation to play DVDs on PS3/4/5.
Part 3: How Does PS4/PS3 Play DVD Discs Directly
There is no trouble playing most DVDs on PS4 and PS3 directly. And it is very easy to do it, but you have to make sure that your PlayStation is connected to Wi-Fi, and the DVD format is supported by PlayStation.
Here are simple steps to tell you how to play DVDs on PS4/PS3 directly:
Step 1Turn on your PS4 or PS3 and make sure the device is connected to the Internet. Go to Settings to choose your Wi-Fi network and set up the Internet connection. Then follow the instruction to configure the network settings.
Step 2Once you launch the console of PS4 or PS3, the PlayStation Pro system must enable the disc playback feature over the Internet to play DVDs. There is only one chance to enable the feature to play DVDs on PS4.
Step 3Then there is a dynamic menu pops up, which enables you to locate the movies on the disc and press the Play button to play the DVD on PS4. Now you can enjoy the DVD movies on PS3 or PS4.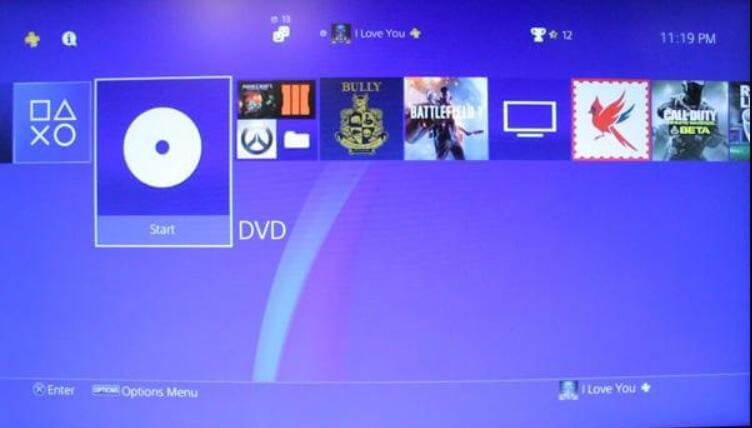 And here is a tablet to tell you how to use your gamepad to control DVD playing:
| | |
| --- | --- |
| Pause/Play | Press the X button |
| Fast Reverse/Fast Forward | Press the L2 button or the R2 button during playback. The speed changes each time you press the button. Press and hold the button to fast reverse or fast forward until you release the button. |
| Frame Reverse/Frame Forward | Press the L2 button or R2 button while playback is paused. |
| Slow Reverse/Slow Forward | Press and hold the L2 button or the R2 button while playback is paused. |
| Stop | Press the PS button. You can stop playback and return to the home screen. When the disc is capable of continued playback, the next time you play the disc you can resume playback from the point where you stopped. |
| 15 Seconds Back/15 Seconds Forward | Flick left or right on the touchpad. |
| Jump | Press the touchpad button, and then drag left or right. |
Bonus Tips: The best way to watch a DVD when PS3/4 won't play it anyway
After reading the tutorial parts above, you know there are some formats not supported by PlayStation. And if you don't want to burn a DVD into digital format, you can use this 4Easysoft Blu-ray Player to enjoy your DVD and Blu-ray disc on Windows/Mac. There are no other unnecessary steps, all you need to do is to insert your discs and open Blu-ray Player to watch.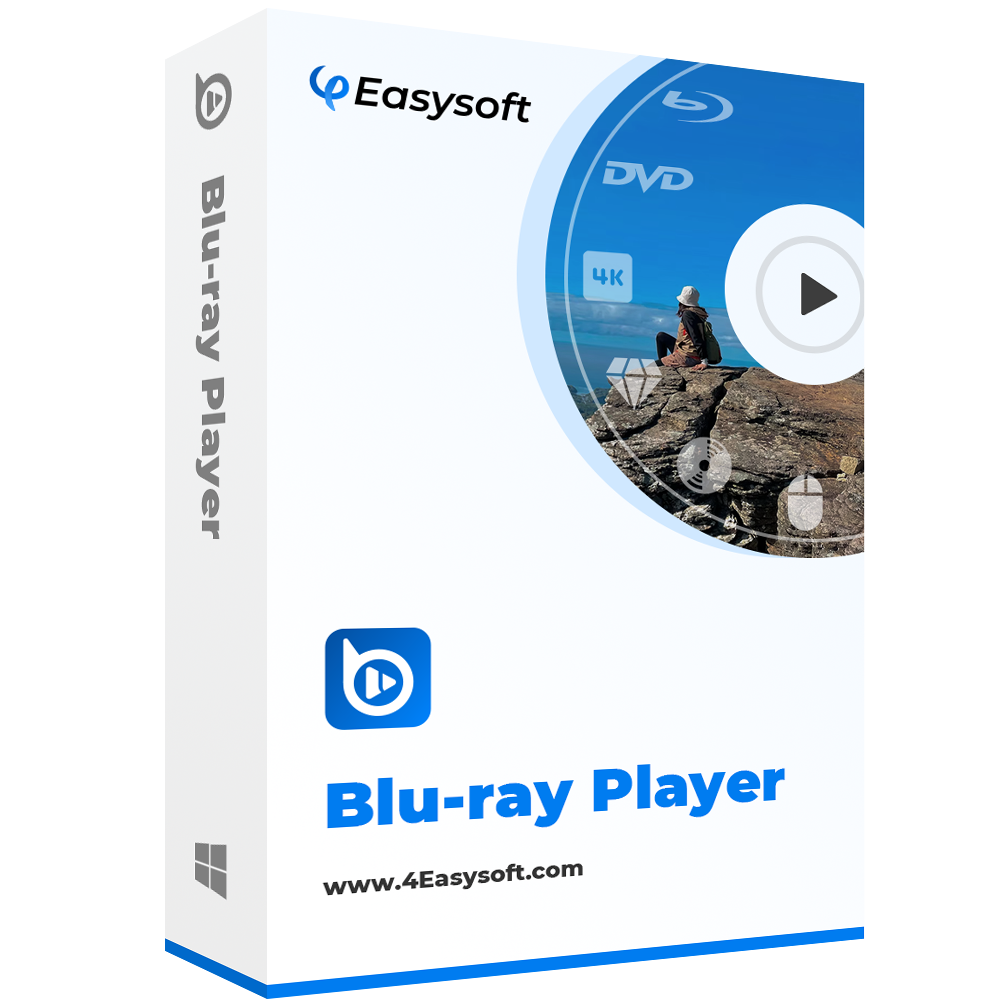 4Easysoft Blu-ray Player
Support Dolby Digital Surround, DTS, and Hi-Res Audio.
Play DVD, Blu-ray, and media file with excellent quality and smoothly.
Provide a simple but powerful interface to make users convenient.
Have AI technologies to enhance the quality of video and bring you lossless audio.
Part 4: FAQs about PS4/PS3 Plays DVDs
Does PS3/4 support 4K DVDs?

PlayStation only supports 4K videos and images instead of game and DVD Discs. As far as gaming is concerned, there are no PS4 games available in the 4K format. Almost all the games play at 1080p full HD at 60fps.

Does PS4 support MP3 playback?

PS4 does support playback of MP3 files but with restrictions. There is a new USB player with Update 2.0. To play your tracks, simply put your MP3 files on a USB drive and plug the same into the USB port of the PS4. You will then have access to a mini music player with controls to play, pause, track skip key, and volume control. PS4 does not allow transferring USB music to PS4 though.

How to Play DVDs on PS4/PS3 without the Internet?

For playing DVDs on PS4 without the internet, you still need to rip DVDs into digital formats. And the steps to use the 4Easysoft DVD Ripper are illustrated in part 3. And remember to burn DVDs into compatible formats, but you also can convert the format into MP4 for PlayStation.
Conclusion
Does PS4/PS3 play DVD? You must know the answer after reading this article. There are two ways introduced to you. You can directly play DVDs on PS4/PS3, and if your PS4/PS3 won't play DVDs, you can also use 4Easysoft DVD Ripper to burn DVDs and then use a USB flash disk to play on your PlayStation.
Related Articles