Convert, Edit, and Enhance Videos/DVDs in Just One Tool [Tutorial]
Whether you have ripped a DVD or downloaded movies on your device, you want to make it compatible with other devices or more smaller to save some storage space. Luckily, you can convert any video and DVD disc in one tool - 4Easysoft Total Video Converter. In this way, you don't need a desired video player or specific device to play videos or DVD discs. What's more, you can edit, compress, and enhance the quality of the converted videos easily. Keep reading and learn more details to convert videos and DVDs in one tool.
Part 1: All-in-one Tool to Convert Video on Windows/Mac
4Easysoft Total Video Converter is an all-in-one software holds all one's needs for video and audio converting and editing. Of course, When it's said editing, it includes editing formats and video effects that can make all your files compatible with other devices. 4Easysoft Total Video Converter enables you to convert videos to MP4, MKV, MOV, WMV, AVI, HEVC MP4, WebM, VOB, F4V, XVID, and 600+ more supported file formats.
When you have 4Easysoft Total Video Converter on your device, you don't have to download and install many tools on your Windows or Mac to convert videos to meet your need. Other functions of this powerful software you need to know: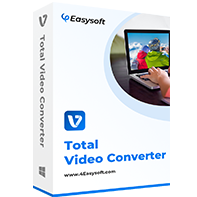 4Easysoft Total Video Converter
Provide popular device presets including Apple, Samsung, LG, Huawei, TV, etc.
GPU acceleration enable you to convert and edit videos at 60x faster speed.
Custom profile to edit video encoder, frame rate, resolution, bitrate, and quality
Powerful editing functions to add effects, make MV, create video collages, etc.
Step 1Free download, install, and launch 4Easysoft Total Video Converter on your Windows/Mac. Click the Add Files button on the main interface to convert videos in one tool. You can also drag and drop a batch of videos to add.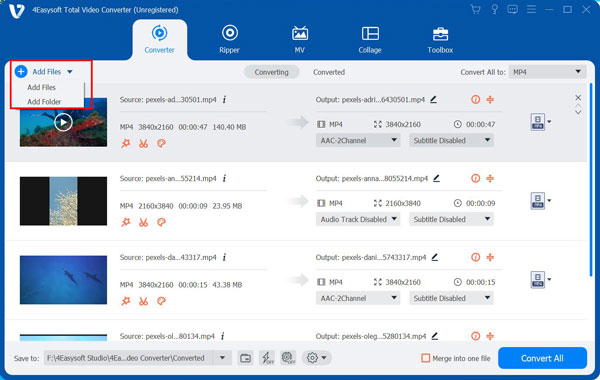 Step 2Click the Convert All to dropdown list at the top-right corner and choose the Video list in the popping-up window. Then, you can convert videos to the desired format through this tool. You can also click the Custom Profile button to change the video encoder, quality, resolution, and frame rate to keep the high quality.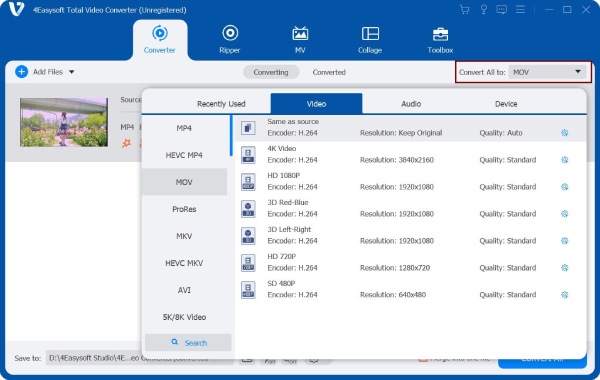 Step 3After that, save all the settings and go back to the main interface. Choose the desired storage path and click the Convert All button to start converting videos in this powerful tool.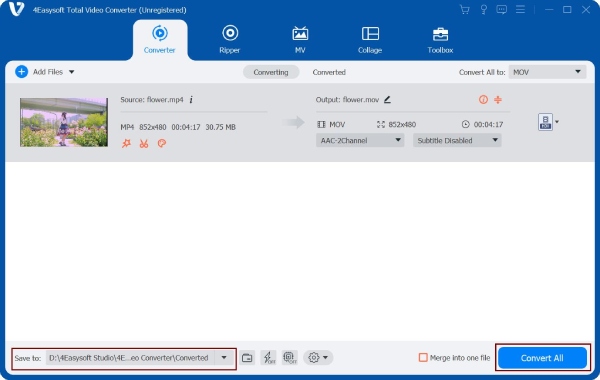 Moreover, when using the software to convert, merge, crop, or simply edit video files, you can ensure that AI technologies will improve video quality, resolution, and brightness. Moreover, when using the software to convert, merge, crop, or simply edit video files, you can ensure that AI technologies will improve video quality, resolution, and brightness.
Part 2: How to Convert DVD Discs Easily with the Professional Converter
When converting DVD to MP4 or other digital formats, you need to extract ISO files first to be able to convert them to other formats. 4Easysoft Total Video Converter (compatible to Windows and Mac) leads the number one method to extract and convert any file format. Whether you only want to rip DVDs or convert them to more compatible formats, you can choose any popular file format, while this tool allows you to adjust and change video outputs. Follow the instruction below on how to convert DVD videos using 4Easysoft Total Video Converter:
Step 1Launch 4Easysoft Total Video Converter to start converting DVD to digital formats. Insert the desired DVD on your device. Click the Ripper tab from the top menu of the interface. Then, click the Load DVD button on the left part of the interface to load the disc into the software. Choose which device you want to obtain the ISO file.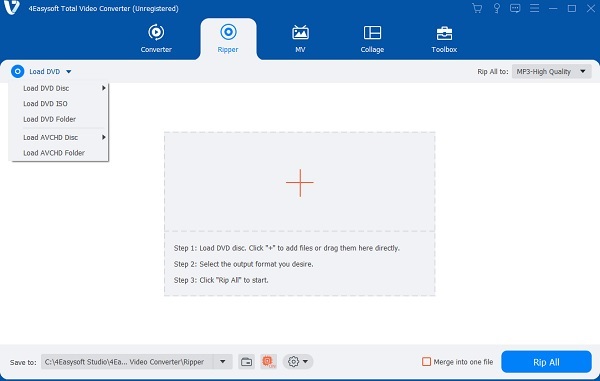 Step 2When the popup notification appears, confirm that you want to convert the DVD to digital formats instead of MPG Lossless. Click the OK button to confirm. The process includes enhancing the video quality via editing metadata. If you wish to have subtitles and change the audio channels, click the drop-down lists.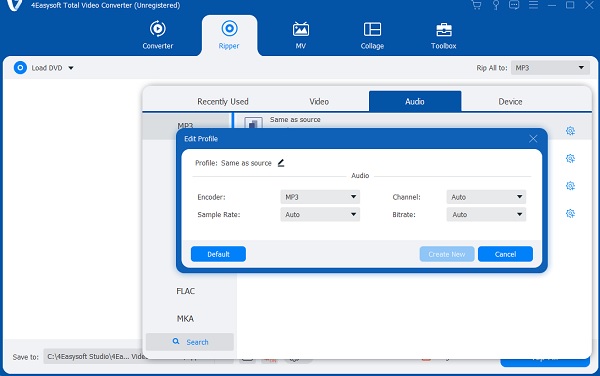 Step 3Once done, click the Rip to Video/Audio button to rip the DVD to MP4, then click the Rip DVD ISO File option. As everything is set up, click the Rip All button at the right bottom part of the interface. Monitor the converting process for successful conversion.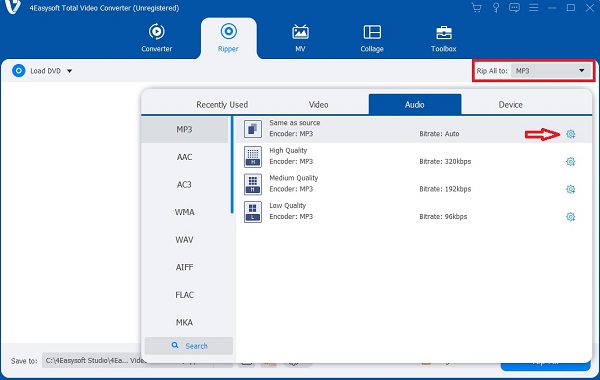 Part 3: Additional Features of 4Easysoft Total Video Converter
As an all-in-solution tool, 4Easysoft Total Video Converter brings you the essential features to make your video files more appealing. Aside from converting videos and DVDs effectively, this software offers you different ways to minimize file sizes, adjust playback speed, and correct video color. In this part, you will learn other features of the most useful software you can find on the market.
1. Make MV
The MV function is a delicate way to make your video compilations for important events such as Christmas, weddings, Thanksgiving, etc. After you convert videos or DVDs to compatible formats, you can customize the aspect ratio, adjust audio volume, keep the original audio track, and apply the Fade In & Out effect to your video. When you export and save the created video, you can choose the desired format, resolution, quality, and frame rate for the best output quality.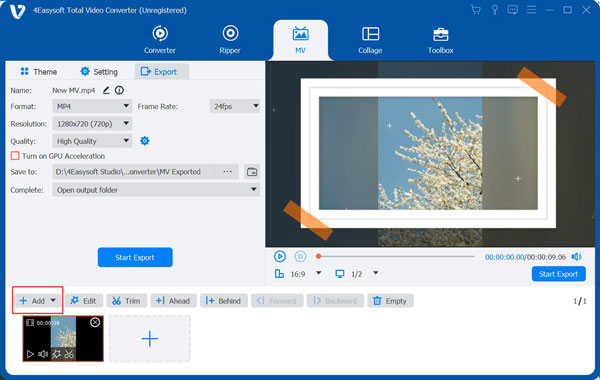 2. Collage
This unique function of 4Easysoft Total Video Converter enables you to make types of videos, including streaming, broadcasting, and entertainment purposes. With its broad collections of frames, borders, and colors, you will surely create video collages and make the best presentation that you can share on social networks. It provides necessities such as trimming, cropping, rotating, and applying filters, as well as disabling and changing audio tracks. You can turn on the GPU Acceleration when you export the converted and created video.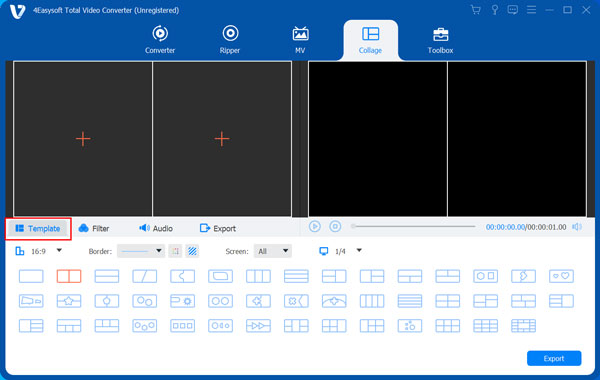 3. Toolbox
All the popular tools you can see in the market are available on 4Easysoft Total Video Converter's Toolbox. In this menu, you can find various compelling features to change the videos instead of only converting videos and DVD formats. Read the following description for a more elaborative explanation for every element.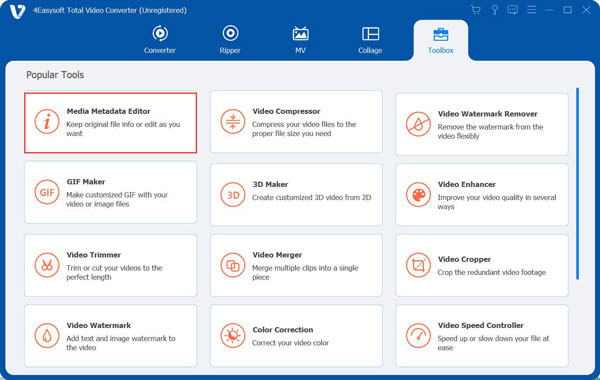 Video Compressor
Compresses large files to the smaller file sizes with the best quality. You can even compress videos for emailIt allows you to preview the output so you can adjust other matters if necessary. Moreover, you can also convert the video format and change the video format, resolution, bitrate duration, and more.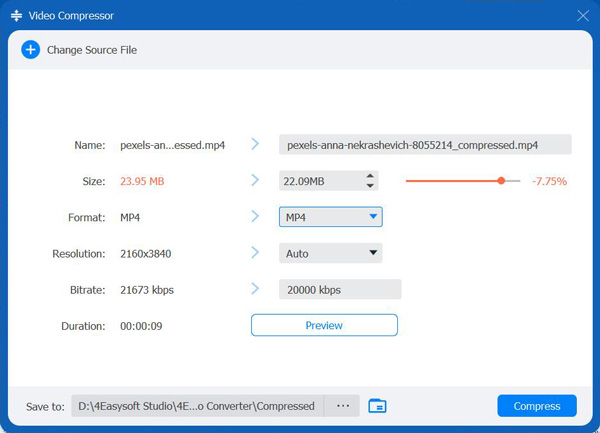 Video Watermark Remover
Do you have a video, but it is ruined because of a watermark? With the Video Watermark Remover, you can remove unnecessary watermarks from your video files. The best part of this feature is it enables you to remove watermarks in multiple aspects of a video file.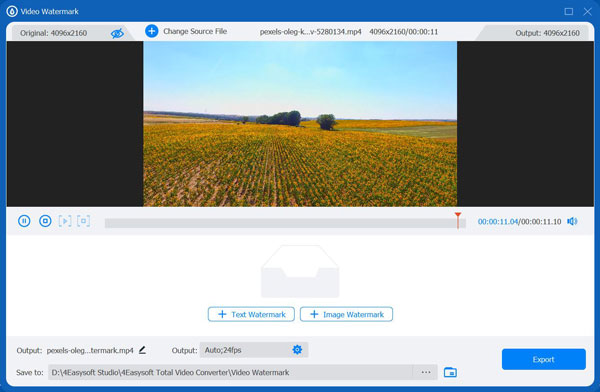 GIF Maker
Create a GIF from the GIF Maker provided by 4Easysoft Total Video Converter. This fantastic feature allows you to turn videos and photos into GIFs. The video editor is also accessible on the window, so you can edit the video file before converting video/DVD to GIF.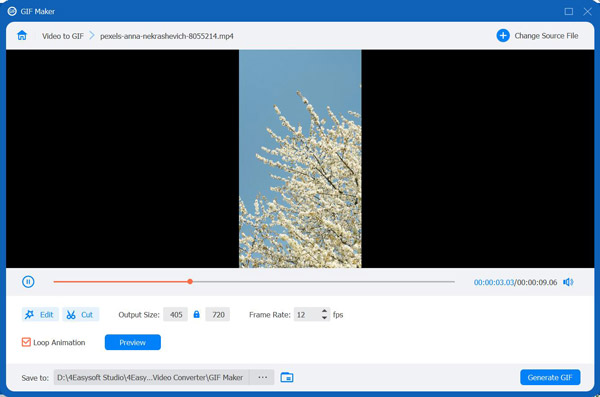 Video Enhancer
Upscaling resolution, removing video noise, optimizing brightness & contrast, and reducing video shaking are several ways to enhance video files. Just by ticking the checkbox, you can have improved video files. You can also preview and make adjustments.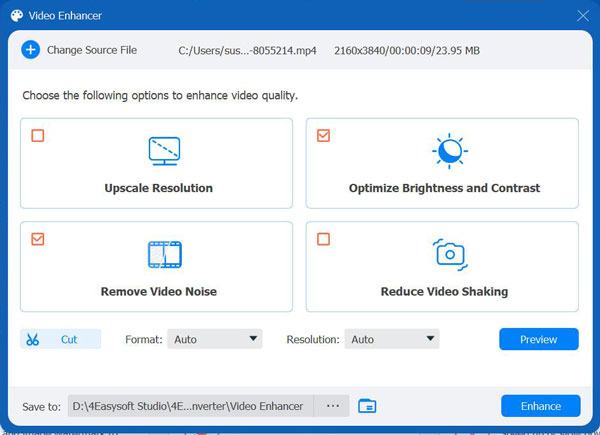 There are more tools you can acquire from the Toolbox menu, and every single one of them effectively improves any video file. Aside from converting DVD to MP4, it is guaranteed to make high-quality videos with 4Easysoft Total Video Converter.
Part 4: FAQs about Converting Video and DVD Disc
Is my DVD damaged when ripping?

Ironically, ripping is not like destroying the DVD. When you convert a DVD to digital format, it is a process to make digital backup files from the physical media. Once you have the files, you are free to convert them to more compatible formats.

What is the best format to convert DVD videos?

To save storage space, you can convert DVDs to MP4/H.265. It will help you minimize an original 9GB DVD movie to 1GB lesser without losing too much quality. Moreover, you can share a converted DVD to MP4 with your other devices because almost portable devices support MP4.

How to convert video to DVD?

If you want to burn your videos to DVD disc and save your memories, you should rely on 4Easysoft DVD Creator. It will help you turn digital formats to DVD/Blu-ray/ISO files.
Conclusion
It is easy to convert DVD videos to MP4 with the right tool. Since 4Easysoft Total Video Converter supports almost all popular video and audio formats, it is one of the most recommended software to convert videos and DVDs for you. Download it to your Mac or Windows now and have a free trial on it. If you have more questions, please contact us now.
Related Articles