How to Delete Duplicate Photos iPhone with Three Quick Solutions
Accidentally save multiple copies of your image taken on your iPhone or snapped multiple pictures at once? And then you want to delete duplicate o photos on your iPhone. With those duplicates in your library, the storage space of your iPhone can be quickly full, both your device and iCloud. And now, you're looking for ways to find and delete them easily within a couple of clicks. Luckily, this post will give you all the solutions you need to quickly free up your iPhone's storage space. Learn how to solve the 'delete duplicate photos iPhone" problem in the following parts and see which stands out.
Part 1: How to Find and Delete Duplicate Photos on iPhone [iOS 16 Only]
Apple's new iOS 16 lets you quickly detect all duplicate photos and delete them within clicks. A new feature, Duplicate Detection, helps you organize all shots and cleans up your photo library. Furthermore, this duplicate feature is handy as it doesn't let you have the pain of deleting and finding all duplicate ones one by one.
You can find this in your Library under the Utilities section. If ready, here's how to solve the delete duplicate photos iPhone problem with iOS 16.
Step 1Go to your iPhone's Photos app, then tap Albums. Scroll down until you see Duplicates under Utilities.
Step 2Go to your iPhone's Photos app, then tap Albums. Scroll down until you see Duplicates under Utilities.
Step 3Tap Select at the top right corner of your screen, then tap Select All to merge all.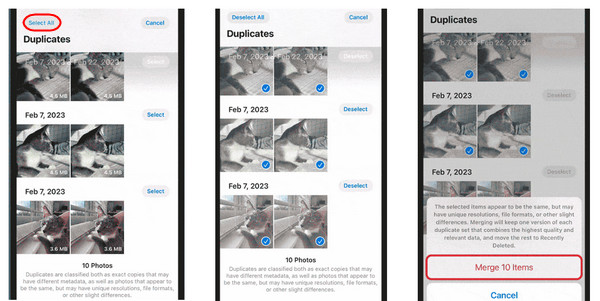 Step 4Once you've decided to delete them all, click the Merge [number of items] below, then confirm the action by hitting the Merge [number] items.
Part 2: Can You Delete Similar Photos in Batch on iPhone?
Duplicate Detection is introduced in iOS 16 and can only be seen on iPhones that run in iOS 16. So, how can you solve your delete duplicate photos iPhone problem without using the same feature? If you prefer using something other than an app to help, deleting similar photos one by one is time-consuming. That's where deleting similar photos in a batch becomes essential, especially if you have many duplicated photos. But this way may not help you to delete photos from your iPhone but not iCloud. The process is straightforward, like how you delete multiple photos at once. Here's how:
Step 1Head to the Photos app on your iPhone. Then go over to your Library.
Step 2Tap Select at the upper right corner, then scroll through your photos and locate all the duplicated ones.
Step 3Tap each photo you wish to delete on your iPhone and ensure a blue check icon appears in every corner of your selected photos.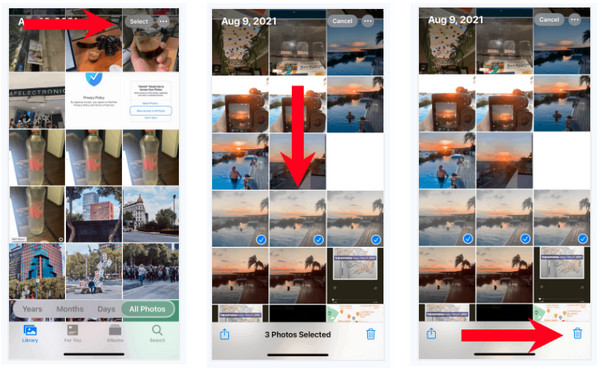 Step 4When done selecting all the duplicate photos, tap the Delete button with a Trash icon on your screen. To confirm, hit the Delete [number] Items on the popup menu below.
Part 3: One-click to Delete Duplicate Photos on iPhone 14/13/12/11
After learning the easy way to delete duplicate photos on iPhone with the feature in iOS 16 and the default way of deleting photos in batch, it's time for a quick fix! For a one-click solution to fix you delete duplicate photos iPhone problem, use a tool as powerful as the 4Easysoft iPhone Cleaner. This program lets you erase all unnecessary data, like duplicated photos, on your iPhone. It scans your iOS devices in-depth and detects all data, then chooses all your desired ones to remove. This allows you to free up storage space and helps your iPhone's performance.
Other than that, it detects all unused applications that take up much of your storage space. This iPhone Cleaner deletes all of them in batch as well as the cache files. As a result, the space they occupy on your iPhone will be free, bringing you nothing but convenience. Your iPhone will not get hot again with low storage use. Below are some great features you will see within the program and how effective it is in solving your delete duplicate photos iPhone issue.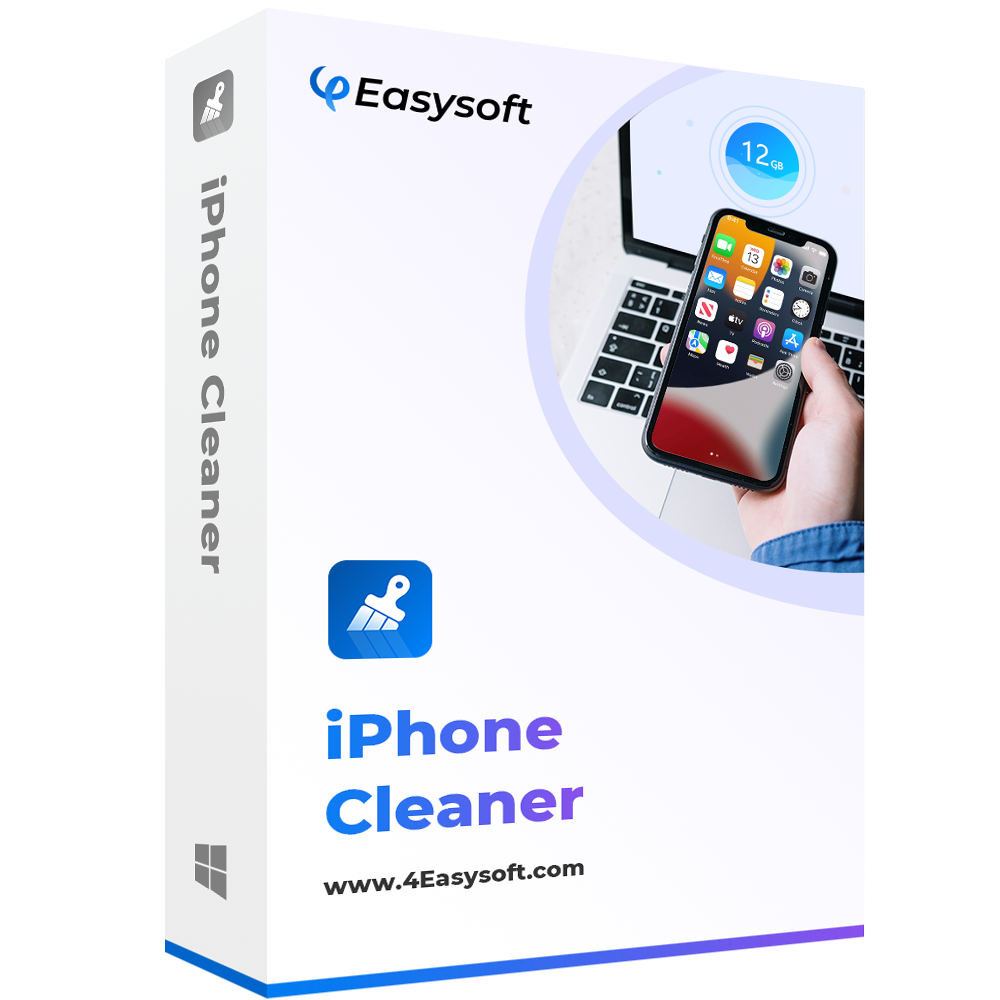 4Easysoft iPhone Cleaner
Scan iPhone and classify all data, such as photos, videos, apps, etc.
Provide three erasing levels that come with cleaning intensities and security.
Preview all files to select the ones you want to delete and keep.
Support all models and versions of all iOS devices, like iPhone, iPad, and iPod.
Step 1You must launch the iPhone Cleaner first on your computer. Then, connect your iPhone to it through a USB cable. On your iPhone, tap on the Trust button in the notification.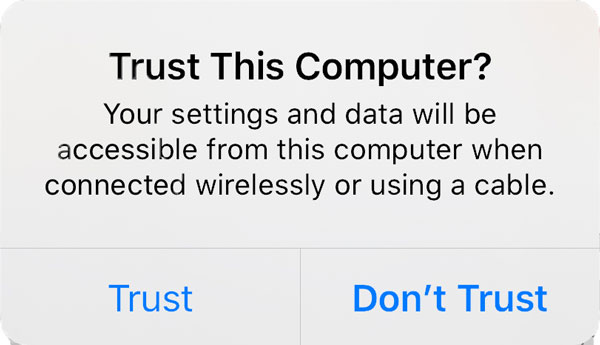 Step 2After the program detects your iPhone, click on the Clean up Photos button to scan all photos of your iPhone. If you have many photos, the scanning process may take a while.
Step 3Instead of seeing all your photos after the process, two cleaning modes will appear: Backup & Compress and Export & Delete. Choose one.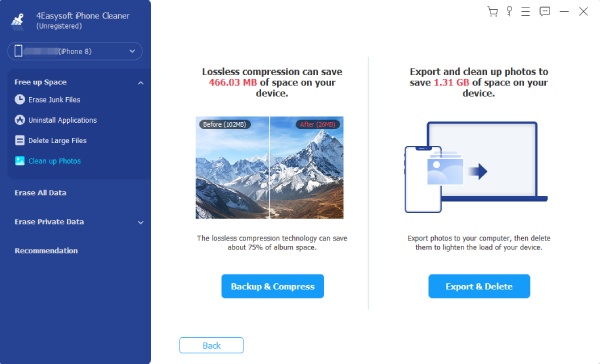 Step 4Suppose you select Backup & Compress, the quality of your photos will be affected and will be saved in the storage room.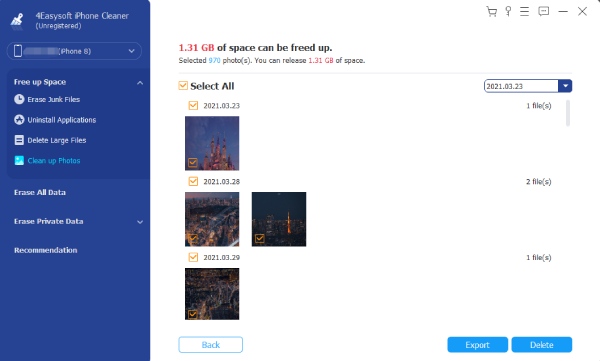 Part 4: FAQs about How to Delete Duplicate Photos on iPhone
Does deleting duplicate photos affect the original one?

No. You're deleting duplicate photos of the iPhone to free up more storage space. Deleting duplicate ones does not delete the original ones; it goes the same with deleting the original picture.

Will the duplicate photos stay in the Recently Deleted folder?

Yes. All the duplicate photos that have been removed will go to the Recently Deleted album. Like other photos and videos, they will stay there for 30 days.

Why are my photos duplicated suddenly?

You might have been using the two methods of importing photos, like Photo Stream and manual saving, or you're using iCloud photos and manual importing. Or, it might have been because you didn't realize you take multiple shots at once.
Related Articles: