How to Delete Search History on iPhone and Protect Your Privacy
The browser comes with the ability to store all of your browsing histories. This ability is made for you to access your recent browsing histories easily. But, this also welcomes privacy breaches and causes uncommendable browsing experiences. Fortunately, you found this article! This post will show you how to delete search history on iPhone from different browsers, recommend a great tool to delete search history, and a way to block Cookies. Begin to learn them below!
Part 1. How to Delete Search History of Different Browsers on iPhone
We will start your journey by exploring various methods on how to delete search history on iPhone in different browsers. We will show simple ways yet proven effective to clear browser data on Safari, Chrome, and Firefox. Let's start with Safari. Safari browser provides quick and easy-to-access ways to clear browser search history. To do this, here are the simple steps on how to clear Safari history:
Step 1On your iPhone, open your Settings app.
Step 2Browse down and tap the Safari browser.
Step 3Next, tap Clear History and Website Data. Then, confirm your selection by tapping Clear History and Website. Once this option is grayed out, your Safari search history is already deleted.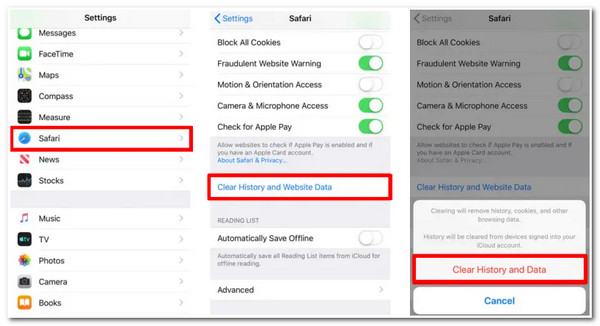 Otherwise, If you use Chrome as your iPhone's browser, it also comes with easy-to-understand options to clear all your browsing history. Here's how to delete search history on iPhone in Chrome browser.
Step 1Launch the Chrome browser application on your iPhone.
Step 2Tap the three dots in gray at the lower right corner of Chrome's interface.
Step 3Then, on the menu, tap the History option. After that, select Clear Browsing Data in the lower left corner of the screen.
Step 4Confirm your selection by tapping the Clear Browsing Data button.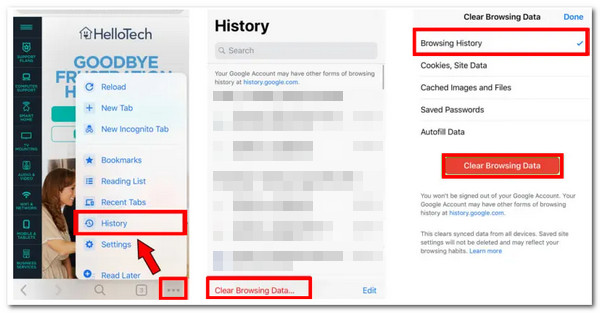 Last, but not least is the Firefox browser. Just like Chrome and Safari, Firefox also supports easy ways to eliminate search history. Follow these steps on how to delete search history on iPhone through Firefox:
Step 1Visit the Firefox browser on your iPhone and tap the Menu with the three horizontal lines icon located at the lower right corner of your screen.
Step 2Then, tap the Settings option and select Data Management.
Step 3After that, tap the Clear Private Data button and select the OK button for process confirmation.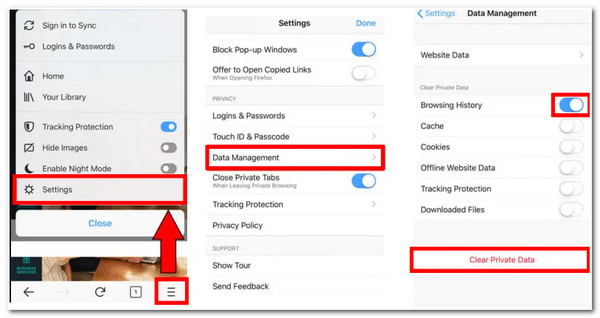 Those are the default ways how to delete search history on iPhone, either on Safari, Chrome, or Firefox browsers. Now you can have a much better browsing experience and keep your data well secured. However, the best recommend method is using a powerful tool to provide you with one step ahead of assurance in terms of security and browser history deletion. Discover the tool in the next part!
Part 2: The Easiest Way to Delete Search History on iPhone Permanently
To clear all your search history on your iPhone permanently, have a try on 4Easysoft iPhone Cleaner tool. This Windows and Mac-supported tool can remove all your iPhone browser histories, whether from Safari, Firefox, or Chrome. You can rely upon its capability of removing data under your browser to protect your privacy and strengthen your security. Aside from that, it will also help you achieves your desired browsing experience by eliminating those unwanted caches and cookies. It is indeed hitting two birds with one stone. Learn how to delete search history on iPhone using this tool below.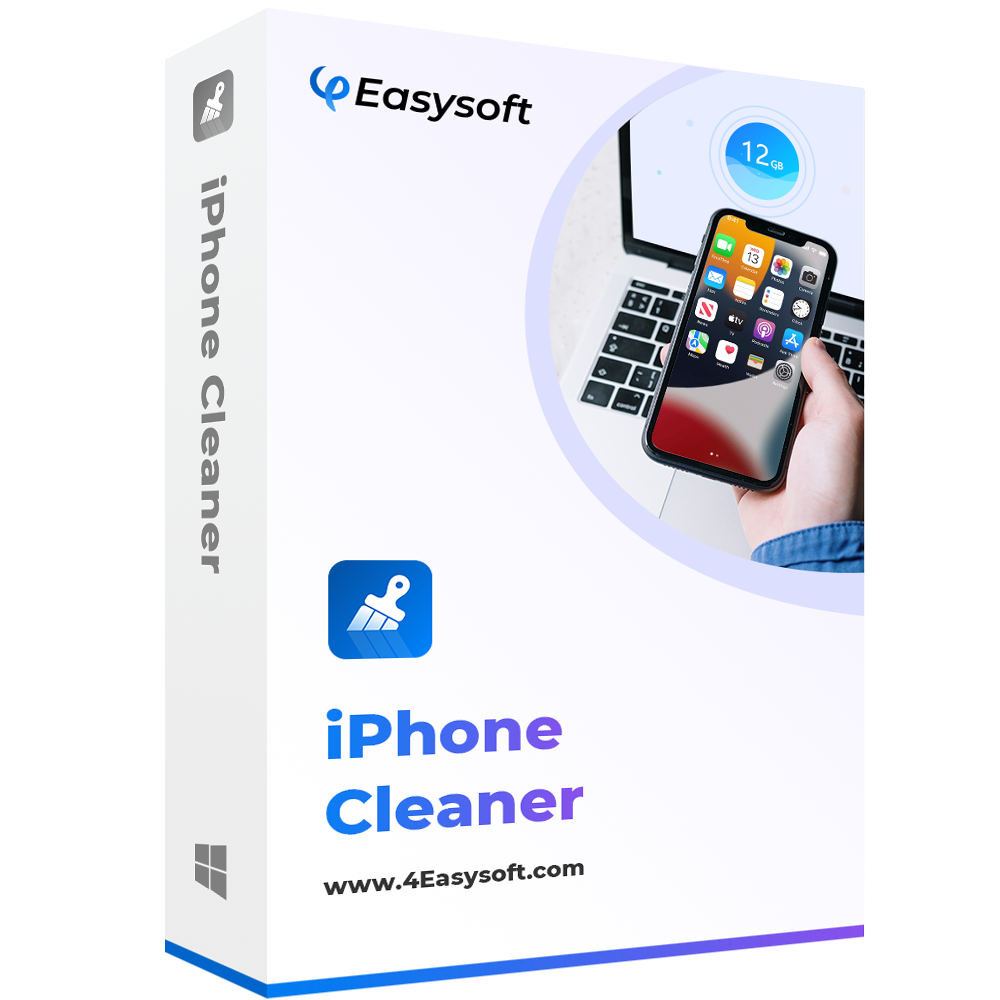 4Easysoft iPhone Cleaner
Support clearing all cache of different browsers on all iPhone models and iOS versions.
Infused with the ability to free up space by removing unwanted data and media files and uninstalling unused applications completely.
Capable of shrinking large file sizes into much smaller ones to save your space.
Support several data deletions such as Safari bookmarks, application cache, contacts, call history, video, photo, etc.
How to delete search history on iPhone permanently using 4Easysoft iPhone Cleaner:
Step 1Visit the 4Easysoft iPhone Cleaner tool on its website and install it on your Windows or Mac. After that, launch it and connect your iPhone to your computer via a USB cord. A pop-up will appear on your iPhone screen; tap the Trust button to continue.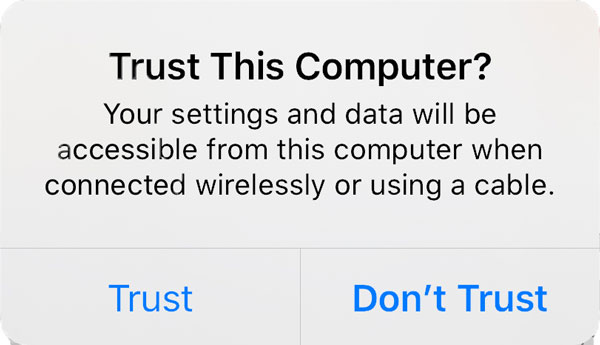 Step 2Next, turn your Find My iPhone status to Off and click Erase Private Data dropdown menu option. After that, tick the Custom Erase button, and the tool will automatically scan your iPhone.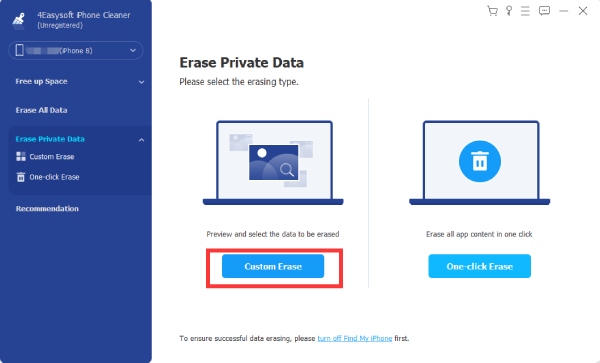 Step 3After the scanning process, the tool will list all your iPhone's private data and those private data under various applications. Tick the checkboxes for those data under the browser you are using. You can also select other data as well. After choosing, click the Erase button to delete search history on iPhone permanently.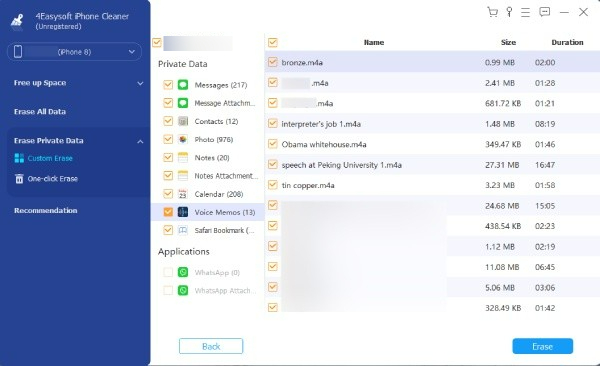 Part 3. How to Block All Cookies from Safari to Not Save Search History
After deleting search history on your iPhone, if you need to add another layer of protection for your privacy, you can block all the cookies on your Safari browser. Why? Because Cookies are made to remember your personal information, what websites you prefer to visit, and what type of language you use while using a browser. Despite having those capabilities, they also promote privacy breaches. Additionally, they also decrease the website's loading speed which happens if there are cookie delays. Now, follow the steps below after you delete search history on your iPhone:
Step 1Go to your iPhone's Settings app, browse, and tap the Safari option.
Step 2From the options, look for Block All Cookies. Turn it On by using its switch.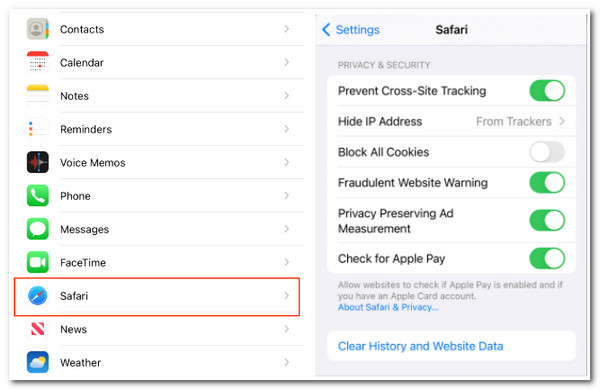 Part 4: FAQs about How to Delete Search History on iPhone
1. Does Siri also capable of storing search history?

Yes, it does. If you frequently use Siri to search for various information on the website, you may also need to delete data on it. Apple stores history for all of those interactions you've done with Siri. To delete it, here's how you do it: Tap the Settings app on your iPhone and select Siri & Search from the options. After that, tap Siri & Dictionary History and select Delete Siri & Dictionary History.

2. How can I clear Safari search history based on periods?

To clear those Safari search history under periods, here's how you do it: Launch your Safari app and select the Bookmarks icon. Next, tap the Clear button at the lower right corner of the Safari interface. Choose among the options of time range you wish to delete a search history. After that, the search histories under your chosen period are deleted.

3. Is it possible to recover deleted browsing history on my iPhone?

Yes, it is. You can recover your deleted browsing histories once you have iTunes installed and regularly backed up your files on your device. In case you do, you can restore your Safari browsing history. To do it, open iTunes and tick the iPhone icon. After that, click Restore Backup and choose the files that contain your Safari browsing history.
Conclusion
There you have it! Those are the best ways how to delete iPhone search history on various browsers, Chrome, Safari, and Firefox. You can now assure of having well-protected privacy and a fantastic browsing experience. Among the featured methods in this article, using the 4Easysoft iPhone Cleaner is still the best solution to delete search history on your iPhone permanently. Moreover, it is more practical to delete Cookies rather than block them. Deleting search histories on your browsers makes your privacy safe and much safer with 4Easysoft iPhone Cleaner. Feel free to download the tool on our website today.
Related Articles: