How to Clean Up your iPhone System Data Storage and Save Space
Have a problem regarding your iPhone storage? What could be the reason why you are having a high system data iPhone storage? It might be because of your files that are not properly cleaned and occupy a large file size. Whatever the reason is, it can get your iPhone too bloated to function, so you need to clean up your system data storage on iPhone 14/13/12/11. Here are 2 best ways for you to save your iPhone space and improve the processing speed.
Part 1: How to Check System Data Storage on iPhone?
Before getting into the details of how to check the system data storage on an iPhone, it is essential to first understand the question, what is system data in iPhone storage? And why is the iPhone's storage being taken over by its system data?
The System data is known as 'Other' not until the iOS 15 version. The system data iPhone storage includes logs, caches, settings, saved messages, voice memos, and other resources that are stored in data. These files are usually too small, so your iPhone merges them into the system data. That is when it gets larger and takes up too much space. If some of the files in this section are not adequately managed and clean, they can become quite large, affecting your iPhone storage and its overall performance.
You will immediately know your device is full since you'll get a Storage Almost Full alert. But you shouldn't wait for this alert to appear on your iPhone; check your storage, and remove files and apps that aren't needed. See the detailed steps below to check your system data iPhone storage.
Step 1Open Settings, then go to General and select iPhone Storage.
You'll see at the top the overall spaces your iPhone storage has, including which data groups are taking up too much space. This is followed by the list of apps below and how much space they take up for themselves and their saved data.
Step 2To see more info about each app's storage, tap each name.
You can offload the app, which frees up more storage used by the app. Alternatively, you may see a recommendation: Offload Unused Apps above the list of apps. You can click Enable to offload all your unused apps, all data will be saved.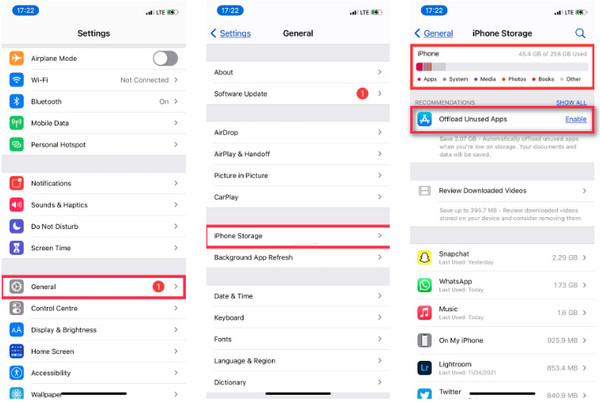 Part 2: 2 Easy Ways to Clear System Data Storage on iPhone
1. Perfect Method to Reduce High System Data on iPhone Storage
With 4Easysoft iPhone Cleaner, you can completely clean your iPhone system data with high security. It erases all junk files, duplicated photos, unused applications, and even your private data from your iPhone and other iOS devices. However, if you choose to save your files, this iPhone cleaner allows you to compress the file size to a smaller size. When your iOS device is functioning slowly, clean up your system data iPhone storage immediately to free up more space, resulting in better performance of your iPhone.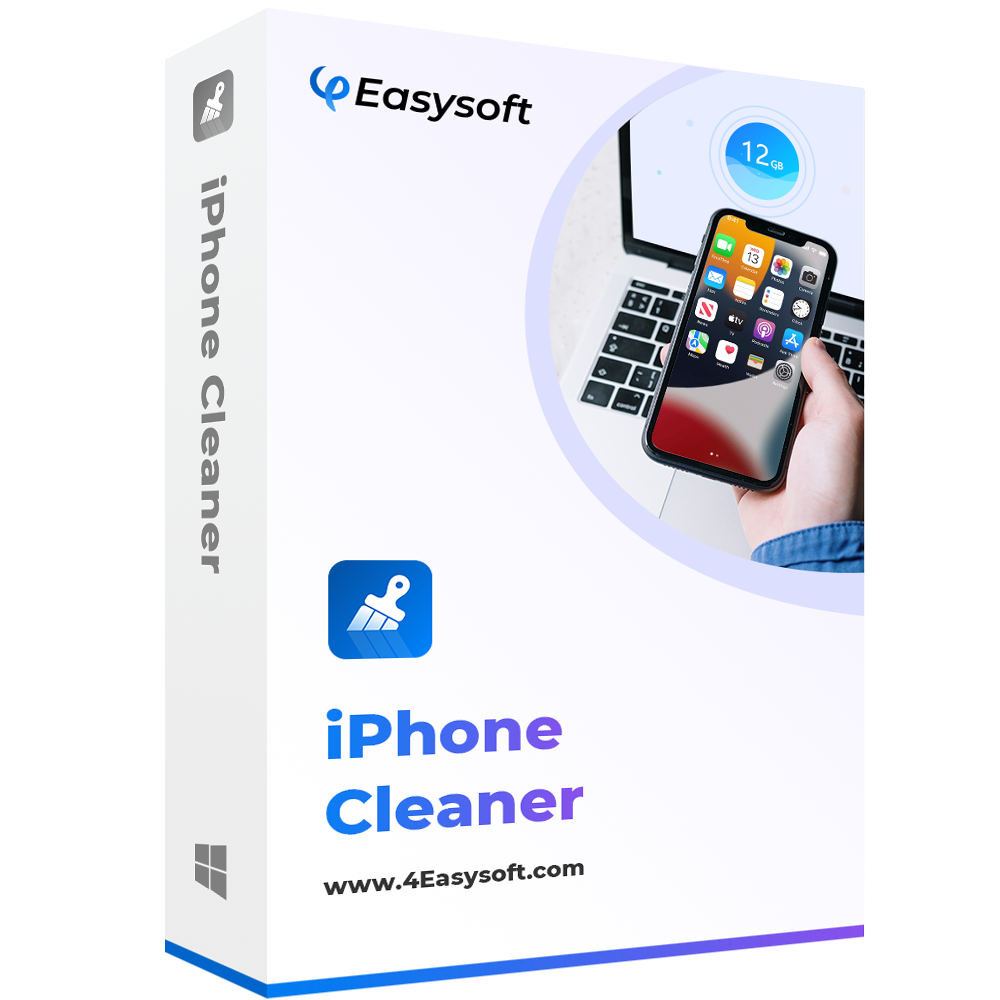 4Easysoft iPhone Cleaner
This cleaner automatically recognizes your large files and lets you choose to delete them after backup.
This cleaner automatically recognizes your large files and lets you choose to delete them after backup.
Offer a tool to detect all apps that aren't used and uninstall them thoroughly at once.
This cleaner is compatible with all iOS models and versions, such as iPhone, iPad, and iPod.
Step 1Download and install the 4Easysoft iPhone Cleaner, then launch it on your computer. Then, connect your iPhone to the computer via a USB cable to read your device and clean system data on iPhone storage.
On your iPhone, a Trust This Computer notification will appear. Tap the Trust button to load your files on your computer.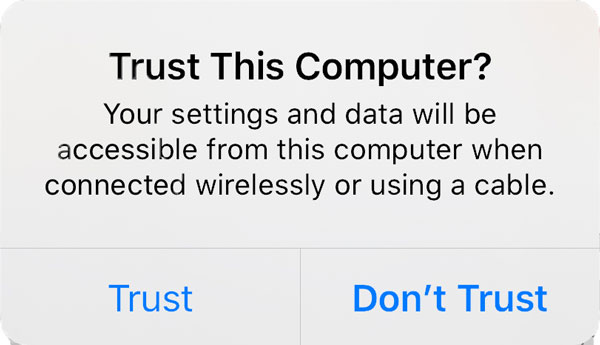 Step 2On your computer, you'll see how much space your iPhone has been used and the space available on your iPhone. To view more information about your iPhone, you can click More Info.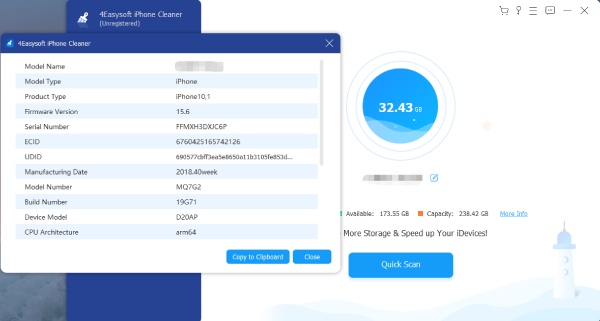 Step 3Click Quick Scan in the middle of the program's main interface, and it will start scanning all your junk files, unnecessary files, caches, etc., of your iPhone. Click Erase to remove them.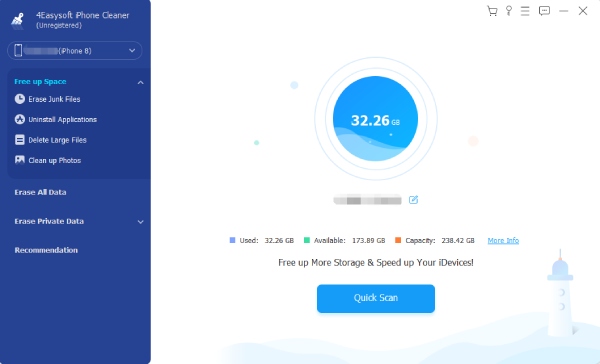 You can choose from the options at the left side of the program to free up space, depending on what you want to do to clean your iPhone. You can Erase Junk Files, Uninstall Applications, Delete Large Files, or Clean up Photos. All these will help to clear your system data iPhone storage.
2. How to Clean System Data on iPhone Storage with iTunes on Windows
For most Apple users, iTunes is their go-to software to manage their system data iPhone storage. It will detect your iPhone storage and show the occupation of each file type. Saving and deleting system data on your iPhone is also easy to do. Below are the steps on how to clear system data of your iPhone storage with iTunes:
Step 1Open iTunes on your computer. Ensure your iPhone is connected to your computer via a USB cable for iTunes to load your device.
Step 2Unlock your device, then a notification to Trust this Computer will appear. Tap Trust. On iTunes, you'll see how much storage each content type uses, including Audio, Video, Photos, Apps, Docs, and Other.
Step 3You don't have to do anything. It automatically deletes the cache and temporary files when your device needs more storage space. However, it may only decrease by 1 GB for your iPhone system data storage, but for some users, a significant size change happens.
Part 3: FAQs about System Data iPhone Storage
Why does my iPhone keep saying my storage is full even if it is not?

A notification like this will pop up if your iCloud backup is on and your iCloud storage is full. Even if you delete or you have deleted some large files, a notification like this will come up. Consider turning off the iCloud backup if this notification disturbs you.

Where will all the deleted files be stored on the iPhone?

When you delete files from your iPhone's iCloud drive, it goes into your Recently Deleted folder. Your file will stay there, and after 30 days, it will be removed from Recently Deleted. If you somehow change your mind or delete the file accidentally, you also have 30 days to get it back.

Why is my iPhone system storage full even without so many apps?

Sometimes, junk or unnecessary files occupy more space than you think, causing insufficient space and slow functioning on your iPhone. Or it might be because of your photos. If your device is syncing with iCloud, your deleted photos on your iPhone are still available. To check which takes up the most space on your iPhone, go to Settings, and find iPhone Storage under the General option.
Conclusion
Both these apps, 4Easysoft iPhone Cleaner and iTunes, can help you free up more space if your system data iPhone storage is high. However, considering that iTunes only clears up a small space, 4Easysoft iPhone Cleaner offers an entire cleaning-up process for your iPhone storage. With its three erasing levels, it will meet all your different requirements in cleaning up your iPhone and other iOS devices.
Related Articles: