6 Best Blu-ray to AVI Rippers - Choose Which Is The Best One!
Blu-ray is an excellent choice for storing videos and movies, offering high-definition and high-resolution audio. Although, in this case, you need to have a Blu-ray player to watch Blu-ray movies. Do you want to watch Blu-ray movies with no player or drive? You can convert your Blu-ray to AVI, known for high video quality, and it works on nearly all media players. If you're now searching for the perfect converter, you can go on and read the following to see the shared Blu-ray to AVI ripping tools.
Part 1: How to Rip Blu-ray Disc to AVI on Windows/Mac [Best Guide]
For an easy Blu-ray to AVI process, consider looking for a program that gives nothing but convenience and great ripping features. In this case, always go to 4Easysoft DVD Ripper! The program is a multimedia converter that lets you rip Blu-ray at ultra-fast speed and gives full support for more than 600 formats. Aside from this, to be able to watch with great ease on your devices, you can compress video file size without affecting the original quality, in contrast with others. Additionally, this Blu-ray ripper comes with a multicore processor, meaning you can guarantee a smooth and flawless Blu-ray to AVI ripping process.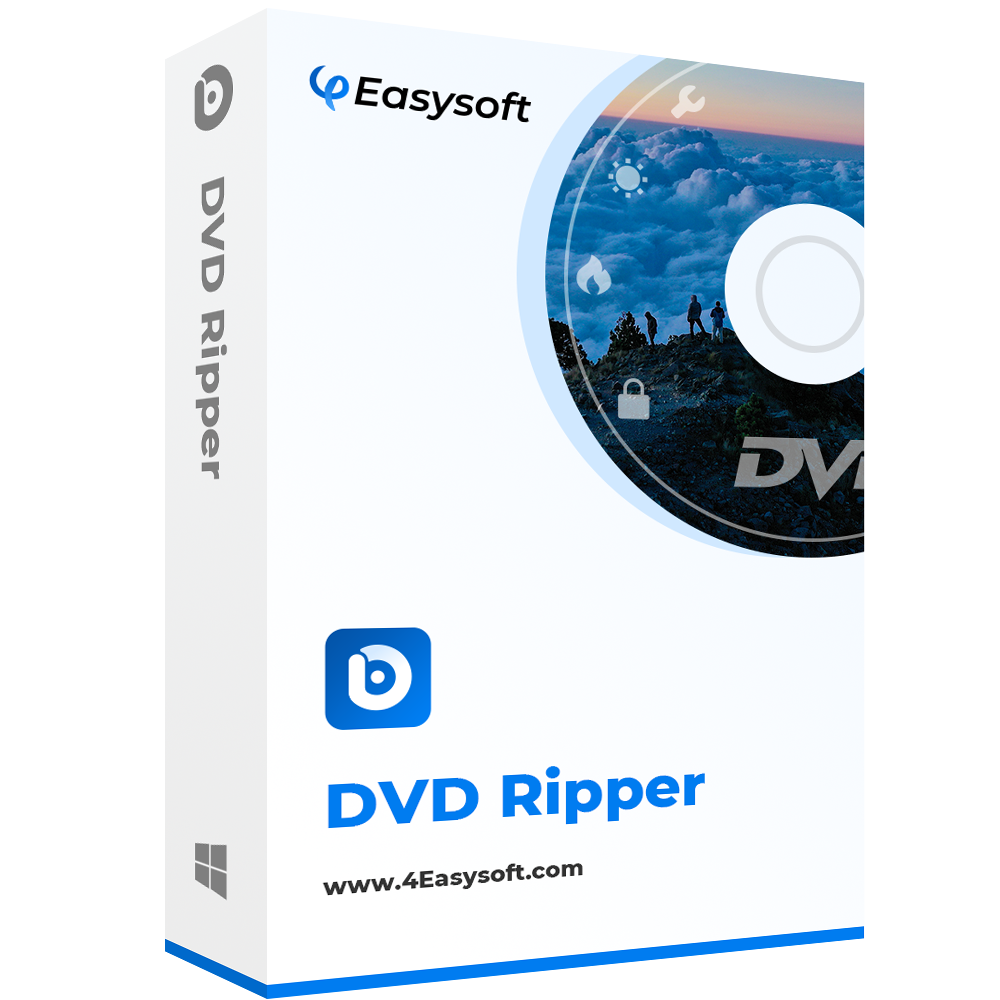 4Easysoft DVD Ripper
Rip Blu-ray to more than 600 file formats for video and audio.
Equipped with GPU Acceleration, allowing you to get a 60x faster ripping speed.
Ultimately copy DVDs with full titles or only the main titles.
Allow you to customize movies with video editing features, like adding subtitles, effects, etc.
Step 1After launching the Blu-ray to AVI ripper, hit the Load DVD button, then select Load DVD Disc from the drop-down. Don't forget to insert the disc into your computer's drive.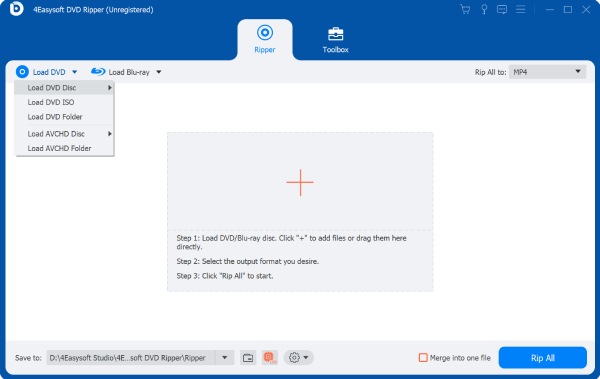 Step 2It will then automatically load all the main titles of your Blu-ray. Then, to select the titles you wish to add, click the Full Title List, then tick the checkbox of your desired ones.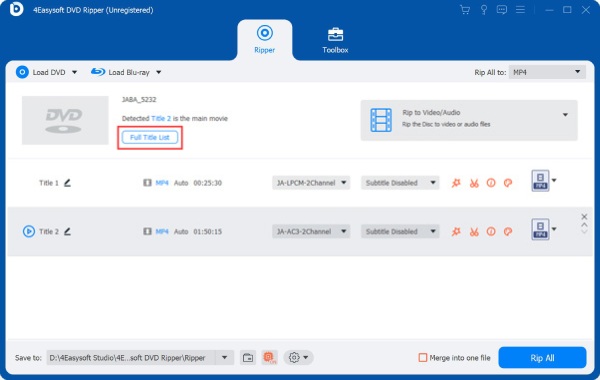 Step 3After that, navigate to the menu above, then select the Rip to Video/Audio option. Choose AVI in the output section in the Rip All to menu. You can then make adjustments regarding the video and audio settings in the Gear icon beside the format you choose.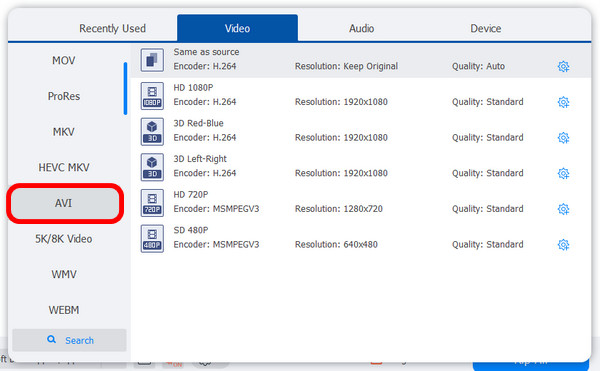 Step 4When done customizing, hit the Rip All button to rip Blu-ray to AVI right away and save it to your computer.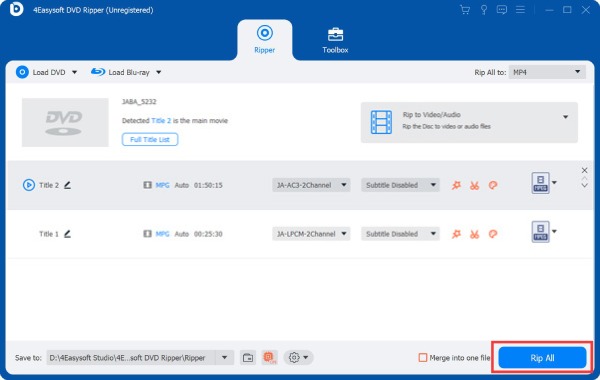 Part 2: 5 More Blu-ray to AVI Rippers for You to Choose from
There are lots of Blu-ray to AVI Rippers you can find today. If you're having a hard time looking for one, you can try these five shared programs to rip Blu-ray to AVI. Check them all out below!
1. FreeMake Video Converter
The top in the list is the Freemake Video Converter. It is a video editing program but can be your Blu-ray to AVI ripper. It comes with a beautiful but simple-to-understand user interface. Plus, it supports many formats for different platforms and devices, and that includes AVI, MP4, WMV, etc. And another great thing about this program is that it is downloadable on both Windows and Mac platforms.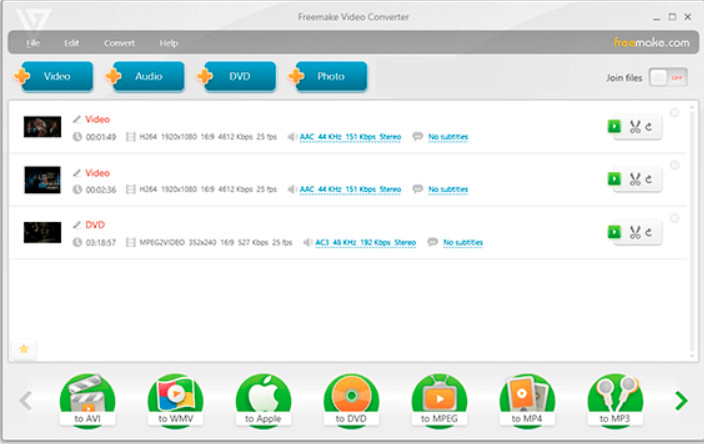 Features
◆ Support downloading videos directly from the Internet and uploading them.
◆ Capable of extracting audio from video clips.
◆ Can also burn DVDs or Blu-ray discs.
2. DVDFab Blu-ray Ripper
DVDFab Blu-ray Ripper is free to download Blu-ray to AVI ripping programs on Windows and Mac. It includes three more functions besides the ripper, like converter, copy, and creator. Furthermore, unlike other rippers that can't handle copy-protected ones, DVDFab can unlock protected Blu-ray discs. And if you get tired of ripping one by one, adding multiple tasks until they are finalized is possible with DVDFab Blu-ray Ripper.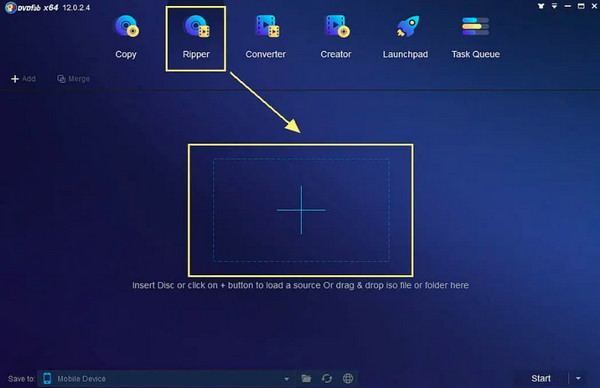 Features
◆ Support creating Blu-ray Folder and ISO File.
◆ Equipped with a GPU Acceleration, letting you have a 50x faster ripping speed.
◆ Can compress video size but still maintain the quality.
3. Free Blu-ray Ripper
Next on the list is another excellent choice for ripping Blu-ray to AVI, the Free Blu-ray Ripper. It is a simple yet fantastic program that can assist users in extracting Blu-ray discs, folders, and ISO files. In addition, it supports 1080p up to 4K conversion, which allows you to have an excellent watching experience on multiple platforms and devices. You can guarantee a 100% good performance in the ripping process with this blu-ray ripper.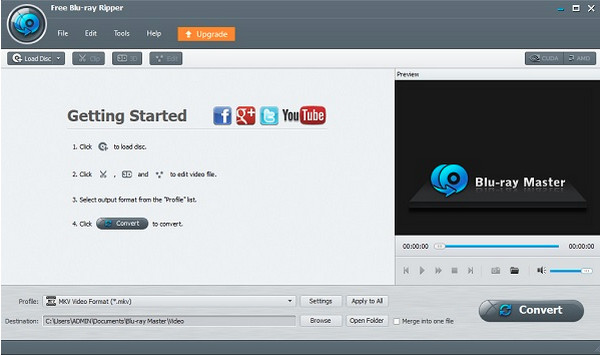 Features
◆ Allow you to customize the output settings of the video.
◆ Able to do batch conversion of Blu-ray to AVI.
◆ Come with hardware acceleration for a fast ripping process.
4. Leawo Blu-ray Ripper
Leawo is considered one of the best Blu-ray to AVI rippers today. It serves as your excellent Blu-ray ripper with fast converting speed and high-quality output. Plus, it can rip your Blu-ray disc to all formats that any media players and devices can play, aside from the format AVI. You are also allowed to adjust video and audio settings, like codec, bit rate, resolution, etc., to meet your requirement before ripping.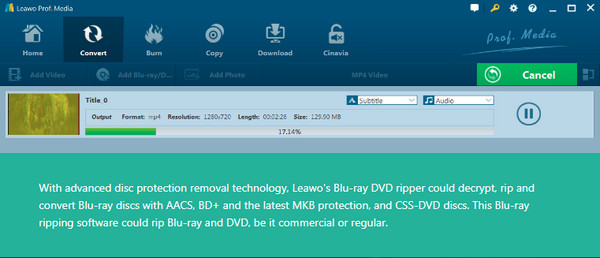 Features
◆ Convert Blu-ray with multiple audio tracks and subtitles.
◆ Enable you to rip Blu-ray to digital format in 720P, 1080P, and 4K.
◆ Can also adjust parameter settings to get your desired quality.
5. VLC Media Player
The last one is the VLC Media Player. It is one of the most famous media players, covering most video and audio formats, but it can also rip DVDs and Blu-rays. Although you can't compare it to other Blu-ray rippers, it is still worth doing simple Blu-ray to AVI ripping. However, you may need to do some complicated stuff if it can't play your Blu-ray disc.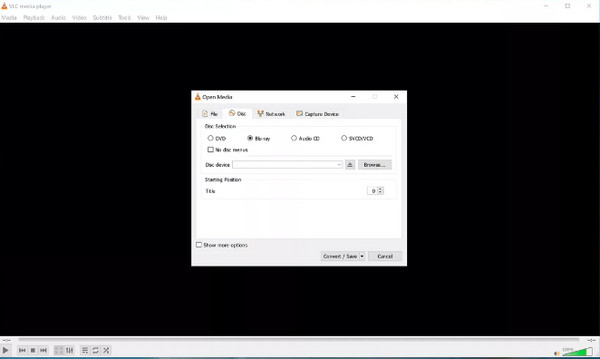 Features
◆ Play almost all video and audio files.
◆ Come with a built-in editor to do basic edits before converting.
◆ Can handle some Blu-rays that are encrypted.
Part 3: FAQs about How to Rip Blu-ray to AVI Format
Does Windows Media Player support Blu-ray?

Blu-ray cannot be played on Windows Media Player. If you want to play it on your Windows PC, you will have to download software that supports Blu-ray playback and is capable of reading Blu-ray discs.

Can Handbrake rip Blu-ray to AVI?

Handbrake can't work as a complete Blu-ray disc ripper. It can only rip Blu-ray but not those copy-protected ones.

What are the programs that support AVI?

When done converting your Blu-ray to AVI, you will lessen the incompatibility issues. AVI can be played on various media players like Microsoft Movies & TV, QuickTime Player, Adobe Premiere Pro, VLC Media Player, etc.
Conclusion
There you go. You now have the best Blu-ray to AVI rippers to rip Blu-ray to a much more compatible format, AVI. Among the tools mentioned, getting the 4Easysoft DVD Ripper on your Windows and Mac is excellent. It doesn't just offer a ripping function but covers all features for a smooth ripping process with no quality loss. It comes with a built-in editor and has a collection of video formats for watching Blu-ray and DVD movies with convenience.
Related Articles: