8 Best Windows Movie Maker Alternativesfor Windows/Mac [Updated]
Windows Movie Maker is one of the best video editing tools developed by Microsoft. This software was able to accommodate users' demand for video making. However, with the rise of other editors, Movie Maker was eventually left behind, which made Microsoft decide to discontinue it. This decision triggers users to look for alternative tools. Thus, this post collects the 8 best Windows Movie Maker alternative tools for Windows and Mac! Explore them now!
Top 8 Best Windows Movie Maker Alternatives on Windows/Mac
There are many video editor tools on the market that come with great potential to be the best alternative to Movie Maker for Windows 10. But you might get overwhelmed by how many are on the market. Don't worry; just like mentioned above, this post collects the 8 best Windows Movie Maker alternatives! Start diving in below!
The first tool you can use as a Windows Movie Maker alternative is the 4Easysoft Total Video Converter. How can a converter tool become part of this lineup? Well, this tool is not only made to support excellent video conversion features, but it is also equipped with advanced video editing features that you can access on its built-in MV Maker. The editing features included are a video Rotator, Cropper, advanced Trimmer, add Effect, Filter, Watermark, Background Audio, and Subtitle. Moreover, it has a library of Themes that will significantly redefine your video. These are just a glimpse of these tools' unique features, and there is still much to offer! To discover some of those features, explore the list below!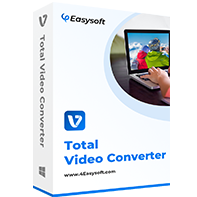 4Easysoft Total Video Converter
Equipped with Start and End Title options that you can use to add titles to your video.
Support Customizable Export Setting that you can use to modify your output's Format, Frame Rate, Resolution, Quality, etc.
Infused with an AI-driven Video Enhancer feature that enables you to enhance your video's Resolution, Brightness, Contrast, etc.
Offer various video formats to export your edited video; these include MOV, MP4, AVI, etc.
2. Microsoft Photos (Windows)
Otherwise, if you are looking for software nearly similar to Windows Movie Maker, you don't need to roam around the market to look for one because Microsoft Photos is already installed on your Windows computer! This tool provides users with an excellent photo viewing service and offers photo and video editing processes like Movie Maker. With this tool, you can create slideshows, video presentations, making video edits, etc. However, to set your expectation, those features are not advanced enough to support complex video editing. But Microsoft Photos is still the best Movie Maker alternative.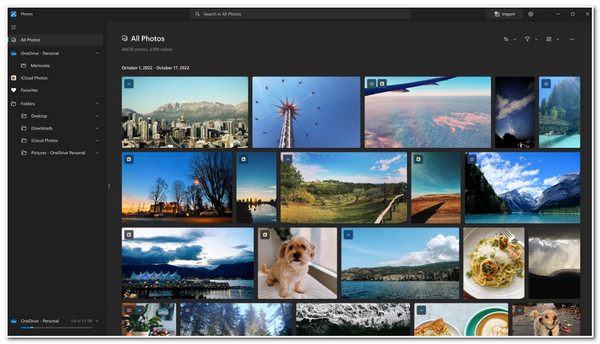 3. VideoProc Vlogger (Window/Mac)
Now, if you want an alternative to Movie Maker for Windows 10 equipped with nearly advanced features to support your video production demand, then VideoProc Vlogger is one of the best tools you need to try. This tool is indeed best for editing in-action footage captured from various cameras. It supports options to correct video colors, stabilize footage, noise reduction, blending modes, chroma keys, etc. But unfortunately, this tool is too slow to render videos, which makes people hesitant to use it.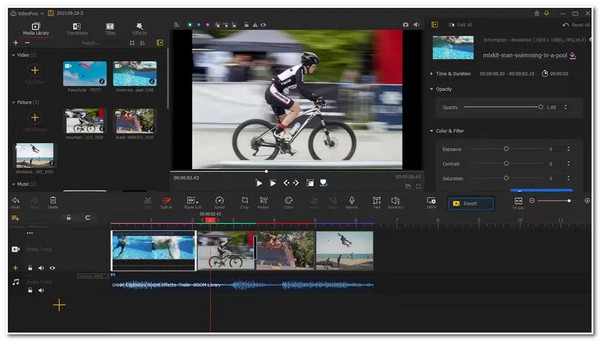 4. Camtasia (Windows/Mac)
Another best Movie Maker alternative that you can use is the Camtasia. Like Microsoft Photos, this tool also supports an intuitive interface and easy-to-use video editing features. Those editing features include transitions, animations, annotations, etc. What makes this tool stands out from the rest is that it is infused with a screen recording feature that you can utilize to capture any on-screen activities. However, although it offers a free version, it is only available for 30 days. Once it ends, you must avail yourself of one of its pricing plans.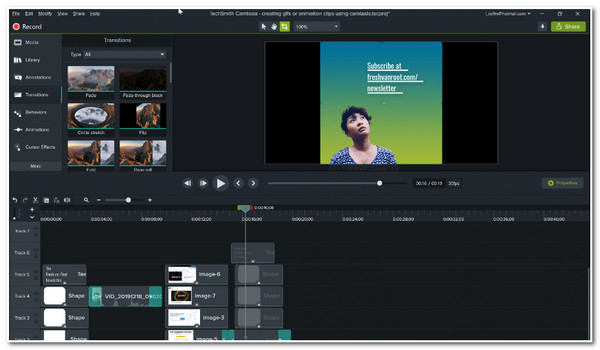 5. Shotcut (Windows)
You can also use Shotcut as an alternative to Windows Movie Maker for Windows 10. Shotcut is a typical video editor tool you see on most editor tools today. It also supports text overlaying, video trimmer, splitting, merging, cutting, etc. It also comes with an intuitive interface, and those mentioned features are also made easier to use. The only thing that might annoy you is that the tool doesn't provide you with any preview of its filters before applying it. Hopefully, the platform does an action about this.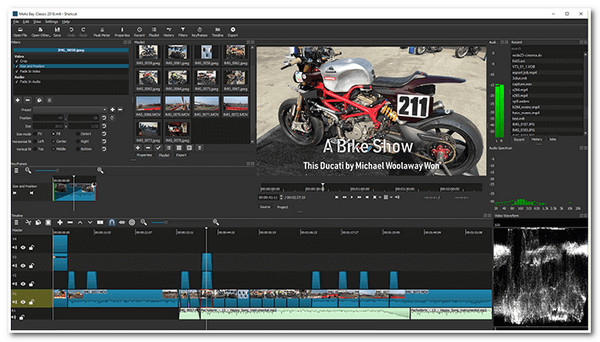 6. DaVinci Resolve (Windows/Mac)
Suppose you are looking for a genuinely advanced Windows Movie Maker alternative tool that could support you in creating an Oscar-worthy video. In that case, you need to go to DaVinci Resolve's website and install it immediately! This tool has video editing features you don't usually see on various editors. Those features include 3D editing, color grading, brand overlay, advanced noise reduction, etc. But, this tool requires a powerful computer to run efficiently. So before you download it, you need to check its system requirements to see if it suits your computer.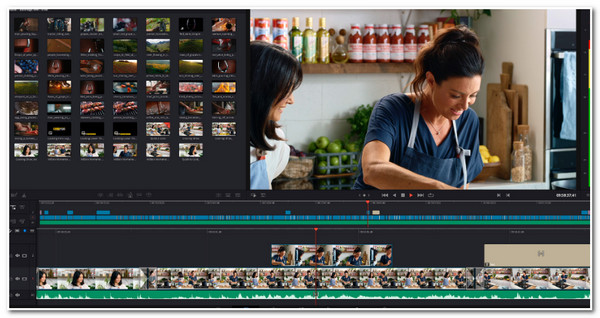 7. Animotica (Windows)
In case you are only working with a simple video project and just want to have a simple Windows Movie Maker alternative tool to help you out, then Animotica is also a great pick. This tool is made with an intuitive interface with well-composed features. Through this tool, you can easily edit videos for a specific purpose. It is infused with editing features such as blurring video backgrounds, options to rotate videos, changing video speed, adjusting colors, etc. However, just to set your expectation, Animotica's free version embeds a watermark on its free version. So to fully enjoy this tool's output, you must purchase its free version.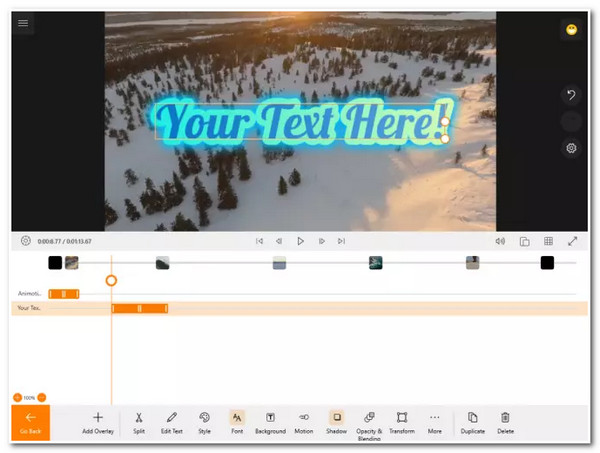 8. Icecream Video Editor (Windows)
The last tool for this group of Movie Maker alternatives free for Windows is Icecream Video Editor. You can also use it for a simple video editing project and finish it within a few minutes! It has video editing features such as a trimmer, enhancer, add effects, transitions, etc. The biggest reason some people are looking forward to the platform being fixed is that they experience various bugs while using the tool. But don't hesitate to use the tool, for those bugs are bearable.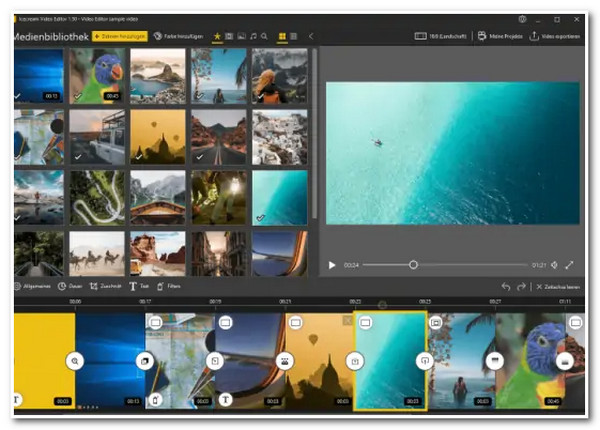 FAQs about the Best Windows Movie Maker Alternative
What is the best alternative to Windows Movie Maker?

The best alternative tool to Windows Movie Maker is a tool that offers at least the same features that Movie Maker supports. Or a tool that is beyond capable of supporting all of your video editing needs. And on this post, all of the tools featured above are suitable to use as a replacement for Movie Maker.

Does Windows Movie Maker still available?

Unfortunately, after the discontinuation of Windows Movie Maker in 2017, Microsoft replaced it with new software. If you want to download it on specific websites, please be careful. You might download a Movie Maker containing a virus or any threat to your computer or personal information.

How much does Camtasia Plan cost?

Camtasia offers 4 different pricing plans; these are Individual Plan which costs $299.99 per user; Business Plan which costs $299.99 per user; Education Plan - which costs $212.99 per user; and Government & Non-Profit plan, which costs $268.99 per user.
Conclusion
There you have it! Those are the 8 best Windows Movie Maker alternative tools for Windows and Mac. Although the Windows Movie Maker is already discontinued, there are still available tools (like those mentioned here) capable of supporting your specific video editing needs. But, beyond this post's collection of best Movie Maker alternatives, the 4Easysoft Total Video Converter tool is the best tool to pick for. With its advanced yet easy-to-use video editing features and built-in Output Tweaking options, you can edit your videos quickly and with high-quality output! To discover its other advanced features, visit this tool's official website. Take your first step today!
Related Articles