Fix TikTok Video Resolution Not Supported to Upload High-quality Ones
When you upload a high-quality videos captured by camera on TikTok, you will receive a notice saying, "Current resolution is not supported on TikTok". That's because TikTok only supports the maximum resolution to 1080p. Thus, if you want to reduce the video resolution while keeping the high quality, here is the best solution for you. Keep reading to learn the requirements for TikTok video resolution and learn how to fix video resolution not supported on TikTok.
Part 1: Requirements You Should Know to Avoid Video Resolution Not Supported by TikTok
What does it show when you have received the "Current resolution is not supported on TikTok"? Here's the good and the bad news. That isn't to say TikTok doesn't want to post your video; it simply implies that the video you will be posting has a resolution that TikTok does not support. And the bright side is, it can be fixed! But before you go into that, let's talk about what to know before uploading videos on TikTok.
Since the TikTok app has internal technical requirements, any video uploaded should follow the resolution or less than that. For example, if you have video content with 1080p, there's no way you can upload it on TikTok since that resolution is beyond the standards. But, it would undoubtedly be pleasing to the eyes of all viewers and provide a great watching experience. However, it also means you will consume more file size and data, which results in taking longer to be viewed. And that would lead to less engagement with your content.
To ensure that video will be posted at a maximum of 1080p resolution, you want to know, for sure, what the requirements are to avoid the video resolution is not supported at this time TikTok problem.
What Video Does TikTok Allow You to Upload?
The resolution must be 1080p. For common videos posted, 1080x1920 is the best. While for ads videos, 720x1280 is used as well as in the News feed as videos.
For TikTok video file size, less than 500 MB is supported.
TikTok requires a video with an aspect ratio of 9:16 or 1:1.
Follow the given video length maximum limit of 3 minutes.
The file format you will be using is .mp4 or .mov.
For content creators on TikTok, those requirements are common knowledge since they will have to use a high-resolution camera to get high quality. So, they have to understand the things involved in uploading their content. Knowing these won't waste your time and energy in putting out great content on TikTok. Plus, you would still maintain high-quality video content without taking it long to stream by following the standards. In that way, everyone wouldn't have to receive the "Current resolution is not supported on TikTok" notification.
Now, remember the good news that said TikTok video resolution is not supported can be resolved? Getting your video suitable for TikTok standard can be pretty straightforward; you can fix it by reducing it from a higher resolution, like 4K/HD, to 1080p. And this will lessen your difficulties in repeatedly uploading the video or looking for ways to fix the resolution issue. Furthermore, it would be a win-win situation, as you will reduce the resolution with no quality drop through an excellent program. To know more about it, let's move on to the following part.
Part 2: The Best Way to Fix Video Resolution Not Supported on TikTok
As mentioned, you can fix the video resolution with an excellent program by reducing it to fit TikTok's standard without compromising the quality. Keep in mind the 4Easysoft Total Video Converter. The program is an outstanding software that can resolve the 'TikTok video resolution is not supported' issue of yours with simple clicks. Aside from the many popular video and audio formats it provides, each has a customized resolution suitable for posting on social media platforms, including TikTok, YouTube, Instagram, and more. Additionally, it is capable of customizing video and audio settings, like resolution, quality, frame rate, and many more, to maintain the quality you desire.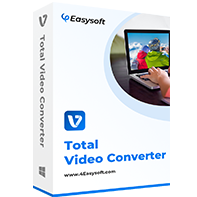 4Easysoft Total Video Converter
Has a ready-made resolution, but it can still be adjusted for TikTok, Instagram, YouTube, Facebook, and others.
Several file formats for video and audio are supported, including MP4 and MOV.
Guaranteeing superb video quality with its artificial intelligence, such as 1080p and 4K resolutions.
Videos can be previewed before exporting to check all details you've changed,
Step 1Free download and run the video converter to fix the current resolution not supported on TikTok. Head to the Converter tab among the other options from the above menu and add the TikTok video you wish to reduce the resolution by hitting the Add Files button or simply doing the drag-and-drop action.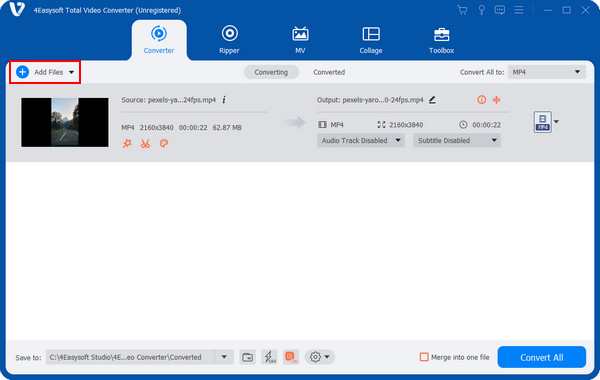 Step 2After being added, navigate to the Convert All to menu list to open the video and audio formats window. Go to the Video section, then scroll down to locate the TikTok option.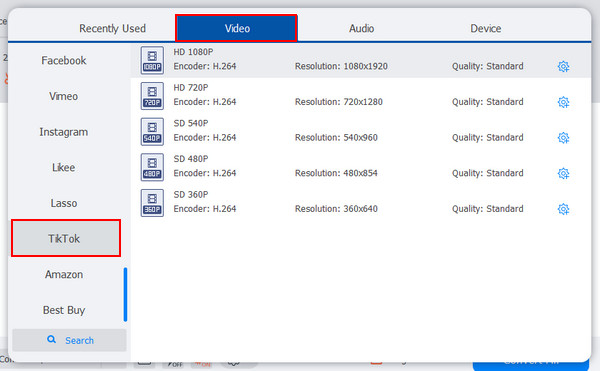 Step 3Select the proper video resolution for TikTok, which is 1080p. Click the Custom option with a Gear icon to customize settings. You can change the bitrate and quality to avoid quality lossing. Then, click Create New to save.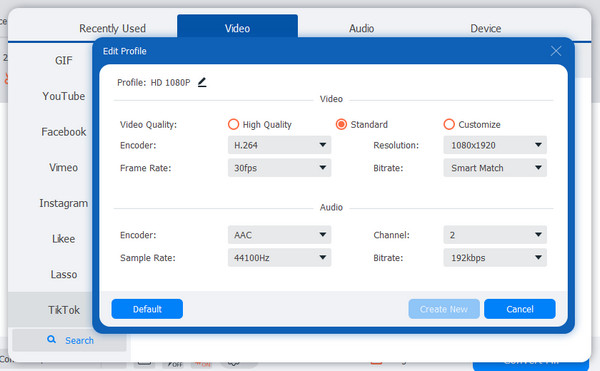 Step 4Once done, hit the Convert All button to save the reduced TikTok video resolution, and it is ready to be posted without the video resolution not supported on TikTok problem.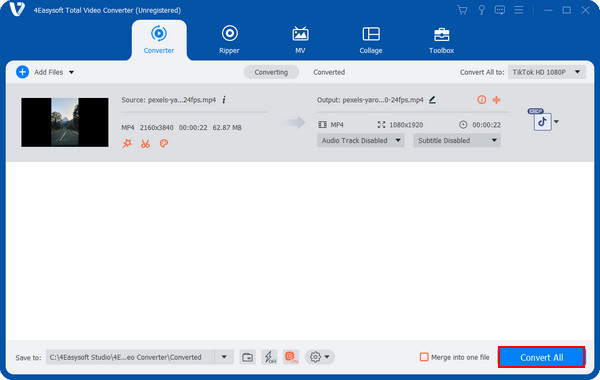 Part 3: FAQs about Current Video Resolution Not Supported on TikTok
Is TikTok capable of changing resolution?

Unfortunately, TikTok doesn't have the ability to adjust the resolution. It only allows users to switch between HD and Standard quality when uploading.

Why do I still get the "Current resolution is not supported on TikTok" when my video is 1080p?

Besides the resolution, it is also worth remembering the aspect ratio. If the video is not 16:9, you have to crop a little bit of the video. Another thing is the Data server; since uploading HD videos needs a lot of bandwidth, ensure the server is disabled.

How to stop the TikTok app from losing the original video quality?

Since TikTok supports a resolution of up to 1080p, when you upload a video higher than that, TikTok will scale it down, affecting the video quality. Ensure not to post videos that are higher than 1080p.
Conclusion
Overall, the notification "Current resolution is not supported on TikTok" is not insufficient; it just simply wants users to follow TikTok's standards in terms of resolution, which is also advantageous to you. It is worth noting that a higher resolution has a large file size which can be challenging to upload and stream. So, users must follow the requirements mentioned in this post. But how can you fix a higher-resolution video? Reduce it with 4Easysoft Total Video Converter. The program has made it easy to quickly get the proper TikTok video resolution alongside other video formats with no loss of quality. Don't miss out on the other features the program offers.
Related Articles: