8 Best Alternatives to Microsoft Photos to Edit Videos/Audio with Powerful Effects
Microsoft Photos is the best photo viewer and organizer for Windows. Along with the platform's update, Photos also makes its way to undergo feature upgrades. Some people appreciate the new changes; however, there are reports that the tool's newest update is quite complex, and they wanted to plot those new changes. Thus, to make the Photos app's changes easier for you to access, this post listed its new changes and the 8 best Microsoft Photos alternative tools!
Brief Introduction to Microsoft Photos App with New Changes
Before diving into the 8 best alternatives to Microsoft Photos, you can first explore this tool's newest changes. Microsoft's newest changes to the Photos app have actually acquired much love from Windows users. That is because, from just a photo viewer and organizer, this tool also entered the world of photo and video editing. This is made possible by its infused video and photo editing features that, although simple, are enough to achieve the primary video and photo editing demands. Though some find it complex, but if you spend a little time, you can definitely master them. To support that statement, those equipped features are well-composed and user-friendly to promote easy video and photo viewing and editing. To see some of those newest changes, explore the list of its features below!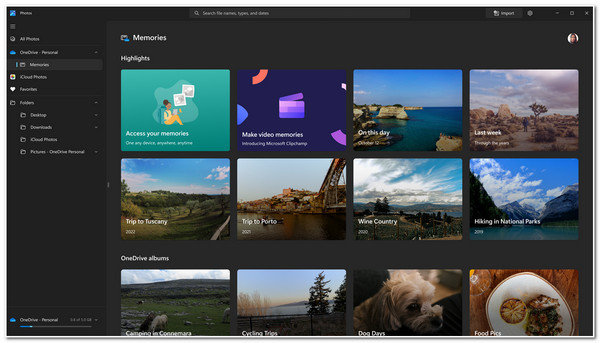 Newest Features of Microsoft Photos App
Support a Redefined UI that suits beginners and with a Dark Mode option that you can use to save battery life.
Integrated with new viewing features such as Filmstrip Viewing, Edge to Edge Viewing, and Multi-View for easy photo and video access.
Equipped with a Photo Editor that supports photo Light Modifier, Color Alteration, Red Eye Remover, Blemish Remover, etc.
Infused with a built-in Video Editor, which supports video Speed Modifier, Trimmer, Add Text, Filter, 3D Effects, Motion, etc.
But, of course, with ever-growing and ever-changing image and video production, Microsoft Photos still needs some photo and video editing features to support complex media editing processes. Although it is already an excellent photo viewing and organizing app, developers still need to do something with its overall editing features. If you are looking for a Microsoft Photos alternative to fulfill your media editing needs, explore the sub-parts below!
3 Best Photo Viewer Alternatives to Microsoft Photos
After reading the above part and exploring Microsoft's newest changes or features, you might still look for another tool that offers the best features compared to the Photos app. Well, just like mentioned above, it is reasonable to find alternatives to ever-growing and ever-changing photo and video production. This is because the Microsoft Photos app can't satisfy some professional photographers and designers' actions, especially regarding working with various formats. If you are one of them, here are the best alternatives to Microsoft Photos's viewer functionality. Start diving in!
1. FastStone Image Viewer
The first alternative to Microsoft Photos Viewer is the FastStone Image Viewer. Unlike the Microsoft Photos app, this tool is made to support the image viewing process and lets you convert them into another type of image format. Moreover, this tool also amazingly displays the image in full-screen mode, and once you move your cursor on the image's edges, it will provide you access to its built-in image editing options. Also, unlike the Photos app, it supports many image formats, from those major graphic formats to those popular digital camera RAW formats.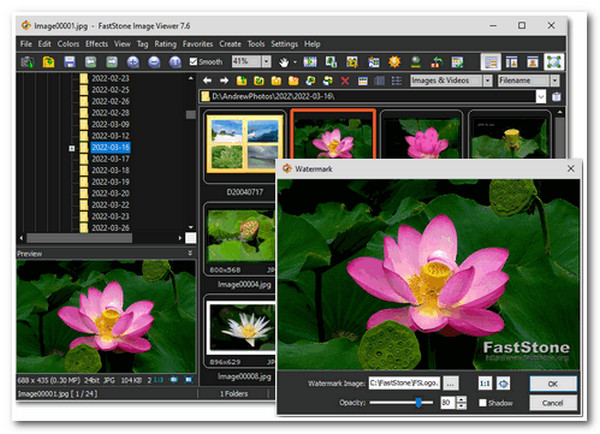 2. IrfanView
Another best alternative to Microsoft Photos Viewer is IrfanView. Like FastStone Image Viewer, this tool also supports many image formats for viewing. It is also made to simultaneously support conversion processes between multiple images with different formats into a new format. This tool is unique because it has options that enable you to group or organize photos by name, format, size, tag, batch rename, and set patterns.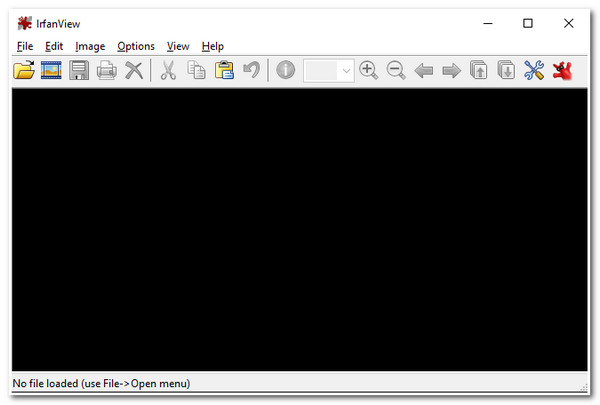 3. ImageGlass
Last but definitely not least, for this group of free alternatives to Microsoft Photos is the ImageGlass. This lightweight and versatile tool supports 80+ formats to be viewed. It can access the image on your clipboard or drag and drop it directly on the tool's interface. It also lets you choose your preferred image viewing mode, either zoom or window, to acquire the best viewing experience.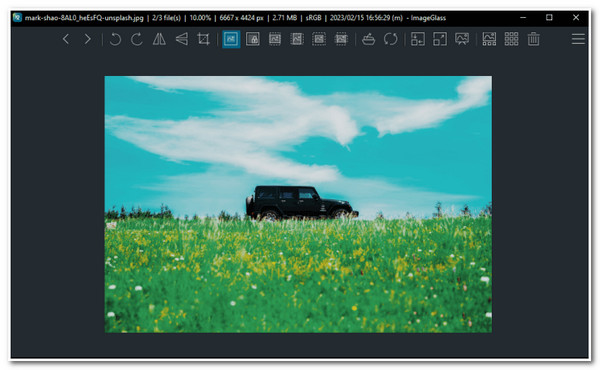 5 Professional Video Editors – Microsoft Photos Alternatives
There you go; those are the 3 best alternatives to Microsoft Photos Viewer functionality. Otherwise, if you don't have any problems with Microsoft Photos Viewing functionality but with its equipped video editing features, like you find it lacking, then here are 5 professional video editors you can use as an alternative to Microsoft Photos. Explore them now!
The first video editor tool you can use as a free alternative to Microsoft Photos is the 4Easysoft Total Video Converter. Using this Windows and Mac-compatible tool, you can edit videos using its advanced video editing features. Aside from converting them into a new video format with high-quality output, you can also edit your video using its built-in video trimmer, cropper, rotator, add effects, filters, text, etc. Moreover, it is also equipped with MV Maker, which you can use to apply theme effects to your video, and a Collage Maker that enables you to combine multiple videos in one frame. This is just a glimpse of this tool's powerful features, and it still has a lot to offer. To explore its other features, check the list below!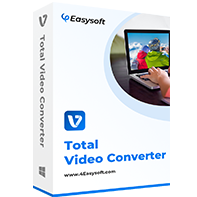 4Easysoft Total Video Converter
Support a library of Effects and Filters that you can use to bring redefining changes to your video's appearance.
Infused with a Subtitle feature that enables you to apply captions or subtitles to your video.
Equipped with an Audio Modifier feature that lets you add background music to your video and modify its volume and delay.
Integrated with a Toolbox tab composed of various video modifying features such as video compressor, merger, reverser, etc.
2. DaVinci Resolve
If you are looking for a professional tool rich with video editing features, you need to try DaVinci Resolve as an alternative to Microsoft Photos. This video editor offers 3D editing, animations, transitions, color grading, etc. Although this editor's video editing features might be overwhelming, if you have a deep understanding of video editing, you can master this tool. It also supports a clean interface, which will definitely help you makes video editing much more manageable.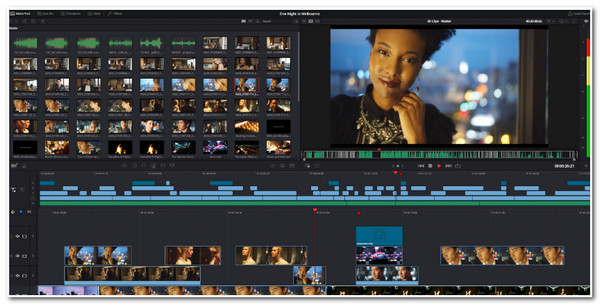 3. Blender
Otherwise, if you are into making animations, then Blender is one of the best options as an alternative to Microsoft Blender. These video editor features can accommodate those animator, illustrator, and VFX artist demands in terms of video production. It supports an advanced luma waveform, chroma vectorscope, and histogram display. It can also accommodate audio mixing, syncing, scrubbing, waveform visualization, etc. Of course, it also offers those basic video editing features.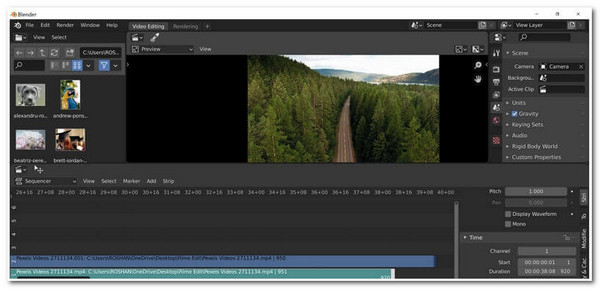 4. Animoto
Another Microsoft Photos alternative that you can use to edit videos is Animoto. This video editor also supports an intuitive interface and offers easy-to-understand video editing features. The edge of this tool to Microsoft Photos is that its free version offers a library of music that you can use for free! Moreover, it also supports 40+ fonts that you can utilize if you want to add text to your videos. Furthermore, it also comes with an extra feature aside from its built-in video editing features (video trimmer, cropper, add text, etc.), which is Screen Recorder.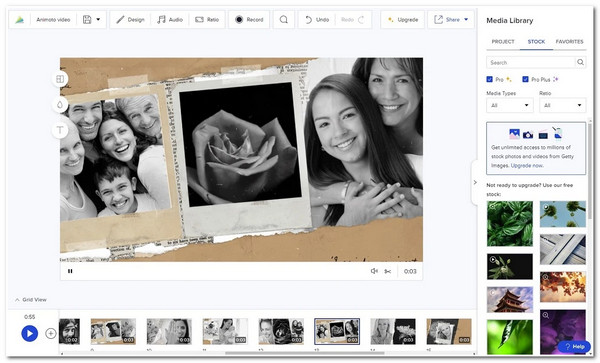 5. WeVideo
The last Microsoft Photos alternative tool for this lineup that you can use is WeVideo. It is also similar to Animoto when it comes to having a Screen Recorder; the difference is that with this editor, you are offered lots of templates that you can use to bring redefining changes to your video. It also supports 50 transitions, animated effects, and meme makers that will surely bring your video to the next level!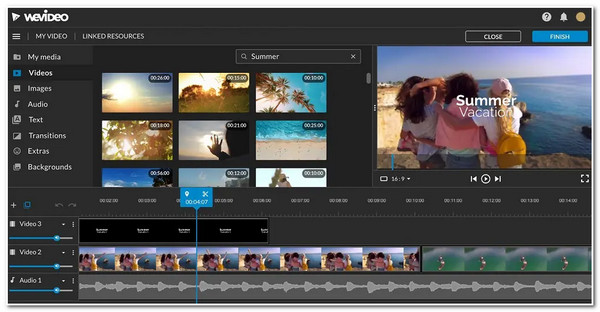 Part 4: FAQs about the Best Microsoft Photos Alternative
Does Microsoft Photos access all the videos or photos stored on my Windows?

Unfortunately, it doesn't. Microsoft Photos automatically displays only those photos and videos stored on your One Drive and Pictures folder. If you want to import a photo or video on the platform, launch the app, click the import icon at the upper right corner, and select the From a folder option. Then, access the photo or video you want to import.

Does Microsoft Photos offers payable features?

No, it doesn't offer any payable features. All of its supported features are free to use, unlike those tools that are featured above.

Where do edited photos go after editing them on Microsoft Photos?

The images you edit on Microsoft Photos are automatically saved and stored in your File Explorer inside the Images folder.
Conclusion
There you go! Those are the 8 best Microsoft Photos alternative tools you can use as a photo viewer and video editor. These tools can definitely fulfill all the functions and feature deficiencies of the Microsoft Photos app and achieve your desired image viewing and video editing. Among these featured tools, the 4Easysoft Total Video Converter is the best recommendation! This tool is infused with a Preview feature that clearly previews videos properly and is also equipped with advanced yet easy-to-use video editing features! To try this feature, visit this tool's official website today!
Related Articles