The Perfect Loom Alternative: Top Picks for Screen Recording
Have you ever used Loom to record a screen and felt that it lacked functionality? Like editing it to make it more vivid and imaginative? This post gives you 10 different Loom alternatives to suit your needs. Read and find the proper Loom alternative that suits your preference.
Know More about the Shortcomings Compared to Loom Alternatives?
Loom, offers both a desktop app and a Chrome extension, is a popular video recording and messaging tool, with which you can record your camera, microphone, and desktop simultaneously. Although Loom is powerful and easy-to-use, you may need Loom alternatives with more diverse features, useful editing tools, cheaper price, etc. The shortcomings below might exactly be reasons you want to seek for Loom alternatives:
Limited Editing Features: While Loom offers basic editing features like trimming, cropping, and adding captions, users have recommended adding annotations, text overlays, and transitions to enhance the overall video editing experience.
Big Size: Loom's desktop app is 187 MB in size, which will occupy much space on your computer. Thus, it may not be convenient to download or store on your computer.
Hardware requirements: Due to the high quality of video and many features provided, a huge amount of computer performance is needed while recording videos with high quality or long times.
Costly Price: The business plan for teams (up to 50 creators) costs $12.50 for each creator per month. And the enterprise plan for scaling teams (unlimited members) remains unknown yet, as you have to contact sales.
By exploring Loom alternatives, users can discover tools that better align with their video recording and sharing needs.
In the following sections, the post will introduce the top 10 Loom alternatives, each offering unique features that might make them a better fit for specific scenarios. Whether you're in search of a powerful desktop recording tool or a lightweight Chrome Extension, there's an alternative to Loom that could be your new go-to solution.
Top 10 Best Loom Alternatives with Special Features on Windows/Mac
Top 5 Professional Loom Alternatives for Desktop
1. 4Easysoft Screen Recorder
4Easysoft Screen Recorder is a powerful screen recording tool. It stands out with its simplicity and robust feature set, making it a fantastic and reliable Loom alternative. The software, which is only 2.4MB in size, offers more than enough editing features from annotations to transitions. while it is capable of recording high-quality video, it is not particularly demanding on hardware. At the same time, the price of permanent use is only $49.95.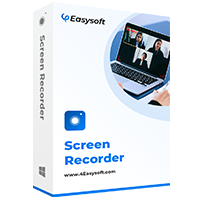 4Easysoft Screen Recorder
Capture any area of your screen, providing flexibility for a wide range of recording needs.
Easily trim, cut, and add annotations, ensuring your content is polished and professional.
Export your videos in multiple formats and share them directly to manifold platforms.
Superior recording quality up to lossless, capturing every detail with precision.
Real-time editing, enabling users to enhance recordings on the spot.
2. Snagit
Snagit is a well-known screen capture and recording software. It's well-equipped with many powerful editing features to clip, add annotations, and more. But it also leads to its high price for advanced functions. If you're seeking for a Loom alternative with a relatively affordable price, it might not be the best option.
Key Features:
Multiple capture options, including scrolling capture and panoramic shots.
Robust editing tools, perfect for creating polished video content.
Integration with cloud services for easy sharing.
GIF creation for dynamic content.

3. ShareX
ShareX is an open-source screen capture and recorder with a wide range of features. Its biggest advantage is sharing your screenshots. Within a relatively large user base, you can both get and share a lot of content. Therefore, considering its sharing features, it's also a great Loom alternative.
Key Features:
Powerful screen recording capabilities with support for different codecs.
Annotation tools for adding text, shapes, and more to recordings.
Workflow automation through custom tasks.
Frequent updates and an active user community.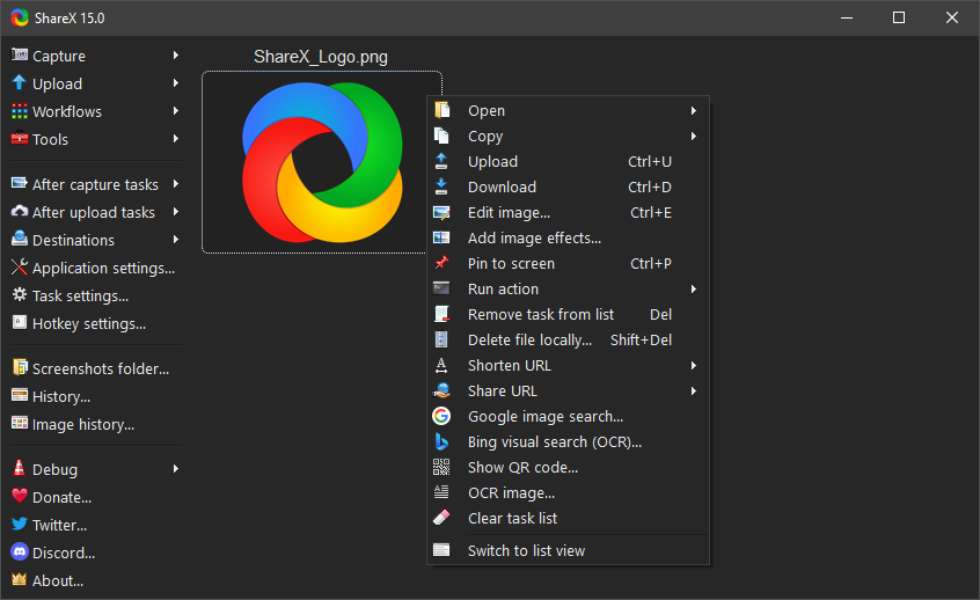 4. OBS Studio
OBS Studio, short for Open Broadcaster Software, is a popular choice for live streaming and recording. It's highly customizable and allows you to use your imagination, making it a compelling Loom alternative.
Key Features:
Real-time video and audio mixing.
Support for various streaming platforms like Twitch and YouTube.
Scene transitions and customizable layouts.
Advanced settings for professionals.
Extensive plugin support for additional functionality.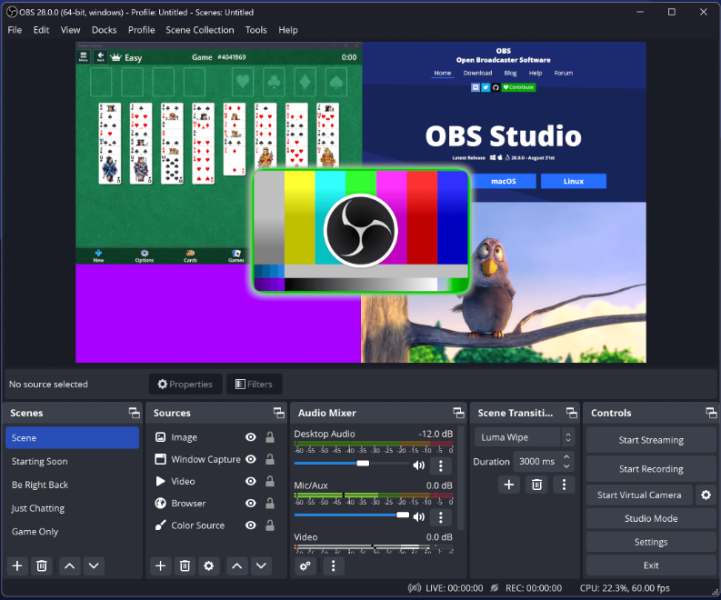 5. ScreenFlow
ScreenFlow is a dedicated video editing and screen recording software for macOS. This software is simple and convenient, even new beginners can operate freely. The only problem is that it only supports Macs, Windows users may not see it as their Loom alternative.
Key Features:
Professional video editing capabilities with a user-friendly interface.
Advanced audio editing and mixing tools.
Animated text and graphics for engaging presentations.
iOS recording for mobile app demos.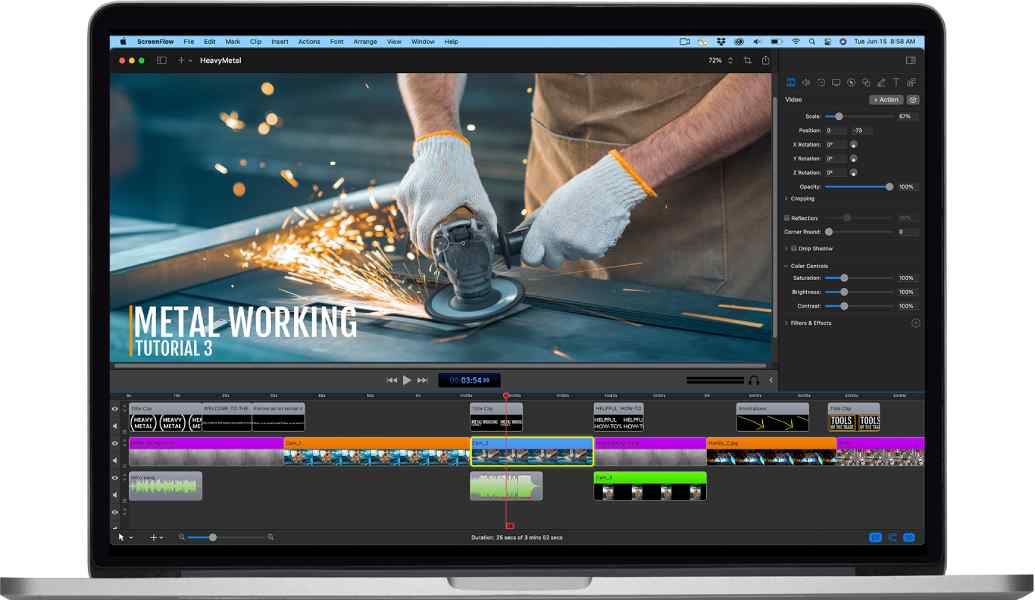 Top 5 Online Alternatives to Loom Chrome Extension
6. Clipchamp
Clipchamp is good choice for Loom alternative that seamlessly integrates with your Chrome. While being a Chrome Extension, Clipchamp also has its full interface provided for you to operate. After installing it, it still has an icon on your desktop, which making it more like an app.
Key Features:
Easy-to-use interface for quick video creation.
Video editing tools with trimming, cutting, and transitions.
Export videos in various formats, including MP4 and GIF.
Cloud storage integration for convenient access to your recordings.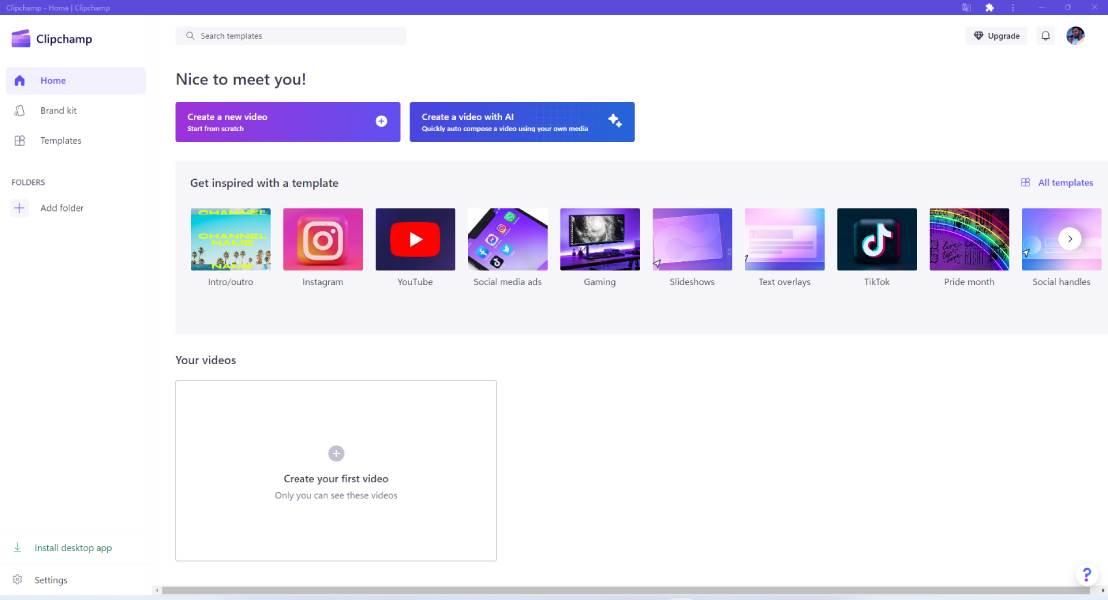 7. CloudApp
CloudApp, providing both desktop app and Chrome Extension, simplifies visual communication with its Chrome Extension, allowing you to capture and share screenshots and videos. But as a Chrome Extension, its features are not as abundant as other Loom alternatives.
Key Features:
Instant capture and annotation of screenshots.
High-quality video recording with built-in editing.
Easy sharing through links or embed codes.
Collaborative features for team projects.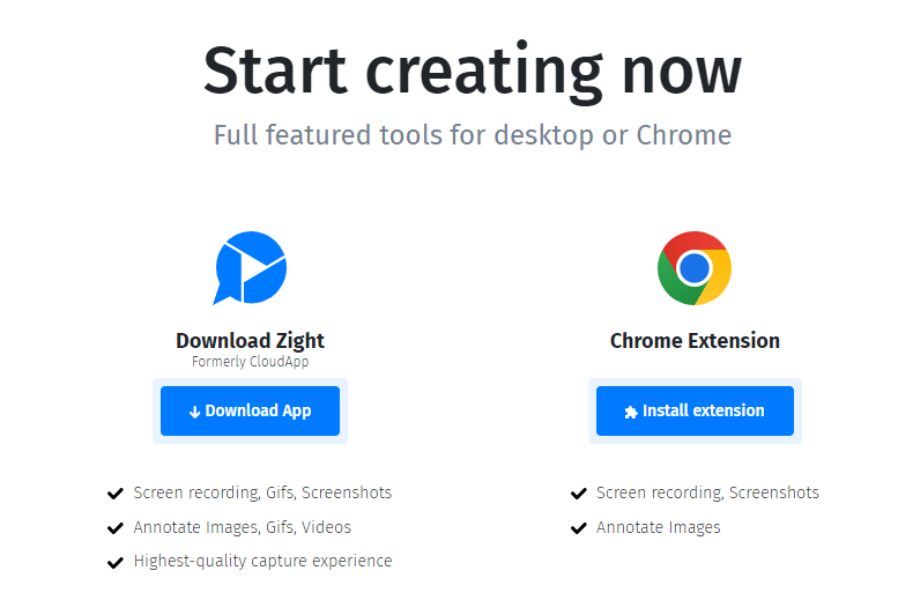 8. Screencastify
Screencastify is a user-friendly screen recorder and video editor available as a Chrome Extension. With this Extension, storing or sharing your recorded content will be a easy option for you. If you're looking for a Loom alternative specialized in sharing.
Key Features:
Record browser tabs, desktop, or webcam.
Built-in video editor with trimming and merging.
Auto-upload to Google Drive and YouTube.
Integrates seamlessly with Google Classroom.

9. DemoAir
DemoAir is a Chrome Extension designed for creating quick screen recordings and sharing them effortlessly. Although not being highly equipped with superb features as other Loom alternatives, DemoAir focuses a lot on its files' security with several methods.
Key Features:
Edit recordings with annotations and highlights.
Share videos via links or download them.
Automatic video compression for faster sharing.
Password protection for added security.

10. Awesome Screenshot & Screen Recorder
This Chrome Extension combines screenshot and screen recording capabilities into a single tool. It's convenient as it supports you customize your hot keys while taking screenshots. But when it comes to sharing features, it might not be a great choice for Loom alternatives.
Key Features:
Record screen activity with audio narration.
Save and organize captures within the extension.
Share your creations through links or social media.
Customizable keyboard shortcuts for quick access.

FAQs about the Loom Alternative for You to Record Screen
1. What are the key differences between Loom Desktop App and Loom Chrome Extension?

Loom Desktop App offers more comprehensive screen recording capabilities and local storage options. Loom Chrome Extension is a lightweight, in-browser tool with limited features.

2. Is it easy to transition from Loom to one of these Loom alternatives?

Yes, most Loom alternatives have user-friendly interfaces and offer import options to make the transition smooth. Even you're a new beginner, it won't be a problem.

3. What formats can I export my recordings in using 4Easysoft Screen Recorder?

As one of the best Loom alternatives, 4Easysoft Screen Recorder supports exporting recordings in various formats, including MP4, AVI, WMV, and more, ensuring compatibility with different platforms.

4. What is Loom AI? Is it helpful for Loom Screen Recorder?

Loom AI is a tool based on AI algorithms to help users use Loom more intelligently. It can help you automatically generate captions and automatically summarize video content.

5. Can I use Loom to record a screen if I don't pay for it?

Yes. But you can only record your screen for 5 minutes and possess 25 video limit storage with free plan.
Conclusion
In conclusion, Loom is a software that can record screens and share files simultaneously. But limitations such as recording area or storage space also call for a Loom alternative. This post offers 5 different options each for the desktop app and Chrome extension. Among them, 4Easysoft Screen Recorder is the most recommended Loom alternative, for it not only guaranteeing high quality and efficient recording, but also facilitating file transfer and sharing.
Related Articles: