How to Fix Face ID Not Available on iPhone 14/13/12/11 [100% Workable]
Face ID is more convenient than passwords, so Face ID is a preferred authentication security by some iOS 16 or other device users. But there are instances the Face ID is not available on iPhone because of stuck, recognition, or other face issues. Don't worry if you encounter it! Luckily, you found this article. Explore this page to witness seven ways to fix Face ID not available on iPhone, and the best method as an alternative.
Part 1. 7 Ways to Fix Face ID not available on iPhone X/11/12/13/14
iOS 16 release is infused with a feature that unlocks iPhone through Face ID, and it was developed for a much more excellent feature. However, there are cases in which the user's looking for a solution how to fix Face ID not available on iPhone. Here are the seven ways to make it available on your iPhone iOS 16.
1. Check Face ID-supported iOS devices.
Face ID is only available for those users with iPhone version X and later devices, including iOS 16 and more likely facing this Face ID is not available iPhone issue. Face ID authentication is unavailable on your device if you are currently using iPhone with version 8 to older.
2. Check for any Updates.
If you are using one of the iPhone versions mentioned above, you can check for any updates available to it. Updating your iPhone can benefit you by having the latest features and fixing minor or major software bugs, particularly with your Face ID. There might be a problem with the software that makes you encounter Face ID not available iPhone issue.
3. Check Face ID Settings.
Your Face ID might need to be set up correctly, so you need to check for it. This fundamental check is also helpful for you to see if you enabled everything with Face ID. You are more likely to experience the unavailability of Face ID on a specific app or other third-party apps if you are not able to apply Face ID authentication to it. To check it, here are the basic steps for you; these might solve the "Face ID is not available iPhone" issue.
Step 1Launch the Settings app on your device.
Step 2Tap the Face ID & Passcode. If you see Reset Face ID option available on the selection, it implies that you have already set up your Face ID.
Step 3And if you wish to apply to other options provided like iTunes & App Store, Wallet & Apple Pay, or with Other Apps. Tap the switch button to turn it on.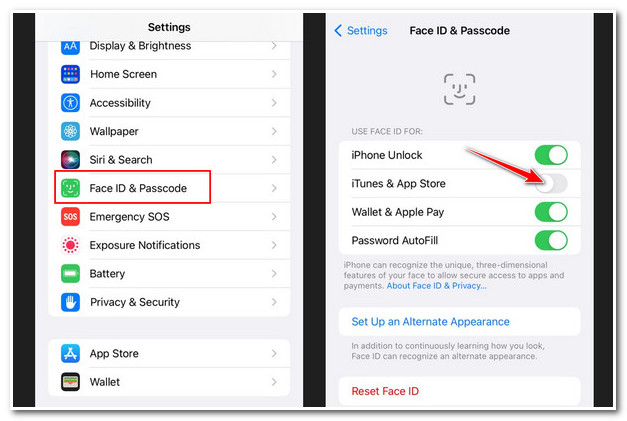 4. Check for any iPhone's TrueDepth Camera Obstructions.
If there's any obstruction on your TrueDepth Camera, Face ID will not work. You should ensure that there is no dirt, fingerprint marks, or even a thick screen protector covering your TrueDepth Camera. You can utilize a microfiber cloth to wipe out things that obscure your TrueDepth Camera. Then, check if it can solve the Face ID not available iPhone problem.
After the first three checking methods, Face ID might already work on your iOS 16. If it still needs to be made available and working on your device, here are the other ways.
5. Face your iPhone's TrueDepth Correctly.
In the early release of iOS 16, you need to hold your iPhone vertically to scan your face with your phone's TrueDepth camera. Fortunately, after some updates, Face ID can scan your face horizontally. However, the TrueDepth Camera scanner comes with a range of views. Whether your iPhone is lying on a surface or holding it, you must ensure it is at arm's length or closer to your face to avoid Face ID not available iPhone issue.
6. Reset Face ID Setups.
When you still receive messages like "Face ID not available, try again later," you can remove related data stored on your Face ID and set up a new one. This method would help Face ID perform better if you already utilized glasses daily or applied some changes, whether with your hair or with your other appearance. Moreover, in this way, you could also recheck or rearrange the initial setup procedure that you've done before. To reset your Face ID, here are simple steps to do it.
Step 1Open the Settings app, tap Face ID & Passcode and enter your Passcode.
Step 2Then tap Reset Face ID. Set up your new iPhone Face ID by following the instructions or prompts.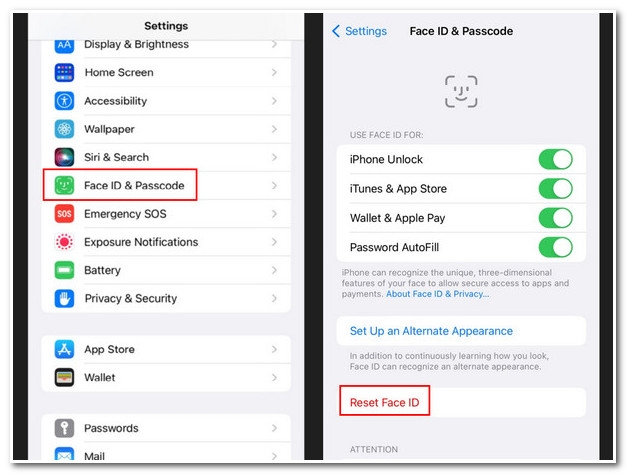 7. Restart Your iPhone.
Restating your iPhone at least once a week improves your iPhone's performance. With regards to the Face ID not available iPhone issue, this may be a valuable way to refresh the Face ID feature on your iPhone and be able to solve it if it is only a problem with an app crash. After restarting it, try using the Face ID feature again after entering your passcode.
Once you are done doing the ways mentioned above to fix iPhone Face ID, you can now utilize it without experiencing any obstructions, and it already performs very well. If not, use one of the best methods below to fix Face ID not available on iPhone quickly in one click.
Part 2. The Best Method to Fix Face ID Not Available on iPhone [iOS 16 Supported]
If you're still having trouble with the "Face ID not available iPhone" problem, try 4Easysoft iPhone Data Recovery, a tool capable of fixing iPhone with all models and iOS version quickly. This iPhone recovery tool supports fixing a large number of different iPhone issues, including your problem with Face ID. Furthermore, it fixes iPhone issues without losing the data stored on your device. This tool would be the best solution to solve the "Face ID not available iPhone" issue.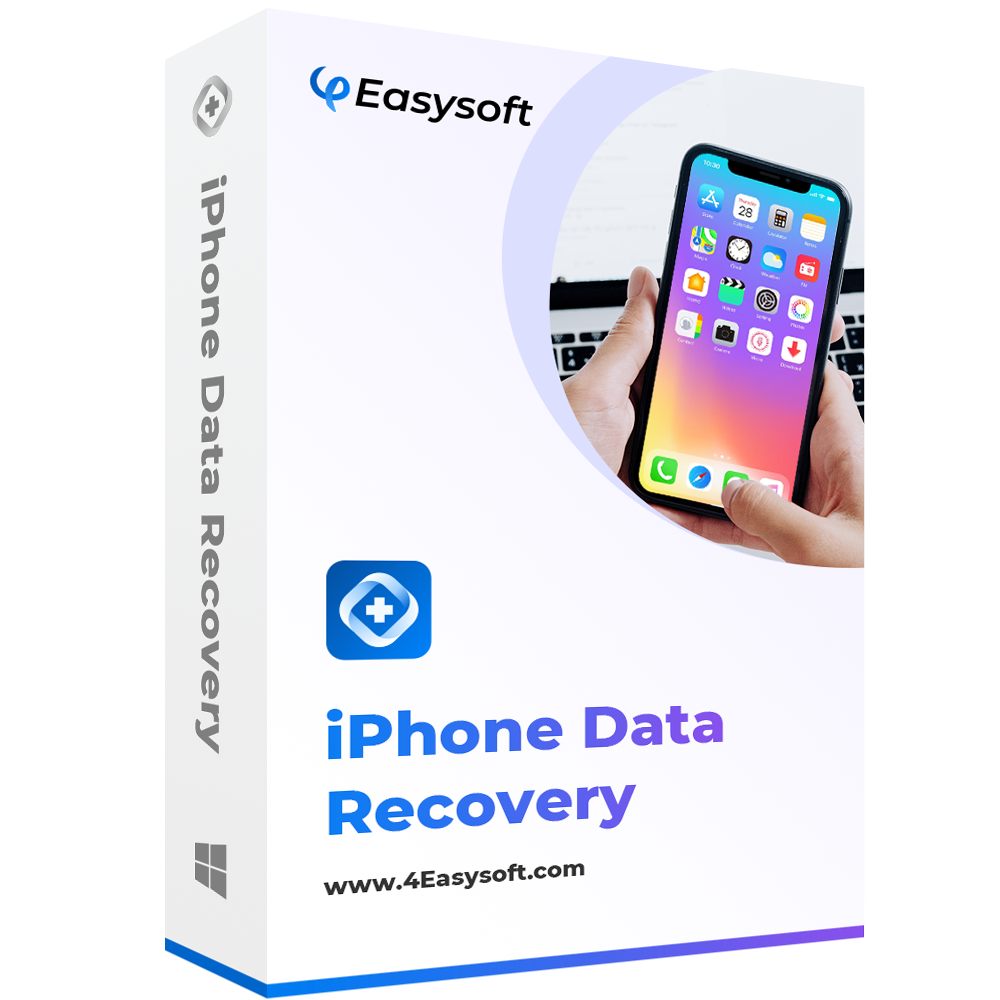 4Easysoft iPhone Data Recovery
Able to fix 50-plus iPhone issues such as update errors, reset issues, restart failures, and more.
Capable of fixing iOS 16 and other iPhone versions or Face ID issues at the highest success rate.
Offer iOS data reset, backup and recovery, which can help you recover 20+ different file types.
Support all iOS versions and device models, including iPhone 14/13/12/11 and more.
Steps to fix Face ID not Available on iPhones using 4Easysoft iPhone Data Recovery with iOS 16 Supported:
Step 1Visit the 4Easysoft iPhone Data Recovery website using your browser to download and install the tool. Then, launch the tool on your computer and click the iOS System Recovery button at the upper right corner of the tool's interface.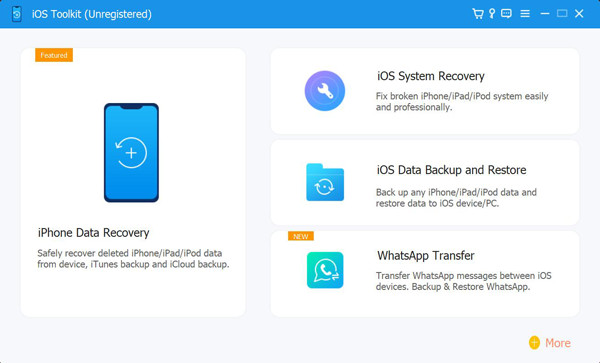 Step 2Connect your iOS 16 to your computer through a USB cable. After that, for the tool to detect your device, click the Start button to find the reason causing Face ID not available on iPhone.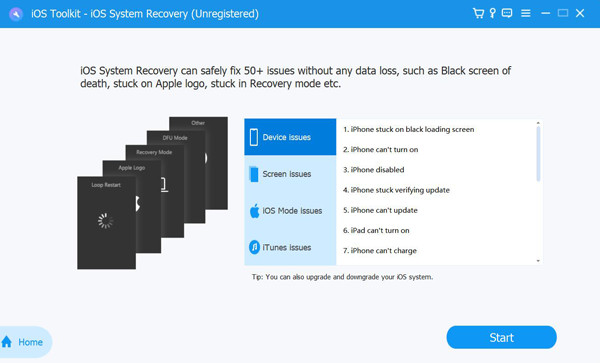 Step 3After the detection process, the tool will display the information related to your iOS 16 device. If you are experiencing a minor problem, click the Free Quick Fix text button. Or, if not, tick the Fix button to do other fixes.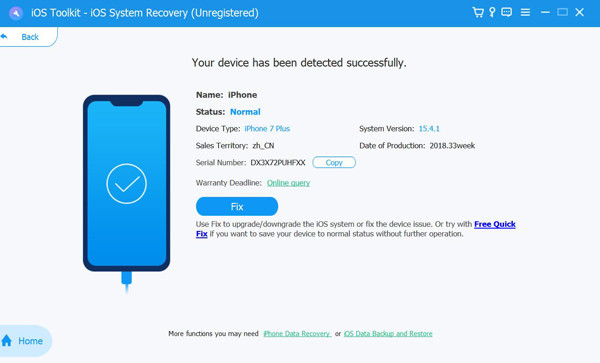 Step 4If you choose Standard Mode, it will fix simple iOS issues while preserving your stored data. On the other hand, Advanced Mode will resolve much more complicated matters and deletes your data but with a high success rate. After choosing, tick it and click the Confirm button.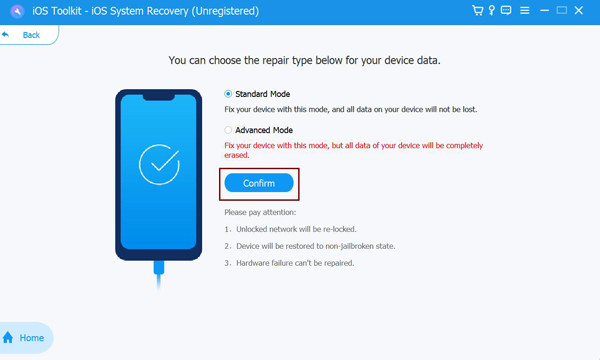 Step 5Before you can start fixing the Face ID issue on your iOS 16 device, choose the most appropriate Category, Type, and Model that applies to your iOS device. Also, you can select your desired firmware and click the Download button. You can upgrade or downgrade your iOS version through this process, then tick Next to start fixing Face ID not available on iPhone.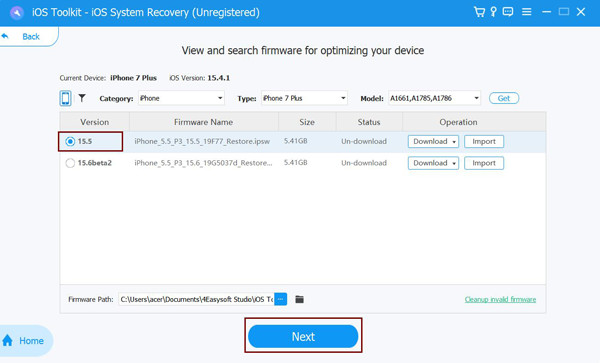 Part 3. FAQs about Face ID Not Available on iPhone
1. Does Face ID not available on iOS 16 after screen replacement?

If Apple does your replacement, Face ID is still available on your iOS 16. Otherwise, the Face ID feature will be blocked on your device if a third-party repair shop does it. This is because a complicated process is challenging for an average repair shop. If you wish to replace your iOS 16 screen and make Face ID still available, fixing it with Apple authorized repair shop is recommended.

2. Can iOS 16 Face ID recognize me while wearing a facemask?

Unfortunately, iOS 16 doesn't have a feature that recognizes your face and unlocks your iPhone even while wearing a mask. This feature is only supported by iPhone 12 and 13 series.

3. Why does my iOS 16 Face ID not available with a broken screen?

If a broken screen is caused by accident dropped, there's a possibility that Face ID components are damaged. It is best to fix it with authorized iPhone screen repair, which you can find on the Apple support website.
Conclusion
Those are the best ways to fix or troubleshoot your "Face ID not available iPhone" issue. Try them all out to see the best solution to your problem with Face ID. If you wish to fix it directly and identify the problem on your iPhone's Face ID, I recommend using 4Easysoft iPhone Data Recovery. After detection, you can see the problem and fix it without any loss of your data at a high rate of success. Feel free to download and install the tool now!
Related Articles: