How to Delete Bookmarks on iPhone 15/14/13/12/11 [Safe & Easy]
Bookmarks in Safari are efficient if you want a quick way to visit a site without typing it into the search bar. Users like to delete bookmarks on iPhones when they get overwhelmed with too many bookmarks in Safari, including those old and unused ones. Because of those unnecessary bookmarks, you may need help finding the one you need. So, to get you out of this problem, deleting Safari bookmarks is essential to free up space. In this post, two easy ways are provided to delete bookmarks on iPhone. Let's get started!
Part 1: The Best Way to Delete Batch Bookmarks on iPhone Completely
If you're going to delete Safari bookmarks, you manually do it one by one to keep those necessary bookmarks. This method eats a lot of your time. So, you are probably searching for a way to batch-delete bookmarks on your iPhone. To answer this, go for a program as effective as 4Easysoft iPhone Cleaner. This application works well on both Windows and Mac and is a powerful cleaner that erases all data from your iPhone. It thoroughly scans your device, detects all junk and temporary files, and selects which will be removed.
Furthermore, it provides you with three erasing levels, which are Low, Medium, and High Levels. Although each has different cleaning intensities and security, they will undoubtedly meet your needs to clean up your iPhone, iPad, and iPod. To get to know more about this powerful iPhone Cleaner, you can get it for free and enjoy the features it provides.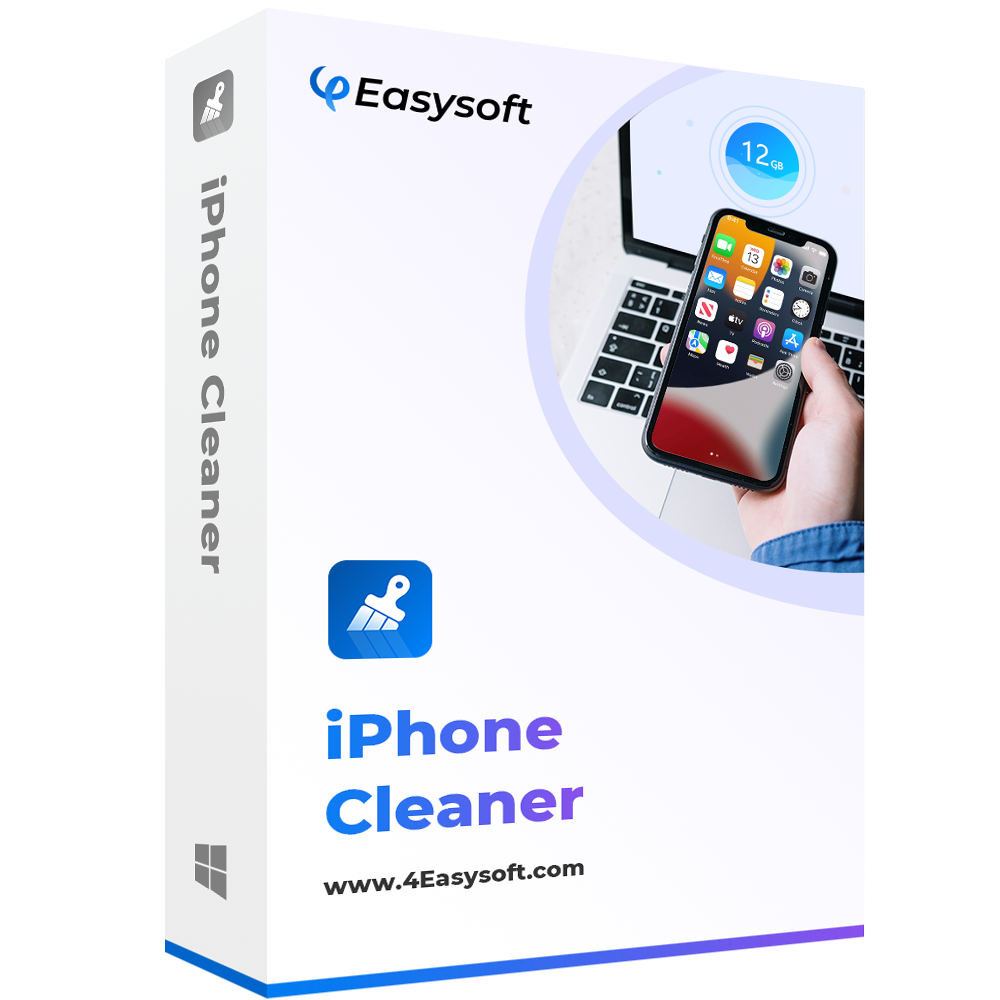 4Easysoft iPhone Cleaner
Scan your devices comprehensively to detect all junk, files, and more data.
Supports all models and versions of all iOS devices, like the iPhone, iPad, and iPod.
Provides a preview of all data, allowing you to choose your preferred ones to remove.
Offers you three security levels: Low, Mid, and High to wipe all data on your device.
Step 1Head to 4Easysoft iPhone Cleaner leading site to download its latest version; click the Free Download button. Make sure to complete the installation process.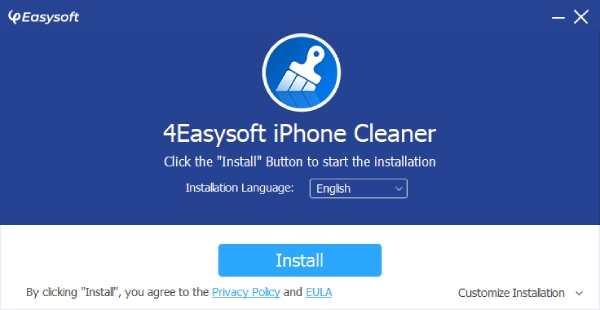 Step 2Connect your iPhone to the computer via a USB cable. Tap Trust on your iPhone to allow your PC to detect all device info.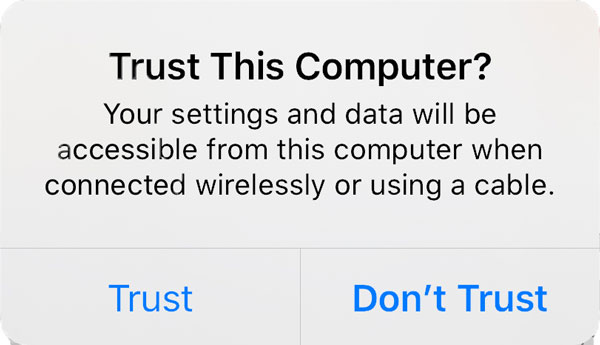 Step 3On the left side menu, click the Erase Private Data, then choose one from the two erasing modes: Custom Erase and One-click Erase.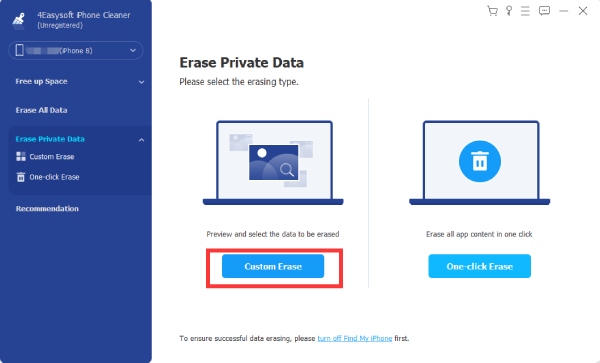 Step 4Suppose you choose the Custom Erase. After scanning, you will see the full preview of the private data. Click the checkbox of Safari Bookmarks.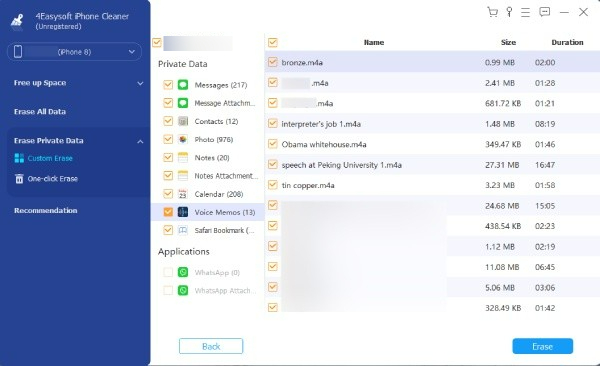 Step 5You won't get any preview of the information for the One-click Erase mode. Click the Safari Bookmarks button and click the Erase button below.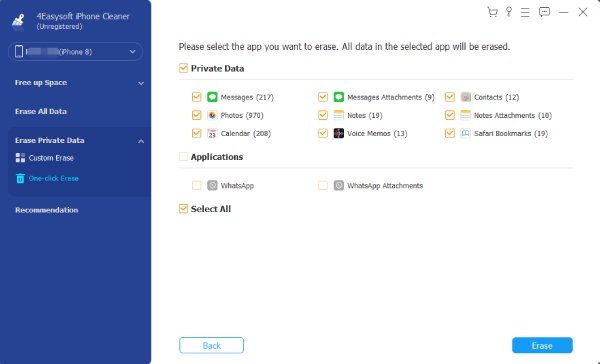 Part 2: How to Delete Bookmarks on iPhone from Safari Directly
You can, if you prefer, delete bookmarks directly on your iPhone without using a computer. It is as easy as deleting the messages on your iPhone. However, the drawback is that you will delete bookmarks individually since it doesn't offer a Select All option that lets you delete all at once. Though it will take much of your time, it will effectively eliminate those new bookmarks and let those important ones stay. Learn how to delete bookmarks on your iPhone in the following steps.
Step 1Go to the Safari app on your iPhone, then locate the Bookmark with the open book icon at the bottom. Once you're there, you will see a list of all the bookmarks you saved.
Step 2If you did some folders to organize them, you could quickly identify them. And for the bookmarks you marked as favorites, you can see them in the Favorites option.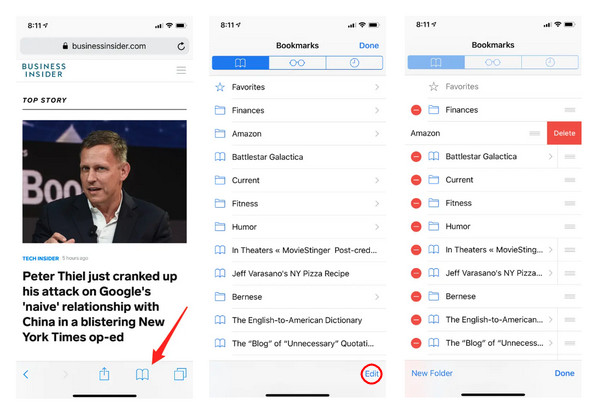 Step 3If you want to delete those bookmarks in a folder, tap on it. Then tap Edit. Alternatively, you can tap Edit to delete all content.
Step 4Tap Delete on the left side of each bookmark, then confirm it by tapping Delete, which slides off on the right side.
Part 3: FAQs about How to Delete Bookmarks on iPhone
Is there a way to batch-delete bookmarks on iPhones?

Yes. But there is no official way to delete multiple bookmarks at once directly on Safari. However, consider using a program to assist you in deleting bookmarks with just one click. You can use the one mentioned, the 4Easysoft iPhone Cleaner. You can go back to Part 1 and see how to use it to batch-delete bookmarks.

Can I edit my bookmarks in Safari without deleting and adding them again?

On Safari, tap the Bookmark in an open book icon and Edit. You can then create a new folder to organize your bookmark based on their categories, delete them, rename, or reorder your bookmarks. Lastly, tap Done when you've completed all changes you want.

Are there limits to saving bookmarks in Safari?

Yes. Limit your bookmark to 450 for each folder you make, and you won't be required to delete them. However, if you accidentally delete some, you can find them on iCloud.com and then use the Restore Bookmarks function.
Conclusion
That's all on how to delete bookmarks on iPhone. With the ways given above, mainly the technique of deleting bookmarks directly on Safari, you can select bookmarks you wish to delete and keep. But, if you wish to manage bookmarks and other private data on your iPhone with no trouble, download the 4Easysoft iPhone Cleaner now on your Windows and Mac.
This software offers a hassle-free way to delete app data on your iOS device with just one click. You can select data freely and get the preview to choose which of them to keep or not. Other than that, with this iPhone Cleaner, you won't have to worry about the security of your information as it provides high security with a high success rate as well. So, what are you waiting for? Don't hesitate to learn more about the program!
Related Articles