Popular Streaming Platforms to Enjoy Watching 4K Movies and TV Shows
Watching movies in high resolution with your smart TV is a delightful treat. But sometimes, 720p is not enough to enjoy your binge-watch. Given that many streaming platforms offer high-quality movies, only a few have free 4K movies. But what is 4K streaming? 4K is the horizontal display resolution of 4,000 pixels, showing a better watching experience. With that said, this post shows the best streaming platforms to enjoy high-definition videos. And if you want to upscale your videos to 4K, there is also a tool to help you in this post.
Part 1: Top 10 Platforms to Watch 4K Movies
The best way to watch 4K movies is to purchase a popular streaming platform. You can enjoy all your favorite movies, and streaming services often allow you to download TV shows and series. Here are the top ten platforms to watch 4K movies without further ado.
1. YouTube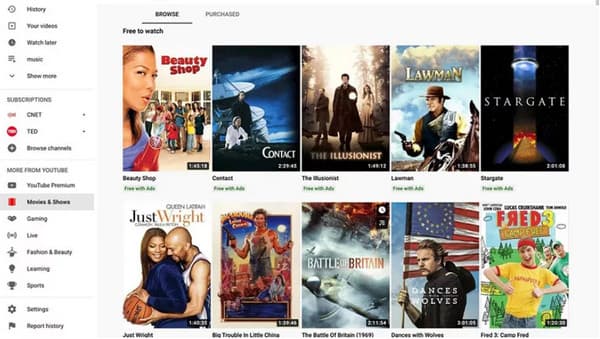 YouTube is a social platform for creators, but you can also watch 4K movies here. It has the most popular movie genres, including romance, comedy, action, and others, and even allows you to configure the resolution from 480p to 4K. You can find all its available movies in the Movies & Shows section.
Pros

Affordable prices for various movies.
Videos can be bought or rented with the same quality of choice.
Cons

No free 4K movies to watch.
2. Netflix

This streaming service is a growing platform that offers many movies, ranging from cartoons to family-friendly and adult series. Its premium package costs $14 per month, and you can choose to watch newly released movies in 4K or HD. Of course, you can also use your Netflix account on another device, like a smartphone or laptop.
Pros

No commercials between episodes.
Download offline videos in good quality.
Cons

Some movies are not accessible to other countries.
3. Amazon Prime
Amazon Prime offers a great deal of 4K movies to watch offline. It has an intuitive interface with settings for subtitles and voiceovers. It is an excellent alternative as you can download and watch offline videos to save mobile data. Amazon Prime charges $139 annually, but you can choose another plan from its official website.
Pros

Support multiple devices to watch.
Live football and other games.
Cons

No popular movie franchise like Disney.
4. Apple TV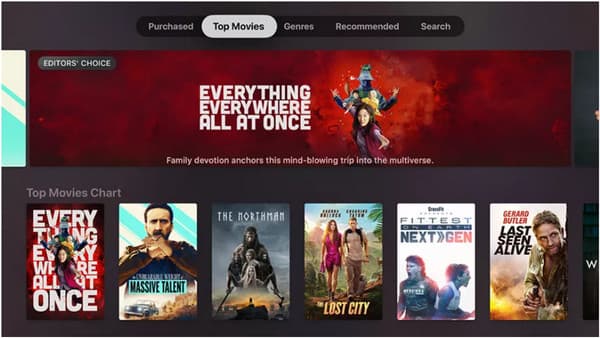 Around 2017, Apple TV first released its 4K and HDR boxes, which allow you to watch various videos and TV shows once connected to your TV. The only difference between Apple TV and other streaming services is you must rent movies from Apple TV.
Pros

Straightforward interface which is easy to set up.
Excellent list of series and movies.
Cons

The Ethernet port is 128GB only.
5. Vimeo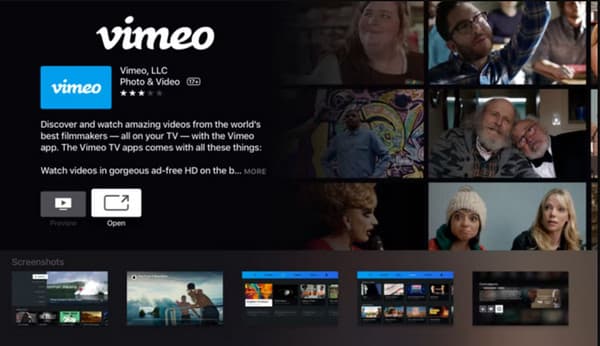 You can watch 4K movies on Vimeo with various genres like documentaries, trailers, VR, and other movies. It is also a platform where creators can share their ideas through advertisements and short videos.
Pros

Excellent video quality for uploading and watching.
Broad show categories.
Cons

Do not support download.
6. Sony Ultra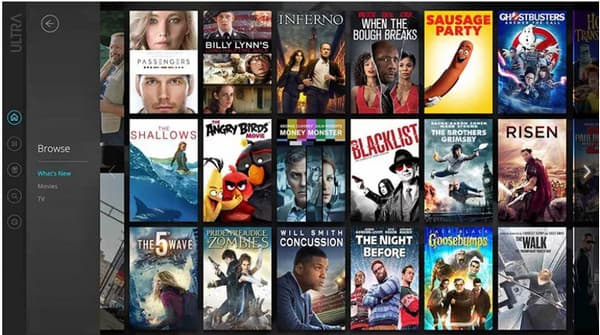 Sony Ultra first unveiled its own 4K movies in 2016, providing more than 100 videos and TV series. Moreover, the streaming platform also supports HDR 10 on almost Sony movies, creating theater-like entertainment.
Pros

Bought movies are stored in the cloud and not in the device.
Support 4K ultra HD video streaming.
Cons

$30 per Sony Picture.
7. Vudu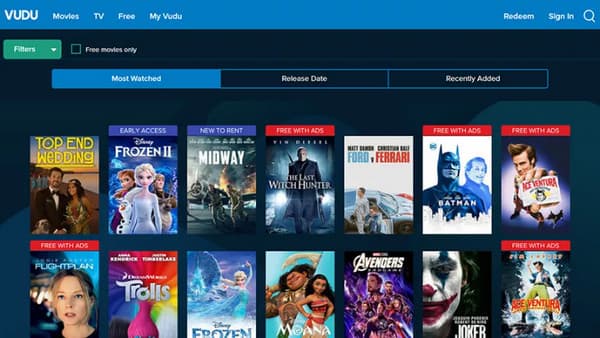 Watch 4K movies online with Vudu. The streaming service provides all the newly released movies you can buy or rent. The range of prices starts from $10, but you can also find movies that are free to watch in 2160p and 4K resolution.
Pros

Categorized movies and TV shows.
Effective search filters for videos.
Cons

Expensive rental videos.
8. UltraFlix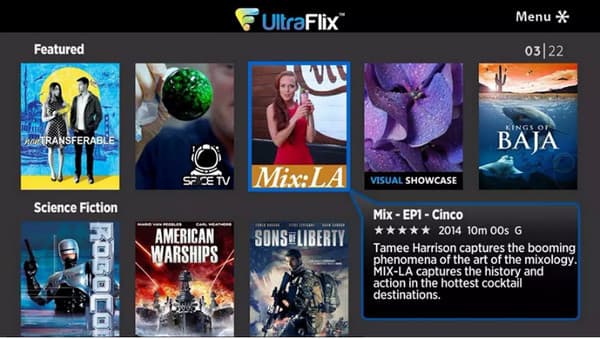 The streaming platform is one of the fastgrowing services, as it allows you to watch 4K movies online. It is licensed by Warner Bros and Magnolia Pictures and offers 100 hours worth of free 4K streaming. You can watch also watch K-dramas on this website.
Pros

Affordable 4K movies.
Affiliated with Tizen, Sony, etc.
Cons

Only work with 4K TV.
9. BBC iPlayer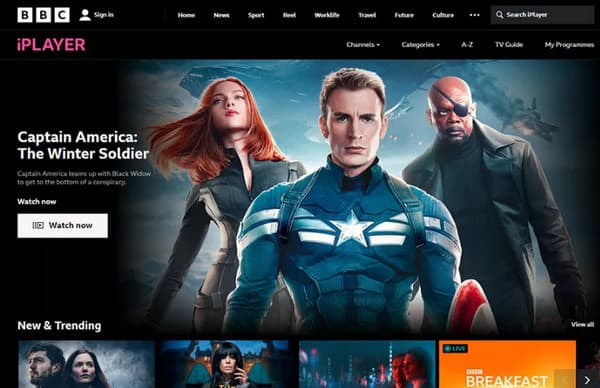 BBC iPlayer began providing 4K movies in late 2017 and still ensures excellent quality. You can enjoy binge-watching for as long as you have high-speed internet work, specifically 40Mbit for 3840p ultra HD or higher.
Pros

Work well with mobile devices.
Wide range of series and shows.
Cons

Limited to the UK.
10. Metacafe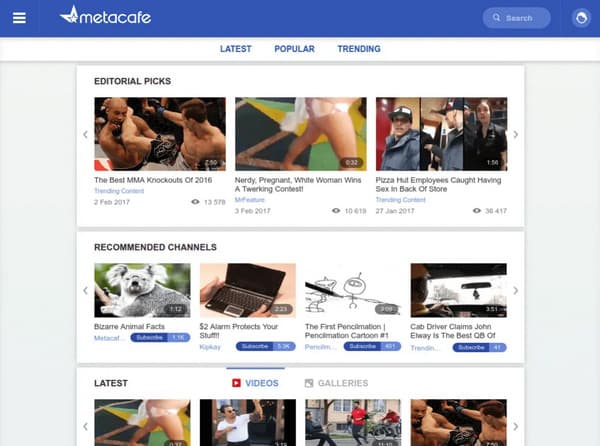 Metacafe is an old streaming website, but you can still watch 4K movies, music videos, and other content. Other than its streaming service, it also offers video games and sports for other entertainment.
Pros

100% free to use.
Simple and clean interface.
Cons

Too many advertisements.
Note: If you often watch 4K videos on platforms, remember to clean the video cache to get more storage on your iPad, iPhone, Android, Mac, and Windows.
Part 2: Upgrade Videos to 4K for Better Playback
Did you know that you can upscale your offline videos to 4K movies? 4Easysoft Total Video Converter is a multifunctional solution desktop tool that provides various video enhancements. Regarding resolution, it has 720p, 1080p, 4K, and higher options! It also removes unwanted video noise, shakiness, and watermarks without losing the original quality. With 4Easysoft Total Video Converter, watching 4K movies is not impossible!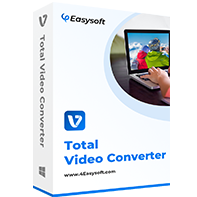 4Easysoft Total Video Converter
Advanced video enhancer that improves videos so users can watch 4K movies easily.
No file limitation to upload input formats like MP4, MOV, AVI, WebM, and more.
Configurable output settings for video codec, quality, frame rate, and audio settings.
Upscale videos and save with fast conversion up to 50x speed without delay.
Step 1Visit 4Easysoft's official website and click the Video Converter. Once done with the installation, click the Toolbox button from the top of the interface. And then, click the Video Enhancer button to upload the desired video.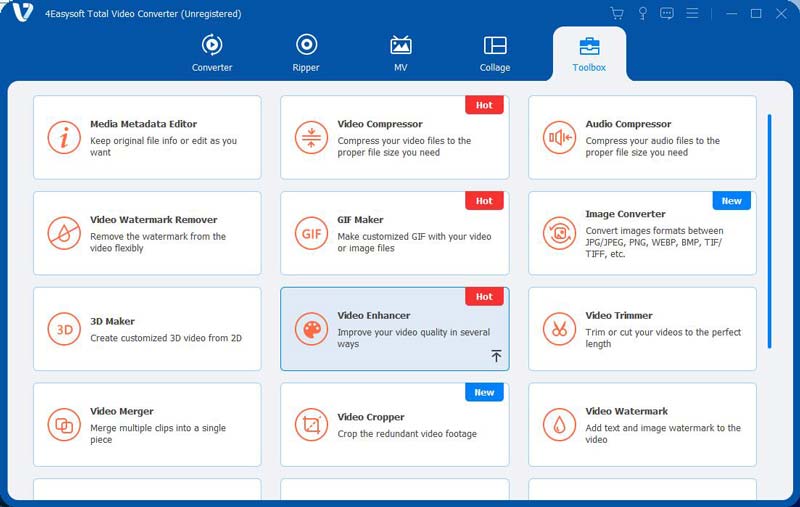 Step 2After uploading, head to the Enhance menu to enhance the video clip with features like Upscale Resolution, Optimize brightness and contrast, Remove video noise, and Reduce video shaking. Click the Preview button to see it before enhanced.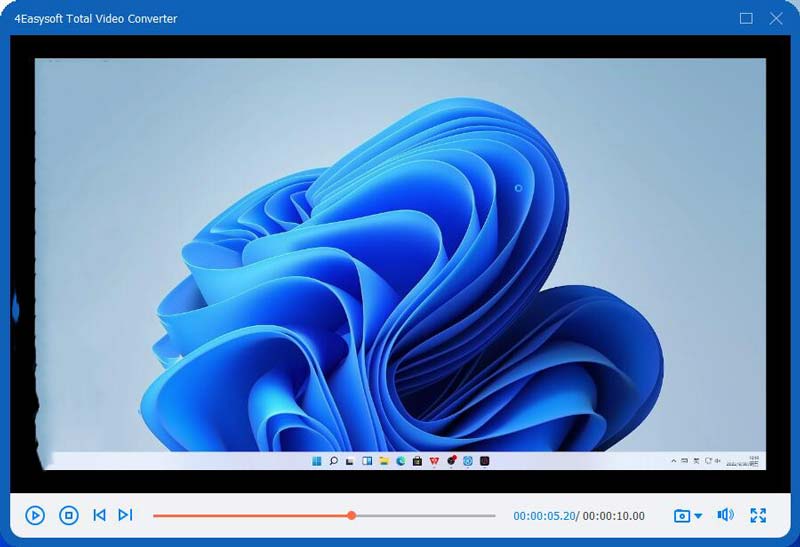 Step 3Click the Browse button beside the Destination menu to save the output. Browse for the designated folder of the output file. Once done, click the Enhance button to process and improve the video quality.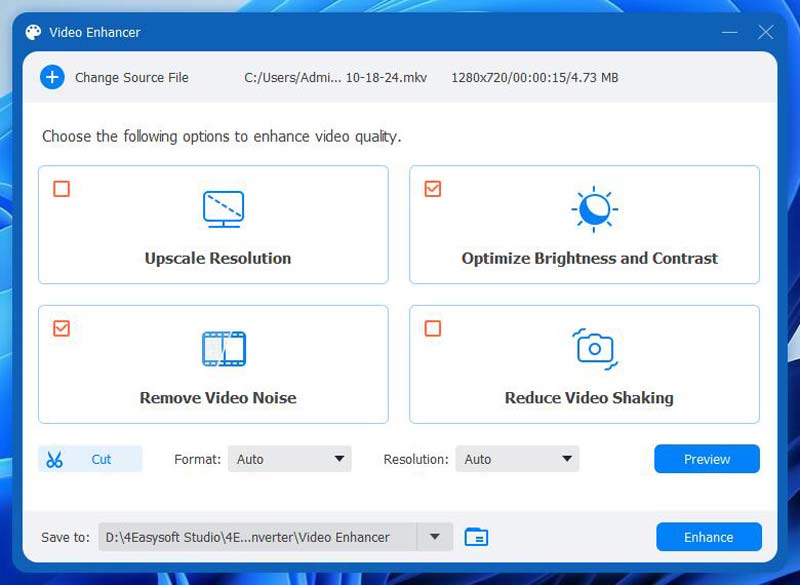 Part 3: FAQs about Watching Movies in 4k
Which FPS is better for watching 4K movies?

FPS or frame per second can distinguish the smoothness of a movie. Many movie lovers prefer to have 4K set to 60FPS for a better watching experience.

Which media player can I watch 4K movies with?

Windows Media Player allows you to watch 4K movies, but you can also use other options like VLC, Cisdem Video Player, and others.

Is 4K huge in file size?

A video with 4K resolution can be four times larger than a standard HD video. Two to three minutes of an uncompressed 4K video can be up to 500GB.
Conclusion
Watching 4K movies is enjoyable with the recommended streaming platforms. You might need to purchase a plan from one of the platforms, but if you have offline movies, you can upscale videos to 4K with 4Easysoft Total Video Converter. And even if you do not want to take too much storage for video, you can use 4Easysoft as an HD converter to upscale your video to HD too. Try the free version by clicking the Download button.
Related Articles