How to Convert and Edit HD Videos With Only One Powerful Tool?
Nobody wants to watch low-quality videos, especially if they are newly released. If you're going to save HD movies on your device, you might need to make some changes to these films, including portal compatibility, format, and resolution. When you edit HD videos, things could go wrong if the tool you use ineffectively changes the video's data. For this reason, let's look at how 4Easysoft Total Video Converter will do the task and how this powerful solution can convert HD video while keeping the original video quality.
Part 1: The Overall Reviews on the All-in-one HD Video Converter and Editor
4Easysoft Total Video Converter is a unique software that focuses on video converting and video editing concerns. The tool provides all the solutions you need, such as conversion, compression, enhancer, and more. You can simple use it to convert and edit HD videos. Let's look at the overall review for 4Easysoft Total Video Converter.
4 Main Features of 4Easysoft Video Converter:
1. Converter
4Easysoft Total Video Converter's conversion function is one of the main functions. The process comes with fewer clicks on the mouse yet provides high-quality outputs. Its Lossless Acceleration integrates with machine learning computations and Blu-Hyper technology to convert files at ultra-fast speed while keeping the original quality. You can convert HD videos smoothly as GPU acceleration manipulates and alters memory to accelerate intensive conversion.
◆ Convert HD videos without file size limitations and save them in high quality.
◆ More than 600 file formats and device presets like MP4, MP3, AAC, MOV, WMV, WAV.
◆ Adjust the advanced settings to configure output, including resolution, frame rate, etc.
◆ Support batch conversions with separate output editing with 50x faster speed.
MV
The MV menu on the tool is a helpful feature for compiling multiple videos with style. You can edit HD videos with themes like Christmas, autumn, wedding, sport, and other stylish ones. You can also easily edit a video with the settings. It allows you to trim, enhance, crop, rotate, apply a filter, and replace a video with another one. Starting and ending titles offer you tools to change fonts, sizes, and colors. Other editing functions on HD videos you can find:
◆ Personalize the watermark to put on the slideshow.
◆ Different aspect ratios to fit Instagram, cinema, and other media.
◆ Separate audio settings to boost volume and delay sound.
◆ The Export option can change the output format, resolution, quality, etc.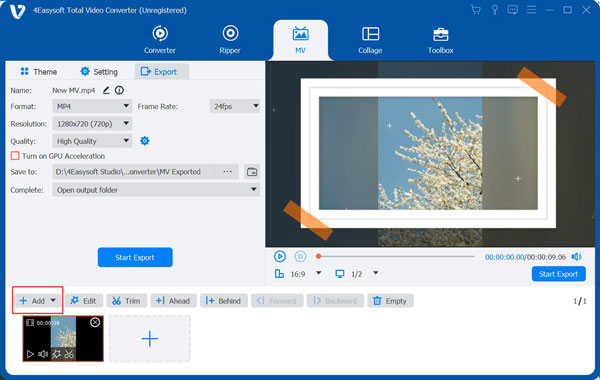 Collage
The next powerful feature provides extensive designs to compile and play videos simultaneously. More than 40 templates are available to video collage up to 13 videos at once. You will not run out of filters to edit HD videos and make them more beautiful. Moreover, you can edit the borders with various colors, sizes, and designs. The Collage feature also has the same output settings as MV, including audio settings, customizable aspect ratios, and configurable exporting options.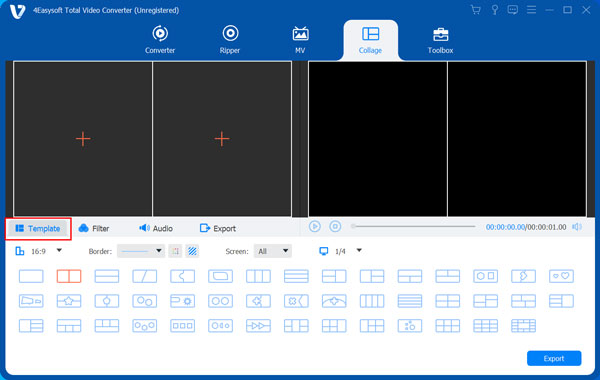 Toolbox
The last menu you will find on 4Easysoft Total Video Converter is Toolbox. It consists of many editing tools for HD videos that serve the different purposes you might need for video and audio editing. Some tools can help you to enhance and modify video files in more accessible ways, while there are some audio tools to amplify soundtracks. The toolbox menu also has:
a. Video Compressor
Properly compress video files to the user's desired file size without losing too much quality.
b. GIF Maker
A tool for making GIFs out of videos and image files.
c. Video Merger
Easily merge multiple video files into one clip while editing them separately.
d. Video Enhancer
Enhance any type of video through improving resolution, removing video noise, and optimizing brightness.
e. Video Speed Controller
Apply slower or faster speed to video files up to 8x.
f. Video Reverser
Smoothly reverse videos and save them in the best quality.
g. Volume Booster
Adjust the volume on a video without distorting the sound quality.
h. Audio Sync
Allow users to synchronize audio to video perfectly.
i. Video Watermark Remover
Remove watermark from videos with flexible tools.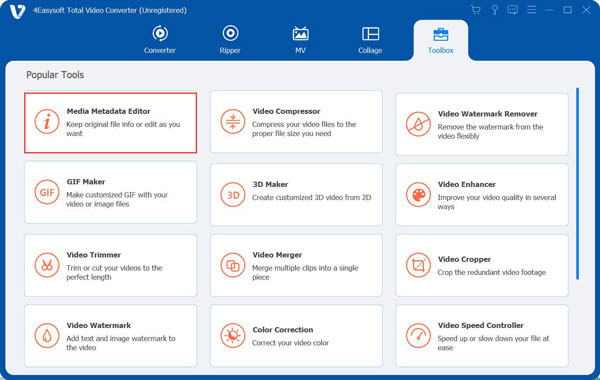 Part 2: How to Convert HD Videos with High Quality
How do you convert HD videos now that you have learned about 4Easysoft Total Video Converter? This part will give you the detailed step on using 4Easysoft Total Video Converter to convert HD videos.
Step 1After downloading and installing the tool on your device, run it to convert HD videos. Click the Plus icon at the middle part of the main interface or click the Add Files button at the left to add a folder to do batch conversion.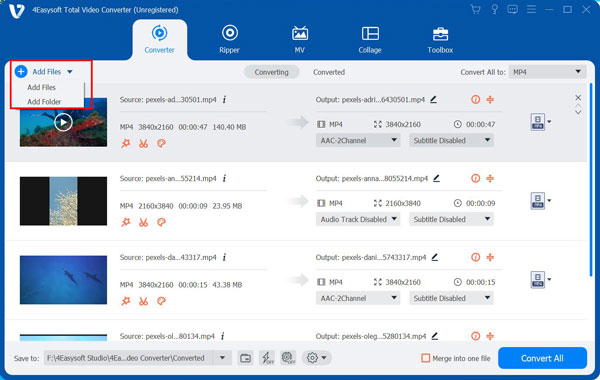 Step 2Once you have uploaded the file successfully, click the Format icon beside the video. Go to the Video tab to choose the desired format. Click the preferred resolution for the video. You can create your own by clicking the Gear icon.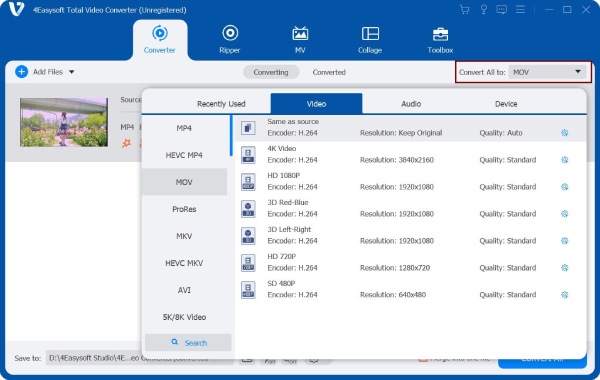 Step 3On the Custom Profile window, you will see the advanced settings to change the video format, quality, encoder, bitrate, frame rate, and audio settings. Click the Create New button once you are done editing. Click the Save To drop-down menu and browse the designated folder for the converted video file.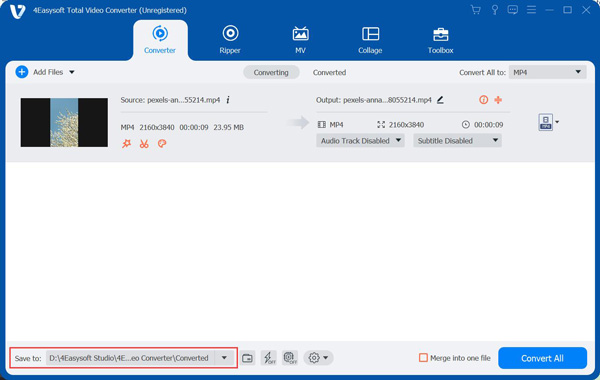 Then, click the Convert All button to start the converting process. It may take a while, depending on the file size or if you did batch converting.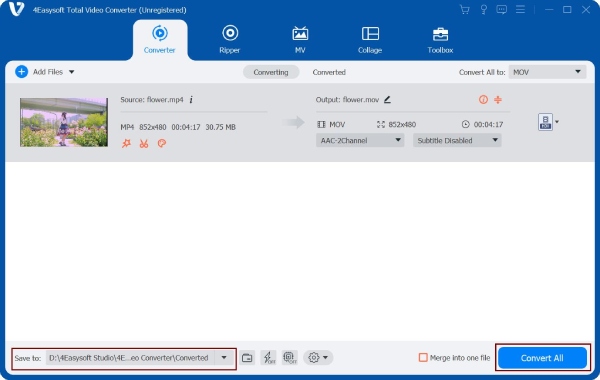 Part 3: Steps to Edit HD Videos with Powerful Functions
4Easysoft Total Video Converter can edit HD videos in several ways. For this part, you are about to learn how to edit HD videos without losing too much video quality.
How to edit HD videos in 4Easysoft Total Video Converter:
Step 1If you want to compress your HD video into a smaller file size, go to the Video Compressor and import the desired file. Input the size you prefer for the video or move the Size button. You can also change the output format on the Format drop-down list. Click the Preview button to check the video quality, then click the Compress button to process the changes.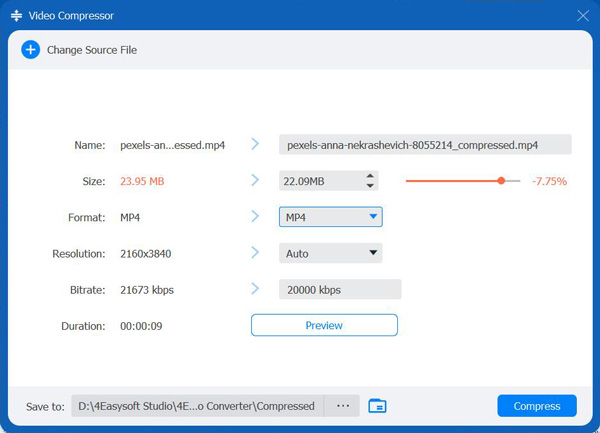 Step 2If you wish to enhance the resolution of your HD video, click the Video Enhancer from the Toolbox. Once you have imported the file, tick the checkbox for the Upscale Resolution option and Optimize Brightness & Contrast. You can also use the Remove Video Noise and Reduce Video Shaking options to edit the HD video. Preview the changes, then hit the Enhance button.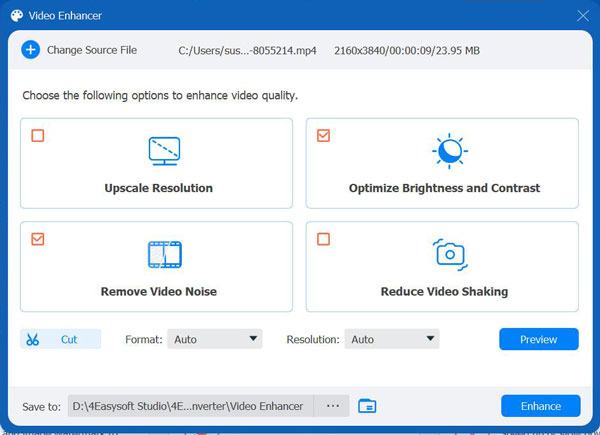 Step 3You can use the Volume Booster tool to lower or boost your HD video's audio. Add a video file by clicking the Plus icon. Move the Volume parameter to the desired volume level. If the soundtrack does not match the video's transition, use the Delay option and adjust. Choose the designated folder, then click the Export button.
Step 4Create your watermark with the Video Watermark tool. After uploading a video, click the Text Watermark option to edit HD videos. Input the text and edit it with a different font, color, etc. You can also make an image watermark where you can control the size, position, and opacity. Click the Export button once you are done.
Part 4: FAQs about How to Convert and Edit HD Videos
How to rip a DVD to edit HD videos?

Load a DVD on your device and click the Load DVD button for the tool to process it. Go to the Profile drop-down list, and choose the output format. Then, click the Settings button to change video settings. Once you have selected the output folder, click the Rip All button.

Can I try the tool first before purchasing the premium version?

Definitely, yes. 4Easysoft Total Video Converter can be free downloaded on both Windows and Mac. The free trial version gladly offers unique tools; however, there is still limitation you may encounter. One of these is the file size limitation.

Does 4Easysoft Total Video Converter's free version put a watermark on my converted HD videos?

No, Total Video Converter does not put a watermark on any converted and edited HD videos. More importantly, it helps you to remove watermarks made by other tools.
Conclusion
4Easysoft Total Video Converter is the best tool to convert and edit HD videos. Without fail, this fantastic tool can enhance, modify, and amplify all your video and audio files. Try its free trial version now!
Related Articles