VLC No Audio - Reasons And 7 Effortless Ways to Fix It
The VLC Media Player is a widely used player for a reason. It plays almost all video and audio files on your computer. Despite having great features, you may encounter issues such as watching videos with no audio in VLC, which is frustrating. So what are the reasons and how to fix no audio in VLC? The good news is you've come to the right place! Today, the entire content will share the seven best ways to solve the VLC no audio problem, with possible reasons why you're experiencing errors like no audio.
Part 1: Why There is No Audio in VLC Media Player?
VLC Media Player is one of the most popular players that provides convenience in listening to music and watching videos. But, it's very frustrating to encounter no audio problem in VLC. This error might be caused by some existing minor or huge problem you may not know. And, to quickly solve it, you need to know the root causes. See them below.
Having an Outdated VLC Version. If you haven't yet upgraded the VLC Media Player on your PC to the latest version, it affects the player's overall performance. Errors may occur due to this reason, and this included VLC no audio. So, ensure to get the latest version of VLC.
The Video Playing is Corrupted. The most common reason the video plays well but has no sound is because the file is damaged. It might be because of an interruption while downloading it or contains some sort of virus that might also affect your PC.
Configuration Settings Problem. If you have made changes in settings, it might result in VLC no audio issue. The system automatically disabled the audio settings in VLC Media Player, so there's no way you will hear a sound in the playing video.
Having Inappropriate Codecs. Although VLC almost supports playing all types of video, It sometimes shows incompatibility with the audio codecs of the video file, like FLAC, MIDI, AMR, etc. There may be a change that the said player is not supporting the codec, which causes VLC no audio.
Part 2: 6 Ways to Fix VLC No Audio Problem Easily and Quickly
After knowing why the VLC no audio happens, you can now find simple solutions to fix this error. Below are the six best effective fixes if your VLC Media Player doesn't provide audio to the playing video.
1. Check if the Audio is Unmute.
The first given solution is a straightforward process to fix the VLC no audio problem; you can check if you have unmuted your audio before doing any complicated fixes. To do this, head to the Audio from the above menu, then hit the Mute option in the drop-down list. Check if the volume icon has no red mark.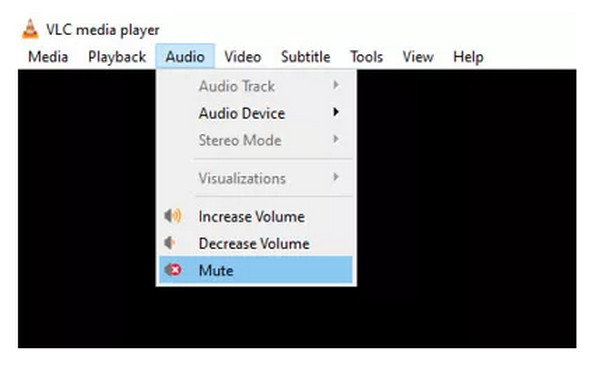 2. Disable then Enable the Audio Track.
When the first fix doesn't work, try disabling and enabling the audio tracks again. Here's how to do it: play the video on VLC even without audio, then go to the Audio tab. Select the Audio Track option, click Disable, then Enable it again.
3. Adjust the Audio Settings.
Another trouble-free process to help you fix the VLC no audio issue is to adjust the audio settings in Preferences. First, go to the Tools tab and then hit the Preferences option from the drop-down list. You can then go to the Audio section then ensure to have checked the Enable audio checkbox. Navigate to the Output menu, then select the Directx audio output.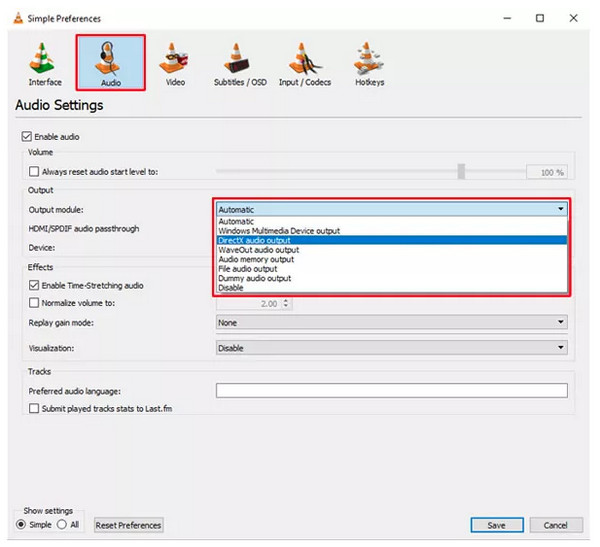 4. Check Sound Device Settings.
If the first two don't work out to fix VLC no audio problem, make sure the sound device itself is enabled. Open the Control panel by clicking the Windows key, then search for it. Select the Hardware and Sound, among other options, then click on Sound to open a dialogue box. Right-click your mouse, and ensure that it is enabled.

5. Disable Enhancements in Control Panel.
Consider disabling all enhancements in the Control Panel if none of the solutions above works to solve VLC no audio. In Hardware and Sound, hit the Sound option right away, then right-click to choose Properties. Click Enhancement in the window that pops up, then hit Disable All Enhancements for all devices.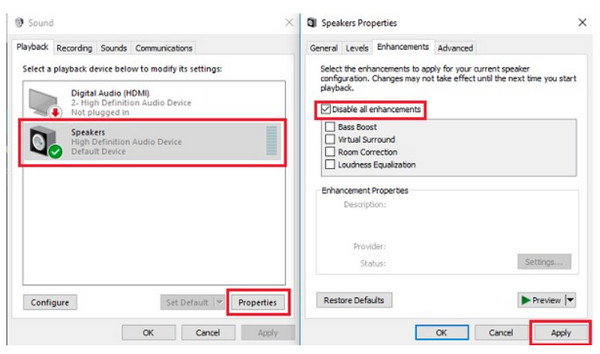 6. Update VLC Version.
When your VLC Media Player is out of date, it will affect the performance of the player and cause you to face the no audio issue. To update your VLC, hit Help from the above menu. Click the Check for Updates, and if there's a pending one, it will be updated automatically after you confirm the action.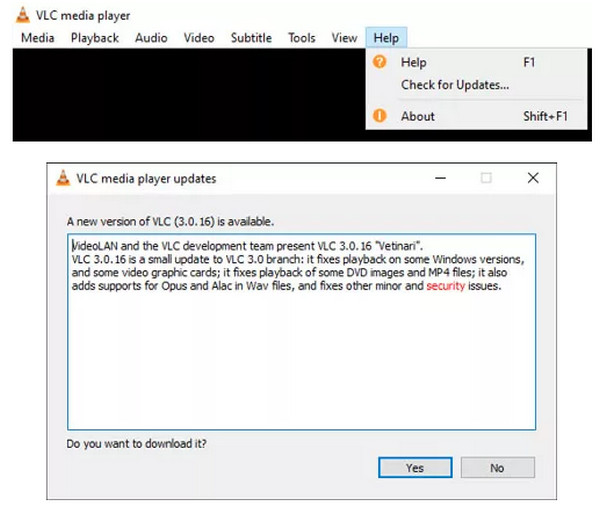 Part 3: Best Solution to Fix VLC No Audio Issue Completely
If none of those six solutions helps you fix VLC no audio issue, here's the best solution! 4Easysoft Blu-ray Player is an all-in-one solution for playing any media format, like Blu-ray, DVD, and 4K video, with no problem. It comes with an intuitive user interface that allows you to play movies exactly where you left them off without playing them from the start. With its built-in hotkeys, you can easily play, stop, pause, and resume your playing videos. Furthermore, this player enables you to adjust audio and select audio tracks, channels, and devices, giving you an excellent audio-visual watching experience without any audio issue.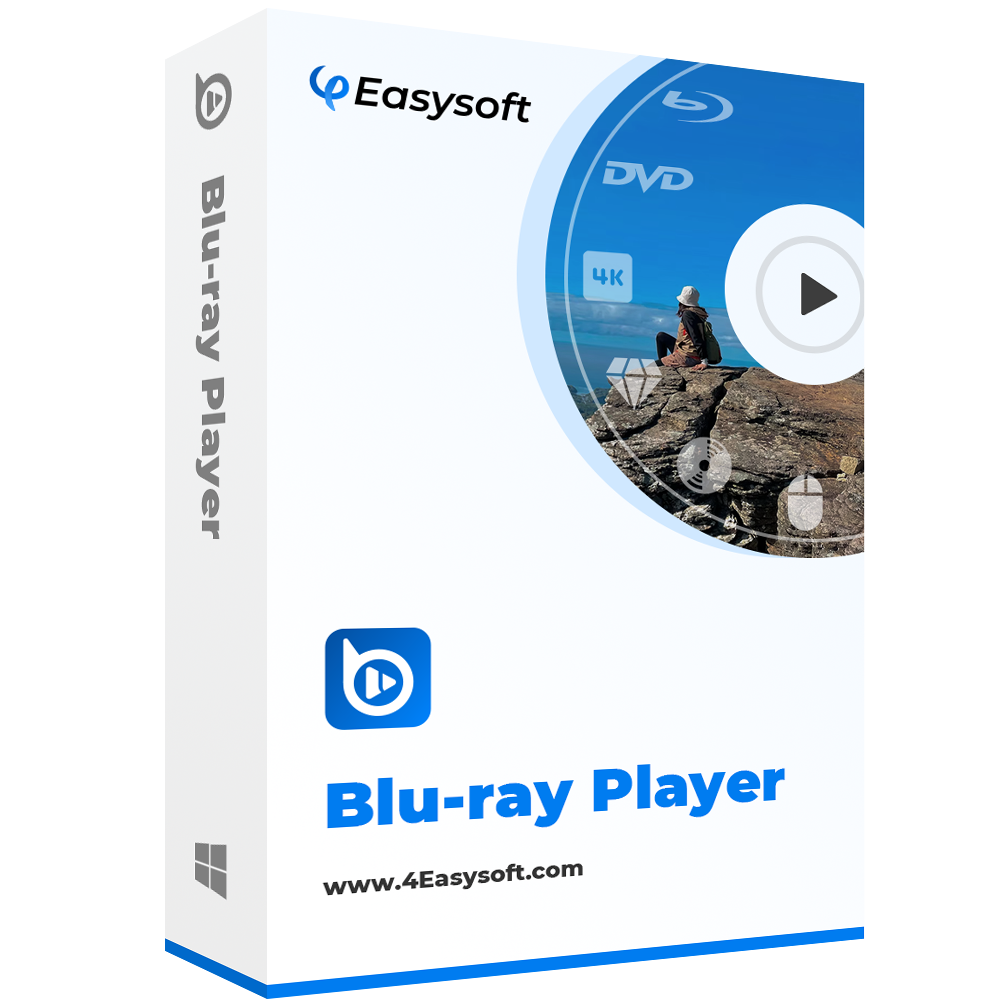 4Easysoft Blu-ray Player
GPU Acceleration lets this program play Blu-ray, DVD, and others smoothly.
Delivers a cinematic audio experience by selecting audio tracks, devices, and channels.
Manage all favorite tracks, Blu-rays, DVDs, and more to watch them instantly.
Easy control playback progress with custom hotkeys to play, stop, pause, etc.
Step 1Hit the Free Download button on the program's main site. Complete the installation process; then launch it.You can then insert your disc into the computer's drive. Then, hit the Open Disc button.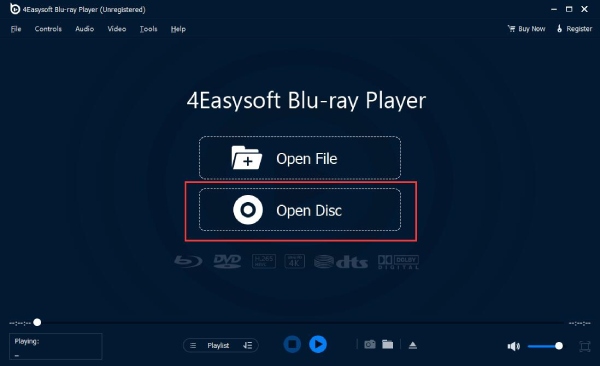 Step 2Select your disc to import into the program. You don't have to do anything after that since it will automatically load and play your DVD.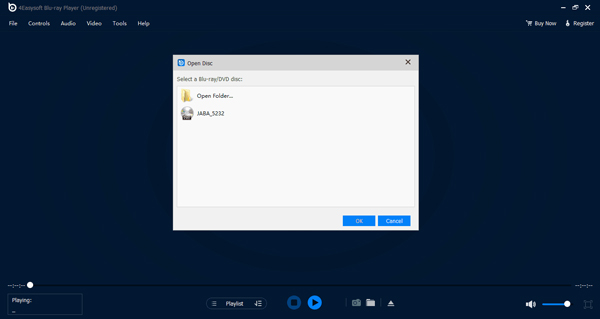 Step 3From the hotkeys below, you can adjust the audio volume, watch in full screen, take a screenshot, and more. You won't have to experience VLC no audio issues using this powerful program.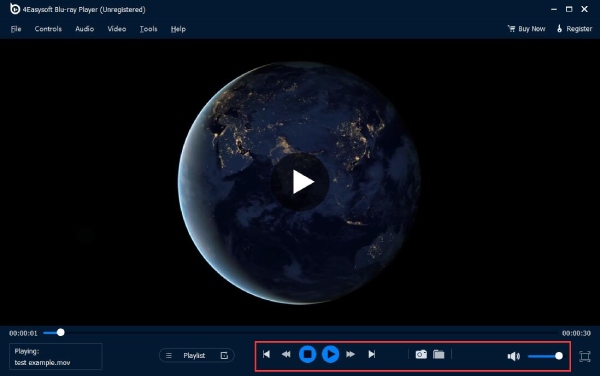 Part 4: FAQs about VLC No Audio Problem on Windows/Mac
How can I check the audio type in VLC?

As VLC supports playing any format, you can hit Ctrl + J keys to show codec information if you encounter no audio issue while playing video.

Why there's no audio on VLC Windows 11?

Some improper audio settings on your PC might cause this. You can try using the fixes mentioned in this post.

Why is VLC not playing MP4 video audio?

Although VLC supports playing almost all formats, like MP4, the file itself may not be able to synchronize the video and audio, so you can't play both at the same time. Or it contains some problems inside the file, so VLC can't play it smoothly.
Conclusion
VLC Media Player is meant to play video files smoothly, so you might not be expecting to experience issues like VLC no audio. Now, because of the facts of why this error happens, along with solutions, you can quickly solve it. But, for a much more convenient solution without encountering such issues, go for the 4Easysoft Blu-ray Player. You can try this player, which will let you enjoy watching your favorite with high-quality sound, giving you a fantastic watching experience.
Related Articles