4 Ways to Convert Cameo MOV to MP4 on Windows/Mac/Android/iPhone
How to convert Cameo video to MP4 for easy playback? Cameo is an application for fans to get a video message from their favorite artist instead of autographs. After you download the Cameo video, you may find they are saved in MOV format, which is not compatible with Android phones. Continue reading the following parts and learn the applications provided below, so you can quickly video convert Cameo to MP4.
Part 1: How to Download Cameo Video on Windows/Mac
Cameo is an application that offers personalized experiences in the world as a fan of artists all over the world. With Cameo, you can be woken up by a birthday greeting from your favorite singer or a video message from your favorite celebrity. Instead of getting their autograph, you can get an autograph from a video with Cameo. All you need is your mobile device or computer to use Cameo. Learn below how to download a video from Cameo on Windows PC or macOS.
Step 1To download your Cameo video on the Cameo application, log into your account first. When you have logged in, click on the Inbox icon, then click on the Thread with your video.
Step 2Select your Cameo video, then click on the three dots you will see at the top right corner of your screen. You should see the Download option once you click it.
Step 3If you're on the Cameo site, go to the Orders page, then you will have a Share button on your Cameo video. There should be a Download option in it.
Step 4You can now check your Cameo video on your Windows PC or macOS folders and share it to social media platforms.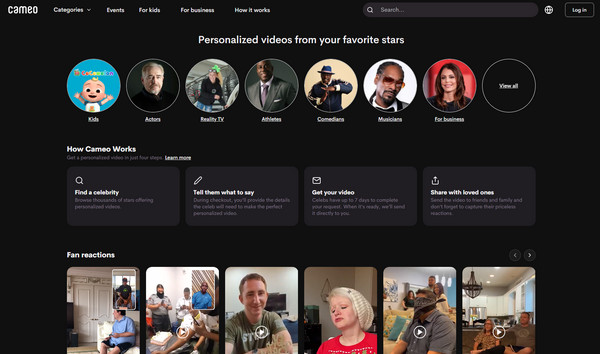 Part 2: The Ultimate Way to Convert Cameo to MP4 for Easy Playback
A powerful converter that can help you convert Cameo to MP4 is the 4Easysoft Total Video Converter. This program supports more than 600 formats, including MP4, MOV, AVI, and more video and audio formats. Furthermore, unlike other converters, it can convert at ultra-fast speed without compromising the video quality. Aside from being a converter, it offers many editing functions to add watermarks, enhance video quality, create GIFs, adjust volume, and more when converting Cameo MOV to MP4. To learn more about this program, you can try it by following the guide below.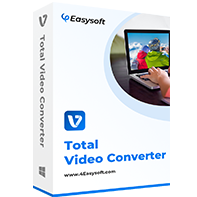 4Easysoft Total Video Converter
A total converter that supports more than 600 video and audio formats, including MOV, MP4, WMV, etc.
Provide editing features, such as trim, crop, watermark, apply effects and filters, and so forth.
Aside from providing many formats, it also offers many preset settings for iOS devices, Android, TV, and other devices.
Supported by AI, allowing you to get high quality by removing noise, optimizing brightness and contrast, etc.
Step 1You have to download and install the 4Easysoft Total Video Converter, then launch it. Once you have launched it, you can click the Add Files at the upper left corner to choose your file, then click Open to import. Alternatively, you can drag the Cameo video into the program and convert Cameo to MP4.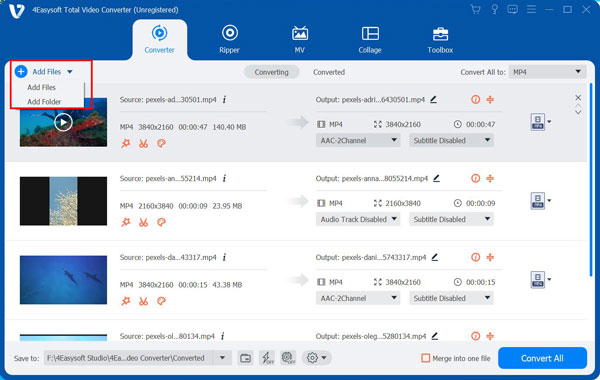 Step 2To choose the format, click on the Format button. There, you will have a list of video and audio formats that allows you to choose MP4 with customized resolution. On the Device tab, you can choose a format with perfect preset settings for your device.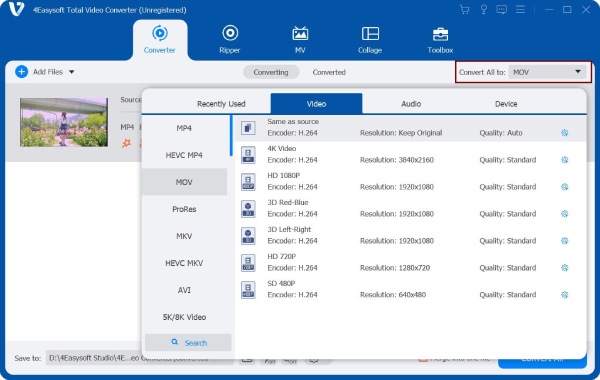 Step 3After choosing a format, you can click the Custom Profile button with the Gear icon to change the parameters. Here, you can adjust the video codec, frame rate, quality, and more, giving you a high-video-quality output.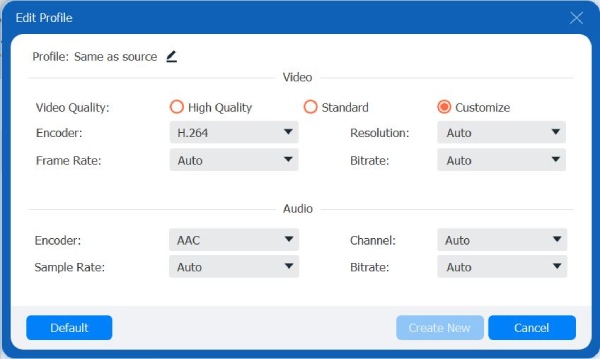 Step 4Lastly, to convert Cameo to MP4, click Convert All to start converting. Before that, you can change the destination folder by clicking the Save to drop-down list.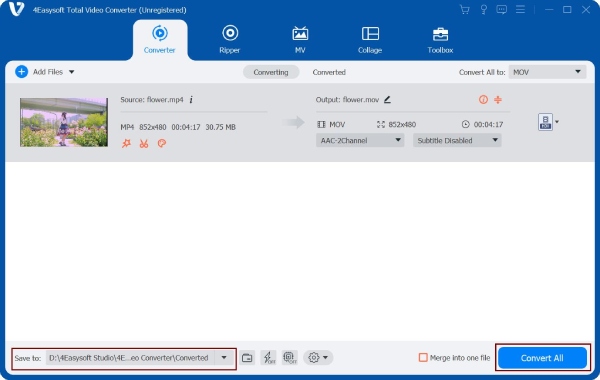 Part 3: How to Convert Cameo to MP4 on Android/iPhone
If you prefer to video convert Cameo video to MP4 on mobile, there are also several tools for you to accomplish that on your Android device and iPhone. However, only three applications are discussed in this post, but you can find many on the Internet. The list below is the three best iPhone and Android device applications to convert Cameo to MP4, each with pros and cons.
1. Media Converter
The first on the list of tools to convert Cameo to MP4 on mobile devices is Media Converter. A popular application on iPhone that allows you to have a watermark-free video, unlike other converters on iPhone. You also don't need an internet connection to convert Cameo to MP4. Since MOV is also the default format on iPhone, you will always need this application to convert videos to MP4.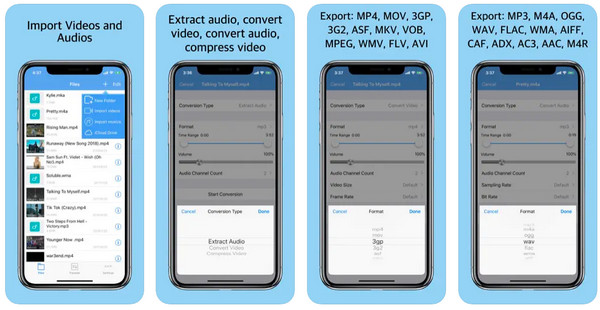 Pros

Can extract audio only.
Allow you to compress audio and video.
Cons

Only compatible with iOS.
2. VidConvert
The following tool that is available for Android devices to video convert Cameo to MP4 is the VidConvert. It supports converting formats like MOV, FLV, AVI, and more to MP4 format. You can make sure that you will preserve the quality while doing the process of converting. Plus, you can also trim the video before you convert it.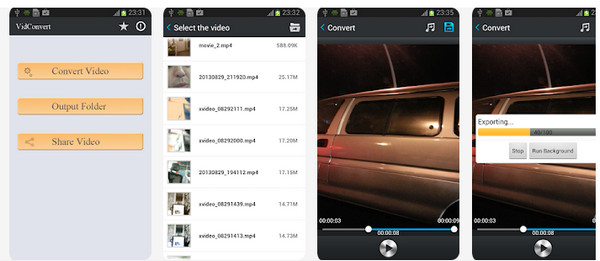 Pros

Preserves original quality.
Can trim video before converting.
Simple user interface.
Cons

Some features won't work.
It has advertisements.
3. Video Converter Android
One of the most used conversion apps is Video Converter Android. It offers a Reduce Size feature that lets you reduce file size so you can easily share it with others. Moreover, it supports converting all standard video formats to MP4 and MPG, so you can use this to video convert Cameo to MP4. You can also adjust bit rate, codec, resolution, and other video parameters with this converter.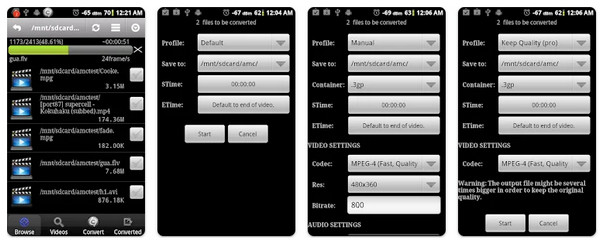 Pros

Can reduce the file size.
Produce good quality output.
Cons

It has an outdated interface.
Force you to download another app.
Contains advertisements.
Part 4: FAQs about Converting Cameo to MP4 Format
Is Cameo MOV format better than MP4?

Videos that use MOV and MP4 are both better. But Cameo videos in MOV format have better quality since they have not been compressed. Meanwhile, converting it to MP4 is much better as this format is widely supported and more efficient in file size. It depends on you if you want to convert MOV to MP4.

Can I convert the Cameo video to MP4 on an online converter?

One of the easiest ways to convert video to MP4 is through an online converter. Several tools can help, like CloudConvert, Zamzar, Online Converter, and more, that supports converting MOV format, which is used in Cameo videos, to MP4 format.

Does Handbrake handle video convert Cameo to MP4 format?

Handbrake is a program that can open video formats to convert, but it is limited in terms of the output format. However, in the formats provided by Handbrake, MP4 is included so that you can convert Cameo video to MP4 with the program.
Conclusion
You may encounter problems like this in the future, not just for converting Cameo videos to MP4. But now, you solved your problem regarding the video format of Cameo and the conversion process. Whether using your computer or mobile device, you can quickly convert Cameo to MP4 with the program provided in this post. Have a try on 4Easysoft Total Video Converter now! It can help you convert video into more than 600 formats, which is not offered by other converters. Enjoy your video on your mobile devices by converting with this program.
Related Articles