How to Open DAV File When You Have No Idea about This Format
Many people will get curious about the DAV file when they first see it. They even do not know this is a video format because they cannot open it. So, this post will tell you what is DAV file and give you some tools to open this file. But if you need to open this video format anywhere anytime, there is also a video converter in this post recommended to you.
Part 1: What is DAV File
DAV file is a video format. DVR365, or DVR Dahua Technology, creates this video format. The DVR is the digital video recorder connected to every CCTV system. So in other words, DAV is a video format specialized for closed-circuit television. You can only play it with a CCTV system player or some particular media player/ to help you open it or convert it.
Part 2: Use VLC to Open DAV Files
If you are looking for a media player to open DAV files directly, you can use the VLC media player. But before you open the DAV file, you should adjust the settings for VLC so you can play it.
Step 1When you open VLC, you should click the Preference button from the Tools button on the top of the main screen.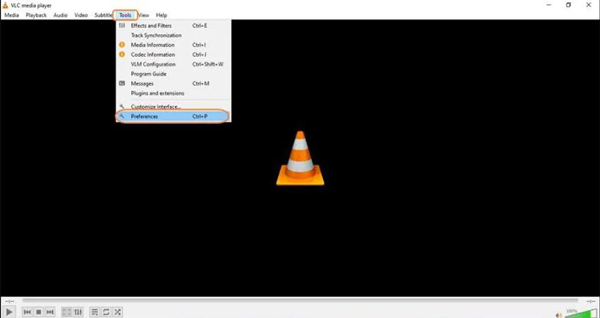 Step 2You should click the All button from the Show Settings on the bottom right of the Preference screen. It would be best if you did this to see the options for opening DAV files.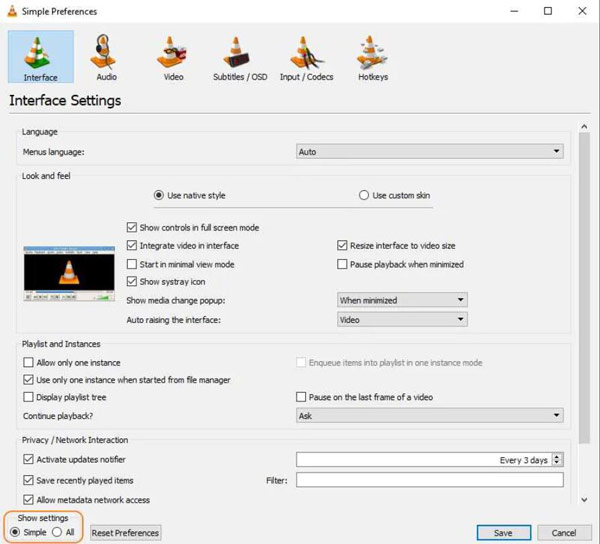 Step 3After you open the advanced settings menu, click the Demuxers button from the Input/Codecs panel on the left menu bar.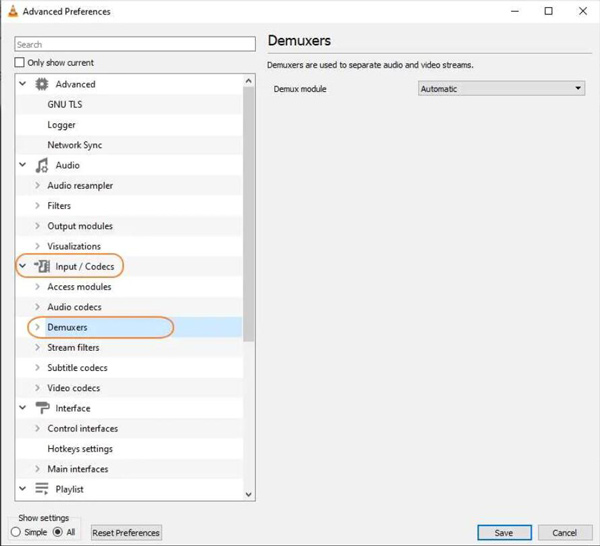 Step 4The Demux module is automatically set as automatic. It would be best if you changed it and chose H264 video demuxer. Then click the Save button. After this setting, you can play DAV files on your VLC media player.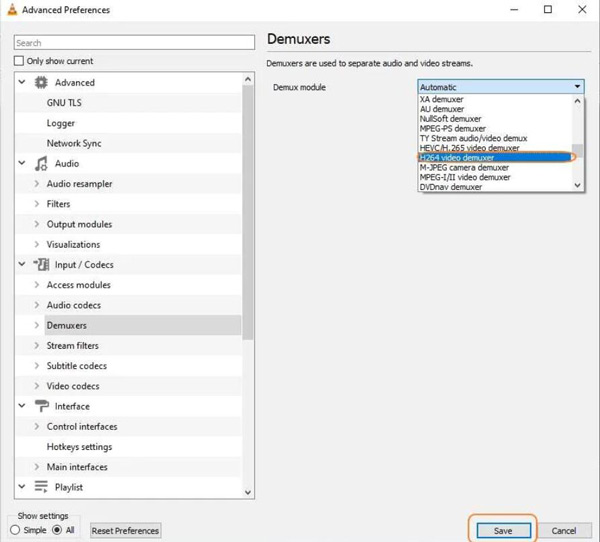 Part 3: How to Convert DAV Files in 4Easy
Do you want to play DAV files anywhere? You can convert DAV to other video formats that you can play on other media players and devices. The excellent tool 4Easysoft Total Video Converter will be recommended to you. This software could help you convert any over 1000 formats. You can easily convert DAV to MP4 or MOV; these formats can be played on all devices and software.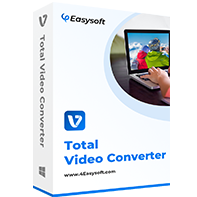 4Easysoft Total Video Converter
Convert DAV files to over one thousand video formats.
Keep the DAV file quality while converting to other formats.
Make the DAV video play on all devices and software.
Have no file size limit, even for large CCTV videos.
Step 1When you launch the software, you should click the Add button with a plus icon on the center of the main screen. Or you can click the Add Files button on the top of the screen.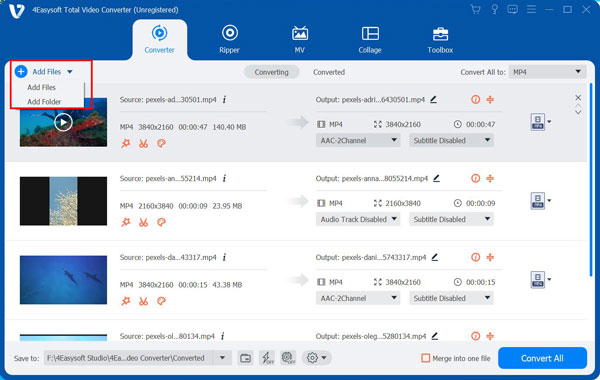 Step 2You should choose the video format you want to convert by clicking the button on the right side with a format icon. A pop-up window will give you choices in the format you want to convert.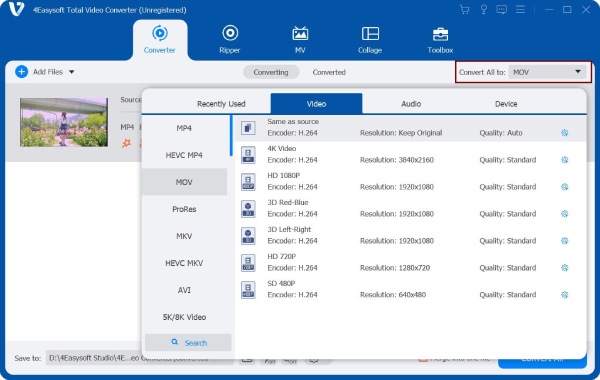 Step 3You can also click the Settings button to adjust the output settings. You can change the video quality, encoder, resolution, frame rate, bitrate, channel, and sample rate.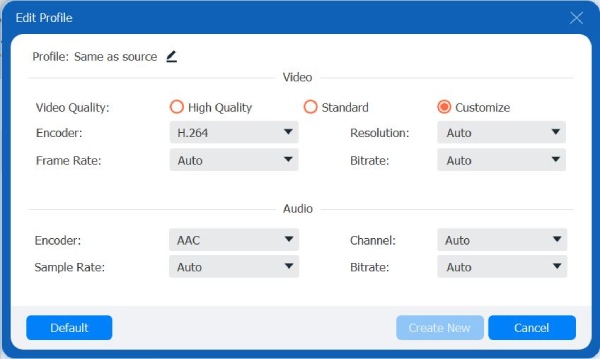 Step 4When all settings are finished, you can click the Convert All button on the bottom to get the playable video file.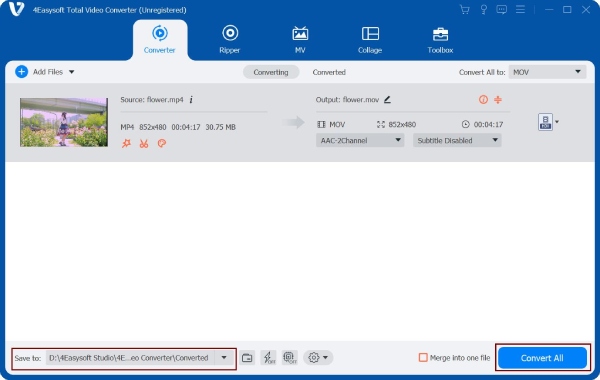 Part 4: 4 Recommended Tools to Play DAV File
Some CCTV companies invented a media player to play the DAV files directly, but some software is only available for Windows. And if you want to use it on Mac or other devices like mobile phones, you still need to convert the video format.
1. Amcrest Smart Player
This software is created by Amcrest company on the computer. You can use it to directly play DAV files without converting. It designed many features for playing DAV files, like having multiple windows to play many DAV files simultaneously.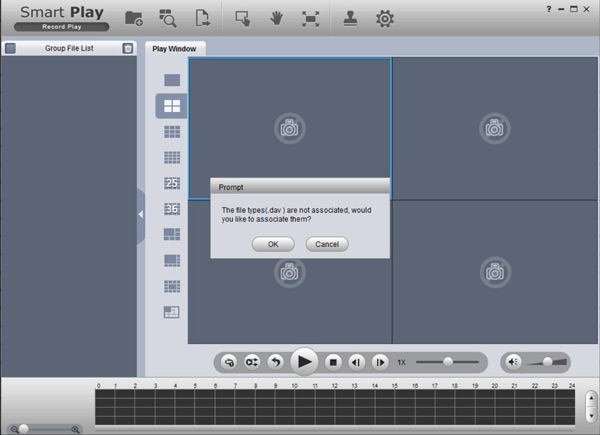 2. Dahua Smart Player
Dahua is also a CCTV company. So, this is also a specialized DAV player. But you can only download this software on Windows. And you have to buy a Dahua camera to download this software in Dahua Toolbox.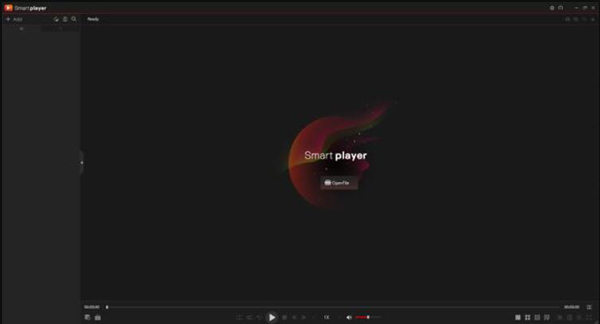 3. DVR365 Player
This is another CCTV company player. But you can only use this software on Windows when you use the DVR365 camera. You can directly connect your camera to the computer and input the DAV files to open it.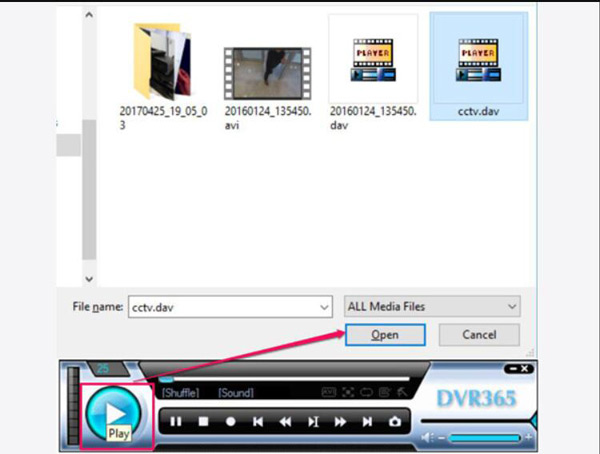 4. 5KPlayer
This is just a media player that you do not need to convert or adjust the settings to play the DAV files. But this media player has an outdated UI design and fewer player features. You can also use it as a speed-up.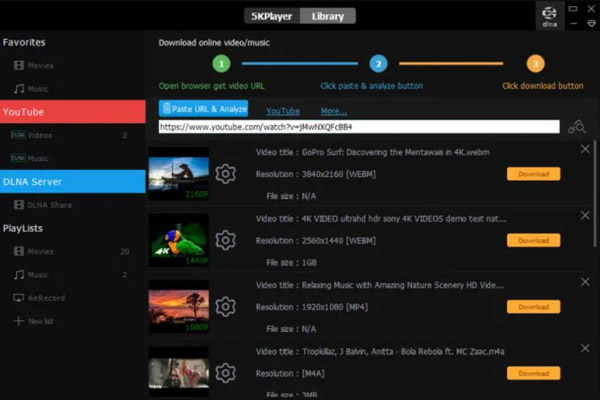 Part 5: FAQs about DAV File
How to edit DAV file?

If you want to edit DAV files directly, you will need Amcrest Smart Player or Dahua Smart Player to do some quick editing work. But if you need advanced editing work, you should use 4Easysoft Total Video Converter to convert the format and edit.

Is DAV file safe?

Yes. DAV files are safer than other video codecs. It has encrypted compression technology because it was designed for a CCTV camera.

Can I upgrade the resolution of DAV files?

Yes. You can use 4Easysoft Total Video Converter to adjust the DAV file resolution. And then convert or play the DAV file to have better quality.
Conclusion
Now you must get familiar with DAV files and know how to play the DAV file. If you want to open and play them directly, you can use the Amcrest and Dahua Smart Player. Or if you can adjust the VLC settings to open them. But if you want to make DAV files playable on all devices and software, it would be better to use 4Easysoft Total Video Converter as a VLC media player alternative to convert the format. This software could help you easily play and edit
Related Articles: